Deep conditioning can be a necessary step to repairing and protecting your hair. The treatment can help restore damaged hair and split ends, but do you need to use heat to deep condition?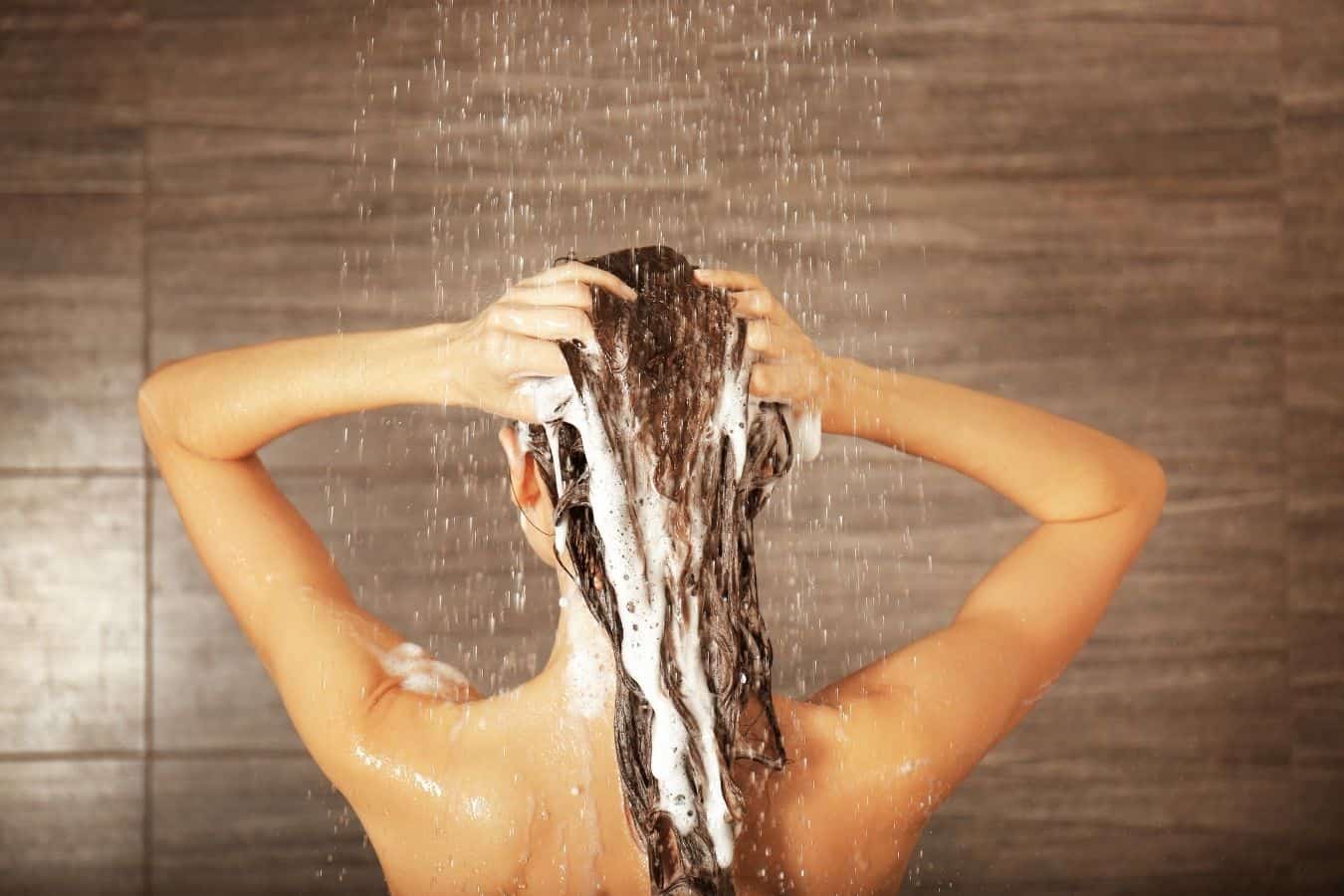 The simple truth is deep conditioning can be done with or without heat, but heat does enhance the treatment. Using heat while the product is soaking into the hair increases the rate of absorption, which speeds up the treatment time and often leads to better results.
What Is Deep Conditioning?
Over time, hair can become dry, brittle, and damaged due to various factors.
Some of the most common reasons are repetitive heat exposure, weather damage, over-styling, and chemical dyes.
However, even healthy hair can become dry or frizzy.
Deep conditioning refers to the process of coating the hair with a deeply intensive product, which will often be oil-based.
Unlike your everyday conditioner that often fails to penetrate the hair strands, a deep conditioning treatment aims to penetrate the hair and lock in moisture.
Rather than applying and washing it off immediately, a deep conditioning treatment involves coating the hair and letting it sit for at least 30 minutes.
This gives it enough time to penetrate the hair strands and provide deep hydration.
It's important to mention that deep conditioning is suitable for everyone and all hair types can benefit from this treatment.
While it's often targeted at people who have dry and damaged hair, it can also be used on healthy hair as a way of maintaining it.
Deep conditioning doesn't just reverse hair damage – it prevents it.
Do I Need A Deep Condition?
While everyone can benefit from a deep conditioning treatment from time to time, there are some indications that your hair desperately needs one.
You recently used chemical dyes (hair loses moisture during chemical treatments so it's important to restore it)
Hair appeals dull and lifeless
Brittle and weak strands that keep breaking off
Frequent split ends
Your hair has been frequently exposed to heat styling tools (the hair loses moisture and becomes dry during repetitive heat exposure)
Hair feels dry or rough to the touch
Your curls are no longer bouncy and shiny
You have spent a lot of time in the sun (the sun can dry the hair out)
Hair appears limp and lacks volume
If you've experienced any of these signs or symptoms, then a deep conditioning treatment could be very beneficial for your hair.
You can begin with a weekly treatment and adjust it to suit your individual hair needs.
Also Read: Can Olive Oil Penetrate The Hair? (Question solved)
Should I Use Heat To Deep Condition?
Deep conditioning with heat has many benefits, especially if you have low porosity hair.
The reason for this is because low porosity hair is susceptible to breakage if there is a lack of moisture.
The use of heat opens up those hair cuticles and lets the moisture in. This is incredibly important if you have low porosity hair since it is often more difficult for products to penetrate the hair.
Instead of the product just sitting on the hair, the heat allows it to penetrate the hair strands and lock in moisture.
Benefits Of Deep Conditioning With Heat:
Increases the ability to penetrate the hair strands
Treatment time is shorter as the heat quickens the rate of absorption
Locks in much-needed moisture
Hair feels softer and curls are springy
Enhances shine
Improves the overall condition of the hair
Deep Conditioning Without Heat
There are many reasons why someone may choose to deep condition without heat.
If you don't have access to a heated cap, hooded dryer or steamer, then this might be the only option.
It's worth remembering that deep conditioning without heat still has incredible benefits.
Benefits Of Deep Conditioning Without Heat:
Improves hair texture and appearance
Repairs damaged hair
Strengthens hair strands
Promotes hair growth
Reduces split ends and weak, fragile strands
Makes curls appear bouncier and shinier
Hair feels softer to touch
Choose The Right Product For Your Hair
The most important part of the deep conditioning process is finding and applying the right product. It has to be suitable for your hair type.
Many deep conditioners are oil-based but make sure to read the ingredients carefully as some oils have better penetration than others.
We have rounded up some of the best hair masks that consist of natural ingredients to repair and hydrate the hair.
Garnier Ultimate Blends Hair Food Papaya
The Ultimate Blends Hair Food Papaya Mask from Garnier is a 3-in-1 intensive treatment that contains 98% natural ingredients. This hair product is extremely versatile and can be used as a conditioner, hair mask, or leave-in conditioner. 
It aims to repair damaged hair and significantly improve split ends after just one treatment.
Using this deep conditioner regularly can help to make hair more manageable by reducing tangles and increasing softness.
Eden Bodyworks Jojoba Monoi Deep Conditioner
The Jojoba Monoi deep conditioner from Eden Bodyworks works by restoring and protecting the hair from damage.
This product contains a blend of natural ingredients that are highly beneficial for hair health, including jojoba oil, coconut oil, castor seed oil, and tea tree.
For more intense results, this deep conditioner works effectively when used with heat.
Camille Rose Algae Renew Deep Conditioning Mask
Camille Rose's algae renew deep conditioning mask is packed with essential vitamins to maintain hair health.
Formulated with blue-green algae, cocoa, and mango butter, this mask aims to strengthen hair strands and promote growth.
It can be used on chemically treated and dyed hair as well as natural hair.
Also Read: 17 Glycerin Free Hair Products For All Hair Types
How To Use Heat To Deep Condition
Using heat is an optional step but many products will be more effective when used with heat.
There are many different forms of heat but the common ones are a hooded hair dryer, steamer, and a heated cap.
A hooded hair dryer or a steamer are great options but they can be very expensive.
A heated cap is an affordable option that will offer excellent results.
Magic Gel's Premium Deep Conditioning Cap is a cordless hot head cap that will enhance hair penetration and leave you with softer, shinier curls.
The step-by-step process is easy:
Apply your deep conditioning treatment all over your hair
Heat up the cap in the microwave for 40 seconds. Increase by 10 seconds if needed
Massage the cap to ensure the heat is distributed evenly
Put a plastic bag or a disposable cap over your hair, then place the heated cap over the top
Leave it on for 15 – 20 minutes
Remove the cap and wash your hair as usual
The cordless feature is convenient because it allows you to carry out other tasks while you are waiting for the deep conditioning treatment to work.
It's cost-effective compared to some other methods and it gives you the same fantastic results that you would expect with a deep conditioner.
Using a heated cap also speeds up the treatment process.
Some other ways to use heat include:
Standing in the corner of a shower and letting the steam increase the absorption rate
Placing a plastic cap over the hair and a beanie over the top to try and create natural heat
Placing a hot towel over your hair
Heating up the deep conditioner in the microwave before applying
While these methods may not be as effective as a heated cap or steamer, they could still enhance your results.
You can also choose to go ahead with the treatment without the use of heat. You will still notice some great benefits!
How Long Should The Treatment Last?
How long the treatment lasts depends on whether you are using heat or not. When using heat it's important to stick to the timeframe that is given.
If the heated cap says 15 – 20 minutes, then you shouldn't go over that. This is because too much heat on the hair can have adverse effects.
It can dry the hair out and potentially cause hair damage.
Even when you are not using heat on the hair, it's recommended that you stick to 30-minute treatments.
Overnight treatments and over-conditioning can lead to Hygral Fatigue, which is the condition that describes damaged hair cuticles due to excessive moisture.
If this happens your hair will appear weak, dull, and it will lack elasticity which is a common cause for hair breaking off.
To avoid this, it's always best to read the instructions carefully on any product that you use.
Some will suggest 15 minutes, while others will suggest 30 minutes.
When using heat, you will typically cut the treatment time in half as heat leads to faster penetration of the hair cuticles.
Also Read: Is Sea Moss Good For Hair? (7 Amazing Benefits)
How Often Should You Use Heat To Deep Condition?
Most people will benefit from doing this treatment once or twice a week.
It's a highly effective way to hydrate the hair and protect it against damage, but it shouldn't be used too frequently as this can have the opposite effect.
Disclaimer: This site is not intended to provide professional or medical advice. All of the content on LovedByCurls.com is for informational purposes only. All advice should be followed at your own discretion. Ingredients may change at any time so always check the product label before using. Check our full disclaimer policy here.