Looking after your hair by using suitable products along with eating a healthy, balanced diet is key. However, your unique hair type actually determines what kind of treatment is needed. This can be different for everyone. In this article, we examine ways to care for low porosity hair and answer the much-asked question: Does low porosity hair need protein?
This post contains affiliate links and we may earn if you click on them (at no extra cost to you). Please read our full disclosure policy here.
In short, low porosity hair does not need protein. Although maintaining a healthy balance between protein and water is key for strong hair, protein treatments could actually damage low porosity hair even further.
This is due to the fact that low porosity hair tends to be protein sensitive and using protein-rich products could cause further breakage.
If you have low porosity hair, you need to lock in as much moisture as possible, without weighing down your hair and making it appear greasy.
This is where choosing the right products for your hair type is key as certain ingredients can give your hair the TLC that is needed.
By simply understanding the porosity of your own hair and which products are best suited, you can create a hair routine that restores your hair to optimal health.
Also read: 5 Important Signs of Too Much Protein In Your Hair
What Is Low Porosity Hair?
Porosity refers to your hair's ability to absorb moisture. In order for hair to be healthy, we need a balance between protein and moisture.
If this balance is disturbed, you may experience either protein overload or hygral fatigue (moisture overload).
If you have low porosity hair then it means that your hair strands are made up of tightly closed pores that repel moisture.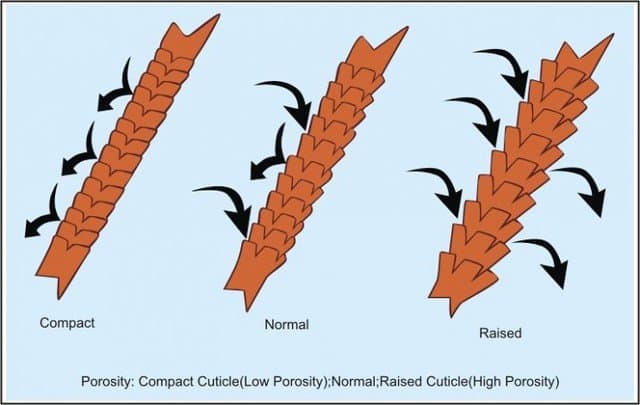 Low porosity hair often contains too much keratin or protein and therefore, it lacks the moisture that is needed for luscious locks.
Low porosity hair can be caused by a number of things such as genetics, heat damage or in some cases the overuse of protein products.
You'll also find that a lot of people with curly hair have low porosity hair.
Signs You Have Low Porosity Hair
There are key signs that your hair is low porosity and these are the ones to look out for:
1.Your Hair Repels Moisture
If you have low porosity hair then you may discover that using hair treatments doesn't give you a healthy shine.
This is due to the fact that this type of hair doesn't absorb moisture very well.
2. Hair Is Prone To Product Build Up
You will probably notice that when you apply certain products to your hair like conditioner, they sit on your hair rather than get absorbed.
Blocked cuticles lead to poor absorption, and that's the struggle that many people with low porosity hair are faced with.
Product build-up can also lead to dandruff and greasy-looking hair.
3. Hair Feels Coarse Or Dry
A key component of low porosity hair is hair that feels dry to the touch. The hair may break easily and you could be left with recurring split ends.
This is due to a lack of moisture and the hair's inability to absorb key ingredients that tackle dryness.
Often, the ingredients in your hair products can contribute to dry, brittle hair.
Test Your Hair Porosity
Method 1: Check hair strand texture
Simply take a strand of hair between your fingers and run your fingers along the entire strand. Examine the texture.
If the hair strand feels smooth to the touch then this would indicate that your hair is low porosity.
The cuticles sit close together, which prevents moisture from penetrating the hair.
If the hair strand feels rough or coarse, it would suggest your hair is high porosity and that the cuticles are open.
Method 2: Check how well your hair absorbs water
Low porosity hair takes longer to get wet and even longer to get dry.
When you are in the shower washing your hair take notice of how quickly it takes for your hair to completely absorb the water.
Also, take notice of how your hair absorbs the products you put on it. Does the conditioner simply slide off or does it stay on the hair? This can be telling.
Method 3: The strand test
Another way to find out the porosity of your hair is to simply fill a glass with water and place a strand of your hair in the glass.
If it floats to the top or takes a while to sink to the bottom of the glass, then you most likely have low porosity hair.
If your strand of hair floats in the middle of the glass then that would indicate that you have normal porosity hair.
If you do this test, ensure that your hair is free from oils and products as any product residue can affect the result.
How To Care For Low Porosity Hair
Upon discovering that you have low porosity hair you might be worried about how you should start caring for it.
After all, healthy, shiny hair is something that we all strive for. If protein isn't needed for low porosity hair, then what can you do instead?
Thankfully, there are many steps that you can take to get healthy-looking hair.
Clarify Your Hair
If you're a Curly Girl and following the Curly Girl Method, you'll probably know what clarifying means.
It is essentially a deep clean to get rid of product build-up or dirt caused by pollution. Product build-up is something that most of us will experience.
It is therefore important to strip away any left residue every so often.
This process helps to cleanse your scalp, strengthen hair, and keep color-treated hair from fading too quickly.
You don't need to clarify your hair very often – once every two weeks is sufficient.
The apple cider vinegar rinse is a well-known clarifying method and works a treat. Simply mix 3 tablespoons of apple cider vinegar with 1 cup of water and apply to soaking wet hair.
Use a scalp massager to work the mixture into your hair and let sit for up to three minutes.
Rinse off with a hydrating leave-in conditioner such as the Shea Moisture Manuka Honey and Mafura Oil Intensive Hydration Leave-in Milk.
Another popular method is using ¼ a cup of castile soap, 1 tablespoon of aloe vera gel, and 4 tablespoons of sea salt.
Mix all of these ingredients together in a cup or a bowl. Massage onto wet hair and leave for a few minutes. Finally, rinse and finish it off with a conditioner on the ends.
Use Protein Free Hair Products
Earlier we learned that low porosity hair does not need protein treatments. It is therefore important to add non-protein products to your hair routine.
Stay away from any products that contain the following ingredients:
Soy protein
Silk protein
Keratin
Biotin
Hydrolyzed collagen
Hydrolyzed wheat protein
Hydrolyzed rice protein
Amino acids
It's recommended that you use a formula that is moisturizing, mild, and gentle on the hair and scalp.
Below you'll find some suggestions for products you can use.
The Bouclème Hydrating Hair Cleanser is a sulfate free shampoo that cleanses and restores strength.
The Shea Moisture Raw Shea Butter Moisture Retention Shampoo contains raw shea butter and argan oil to help moisturize and repair damaged hair.
When choosing a conditioner, you also want to ensure that it's a gentle formula specifically for those with low porosity hair.
The faith in Nature Natural Dragon Fruit Conditioner is rich in antioxidants and only contains naturally derived ingredients.
EDEN Bodyworks Peppermint Tea Tree Conditioner is paraben-free, sulfate free, and helps to moisture and detangle.
For maximum results, use a scalp massager to ensure that your roots and scalp are properly moisturized.
Also Read: The BEST Apple Cider Vinegar Rinse For Curly Hair
Use Products Containing Glycerin
Glycerin is suitable for most hair types and it can be your savior if you have low porosity hair.
Unlike protein-rich hair treatments, glycerin penetrates the hair cuticle and restores moisture.
Try the Yes To Cucumbers Volumising Conditioner which is an aloe vera-based Glycerin conditioner.
It is fortified with vitamins and natural moisturizers to create a natural shine.
For gorgeous curls, the Noughty Wave Hello Curl Defining Conditioner is a popular choice. It contains sea fennel to smooth the cuticle and enhance natural curls.
Don't use glycerin products if you live in a very humid area as it could cause very frizzy hair. This is because it draws so much moisture from the air and it could knock your hair texture out of balance. Instead, opt for any of these glycerin-free hair products.
Weekly Deep Condition
A weekly deep conditioning treatment is required for all hair types as it helps to restore moisture and rid the scalp of excess oils.
The As I Am Hydration Elation Intensive Conditioner is super moisturizing deep conditioner that contains many natural ingredients like coconut, green tea, shea butter, apple, and lemon.
It is fortified with vitamins for strong, healthy hair.
The Eden BodyWorks Jojoba Monoi Deep Conditioner is another great moisturizer for low porosity hair.
It is free from parabens and sulfates and should be used once a week to soften and moisturize the hair.
Use A Heated Deep Conditioning Cap
If you have particularly damaged or brittle hair, it could be worth considering using a heated deep conditioning cap such as this one from Amazon.
This works by applying the conditioner to wet hair, heating the gel cap in the microwave, and then placing it on your head for up to 15 minutes until all of the product is absorbed.
This is highly recommended to those with low porosity hair as it helps the hair to absorb the conditioner rather than letting it simply sit on the hair.
It provides a much-needed treatment for hair that is damaged or dull.
Also Read: How To Use Castor Oil For Protein Sensitive Hair
Moisturise And Seal Method
The first step is to use a water-based moisturizer which is easy to find as you'll notice that water is listed as the first ingredient.
Water is natural and a key part of moisturizing and refreshing the hair, but when used alone, it's simply not enough to achieve healthy-looking hair.
You can also choose to use a water-based leave-in conditioner for extra shine.
The second step is to use an oil to lock in the moisture. This can be coconut oil, olive oil, jojoba oil, castor oil, or avocado oil.
Try this Jojoba oil from Amazon which has gotten rave reviews.
If you don't have oil, you can use cocoa butter or shea butter instead.
Be sure to spend extra care on the ends of the hair as this is the part that is prone to the most damage and therefore needs a lot of attention.
---
Disclaimer: This site is not intended to provide professional or medical advice. All of the content on LovedByCurls.com is for informational purposes only. All advice should be followed at your own discretion. Ingredients may change at any time so always check the product label before using. Check our full disclaimer policy here.
Coralle is an experienced beauty writer with a passion for wellness, women's health, and sustainability.