The terms, pre-poo, low-poo, and no-poo are spoken about frequently in the curly girl community and for good reason, too. These methods help protect your scalp's natural oils from being stripped by the harsh ingredients in shampoo products. In this article, we are going to look at why you should pre-poo for low porosity hair.
This post contains affiliate links and we may earn if you click on them (at no extra cost to you). Please read our full disclosure policy here.
What Exactly Is Pre-Poo?
Pre-poo stands for pre-shampoo, and it refers to the method of applying an oil or deep conditioner to the hair before using shampoo. Pre-Poo works well for low porosity hair because it helps to lock in moisture and protect the hair against the stripping effects of shampoo.
It's a popular method that is used by many people who follow the Curly Girl Method.
Benefits Of Pre-Poo For Low Porosity Hair
There are many benefits of pre-pooing if you have low porosity hair.
They are:
Keeps Scalp Moisturized
Applying natural oil or deep conditioner helps to hydrate the scalp and prevent it from getting dry, flaky, or itchy.
Try one of these deep conditioners that work great for low porosity hair.
This is beneficial for those who often suffer from a sensitive, inflamed scalp. Pre-pooing restores lost moisture which reduces irritation and inflammation.
Adds Shine
While shampoo can strip the hair's natural oils and leave it feeling dull and tired, the pre-poo method works by retaining some of those oils, which keeps the hair looking shiny and glossy.
Helps To Detangle Hair
Shampoo alone can leave the hair feeling rough and tangled. Using an oil or tangle-friendly conditioner allows the hair strands to slip past each other, resulting in fewer knots and tangles when brushing.
Reduces Split ends and Frizzy Curls
When you pre-poo you are using an oil or conditioner before you drench the hair in water. This reduces the rate at which the cuticle swells and expands. Doing this regularly can prevent you from some of the effects of Hygral Fatigue, such as split ends and breakage.
Also Read: The BEST Apple Cider Vinegar Rinse For Curly Hair
What Is Low Porosity Hair?
Porosity can be described as the rate at which your hair absorbs and retains moisture.
So, if you have low porosity hair then that would mean that your hair shafts struggle to absorb moisture.
This can make it harder for hair to stay hydrated and healthy, as oils and conditions tend to sit on the hair shaft instead of being absorbed.
Many people with tight curls or curl type 3C will have low porosity hair.
Typically, you would expect to see these symptoms if you have low porosity hair:
– Coarse or rough hair that is dry to the touch
– Split ends
– Dull hair that locks shine or volume
– Hair that takes a long time to dry thoroughly
– A lack of elasticity
– Product build up
Of course, these symptoms will vary from person to person, so you may not experience all of these symptoms.
However, it is very important to get the right balance with low porosity hair in order to maintain healthy locks.
Let's take a look at why you should pre poo for low porosity hair.
Why Is Pre-Poo Especially Important For Low Porosity Hair?
Low porosity hair lacks moisture and that can make it become dull, lifeless, and prone to breakage.
The pre-poo method works so well for low porosity hair because it focuses on restoring moisture and correcting the balance.
By putting natural oils or a conditioner on the hair before you start any shampooing, you are adding softness and moisture to the hair. This will help to keep it hydrated while protecting it from potential damage.
Protecting the natural oils on the scalp is one of the best ways to ensure your hair and scalp remain healthy, so this method shouldn't be overlooked if you have low porosity hair.
How To Determine If You Have Low Porosity Hair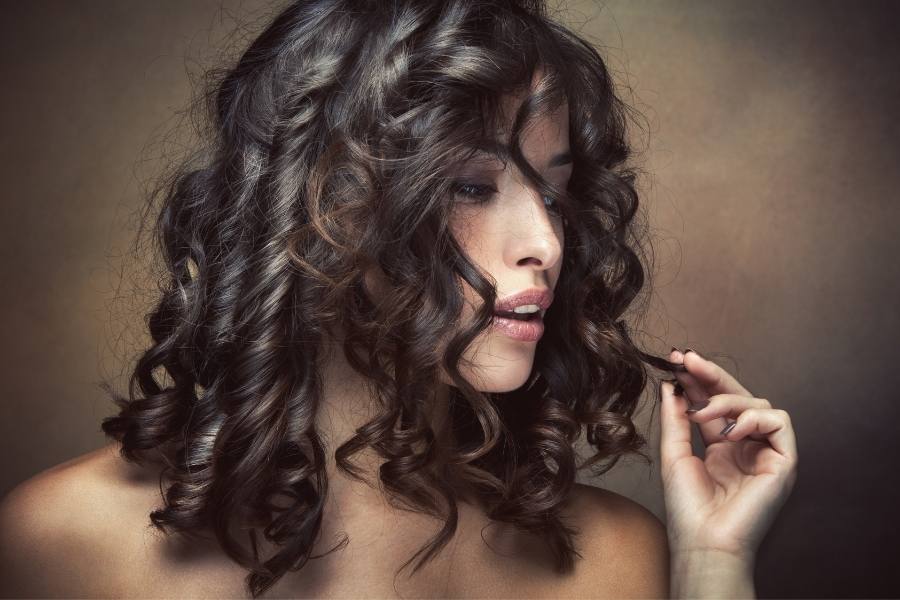 Determining your hair's porosity can be a little bit complicated, which is why we've broken it down into 3 simple tests.
Test 1
Start by taking a hair strand between your fingers and look and feel for any bumps, ridges, or roughness.
Any of these signs would indicate that you have normal to high porosity, whereas if the hair strand is completely smooth then that would indicate that you have low porosity hair.
Test 2
When you next wash your hair in the shower, examine how long it takes for your hair to get fully wet. Low porosity hair will take much longer to get wet as well as taking longer to get dry.
Test 3
Place a hair stand in a glass of water and watch to see if it sinks or floats to the top. These are both strong indications that you have low porosity hair.
Typically, you would expect normal porosity hair to float in the middle of the glass.
Recommended Products For Pre-Pooing Low Porosity Hair
There are two ways to pre-poo: with deep conditioner or with oil.
They have their own unique benefits but your choice will be made on your hair type and your preference.
Both options are great for chemically treated hair or hair that is extremely dry because they are very hydrating.
However, if you are prone to product build-up, then you might benefit from using an oil rather than a conditioner.
This is because conditioner often contains 50% water and this can actually sit on the hair rather than being absorbed. On the other hand, oil can penetrate the hair shaft and prevent the occurrence of Hygral Fatigue.
All products mentioned below are Curly Girl friendly and suitable for those with low porosity hair.
Pre-Poo With Deep Conditioner
Every hair type is different so using a deep conditioner may actually be more beneficial to you, particularly if your hair is extremely dry and lacking nutrients.
A conditioner can help to restore balance to the scalp.
Shea Moisture's Coconut & Hibiscus Hair Mask is formulated with shea butter and neem oil to hydrate curls and help them to retain their natural curl pattern.
This deep conditioning treatment is ideal for those with thick hair or very dry hair because it's extremely moisturizing but it won't weigh hair down or make it appear greasy.
In general, hair doesn't weigh much, but product build-up can significantly reduce the volume of your hair.
Using this product frequently can soften the hair and prevent knots and tangles, making it easier to comb through and style.
Alternatively, another product we recommend is the Maui Moisture Heal & Hydrate Shea Butter Mask, which is an affordable deep conditioning treatment that nourishes and restores dry, damaged curls.
This deeply hydrating product formulated with coconut oil, shea butter, and macadamia oil will gently nourish the hair without stripping the scalp's natural oils.
Ideal for tight curls, this conditioning mask is suitable for low porosity hair in need of more moisture.
It's worth mentioning that you shouldn't leave deep conditioner on your hair overnight as this could lead to moisture overload (Hygral Fatigue).
Also Read: Sealing Hair For Length Retention: How To Guide
Pre-Poo With Oil
There are many benefits to using oil as a pre-poo for low porosity hair but it's essential that you use penetrating oils rather than sealing oils. Some examples of penetrating oils include:
– Coconut oil
– Shea butter
– Avocado oil
These oils have the ability to penetrate the hair shaft quickly and easily and lock in moisture, which is essential with low porosity hair.
In fact, heating up these oils before using them can help them penetrate the hair more effectively, creating softer and smoother hair cuticles.
Lighter oils can be more beneficial for low porosity hair whereas heavy oils and butters can cause product build up.
This can make hair drier and more damaged. It's recommended that you experiment with different oils to find out what works best for your hair type.
If you have a dry or sensitive scalp then you could add essential oils such as peppermint or lavender to help manage frizz and soothe an irritated scalp.
Mixing oils to get the right combination for your hair is one of the best methods.
COCO&CO's pure, odorless & clear coconut oil is rich with Vitamin E and fatty acids which are responsible for improving scalp circulation and balancing the oil production.
This gentle, organic product has a silky texture that will leave hair smooth and hydrated without making it appear greasy.
Coconut oil can help to reduce potential damage to the cuticles caused by some of the harsh stripping effects of shampoo.
By reducing the frequency of which the cuticles expand when wet, the hair is left feeling healthier and stronger as a result.
Alternatively, this Babassu Oil by Dr Adorable is a creamy formula that helps to reduce a dry, itchy scalp and rebalance the hair's natural oils.
While some oils or creams are left to sit on the hair and scalp and make it appear greasy, this organic, pure, Babassu Oil is extremely moisturizing and able to fully penetrate the hair shaft.
This is a great choice for pre-pooing because it will leave the hair and scalp thoroughly hydrated, lessening the effects of the shampoo.
How To Pre-Poo Low Porosity Hair
Step 1
The most important step is to ensure your hair is separated into sections. This makes it easier to distribute the oil or conditioner so it fully coats each hair stand. Start with taking smaller sections of the hair as this will be more manageable.
Step 2
Start applying a generous amount of oil or conditioner to dry sections of your hair. Massage into the scalp gently with your fingertips. You want to ensure that the hair is fully saturated.
Step 3
Either twist the hair into sections or wear a loose-fitting cap to keep everything in place. This will also protect your clothing and make it easier for you to sleep with it left in.
Step 4
Leave it in the hair for anywhere from 30 minutes to overnight. If you are pre-pooing with a deep conditioner, do not leave it in overnight as this could cause Hygral Fatigue.
Step 5
Wash your hair as usual and ensure all of the oil is thoroughly washed out. Style your hair as normal.
When deciding whether to use deep conditioner or an oil as a pre-poo method, you should take into account a number of things:
Are you prone to product build up? If so, an oil is a better option
Do oils usually weigh your hair down or make it appear greasy? You may prefer a deep conditioner
Do you currently suffer with or have been prone to Hygral Fatigue? To be on the safe side, opt for an oil instead
Also Read: How To Use Castor Oil For Protein Sensitive Hair
How Often Should I pre-Poo?
How often you pre-poo entirely depends on your hair type but we would usually recommend it to be no more than once a week.
Everyone reacts differently, so if you notice your hair feels weighed down or greasy, then you should pre-poo less often.
Many people get great results from doing it every 4 to 6 weeks as they find it creates a good balance. You can start off with every other week and take note of how your hair reacts, and then you can adjust accordingly.
When Should You Not Pre-Poo Hair
There isn't an easy answer to this because as we've mentioned above, everyone reacts differently.
Some people with high porosity hair achieve great results with a pre-poo method. This is because it can help with the detangling process and make hair more manageable.
Other people might not get the best results. This is because high porosity hair can easily soak up moisture, but it struggles to retain it.
This often results in hair that is dry, dull, and weak. That doesn't mean that pre-pooing won't work for high porosity hair. It does however mean that you should do it less often and examine how your hair reacts.
---
Disclaimer: This site is not intended to provide professional or medical advice. All of the content on LovedByCurls.com is for informational purposes only. All advice should be followed at your own discretion. Ingredients may change at any time so always check the product label before using. Check our full disclaimer policy here.
Coralle is an experienced beauty writer with a passion for wellness, women's health, and sustainability.