Glycerin is a staple ingredient in many products, however, not everyone benefits from using it. In this article, we give you 17 glycerin free hair products that work for all hair types and reveal exactly why you should be ditching glycerin.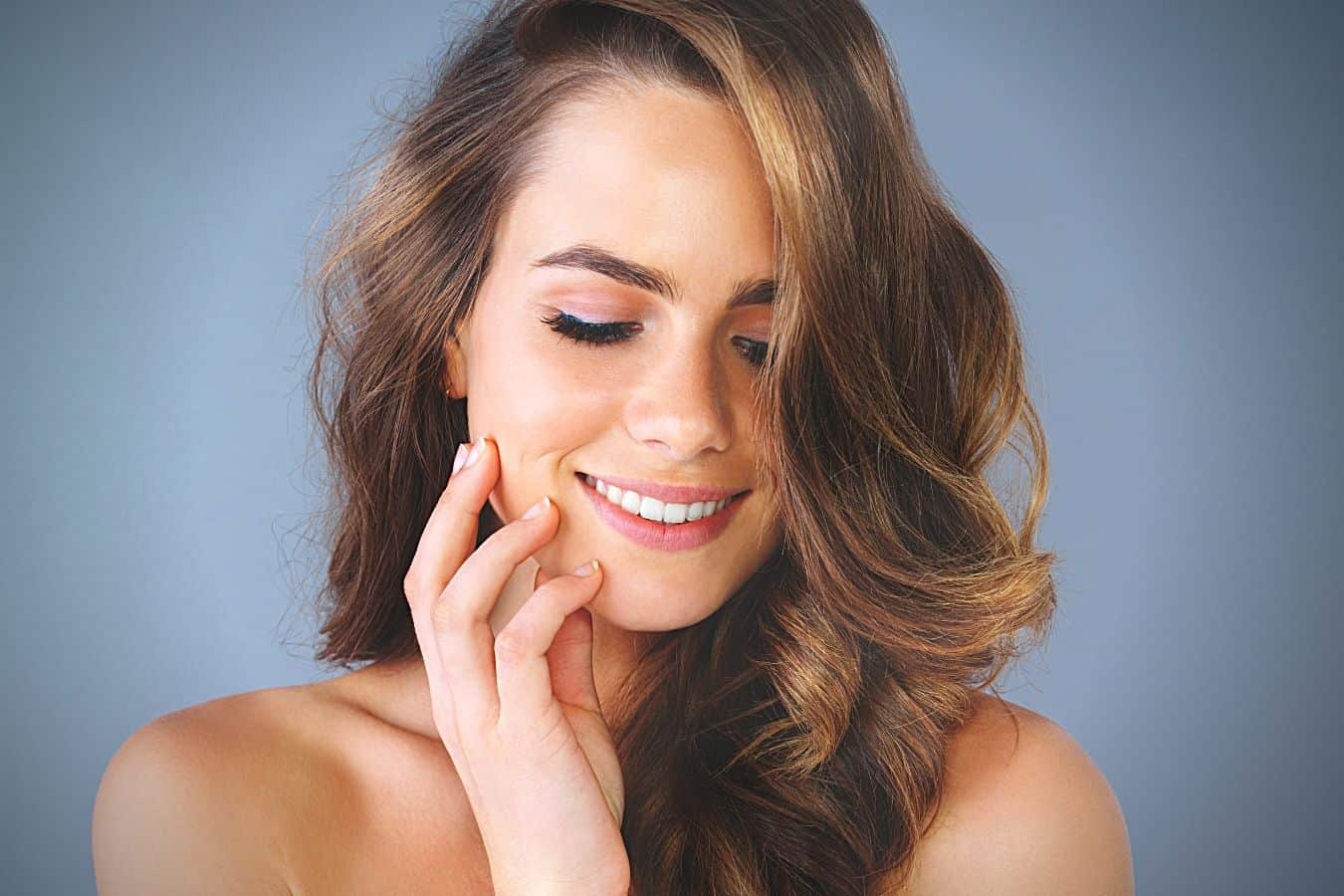 Note: All products in this article are also free from sulfate and silicone which means that they are Curly Girl Friendly.
What Is Glycerin?
Glycerin is a sugar alcohol and looks like a clear, odorless liquid.
There are two types of glycerin – natural and synthetic.
Natural glycerin is vegan and derives from plant sources such as coconut and soy. Synthetic glycerin derives from petroleum.
This post contains affiliate links and we may earn if you click on them (at no extra cost to you). Please read our full disclosure policy here.
Why Do Hair Products Contain Glycerin?
Glycerin is a a humectant which means that it has the ability to draw moisture from the air.
Glycerin is therefore often added to hair products to help moisturize your hair, making it appear less frizzy and more manageable.
According to a 2016 study, glycerin was actually named as the most effective humectant.
Besides the ability to hydrate your locks, there are a number of other benefits to using glycerin hair products.
These include:
Reduces Itching
Stimulates Hair Growth
Helps Repair Damaged Hair
Prevents Split Ends
Helps to detangle
Why Choose Glycerin Free Hair Products?
Although there are great benefits to using glycerin hair products, not everyone should.
Glycerin free hair products works best for those who:
Live in low or high humidity regions
Suffer moisture overload
Use non-permanent hair color
Let's take a look at these in more detail:
The Humidity In Your Area
If you live in either a low or high humidity region, it may be best to opt for glycerin free hair products.
This is because glycerin works wonders in areas where there's enough moisture in the air to draw from and back into your hair.
However, if the environment is drier than the hair itself then this can result in the humectants actually releasing moisture from the hair back to the air to create a balance.
On the other end of the spectrum, if you live in high humid areas, there's so much water in the air that glycerin could pull in an excess of water to your hair.
This would cause your hair to go poofy and unmanageable (think Monica from F.R.I.E.N.D.S in Barbados!)
Glycerin therefore works best in areas where the humidity is very balanced.

Also Read: 6 Amazing Benefits of Using Bamboo Extract For Hair And Skin
Moisture Overload
Moisture overload is a condition where the cuticles of your hair have become damaged. This in turn allows excess moisture to enter and can cause breakage, split ends, and lack of volume.
As glycerin is mainly used to lock in moisture, this could have a negative impact on your hair and result in hygral fatigue.
Hygral fatigue is a condition whereby too much moisture quickly enters the hair strands, causing them to swell and stretch. This can cause very dry, limp hair which is very easily prone to breakage.
Getting the balance right is hard, so if you think you're suffering from moisture overload, it's best to switch to glycerin free hair products until you've overcome the issue.
Using Heat Appliances
Glycerin works quickly and actually conducts thermal energy very efficiently. This means that it is able to transfer heat to your hair.
You should therefore be extra cautious when using glycerin with heat appliances.
Ensure that you combine heat styling with a glycerin free hair product such as a protective moisturizer for improved results.
Failing to do so can result in further breakage and damage to the hair shaft.
Using Non-Permanent Hair Color
If you have recently colored your hair, it may be best to switch to glycerin free hair products for at least the first few days when hair is most susceptible to color loss.
This is because glycerin contains properties that may dissolve hair dye molecules and can cause your new color to fade.
For this reason, it might also be a good idea to avoid using glycerin with semi-permanent hair colors.
Side Effects Of Glycerin In Hair Products?
Although there are great reasons to use glycerin hair products, not everyone can.
Thankfully not many side effects have been reported as glycerin is a natural substance that doesn't often cause extreme reactions.
The main reason to opt for glycerin free hair products is therefore more to do with the way it reacts to your hair rather than a medical condition.
However, there are some reports of allergic reactions when glycerin is applied directly to the skin.
Here is a list of some of the other reported side effects to look out for:
Burning
Stinging
Redness
Irritation
Rash
Itchiness
If you're using glycerin straight out of the bottle in DIY recipes, it's therefore always advised that you do a patch test. Dilute it with another liquid before applying it directly to the skin, as this minimizes the risks of any negative reactions.
Of course, there are many glycerin soaps and shampoos which you can use that may not cause any allergic reactions at all.
Also Read: [2021 updated] The 12 Best Shampoos For Soft Water
Glycerin Free Hair Products
We've compiled a list of the best glycerin-free hair products to try and which won't break the bank.
These products are suitable for all hair types and are also free of sulfates and silicones.
Glycerin Free Shampoos
The As I Am co-wash is a light-textured co-wash that thoroughly cleanses and hydrates your curls.
The product contains coconut oil and castor oil which help to promote hair growth.
The co-wash effectively removes product build-up while moisturizing your hair at the same time and therefore makes hair easier to detangle.
Suitable for daily use.
This co-wash from Eden is an affordable CG beginner's product and can be used regularly.
It gently cleanses hair from pollution and product build-up and promotes a healthy environment for hair growth.
Contains coconut, aloe vera juice as well as Shea butter for additional moisture.
This gentle shampoo from The Mane Choice removes impurities and build-up without knots and tangles.
It contains biotin and vitamin E which will help nourish, grow and hydrate your hair.
This shampoo is gentle enough for everyday use is safe to use on color-treated hair.
It works to minimize breakage and further damage to your hair and will leave your locks soft and shiny.
Glycerin Free Conditioners
This super nourishing almond and avocado conditioner is a real treat. It replenishes moisture while reducing frizz and breakage.
The formula contains coconut milk which aids as a natural detangler and shea butter which helps to hydrate your curls from the inside out.
Transforms dry and tangled hair into soft, bouncy locks with lots of shine.
This conditioner from Faith In Nature is a great product that helps to detangle unruly hair.
It is lightweight and has a mild but wonderful scent made from 100% natural fragrances.
This product doesn't lather too much and therefore offers a thorough but gentle cleanse.
Suitable for everyday use.
Also Read: Is Sea Moss Good For Hair? (7 Amazing Benefits)
This conditioner from Giovanni is cruelty-free and is enriched with certified organic botanicals.
It has an incredible silky feel which gives you smooth, shiny locks. It can be used daily and helps to control split ends and add volume.
Suitable for use on colored hair.
This ginger conditioner from XHC offers a nourishing cleanse and condition to both hair and scalp.
Helps to hydrate thirsty locks and leaves hair feeling shiny, refreshed, and full of life.
This conditioner also protects your hair from dryness and environmental damage.
This conditioner was specifically formulated for people with a sensitive, itchy, or flaky scalp.
Made in Australia, ingredients include jojoba and olive oil to help moisturize your hair.
This conditioner doesn't cause build-up and can be used regularly on wash days.
This non-greasy conditioner is a must-have if you suffer from dandruff or dry scalp.
Glycerin Free Gels
The Aussie Instant Freeze gel is a firm favorite amongst CGM followers.
It has a very strong hold and contains Australian jojoba oil and sea kelp.
The gel locks in moisture without going flaky or being sticky and leaves your hair feeling soft and bouncy.
The gel is also super affordable and would therefore be great for those on a budget.
This light hold gel from Dippity-do is fortified with natural aloe, vitamin E, and wheat protein to help protect against frizz while hydrating your curls.
The gel creates natural and healthy-looking locks that feel soft and defined. This gel banishes crunchy and stiff curls and produces a glossy, shiny look.
The Giovanni LA Hold Styling Gel offers a strong hold for your curls. This gel is color-safe, cruelty-free, and won't break the bank.
Perfect for those who need extra frizz-control and if you're looking for more defined curls.
The formula contains moisturizing ingredients such as aloe vera leaf juice, lavender extract, and grapefruit.
Glycerin Free Mousses
This mousse from Aussie is great for those who don't fancy a hard cast. It provides curls with softness and bounce without feeling sticky or heavy.
If you're looking for an everyday mousse to help define your curls, this is it. Even better, the mousse is PETA certified.
This lightweight foam from Giovanni is a game-changer. It gives curls a natural weightless look and adds volume to roots.
Can be used in conjunction with gel on wash days or even on refresh days when your curls need an extra boost.
A great addition to your routine if you've been wanting to try a lighter alternative to gel.
This is a medium-hold mousse from Herbal Essences and helps to condition, smooth, and define your wavy and curly locks.
Tame flyaways and nourish your hair with this lightweight product that won't leave a flaky residue.
This mousse also has a fantastic scent and works great for both wash days and refresh days.
Use before diffusing to get a stronger cast and scrunch out the crunch to reveal soft, shiny curls.
Glycerin Free Leave-in's
This hair mask from Curls offers an intensive reparative treatment guaranteed to prevent breakage.
It contains blueberry extract, aloe leaf juice, and chamomile extract which helps to protect your natural curls.
Use once a week as part of your CG routine for bouncy, soft, and hydrated curls.
This popular conditioner is light-weight, color-safe and helps to build body if you have thin or fine hair.
It provides moisture by penetrating into each individual hair strand and aids in protecting your hair throughout the day.
You can use this product every day as a co-wash, conditioner or leave-in to help strengthen your curls.
The Jessicurl Deep Conditioning Treatment is a moisturizing treatment mask that is thick, creamy, and helps repair and restore damaged hair.
It helps to soften and bring back life and shine to otherwise dull and unruly curls. Use once a week for 30 minutes as a deep treatment mask.
Can also be used as a leave-in conditioner for thicker hair textures.
A really great product from Jessicurl that delivers great results.
Disclaimer: This site is not intended to provide professional or medical advice. All of the content on LovedByCurls.com is for informational purposes only. All advice should be followed at your own discretion. Ingredients may change at any time so always check the product label before using. Check our full disclaimer policy here.