Shea butter is a popular ingredient that is often referred to as a skin superfood. In this article, we investigate whether yellow or white shea butter is best and we share some top tips on how you can incorporate shea butter into your beauty routine.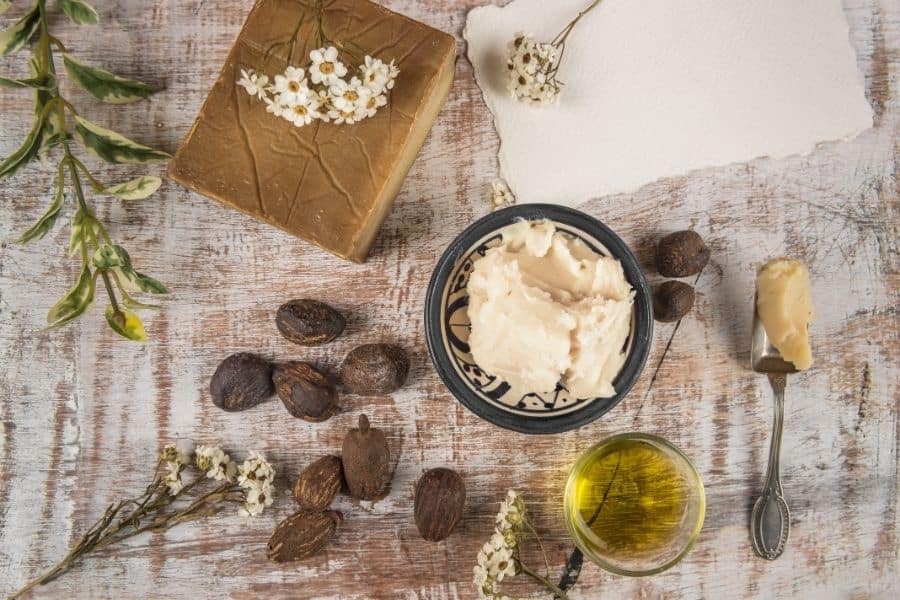 So, what is the main difference between yellow or white shea butter? The difference lies in how each butter is processed. Yellow shea butter is usually raw, has a strong odor, and contains impurities. White shea butter on the other hand is usually unrefined and processed with impurities removed.
This post contains affiliate links and we may earn if you click on them (at no extra cost to you). Please read our full disclosure policy here.
What Is White Shea Butter
There are a few variations of the color "white" when it comes to shea butter. Off-white is unrefined shea butter and stark or pure white is known to be refined or ultra-refined shea butter.
Pure white shea butter is free of impurities and you can recognize it by its smooth texture.
You can buy white shea butter in solid form or in a liquid form. This is because is usually mass-produced and is often found in commercial beauty products.
What Is Yellow Shea Butter
Unlike white shea butter, yellow shea butter is essentially raw. This means it contains impurities as it hasn't undergone any filtration.
Yellow shea butter can be identified by its strong, nutty odor and you can often purchase it in a jar or tub due to its paste-like texture.
Yellow shea butter is also quite difficult to melt and apply to the skin whereas white shea butter is more manageable.
However, it is considered quite effective as it sticks to your skin for longer and it doesn't contain harmful chemicals due to not being refined.
Also Read: 5 Amazing Benefits Of An Amino Acid Hair Treatment
Yellow or White Shea Butter – Summary Of The Differences
White Shea Butter:
It can be off-white or stark white in color
Stark white shea butter is refined
Stark white shea butter is odorless
White shea butter may come in solid or liquid form
Off-white shea butter is pasty and has a distinguishable sweet, nutty odor
Stark white shea butter may include harmful chemicals and may lack nutrients
Off-white shea butter has natural beneficial properties
Yellow Shea Butter:
It is yellow in color
Yellow shea butter is raw
It has not been refined
It is usually in paste form packaged in tubs or jars Ccan be difficult to melt and apply
Yellow shea butter contains the natural nutrients of the Karite nut
How to Pick the Best Quality White Or Yellow Shea Butter
If you're wondering how to make sure you're buying the best unrefined shea butter then follow the checklist below:
Try it on your skin first to see if it is absorbed easily or if it appears to be waxy or greasy
Smell it – shea butter should have a distinctive nutty smell
The texture should be smooth. If it is too grainy there is a chance the shea butter has been heated and fillers have been added
The butter should melt between your fingers as you handle it
Always look for a trustworthy retailer or product with a great review. An added benefit is having a money-back guarantee on the product
Benefits of Yellow Shea Butter
If you're wondering if yellow or white shea butter is best for your skin then the answer is yellow shea butter.
This is because it has a tonne of benefits for both your skin and hair, and can be used in hair routines such as the LOC method or even as an overnight mask. It is unrefined in nature and contains vitamins, fatty acids, and many nutrients.
Finally, yellow shea butter is free from preservatives and other harmful additives making it a great moisturizer.
Benefits of White Shea Butter
White shea butter is filtered and therefore contains no impurities. An added benefit is that this improves its consistency so can be easier to use. White shea butter is for example great to nourish cuticles and can also be applied as a lip balm or used to soothe your skin after sun exposure.
Other Benefits of Using Shea Butter on Your Skin
Safe to use on all skin types
Contains anti-inflammatory properties
Works as an antioxidant
Shea butter helps to boost collagen production
Reduces the appearance of fine lines and wrinkles
Also Read: Gluten Free Hair Color: Your Best Choices for 2021
How to Use Shea Butter on Your Hair
Did you know that raw shea butter can be applied directly to your hair? Using shea butter on your scalp and hair can help to stimulate hair growth, prevent hair loss, and even reduce inflammation.
Another added benefit is that it can combat the effects of dandruff.
If your hair is naturally curly, then you may want to consider using shea butter as a conditioner.
After applying the shea butter, ensure all of it has been absorbed thoroughly before rinsing out the remaining butter, and then dry and style your hair as usual.
If you have naturally straight or fine hair, you could apply some shea butter to the ends of your hair. Avoid applying it to the roots of your hair as this could make your hair appear oily or greasy.
As A Hair Mask
Yellow and white shea butter is ideal to use on your hair for a luxurious, and naturally nourishing hair mask.
If you have dry hair, introduce either yellow or white shea butter to your hair care routine for added moisture. The nourishing product consists of fatty acids and vitamins leaving your hair nourished and glowing.
To apply, simply mix some shea butter to an existing hair mask or apply it directly to your hair after washing it.
As A Hair Conditioner
Shea butter is used in many hair conditioner products as it is enriched with hydrating ingredients that deeply nourish the roots. This leaves your hair feeling silky and shiny in appearance.
This moisturizing Mango and Shea Butter conditioner from Creme of Nature can help soften your hair if it is dry and damaged. Use for a few weeks and you'll soon feel the effects.
For A Healthy Scalp
Yellow or white shea butter also has great healing properties for a dry scalp. It will help to moisturize and promote healthy circulation and restore shine.
Apply the shea butter in the same way you would apply a hair mask. Simply heat some shea butter until it has melted and then using your fingers to apply a small amount of the product directly to your scalp.
Massage it in gently and leave it on for around 20 minutes. Wash the product out and rinse and dry your hair as normal.
You should be able to see results after a few weeks.
To Help Nourish Damaged Hair
Damaged hair or split ends can be caused by several factors including the excessive use of heat styling tools, wigs, or overly tight braids.
To start, trim split ends and apply yellow or white shea butter as a hair mask or conditioner to help nourish your damaged hair.
To Moisturize Dry Hair
Like coconut oil, both yellow or white shea butter contain an incredible number of fatty acids and vitamins A, E and F.
This goes a long way in smoothing and conditioning dry or damaged hair and skin.
For best results, apply a bit of shea butter to your palms and apply it directly to newly washed hair.
This can replace your conditioner and can be treated as an alternate hair serum. The shea butter will lock the moisture in your hair, leaving it feeling soft and easy to manage.
Also Read: Is Glycerin Vegan? Important Facts You Need To Know
Shea Butter Hair Products to Try
If you prefer to use store-bought hair products containing shea butter, here are a few popular brands to try:
Shea Moisture Manuka Honey and Yogurt Power Protein Treatment
Maui Moisture Aloe Vera and Shea Butter Hair Mask
Creme of Nature Mango and Shea Butter Ultra Moisturizing Leave in Conditioner
Disclaimer: This site is not intended to provide professional or medical advice. All of the content on LovedByCurls.com is for informational purposes only. All advice should be followed at your own discretion. Ingredients may change at any time so always check the product label before using. Check our full disclaimer policy here.
Dee has been following the Curly Girl Method for over four years and is our in-house Curly Girl expert. She has a keen interest in natural haircare and has tried and tested her share of CGM products. She has a photographic memory of most sulfate and silicone-free hair products available on the high street and she's always happy to recommend you her favorites.