When talking about deep conditioning options, Shea Butter is often mentioned. It is a versatile product that has many moisturizing benefits. A question we hear a lot is: 'can I use Shea Butter in my hair overnight?' In this article, we're going to answer this question for you.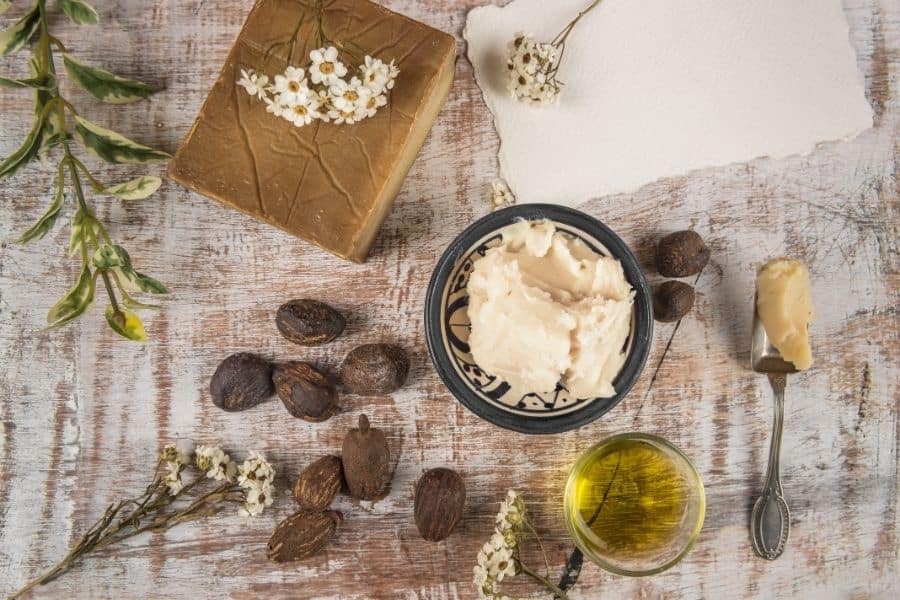 Yes, Shea Butter can be used in hair overnight as a deep conditioning treatment for dry and damaged hair. However, excessive use on the scalp can block the pores. It should not be used overnight on healthy hair as this can lead to excessive moisture.
What Is Shea Butter
Shea Butter is the fat that's extracted from the nuts of the Shea tree. In its purest form, it is ivory in color.
Shea Butter has an earthy smell, is rich in vitamins and fatty acids and it has a soft, spreadable consistency that makes it easier to apply evenly.
Commonly used on the hair and skin, Shea Butter helps to smooth, soften, and treat dry skin and damaged hair.
Benefits of Using Shea Butter On Hair
There are many benefits to using Shea Butter on your hair. These include:
Treats Scalp Irritation
Shea Butter has anti-inflammatory properties that can help to calm and soothe an irritated or itchy scalp.
Shea Butter is easily absorbed, so it can thoroughly hydrate and moisturize a dry, flaky scalp without weighing the hair down.
However, it's best avoided by those who regularly experience an oily scalp, as this could potentially clog the pores and cause scalp acne.
Protects The Hair From Damage
Shea Butter is a thick, heavy cream which can be an advantage when treating dry, damaged hair that has lost its moisture.
Using Shea Butter on extremely dry hair can help to restore it to a softer, more manageable condition.
This can help to repair brittle strands while protecting the hair against future damage.
Shea Butter can be left in the hair overnight as a deep conditioning treatment to repair and restore it.
Also Read: 10 Useful Tips For Maintaining Frizz-Free Curly Hair
Protects The Hair From Weather Damage
Shea Butter acts as a great hair sealant and it keeps moisture locked in.
This minimizes the amount of damage caused by outside elements like strong winds and rain.
It will make the hair shinier and softer too.
Promotes Hair Growth
Using Shea Butter on the hair and scalp overnight can help to repair damaged hair follicles and restore their strength. This can accelerate hair growth and prevent breakage.
It can also help to prevent hair loss and hair thinning as a result of this.
Prevents Damage From UV Rays
It's no secret that UV Rays can cause extensive damage to the hair and scalp.
Shea Butter contains cinnamic acid, which helps to shield the hair from sun damage.
It works in the same way as an SPF cream, but it shouldn't weigh the hair down or make it appear too greasy.
Protects Against Heat Damage
Excessive heat is one of the main causes of dry, damaged hair.
You can protect your hair from some of the damage cause by heat styling tools by using Shea Butter.
As Shea Butter is easily absorbed into the hair shaft, it can be used right before blow drying or straightening the hair to add an additional protective layer.
It will also help to seal the ends, protecting them against brittleness and breakage. Additionally, using Shea Butter before using heat on your hair will add increased shine and softness.
Also Read: How To Use Castor Oil For Protein Sensitive Hair
Ways To Use Shea Butter On Hair
Shea Butter is a very versatile product can be used a few different ways. If you're unsure which method is the right one for you, we've broken it down into 4 clear choices:
As a Pre-Poo
An effective way of maintaining healthy hair is to use Shea Butter before shampooing as this will help to counteract the stripping effects of shampoo.
It can be used on the scalp if you have a normal to dry scalp.
If you have an oily scalp then we would recommend applying it to the lengths only.
Simply use a generous amount and work it through the lengths of your hair, ensuring the hair is evenly coated.
After 20 to 30 minutes, wash the product out thoroughly and dry and style your hair as usual.
You should notice your hair feels much softer and easier to comb through.
Alternatively, you can try coconut oil if your hair is high porosity. Coconut oil doesn't contain as much moisture as shea butter and so will be able to protect your hair from moisture overload when washing.
As a Leave-In Conditioner
Shea Butter works well as a leave-in conditioner as it makes the hair softer and easier to detangle after washing.
How To Use
Ensure the hair is damp before applying.
Rub a small amount in the palm of your hands and comb it through with either your fingers or a wide-tooth comb.
If you have an oily to normal scalp, it's best if you apply it to the lengths only to avoid excess grease. You can leave the Shea Butter in your hair overnight.
Your hair should be easier to style and manage throughout the day. You may also notice increased shine and softness.
As A Sealant
The great thing about Shea Butter is that it's considered to be both an oil and a cream, which makes it a great choice for both the LOC and LCO method.
Many people get great results from simply using water on the hair and following it up with some Shea Butter.
It particularly works well for people who have dry, coarse hair as Shea Butter is incredibly hydrating and it locks in moisture very well.
Some people find that they can go several days with their hair feeling thoroughly hydrated – but not weighed down – before needing a refresh.
Overnight Treatment For Damaged Hair
If you have severely damaged hair caused by excessive heat or color treatments, then we would suggest applying the Shea Butter and leaving it on overnight.
This works very well on dry hair as the Shea Butter helps to replenish moisture and prevent the hair from breakage.
Leaving it on overnight will ensure that the Shea Butter has enough time to work its magic!
In the morning, you'll definitely notice that the hair is softer and more manageable.
However, it may take a few weekly overnight treatments before you notice a difference in extremely damaged hair.
Using Shea Butter In Hair Overnight
Of course, Shea Butter can be left in the hair overnight. But there are a couple of things to consider first.
If you have normal to healthy hair, then it might not be the best treatment option for you.
This is because using Shea butter in healthy hair overnight can lead to excessive moisture, which can then lead to Hygral Fatigue.
This can be particularly damaging on high porosity hair, so that's something to keep in mind.
When used on damaged hair, Shea Butter can be very effective at softening and restoring the hair to a better condition.
However, it shouldn't be applied to the roots as it can potentially block the pores.
This can lead to excessive grease, which can then lead to dandruff and scalp acne.
To avoid this, we suggest applying it mainly to the lengths of the hair and to wash off shea butter using a clarifying shampoo.
Raw Shea Butter vs Shea Butter Hair Products
So, should you invest in a high-quality raw Shea Butter to use overnight or can you get the same results with Shea Butter hair products? Here are some of the pros and cons to help you with your decision.
Raw Shea Butter
Pros
In its purest form it contains the most vitamins and minerals which will be highly beneficial to the hair
Off-yellow Shea Butter contains antioxidants and detoxifying benefits
It is 100% pure so you know that the product is high quality
Cons
Can be more expensive
Might be harder to find in shops
You have to prepare it yourself (often needs to go in the microwave and be whipped)
Shea Butter Hair products
Pros
There are many options available
Easy to find in a range of shops
Can be more affordable
More convenient
Many of them share the same benefits
Cons
Some products are not 100% pure Shea Butter which means it lacks essential benefits
Shea Butter products can contain added processed, harmful ingredients
Some Shea Butter products are white in color, which means they have been highly processed
When choosing a Shea Butter product to use overnight, try to look for one that is more yellow in color as this will ensure you are getting high quality, raw Shea Butter.
This kind of Shea Butter will have all of the benefits that you are expecting.
Also Read: Does Shampoo Expire? What You Need To Know
How Long Does It Take Shea Butter To Work
This entirely depends on how damaged the hair is.
Some people have reported seeing the moisturizing benefits after just a few hours, while others might not notice a dramatic difference for several weeks or months.
If you are using raw Shea Butter in hair overnight that contains the most vitamins and minerals then you should notice a difference from the first application.
It will not reverse years of damage in just 1 treatment, but you should notice softer, shinier, and more manageable hair fairly quickly.
---
Disclaimer: This site is not intended to provide professional or medical advice. All of the content on LovedByCurls.com is for informational purposes only. All advice should be followed at your own discretion. Ingredients may change at any time so always check the product label before using. Check our full disclaimer policy here.
Coralle is an experienced beauty writer with a passion for wellness, women's health, and sustainability.