When I first started my Curly Girl journey, I found it quite overwhelming at times. I didn't know which products to use or where to buy them and I certainly didn't understand which ingredients to avoid. I, therefore, compiled this list of 33 approved UK Curly Girl Method products.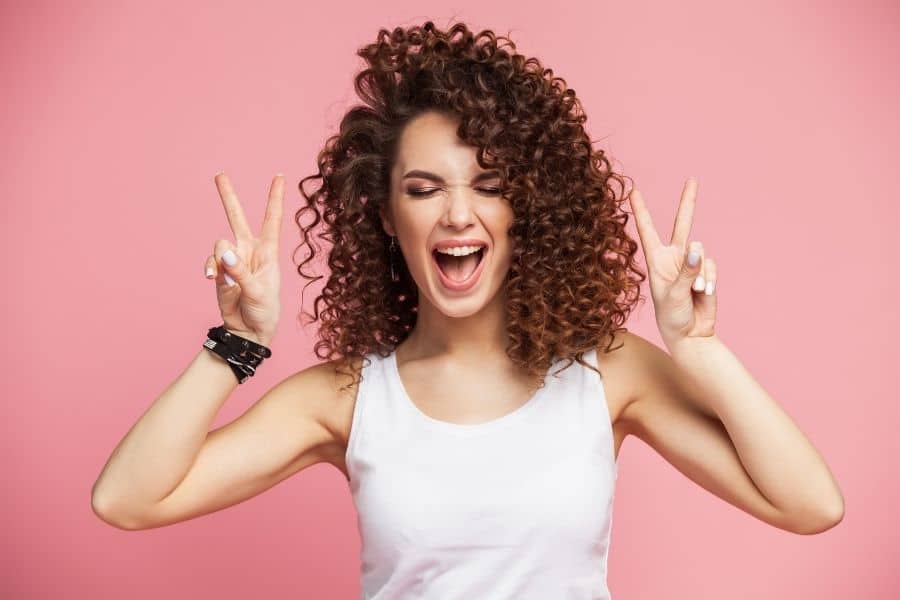 So, does the UK have many Curly Girl friendly products to choose from? Absolutely!
There are many UK products that can be used on the Curly Girl Method. These range from budget conditioners and gels from drugstores such as Boots and Superdrug and more high-end products from brands such as Umberto Giannini and Cantu.
It doesn't have to be expensive to follow the Curly Girl Method and in my personal opinion, your goal should be to only use 2 or 3 products.
Wrong products or even too many products can cause your hair to turn dry, frizzy, or even damage it further.
Please also remember that Curly Girl 'approved' means the same as Curly Girl 'friendly'.
All of the products we buy in stores are made by different brands and with different ingredients, but none of them are 'officially' approved because the method doesn't dictate any specific product.
'Approved' or 'Curly Girl friendly' simply means that these products do not contain any of the 'bad' ingredients listed by Lorraine Massey in her book, Curly Girl – The handbook and that they are completely safe to use.
If you would like to transform your curls too, check out my Curly Girl Method step-by-step guide.
This post contains affiliate links and we may earn if you click on them (at no extra cost to you). Please read our full disclosure policy here.
Curly Girl Method Approved UK Products
The Curly Girl Method 'technically' doesn't recommend the use of shampoo. However, many Curly Girls choose to use a clarifying shampoo once every month to get rid of build-up.
These are still silicone, sulfate, and alcohol-free so won't harm your hair at all.
For some, co-washing is just not possible due to either work, disabilities, or sensitive skin.
It is completely a personal choice and you're free to do whatever you want. Remember, at the end of the day, the CG Method should help you, not make things worse.
I'm not going to cover shampoo in this post, but definitely check out my top recommended UK Curly Girl friendly shampoos.
Below you will find a few of my personal favorites, as well as a list of all the UK-approved Curly Girl Method products I have been able to find.
Please note the list below is not exhaustive as I am constantly adding to it, but this is a great selection of the best and most popular choices.
The list includes cheap supermarket brands as well as high-end products and my aim is to make this product list as comprehensive as possible.
Conditioners – Curly Girl Method UK Products
When choosing a UK conditioner to use on the Curly Girl Method, the first thing you want to consider is whether your hair is protein sensitive, balanced, or over moisturized:

Protein Overload
If you have protein-sensitive hair, you'll want to go for products that do not contain protein or coconut.
Coconut is a protein mimic and will, therefore, clog your follicles and prevent moisture from penetrating your hair.
Many brands add protein to their hair products and you can quickly experience protein overload if you are not careful.
Hair needs both protein and water to become balanced and too much of either will damage the structure of your hair.

My Top 3 Protein-Free Conditioners
---
---
If you are suffering from protein overload, I would also highly recommend doing an apple cider vinegar rinse once a month as it has completely transformed my hair.
Top 3 conditioners for Balanced Hair
If you have balanced hair, you won't need to worry too much about protein or moisture overload.
Your hair is healthy and is exposed to the right amount of protein and water.
However, this doesn't mean that every product will work with your hair and you may need to experiment.
But if you have healthy, bouncy curls, I would try to use products that are very similar to what you are used to.
Shea Moisture has a large range of Curly Girl approved products and so is one of the most popular brands within the Curly Girl community.
Their Shea Moisture Coconut and Hibiscus Curl and Shine Conditioner is a bestseller and is perfect for those with thick and curly hair.
The conditioner contains silk protein and neem oil and helps to restore moisture and smooth dry hair cuticles.
Check Price on Amazon
---
---
---
Moisture Overload/ Hygral Fatigue
If your hair feels limp, soft, and stretchy and your curls have stopped forming, you may be suffering from moisture overload also known as hygral fatigue.
Hygral fatigue happens when the cuticles of your hair become swollen due to water retention and then deflate once water is removed from the hair.
Your hair then becomes weak and stretches more easily which leads to breakage.
Hygral fatigue or moisture overload can be caused by not using enough protein-rich products or washing your hair every day.
Best Conditioners For Moisture Overload
All of these products contain either protein or coconut and are Curly Girl favorites.
I suggest not washing your hair more than twice a week if you suffer from moisture overload.
Deep Conditioners – Curly Girl Method UK Products
Deep conditioners are important when your hair needs a bit of extra care.
Personally, I like to deep condition once a week for a good half hour and then I carry on with my regular routine.
You can essentially use any conditioner as a deep conditioning product, but if you require significant moisture or protein boost, I suggest you choose wisely.
The Garnier Ultimate Blends Almond Crush Yogurt Mask is a weightless deep conditioner that nourishes and softens normal hair.
It gently cleanses for healthier, stronger hair and is made from 98 percent natural ingredients.
It's important to protect processed and damaged hair and the Eden BodyWorks Jojoba Monoi Deep Conditioner does just that.
Helps restore your hair's natural beauty and provides optimal hydration for all curl types.
The As I Am Hydration Elation Intensive is a great moisturizing deep conditioner that restores strength and nourishment to your hair.
It works great on hair that easily tangles and makes curls very easy to style.
Cleansers – Curly Girl Method UK Products
If you follow the Curly Girl Method, you'll know that the use of shampoo is not recommended.
This is because most shampoos contain sulfates which strip your hair of its essential oils.
To get around this, a lot of brands promote sulfate-free shampoos, otherwise known as low poo shampoos.
These are also not recommended as manufacturers add additional chemicals, some of which may be even more harmful to your hair.
I wrote an article about why you shouldn't use low poo shampoos if you're following the Curly Girl Method.
The best way to clean your hair from build-up and pollution is to use a sulfate-free cleanser that doesn't lather, meaning it doesn't create bubbles.
Most cleansers will work for any hair type, but if you are protein sensitive I would recommend that you choose a cleanser without coconut or coconut oil.
The As I Am Coconut CoWash Cleansing Conditioner is a real favorite amongst Curly Girls.
It leaves my hair clean and washes out all oil and product build-up which normally is very difficult to do. My hair also feels moisturized afterwards, even after coloring!
A great co-wash that really does the job without leaving hair greasy or heavy.
The Mixed Chicks Conditioning Cleansing Co-Wash is super cleansing and is able to do just as good of a job as shampoo. It leaves hair soft and manageable and smells amazing!
I really like that it helps separate the curls and my hair always feels soft after a wash.
The CURLSMITH Curl Quenching Conditioning Wash is a vegan co-wash for wavy, curly, and coily hair and definitely lives up to the hype.
Curls look less frizzy and feel softer and defined and this is a great alternative to harsh shampoos.
If you're looking for a co-wash that restores damaged, limp curls and leaves hair feeling strong and healthy, this is it.
GELS – Curly Girl Method UK Products
I've said it before and I'll say it again. Finding the right gel on the Curly Girl Method is like finding the holy grail. It is the product that will decide the fate of your day/night/refresh/curls aka basically life.
I don't think you need to worry too much about protein and imbalance when it comes to gels but you can get protein-free gels.
Start out by finding the right one for you depending on your budget and how strong a hold you want and remember, you'll always need more than you think.
One of my favorite gels is the Umberto Giannini Scrunching Jelly. It is Umberto's best-selling product and is recommended over and over again for its quality, hold, and texture.
If you're having issues with your current gel or simply fancy trying out a more high-end brand, this one is for you.
Do be careful to not purchase other UG products as only a handful of them are actually CG friendly. If you want to know more, check out my full list of Curly Girl approved Umberto Giannini products.
The first gel I ever used on the Curly Girl Method was the Eco Style Olive Oil Gel. This worked really well for me and provided a strong hold for my curls.
The only reason I started experimenting with other gels was to see if there was a cheaper brand that would work just as well.
And there was! The Boots Essentials Extra Firm Hold Gel worked just as well and I would highly recommend this gel if you're on a budget or if your method includes double gelling.
By double gelling I'm referring to the method of adding gel on soaking wet hair, then dry with a t-shirt or microfiber towel, and then add gel again.
Doing the method this way can be a bit wasteful if you're not careful as a lot of the gel will rub off on the towel.
I use a good handful of gel at every wash so I want something cheap and durable.
Finally, the Twisted Sista Amazing Dream Curl Gel is another popular gel and is great for tight curl patterns. It offers a lightweight feel with a strong hold.
I like to layer this gel with other products or even another gel as it doesn't go flaky.

Other UK Curly Girl Method Approved Styling Products
There are plenty of Curly Girl Styling products you can buy in the UK and they range from mousses to sprays and creams.
Mousse
For a while, I experimented with cleanser, conditioner, and mousse only but my curls did not hold. I now switch between mousse and gel and find this to be a winning combo.
Mousse can help firm your curls and give them bounce but it won't seal in moisture the same way as gel will.
I also found it to dry out my curls a bit, but with gel, it seems to work. I also found it beneficial for combating frizz.
Check out my post on the best Curly Girl Approved mousses.
Recommended products:
Sprays
The As I Am CocoShea Spray helps separate your curls after you have washed your hair.
A few sprays on wet hair before you scrunch your hair with gel will give you much smoother curls and help detangle any stubborn clumps.
If you suffer from frizz, the Schwarzkopf got2b Twisted Styling Spray can help you manage it.
Best used on damp hair and applied using the praying method (rub the product between your palms and coat each curly as you move down from scalp to ends).
This is great to use on a refresh day as well.
The Cantu Natural Hair Moisturizing Curl Activator Cream is hugely popular within the Curly Girl community, especially since you only need to use a pea-sized amount.
For best use, rub between hands with a little bit of water after co-washing and scrunch your curls. Then gel and diffuse as per usual.
One thing to note is that this curl activator cream does contain coconut oil so if you're protein sensitive, I would stay clear as it could cause your hair to go dry and become frizzy.
For a nurturing and moisturizing cream, try the AS I AM Twist Defining Cream. It contains many natural oils as well as organic extracts.
Rub a small amount between your palms before applying gel or use as a refresh product on next-day curls.
Ingredients To Avoid
The chemicals we want to avoid on the Curly Girl Method are:
Sulphates (SLS's)
Silicone
Waxes
Drying alcohols
These chemicals can be found in most shampoos and conditioners and can actively contribute towards damaging your hair.
Sulfate is the lathering agent in shampoo which causes the product to create bubbles and gives you that squeaky clean feel.
Sulfates strip your hair of its essential oils, causing your hair to become dry and frizzy.
Furthermore, the lack of oils encourages your scalp to produce even more oil, contributing to build-up and greasy hair.
Silicone can be found in some shampoos but mainly in regular conditioners. The silicone acts as a film around each hair strand and embalms the follicles.
This prevents moisture from penetrating your hair, causing dehydration which in turn causes frizz.
Silicone is also not water-soluble and is only removed with, you guessed it, sulfates!
A regular shampoo and conditioner routine can, therefore, in the long run, prove to be quite damaging to curly hair.
Waxes are heavy and will weigh down your hair. Like silicone, they also coat the hair strands and will prevent moisture from entering and thus cause your hair to become dry.
Drying alcohols will dry out your hair. Simple as that.
There are some non-drying alcohols such as aminomethyl propanol, Cetearyl alcohol, and benzyl alcohol which are safe to use.
If you are ever in doubt about the ingredients of a specific product, I would recommend you use curlsbot.com to identify them.
And that's it!
I hope you have found this post informational. If you have found any additional UK products which are Curly Girl friendly, then please do leave a comment below or email me via the contact form.
---
Disclaimer: This site is not intended to provide professional or medical advice. All of the content on LovedByCurls.com is for informational purposes only. All advice should be followed at your own discretion. Ingredients may change at any time so always check the product label before using. Check our full disclaimer policy here.