Whether you have straight or curly hair, one thing's for sure: Keeping your hair shiny and healthy can be a real struggle. Something I've come across in my search for perfect curls is the term 'moisture overload' and it's surprisingly more common than you think!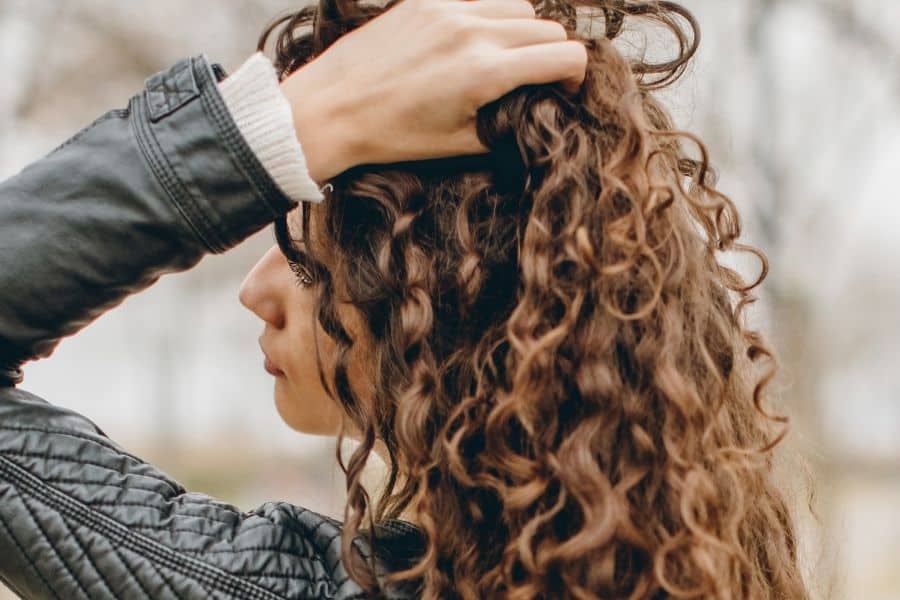 In this article I'll look into exactly what moisture overload is, how you can identify the symptoms and I'll also show you how you can fix moisture overload in 3 easy steps.
So what is moisture overload?
Moisture overload happens when there is an imbalance between the protein levels and moisture levels in your hair. Moisture overload particularly affects high porosity hair and can cause your hair to look limp, stringy, and greasy.
To prevent moisture overload from turning into hygral fatigue, a more serious condition, it's advisable to change your hair care routine immediately.
What Causes Moisture Overload?
All human hair is made of mainly protein which is why you'll always see adverts promoting keratin and coconut oil (coconut is a protein mimicker).
However, hair also needs a certain amount of water for it to be healthy and shiny as well as flexible (hello curls).
If hair becomes over-hydrated, it will lose some of its strong core protein structure and become weak, limp and stretchy.
If you have curls, you'll notice that they might become flat or even disappear all-together.
The main culprit of moisture overload is simply your haircare routine. Things such as:
Washing your hair too often
Over-conditioning
Leaving hair wet for hours or overnight
Overuse of deep conditioner
Never using protein products
We're so used to being told that our hair needs nourishment that we apply far too much conditioner, deep conditioner and moisturising creams to our hair.
This is particularly the case if you're a Curly Girl. Endless articles and adverts which promote moisture and hydration as the key to frizz-free curls.
This works well for people who have low porosity hair, meaning hair which does not absorb moisture easily.
However, people with high porosity hair should be careful with how much product they use.
But moisture is not always the answer. Remember that hair is mostly made of protein so it makes sense that too much moisture actually will cause damage to your hair.
Consider these statements:
Do you wash your hair more than twice a week?
Do you deep condition more than once a week?
Do you sleep with your hair wet at night?
Do you use moisturising creams?
Does your hair easily absorb water and products?
If two or more of the above statements ring true, you may well be a candidate for moisture overload.
Also Read: 5 Important Chemicals To Avoid In Shampoo (And Why)
Symptoms Of Moisture Overload
One of the most telling signs of moisture overload is that the texture of your hair has changed.
Whereas before your hair was shiny and voluminous, it's now dull and flat. You may also experience a change in your curl pattern and struggle to get a cast.
If you recognise more than three of the following symptoms, it's likely that you're suffering from moisture overload:
Your hair feels too soft
Your curls have stopped forming
Hair feels limp and dull
Hair has no volume
Split ends and breakage
Hair feels greasy or gummy when wet
If in fact you do suffer from moisture overload, it's very important that you do something about it as soon as possible. If your hair is allowed to progress, you may end up experiencing hygral fatigue.
Hygral fatigue is a condition where excess moisture causes your hair cuticles to swell and contract on a regular basis.
This stretches the hair strand beyond its capacity, causing hair to become weak and prone to breakage.
Again, this is something that is more likely to affect people with high porosity hair due to its ability to easily absorb moisture.
But the key warning signs to look out for is flat, lifeless hair that has lost all its shine.
Restoring hygral fatigue takes a lot longer to than moisture overload, so make sure you act fast if you think you're experiencing symptoms.
How To Fix Moisture Overload In 3 Simple Steps
1 Clarify
One of the best ways to 'reset' your hair is by clarifying. Clarifying is essentially a deep cleanse of your hair and scalp and gets rid of impurities, product build-up and oil residue.
It can also help to remove excess water from your cuticles.
The Bumble and Bumble Sunday shampoo is a fantastic clarifier and you only need to use it once a week. Make sure to use a scalp brush for maximum effect and massage the product into your scalp and hair for several minutes.
If you follow the Curly Girl Method and don't want to use a shampoo, I'd recommend trying an apple cider vinegar rinse.
Simply mix 4 tablespoons of apple cider vinegar with 2 cups of water and pour over soaking wet hair.
You may not see results after the first rinse, but after the second one, my hair always feels restored.
Also Read: The BEST Apple Cider Vinegar Rinse For Curly Hair
Sometimes, you do need something a bit stronger but even if you don't want to use a sulphate shampoo, I got you covered.
Try the As I Am Curl Clarity Shampoo or the Shea Moisture Coconut and Hibiscus Curl and Shine Shampoo.
These are both excellent clarifiers and very popular with the Curly Girl community. As they're sulfate-free, they can be used more than once a week.
Products mentioned:
Also Read: Top 2020 UK Curly Girl Friendly Shampoos
2 Use Protein Products
If you suffer from moisture overload you must switch your non-protein products to protein products as soon as possible.
Protein helps restore the core structure of your hair strands and it's the best way to get rid of excess moisture.
For a sulphate-free but protein-rich shampoo, try the Shea Moisture Manuka Honey & Mafura Oil Intensive Hydration Shampoo.
It contains a rich formula of restorative oils to soften and revitalize hair and is one of Shea's best selling products.
For a protein-rich conditioner, you simply have to try the Shea Moisture coconut & hibiscus curl & shine conditioner.
It's a favourite amongst all Curly Girls and with almost 1600 reviews on Amazon, you can't really doubt how effective this conditioner truly is.
It is also important that you add a protein treatment to your new haircare routine.
Instead of a weekly deep condition, consider the Shea Moisture Manuka Honey & Yogurt Hydrate + Repair Protein-Strong Treatment or if you have some time, a rice water treatment.
Benefits of rice water rinse:
Increases elasticity
Strengthens hair
Restores shine and definition
Combats dandruff
Promotes hair growth
Rice water rinse recipe:
Add 1/2 cup of rice to 3 cups of water.
Bring to boil then lower heat and simmer for 15 mins until the rice is cooked.
Drain rice water and leave to cool (use rice for a meal).
During wash routine, shampoo or co-wash hair as per usual. Add rice water to soaking wet hair and let sit on hair for 10 minutes.
Rinse out rice water and condition as per usual.
A rice water treatment should only be done once every four to six weeks. Protein treatments are a science and shouldn't be carried out every single week.
Remember, healthy hair consists of a balance between protein and water and you don't want to end up on the other side which is protein overload.
Products mentioned:
3 Use Oils
Oils are often misunderstood when it comes to haircare. Oils do not penetrate the hairshaft so they do not provide moisture.
What they do, is seal your hair and can be beneficial when it comes sealing in moisture.
However, they can also be beneficial for doing the opposite, which is protecting your hair against moisture.
Also Read: 5 Important Benefits Of Drinking Water For Hair (Top Tips)
Sealing your hair with oils can, therefore, reverse the moisture overload symptoms you may be experiencing.
The best way to go about using oils in your hair is after a wash.
Squeeze your hair for excess moisture and apply a small amount of oil between your palms. Rub you hands together and rake the oil through your hair.
You can also use the praying hands method if you don't want to rake your hair and ruin your curls.
You can also apply oil after breaking your cast if you have curls. Simply scrunch the oil into your curls for optimal effect.
You can use pretty much any oil, but I prefer this Jojoba oil from Amazon. It is certified organic and 100% pure natural cold-pressed.
The reviews don't lie so take a look for yourself.
Additional Tips:
Don't Wash Your Hair Too Often
If you're suffering from moisture overload, you want to limit the amount of times you wet your hair during the week.
Washing your hair twice a week should be enough but if you do need to wash it more often than that, consider skipping conditioner during one of the washes.
Squeeze Out Excess Water
During every wash, squeeze out as much water from your hair as possible. If you have curly hair, try to style on damp hair rather than soaking wet hair.
You don't want to seal in more moisture than necessary and remember to use a protein gel if you can.
Avoid Deep Conditioning
Usually, we're told to deep condition once a week, but if you suffer from moisture overload, this is a no go. Instead, focus on using protein products and do a protein treatment once every 4 to 6 weeks.
Remember, the goal is to reverse the moisture overload so avoid hydrating your hair with additional products.
Keep your routine simple and find protein products that fit your budget and style.
---
Disclaimer: This site is not intended to provide professional or medical advice. All of the content on LovedByCurls.com is for informational purposes only. All advice should be followed at your own discretion. Ingredients may change at any time so always check the product label before using. Check our full disclaimer policy here.