Mousse and gel are fantastic styling products when it comes to adding volume, controlling frizz, and managing flyaways. But which styler is best for your hair? Mousse or gel?
In this article, we put both products to the test so that you can decide which styling product is right for you.
This post contains affiliate links and we may earn if you click on them (at no extra cost to you). Please read our full disclosure policy here.
What Is The Main Difference Between Mousse And Gel
Mousse and gel are generally used to either create volume, control a hairstyle or provide hold. However, they have their own unique capabilities that make them suitable for different types of hairstyles, purposes, and even hair types.
| | Mousse | Gel |
| --- | --- | --- |
| Texture | Foamy and light | Jelly like texture, sticky, can feel quite dense |
| Hold | Light hold | Anything from light to very strong hold depending on texture, constistency and gel ingredient |
| Result | Can reduce flyaways, calm down frizzy hair, provide volume in roots, and provide a light hold to curls. | Can be used to contain edges, create high volume in short hair, provide a cast on curly hair and tame frizzy hair. |
| Container | Comes in aerosol dispenser or pump container | Comes in various containers either with or without dispenser |
| Cost | Anything from affordable to expensive | Anything from affordable to expensive |
| Straight hair | Good for reducing frizz and providing volume | Good for creating styles, high volume, reduce frizz and flyaways |
| Wavy hair | Can give a slight hold and help lift roots | Can provide a really good hold if used correctly in a gel cast |
| Curly Hair | Offers a light hold but won't shrink curls | Can provide a really good hold if used correctly in a gel cast |
| Low porosity hair | Good for reducing frizz and providing volume. Won't dry out hair | Works well if choosing the right gel. Will encapsulate moisture and reveal soft, shiny curls |
| Medium porosity hair | Will give a light to medium hold. May dry out hair | Works well if choosing the right gel. Will encapsulate moisture and reveal soft, shiny curls |
| High porosity hair | Will give a light to medium hold. May dry out hair | Works well if choosing the right gel. Try using a conditioner before using gel to avoid it from drying out your hair |
Let's look at these differences in more detail:
Texture
The main difference between mousse and gel is the texture. While mousse has a foamy consistency, gel can be anything from thick and gloopy to silky smooth.
The light foamy texture of mousse can help lift roots if you have a lot of hair weighing down or if you have fine hair.
Gel has the ability to keep a hairstyle completely in control, whether it's a short spikey haircut or a slick ponytail.
Hold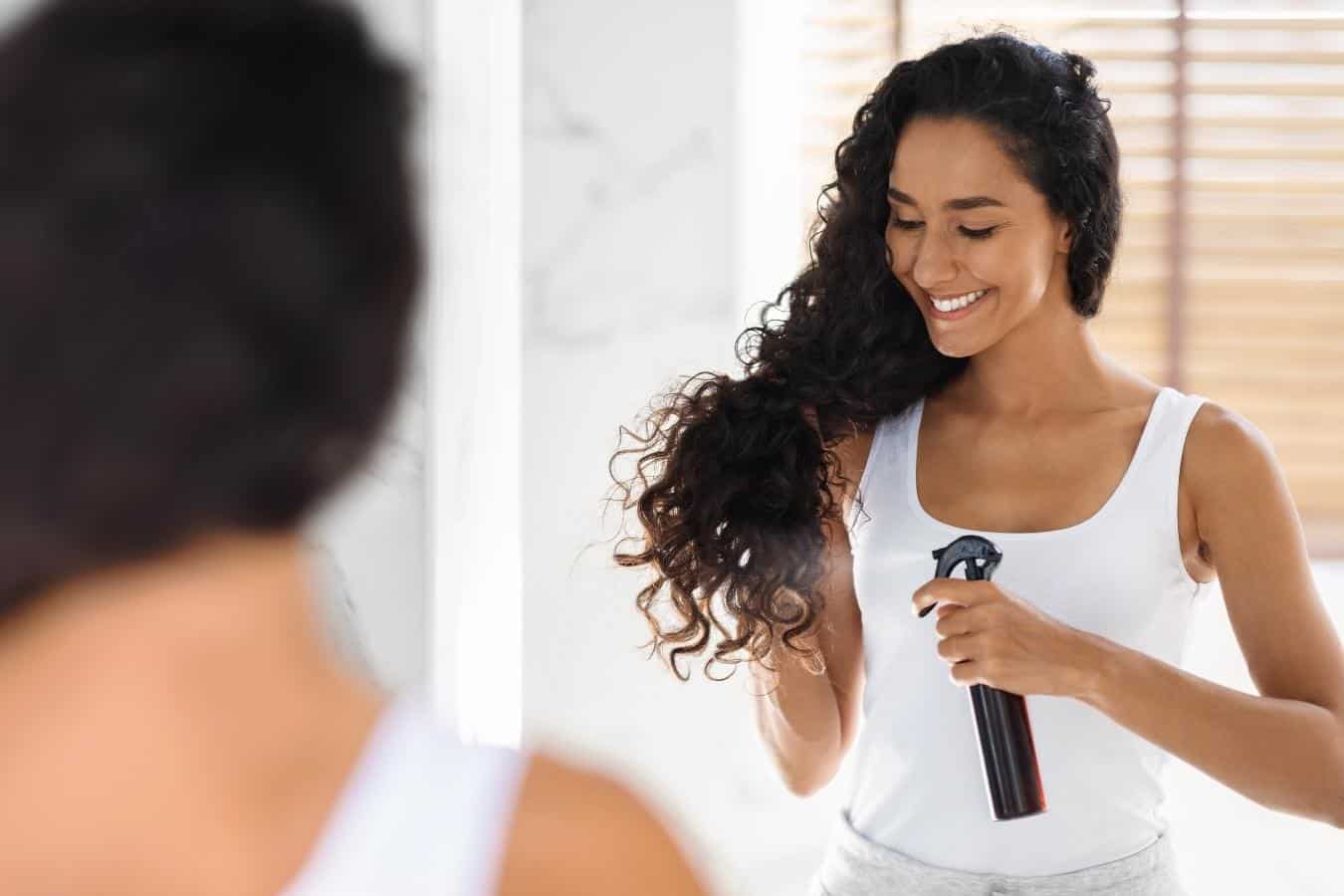 As mousse is lighter and doesn't contain ingredients that create a gel-like texture, mousse doesn't have the ability to provide the same hold for your hair as well as gel.
However, mousse can work for waves and curls if you're not looking for tight curls. If you don't like a hard gel cast, then mousse could definitely be for you.
Overall, mousse isn't the go-to product when you want to make sure that your hairstyle, whatever it may be, stays firm in place.
Gel, on the other hand, can turn rock-hard if left long enough to dry. This means that it can hold a short hairstyle completely in place or even smooth out edges and flyaways for many hours.
Gel is also great for curls. Use gel on soaking wet hair to create a curly cast and wait for it to dry. Then break the cast or 'scrunch out the crunch' as it is also called, to reveal soft, bouncy curls.
Out of the two styling products, gel definitely has much better hold than mousse.
Results
Gel and mousse can provide a similar result if you're looking to smooth down flyaways or give curls extra bounce.
Mousse will dry as hard as gel so this is best used if you have fine hair or if you only have a few frizzy locks to tame.
Gel is better used when you suffer a lot from frizzy hair or if you're after a hard cast for your curls. Gel is also used to control any kind of hairstyle that needs to stay in place all day.
Use gel for toucher jobs and use mousse on fine hair as well as for light touch-ups.
Do note that some gels can leave a white residue in hair, especially if used with other products such as hair spray or leave-in conditioner.
Cost
The cost of gel and mousse vary greatly and you can buy budget-friendly options for around $1 and far more pricey products at $20.
It will always be hard to know what product to go for unless you experiment. Just because a product is cheap, doesn't mean it won't work.
Many brands charge extra money simply because they can and because they're able to market the product in a specific way.
For example, in recent years the Curly Girl Method has risen massively in popularity and many haircare brands have jumped on the bandwagon and have marketed their conditioners, gels, and shampoos for this very purpose.
The products are no better than other options on the market, but the brands can charge an additional $5-6 dollars by simply making products 'curly girl approved'.
So don't necessarily think that more expensive is better.
Curl Pattern
Both mousse and gel work great for wavy hair and curls but they do have their differences.
Mousse works well on wavy hair or fine hair as it's very light and so doesn't drag down your curls.
It doesn't offer as good of a cast as gel but if you're not looking for super-defined curls, then mousse is worth a shot.
It's also important to note that mousse dries very quickly and can be fairly drying on your hair. It doesn't lock in moisture the same way as gel can if you're aiming for a cast.
Therefore if you suffer from dry hair or if you have high porosity hair, experiment for a bit first.
The mousse may dry out your hair even more and if so, it's better to go with a light gel that can lock in moisture instead.
Gel is most often used on curly hair as it can give a really good cast. The cast will help seal in moisture and protect each curl until they are completely dry.
Once the cast has set, you 'scrunch out the crunch' and reveal very soft, bouncy curls.
However all gels are different and while some provide extreme hold, others don't really do much. It's up to you to find the right gel for your hair.
Hair Type
There are three types of hair that can determine how your hair will react to products as well as moisture.
Low porosity
Medium porosity
High porosity
Low porosity hair
Low porosity hair means that your hair is not very porous. Your hair will not absorb water as easily and products tend to sit on the outside of the hair shaft instead of penetrating in straight away.
If you have low porosity hair, your hair will also take longer to dry.
You should in theory be able to use both gel and mousse on low porosity hair. Mousse won't dry out your hair and so can help provide volume and reduce frizz.
Gel on the other hand will help encapsulate the moisture in your hair and provide you with a strong, controlled hairstyle.
Medium Porosity Hair
If you have medium porosity hair, it's generally considered that you have balanced hair and can use a large variety of products.
However, porosity isn't the only thing that matters when it comes to product or ingredient sensitivity but it can affect how well your hair absorbs water and products.
Hair mousse would be useful for those looking for volume as well as a bit of bounce in their hair. Again, fine hair can benefit greatly from hair mousse as it isn't as heavy as gel.
You should use gel on medium porosity hair if you have curls, and waves and you're looking to get more definition.
You can also use gel to lock down those tricky hairstyles such as slick back ponytails or short hairstyles that need to stay put.
High Porosity Hair
Highly porous hair means that water and hair products are easily absorbed into your hair strands. It also means that your hair gets wet very quickly and that your hair dries quickly.
Often, those with damaged hair will have high porosity hair. This is due to the fact that damaged hair means that your hair cuticle has been damaged and the cortex has been weakened.
Damaged hair can be caused by heat styling, constantly pulling at your hair as well as coloring and chemical bleaching.
If you have high porosity hair, it's best to avoid mousse as mousse can easily dry out your hair.
Gel is better to use as this can seal the hair cuticles and thereby lock in moisture. So before styling, use a leave-in conditioner on your hair for added moisture and then apply the gel.
Pros And Cons Of Gel
Pros
Very strong hold
Can control tricky hairstyles
Comes in different strengths
Can create a strong cast for curls
Can be used on all hair types
Cons
Can leave a white residue
Some gels may not provide much hold
Can weigh hair down
Can feel sticky to touch
Can cause build-up
Can leave hair feeling stiff
Pros And Cons Of Mousse
Pros
Lightweight and easy to manage
Can provide volume
Great for fine hair
Offers a medium-hold cast for curls
Doesn't leave hair feeling stiff
Cons
Can be drying on hair
Doesn't provide a strong hold for curls
Not great for low porosity hair
Doesn't control hairstyles for long
Mousse Vs. Gel: How To Choose The Best Styler
Best for Volume: Mousse
If you're looking for volume, mousse is your best bet. Whether you're looking to go big with long hair or add extra height to medium to short hair, mousse can deliver.
We recommend: Giovanni Mousse Air-Turbo Charged Hair Styling Foam
This lightweight foam from Giovanni is a game-changer. It gives curls a natural weightless look and adds volume to roots. Can be used in conjunction with gel on wash days or even on refresh days when your curls need an extra boost. A great addition to your routine if you've been wanting to try a lighter alternative to gel.
---
Best for Hold: Gel
When it comes to gel vs mousse, gel is definitely the winner when it comes hold. Gel has the ability to keep even the trickiest of hairstyles in place and if you have curly hair, a hard gel cast is needed to reveal soft bouncy curls that stay put all day.
We recommend: Eco Styler Gel – Olive Oil
The Eco Styler gel is a popular gel due to its strong hold and affordability. This gel contains 100% pure olive oil and also works great if layering with cremes or other styling products.
---
Best for Curls: Both
If you want shrinkage and very defined curls, your best option is to go with gel. Choose a gel that has proven to stand against adverse weather and can offer a strong hold.
If you want loose curls or you want a more casual wavy look, go with a mousse. A mousse also has the ability to give you a medium-hold cast and it is great for volume.
Recommended mousse : Aunt Jackie's – Frizz Patrol Anti Poof Setting Mousse
This curl setting mousse from Aunt Jackie's is a light-weight mousse that leaves waves and curls smooth, shiny, and defined. The formula contains grapeseed oil and jojoba oil which offers penetrating hydration. The mousse doesn't leave any build-up or residue and can be used daily alongside other styling products if needed.
Recommended Gel: Aunt Jackie's Don't Shrink Flaxseed Elongating Curling Gel
This gel from Aunt Jackie's is a styling gel that lasts all day. It contains moisturizing ingredients such as flaxseed, Shea Butter, and extra virgin olive oil which helps to give bounce to your curly locks. The gel offers a really great hold without flaking or caking.
---
Best for Damaged Hair: gel
If you suffer from damaged hair and split ends, it's likely that you have high porosity hair. In this case, it would be best to choose gel over mousse as mousse may dry out your hair even more.
We recommend: Innersense I Create Hold
This is a very popular gel from Innersense. The texture is very light and you don't need a lot for maximum results. The formula is fortified with aloe vera, honey and Rooibos tea for buckets of moisture which is great for damaged hair.
---
Best for Fine Hair: Mousse
If you have fine hair and are looking for volume and height, mousse is your best bet. Mousse is lightweight and won't cause your hair to be weighed down.
We recommend: Wella EIMI Extra Volume Strong Hold Voluminizing Mousse
This lightweight mousse offers volume and moisture for visibly defined curls. It has a strong hold and is humidity resistant. With its weightless texture, curls stay flexible and touchable throughout the day. Can also be used alongside a gel or other smoothing styling products.
---
I hope this guide on mousse vs gel has been helpful. Remember, whichever styling product you choose to go with, always make sure you experiment with different products.
Mousse is great for adding volume and works best on fine hair, but it can also be a suitable product for those with curly hair, looking for a looser curly look.
Gel on the other hand is always going to give you a more defined look. Whether that is a slick ponytail, a short spikey hairstyle or tight curls – choosing the right gel can make all the difference.
Disclaimer: This site is not intended to provide professional or medical advice. All of the content on LovedByCurls.com is for informational purposes only. All advice should be followed at your own discretion. Ingredients may change at any time so always check the product label before using. Check our full disclaimer policy here.
Dee has been following the Curly Girl Method for over four years and is our in-house Curly Girl expert. She has a keen interest in natural haircare and has tried and tested her share of CGM products. She has a photographic memory of most sulfate and silicone-free hair products available on the high street and she's always happy to recommend you her favorites.