Congratulations on your big day that's coming up! We are here to help you get one more thing out of the way. So, if you're wondering when to wash your hair before a wedding, we have a detailed answer for you below.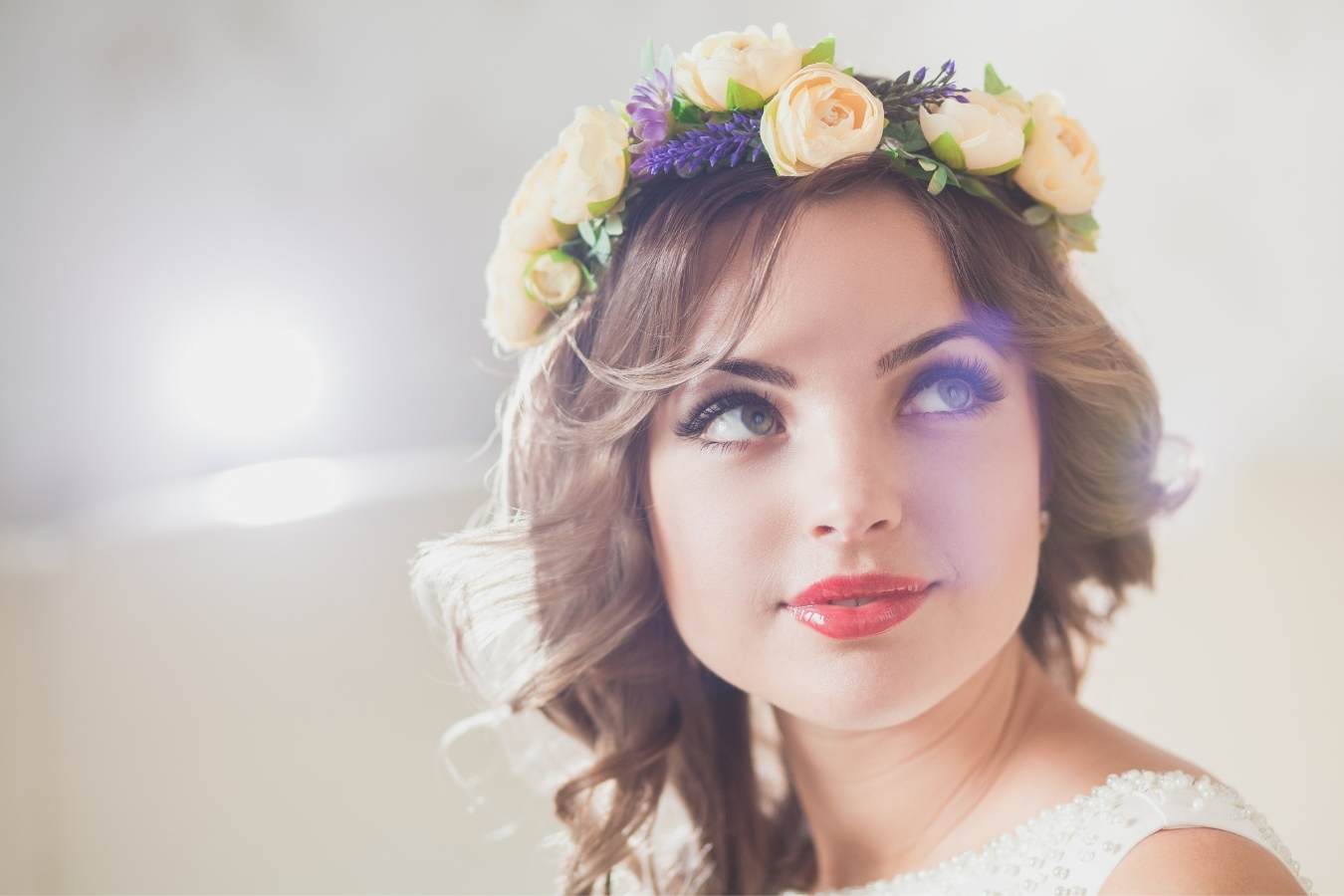 The rule of thumb about when to wash hair before a wedding: wash the night before to ensure your hair is more manageable and shiny. But if you have decided to go with unwashed hair, the great news is there are plenty of hairstyles to suit.
When to Wash Hair Before a Wedding?
When your wedding is around the corner, it's best to be prepared to ensure you don't have a bad hair day.
But before you can ask about when to wash your hair before a wedding, you might want to ask about whether you want to wash at all.
For best results, experts recommend going with clean hair to avoid weighing down your hair with products when it's already loaded with chemicals, dirt, and grime.
On the other hand, some brides believe the texture of unwashed hair will bring out the best in their hairdo, so there's something to be said about skipping that pre-wedding hair wash.
But, still, in most cases, it's better to start with hair that's as clean as a blank canvas.
Going back to when to wash hair before a wedding, the most popular answer you'll come across is the night before.
There's a good reason for this. For starters, washing your hair the night before a wedding leaves you with ample time to get all those last-minute things sorted the next morning.
In addition, it's better to wash hair the night before (even when it's not for a wedding) because it gives your hair enough time to dry naturally.
Plus, giving your hair time to breathe makes it more manageable and glossy and ensures your curls come out looking better and more defined.
Hairstyles That Works Best With Newly Washed Hair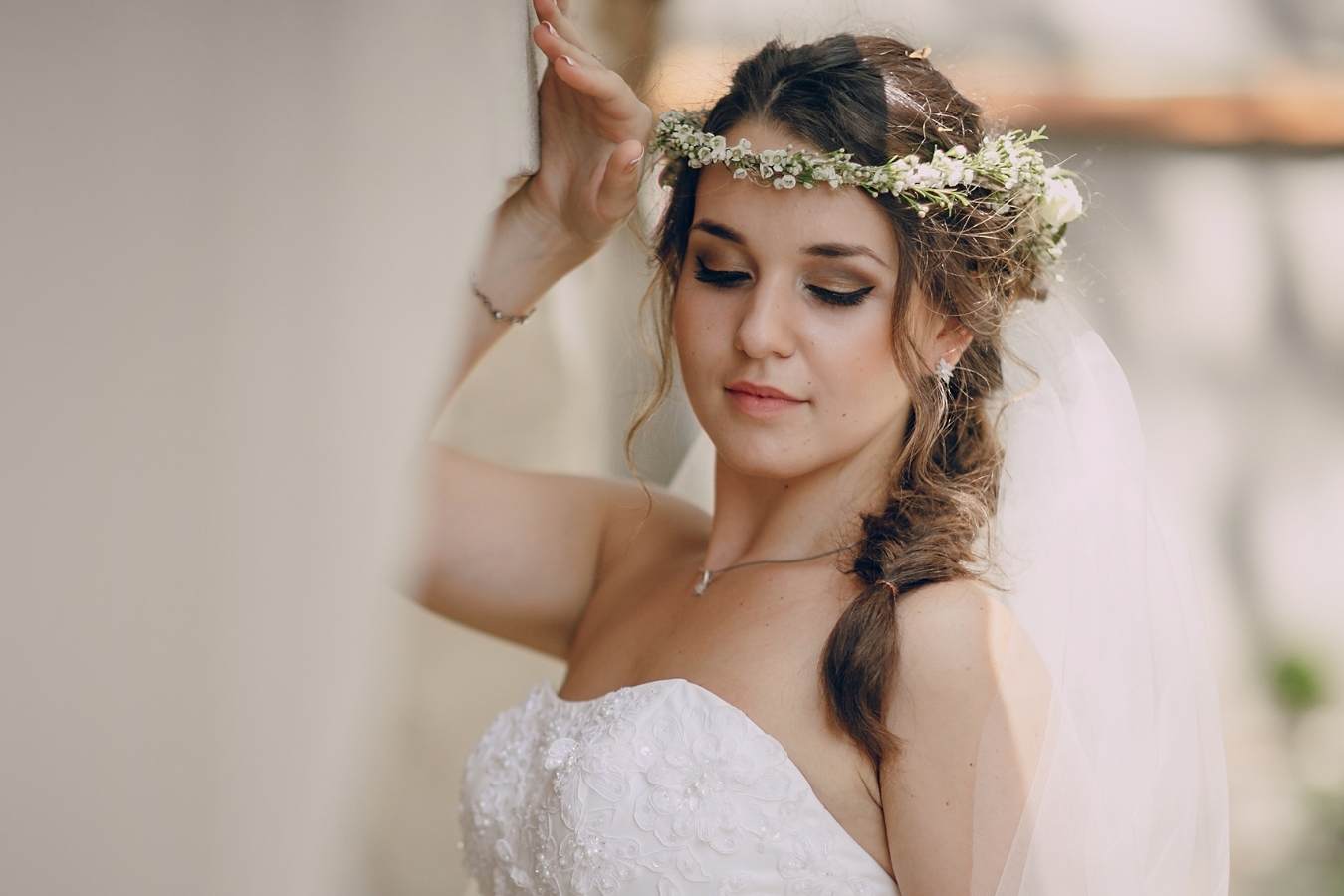 The wonderful news is that there are many hairstyles that work best with newly washed hair.
The trick is to work with a hairstylist that can give your hair the desired texture and bounce using the right products.
Here are some great ideas to get you started:
Braided
Braided hairstyles come in many shapes and sizes, from chunky braids and fishtail braids to double french braids and twisted crown braids.
Typically, braids are used to add more interest to your hairstyle without being too elaborate.
Ponytail
Ponytails are perfect for creating a sleek and simple look.
To avoid looking too severe, you can embellish your ponytail with a headband, bow, or other hair accessories.
You can also loosen up your ponytail and add flair by creating a twisted ponytail or a ponytail that's sectioned with bands.
Updo
An updo hairstyle is always a classic choice for a wedding hairstyle. You can choose from a wide selection of hairstyles, including a messy bun, top knot, sleek chignon, twisted updo, and simple knot.
Loose Waves
Loose waves allow you to showcase your glamorous and newly washed hair in all its glory.
You can opt for a glossy, bouncy blowdry, loosely tonged waves, classic finger waves, a side sweep pinned with combs, or big waves swept away from your face.
Half Up Half Down
Half up and half down hairstyles are very stylish. They provide the perfect balance between serious updos and messy waves.
You can opt for a fancy wedding half-updo with accessories, pins, and long smooth tresses for a soft textured look.
Short Hair
It's still possible to rock your wedding hairstyle with short hair. Short hair can be blow-dried into a chic bow or styled into vintage curls.
You can also add hair accessories to short hair or add hair extensions to create more length.
Hairstyles That Works Best With Unwashed Hair
As mentioned, you can still nail your beautiful wedding day look with perfect hair that you never bothered to wash.
Your hairstyle options may be a little limited, but you can still find several suggestions for a hairstyle that will do right by your unwashed hair.
Messy Bun
A messy bun is a quintessential hairstyle for unwashed hair.
The best part is it doesn't require great skill though there are some messy buns that look like a work of art.
With your hair pulled up and away from your face, your greasy locks will hardly be noticeable.
Speaking of bun hairstyles, they are generally suitable for unwashed hair, whether you opt for a low bun, sleek side bun, or braided bun.
Sleek Ponytail
The smooth finish of a sleek ponytail is perfect for unwashed hair because it looks like you've just been to the salon.
For your wedding, you'll want to accessorize the hair or opt for a looser ponytail to soften your appearance.
Fishtail Braid
Most fishtail braids are chunky yet elegant. Fishtail braids add a lot of eye-catching detail to your hair. This mermaid-inspired hairstyle can be done down the back or put to the side, depending on the look you want to achieve.
French Braid Into Ponytail
A simple french braid helps to hide greasy hair easily and tying it into a ponytail helps add some elegance and chic required for your wedding look.
You can pull at the braid to make it thicker and more interesting.
Half Top Knot
Creating a half top knot is as easy as securing the top half of your hair into a ponytail and creating a messy bun to hide your greasy roots.
You can also curl the hair at the back of your head that's hanging loose to create more volume that keeps your roots hidden.
Accessorized Loose Waves
It's still possible to wear your loose waves on your wedding day, even when your hair is unwashed.
By adding chic accessories and embellishments, you give your hair a fresh and glamorous look that distracts away from any greasiness.
Hair Do's Before the Wedding
Schedule a Hair Trial In Advance
You should schedule a hair trial at least a month in advance. This allows you to confirm whether your hairstyle and color complement each other in real life.
Use a Sulfate-Free Shampoo When Washing Your Hair
When washing your hair the night before your wedding, be sure to use a sulfate-free shampoo that won't strip away your hair's natural oils.
Sulfate-free shampoo can reduce scalp irritation and dryness while making your hair less frizzy, softer, and more conditioned.
Condition Your Hair
Conditioning your hair well before your wedding day leaves it more pliable and adds a beautiful luster that will make you look radiant on your wedding day.
Keep Your Hairstylist Clued In
It's likely you already have your hands busy, so it's best to leave your hairstyle in the hands of a reputable hairstylist.
Feel comfortable sharing with your hairstylist all the details, such as your wedding colors and dress style, so they can help you find the best hairstyle.
Get A Haircut Before the Wedding
If you need to trim your ends, get it done a few days before the wedding. Similarly, if you've chosen a particular cut, get it done earlier to allow your hair to settle nicely before being styled.
Take Pictures
When giving your hairstyle a trial before the wedding, don't forget to take pictures to gain an objective perspective.
Looking at things from another angle can help you decide what works and what doesn't.
Protect Your Hairdo
On the big day, you should protect your finished hairdo at all costs. Wear a button-down shirt to avoid pulling on your hair when changing into your wedding dress.
Give Yourself Plenty of Time to Prepare
Start deciding on your wedding hairstyle at least a few weeks in advance.
This gives you enough time to research suitable hairstyles for your hair type, face, and body shape.
Start pampering your hair with masks and treatments so it's in the best shape for styling when the time comes.
Hair Don'ts Before the Wedding
Having a bad hair day or a hair flop on your wedding day is something that can ruin your special memories for many years to come.
Here are some don'ts that should be avoided if you want stress-free tresses on your big day.
Color Treat Your Hair
Color treating your hair just before your wedding means you don't have room for damage control should some accident happen.
It's also crucial to avoid trying any experiments on your hair that you've never tried before, as it might backfire.
Choose an Inexperienced Hairstylist
Your wedding hairstyle is pretty special, so you might want a specially talented and experienced hairstylist to match.
Otherwise, you'll get disappointed when you discover too late that your expectations don't match reality.
Use Too Much Hair Product
Using too much hair product will weigh down your hair, robbing it of its shine and making it look lackluster. It can also cause your scalp to become irritated on your wedding day.
Go Overboard With the Styling
It's great to style your hair more than usual on your wedding day. That's what makes you the belle of the ball.
But if your hairstyle is too elaborate or overdone, it might look like you're trying too hard and will take away some of the elegance.
Do Everything Last Minute
If you have seen a hairstyle that you like on the pages of a magazine, don't wait until the last minute to test it out.
Don't assume that your desired style will suit your face and hair without a trial hairdo.
Go Crazy With Extensions
For starters, fake extensions don't have the swing and bounce of real hair, so avoid them if you want a naturally beautiful look.
Second, quality extensions will still look terrible if done by an inexperienced person.
Leave Your Hair Too Greasy
Some hairstyles work best for unwashed hair by hiding greasy roots, but there's such a thing as hair that's too greasy.
That's why it's always best to wash your hair the night before your wedding.
Choose a Hairstyle the Gives You a Severe Look
Sleek hairstyles like chignons, buns, and other up-dos are popular, but they tend to look severe when pulled too tightly.
Disclaimer: This site is not intended to provide professional or medical advice. All of the content on LovedByCurls.com is for informational purposes only. All advice should be followed at your own discretion. Ingredients may change at any time so always check the product label before using. Check our full disclaimer policy here.
Dee has been following the Curly Girl Method for over four years and is our in-house Curly Girl expert. She has a keen interest in natural haircare and has tried and tested her share of CGM products. She has a photographic memory of most sulfate and silicone-free hair products available on the high street and she's always happy to recommend you her favorites.