In this article, we discuss five of the best extensions for short hair so that you can easily transform your look. Whether it's an asymmetrical bob or edgy pixie cut, our helpful guide will help you to decide on a suitable length, volume, and type of hair extension to buy.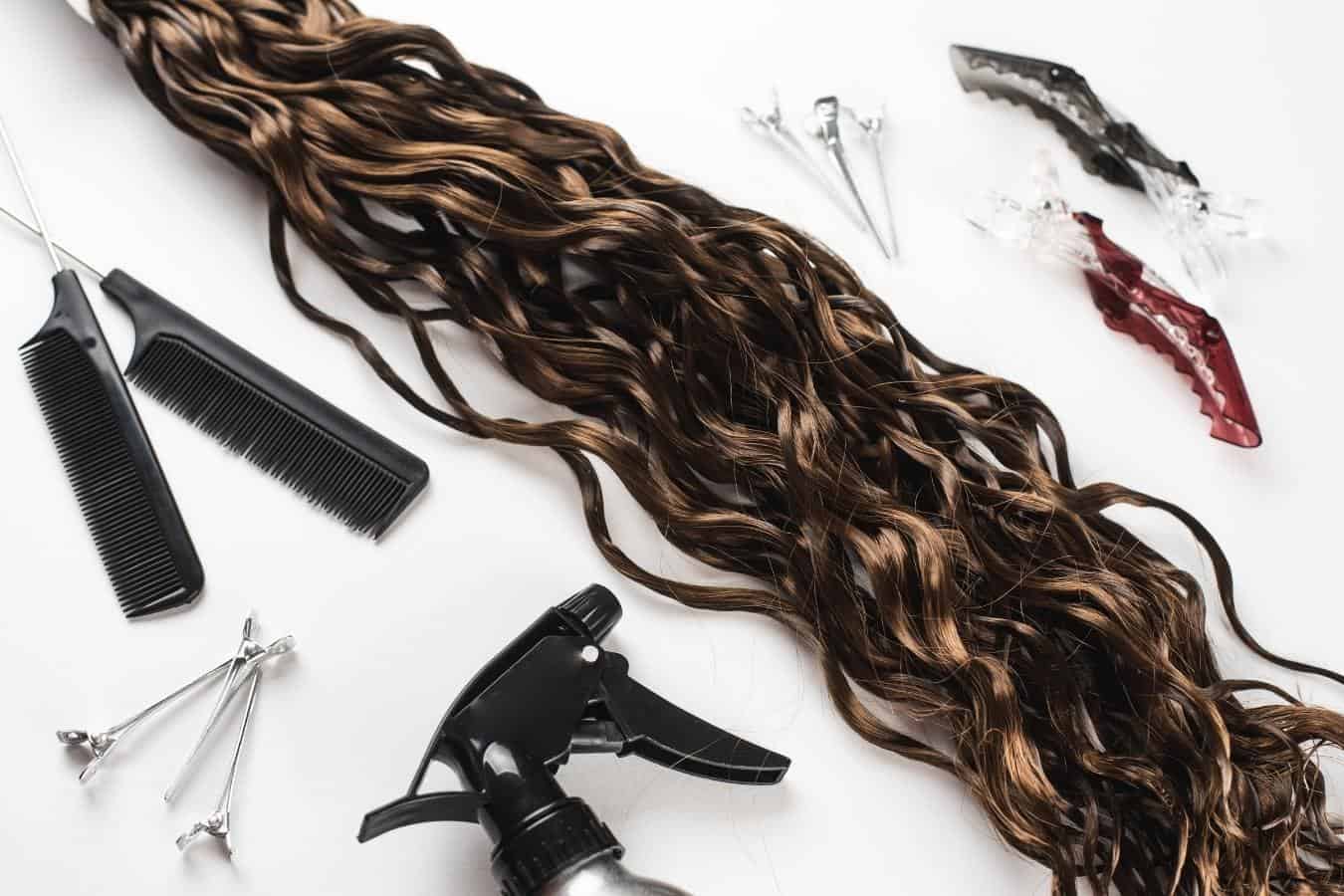 Choosing the best extensions for short hair is dependent on a few key factors such as the color of your hair, the length, the thickness of your strands, and the overall style you wish to achieve. The best extensions for short hair blend in perfectly with your natural hair.
This post contains affiliate links and we may earn if you click on them (at no extra cost to you). Please read our full disclosure policy here.
Types Of Hair Extensions
There are various different types of hair extensions on the market today ranging from real human hair to synthetic styles and from pre-clipped strips to tape in hair extensions.
Clip-In Hair Extensions
Clip-in hair extensions are one of the best ways to add length and volume to short hair. The individual strips are referred to as wefts. The application process is also fairly simple and easy to maintain making it a great choice.
This type of hair extension is available in different lengths ranging from 16inch to 28inch and they can weigh anything between 70g to 200g.
Tape in Hair Extensions
Tape in hair extensions is one of the most common extensions used in salons today. It is ideally suited to those with short hair as the attachment is quite invisible making it blend smoothly with your natural hair.
Tape-in hair extensions are pre-taped and are attached straight to the root of your hair during the application process.
Micro Rings
Micro ring extensions are a more permanent option than clip-in hair extensions.
To apply them the metal rings are clamped onto small sections of your natural hair. This cannot be performed at home and will need to be completed by a haircare professional.
Halo Extensions
A halo-type hair extension involves applying an invisible wire onto the top of your head. It is a custom fit to your head size and includes two clips to keep the extension firmly in place.
Also Read: How To Dye A Wig (Must-Know Facts)
Pre-Bonded Extensions
Pre-bonded hair extensions are best for short hair and offer a blended solution with a natural result.
They consist of individual strands that are placed flat onto the head and are barely visible. The key to blending this type of extension with your hair is to match the color of the extensions to your natural hair.
Keratin or Regular U-Tip Hair Extensions
There are two types of u-tip hair extensions which include regular glue and keratin glue.
They both offer similar results, but keratin has an advantage due to its natural formula and elements.
The downside is that this type of extension can be quite pricey, and the application process is time-consuming lasting around two to four hours.
What Extensions Are Best for Short Hair?
When it comes to the best extensions for short hair we highly recommend considering a choice from the permanent range. Pre-bonded extensions are ideal as are keratin u-tip hair extensions and taped extensions.
6 Best Hair Extensions for Short Hair
We have compiled our top six list for the best hair extensions for short hair and these Invisir Tape hair extensions from Beauty Works comes in at number one.
It is made from 100% virgin Remy hair with a choice between 37 different colors so you can achieve an invisible blend.
These extensions are great at giving life to limp strands and adding volume. The tape-in method uses invisible weft technology and is easy to apply from the comfort of your own home.
It enables you to add rows of extensions into your natural hair which results in a quicker installation process.
---
The Moresoo Clip-In Hair Extension is second to top our list for the best extensions for short hair.
It is also made of 100% real Remy human hair and offers great quality. The installation process is a simple one and can be completed at home saving you a trip to the salon.
These double weft hair extensions promise to not shed and include a layer of lace to prevent the risk of an irritated scalp often caused by long-term use of hair extensions.
An added advantage is that this brand offers a variety of choices when it comes to the style, color, and length of the extensions to perfectly reflect your taste.
---
If you're looking for extensions that are budget-friendly, this affordable option from Hot Hair Curl is ideal for you.
Offering a choice between 14 colors, these ready-to-wear extensions are created as one singular piece making it easy to attach and quick to install.
Perfect for adding length and volume to your short hair, they simply clip into your natural hair.
---
The Sarla Wavy Synthetic Short Halo Secret Hair Extensions come in at number 4 and make a great choice when looking for the best extensions for short hair.
Created from 100% synthetic Japan High-Temperature Fiber they are able to withstand high temperatures so you can apply a heat tool for effortless styling.
The application process is simple and easy to install, and these extensions are offered in various lengths and colors to suit your particular style.
An added advantage is that they are quite affordable in price and are of great quality. The con is that these particular hair extensions are not known to be tangle-free.
---
The Slimline extensions consist of 16 pre-taped wefts and is perfect for adding depth and instant volume to short hair.
They are very lightweight and do not pull on your own hair which helps to minimize the risk of damaging your natural hair and helps to enable new hair growth.
The installation process is fairly simple and involves integrating the wefts into the hairline by placing the extension directly on the root of your hair using tape.
Lasting anywhere between 6-8 weeks they can be washed and brushed with ease. Crafted from Remy human hair they are known to be tangle-free throughout its lifetime making it a worthwhile purchase.
---
The Full Shine Soft Hair Clip-In Human Hair Extensions complete our top 6 best extensions for short hair list.
Crafted from 100% premium-quality Remy human hair, they blend in well with your hair and appear natural.
These extensions include anti-tangle technology so you can enjoy fuss-free wear for easy styling and maintenance. They promise to not shed or loosen up which is another advantage.
Available in a variety of lengths and colors to suit your style, these clip-in extensions can be washed, styled, and even dyed.
---
Things To Consider Before Getting Hair Extensions
You may want to keep these factors in mind before making your final decision on which extensions to get if you have short hair:
The Volume and Length of Your Natural Hair
The recommended length for short hair to sustain hair extensions is between 3 to 5 inches which are around 7 to 12 cm long.
The reason for this is that you will need enough hair to be able to blend and conceal the extension to achieve a more natural finish product.
Clip-in extensions need to be inserted under the hairline and your natural hair is then used to cover their appearance to avoid them being in sight.
The Supplemental Length and Weight of Your Extensions
Another key aspect when looking for the best extensions for short hair is the length and weight of the extensions.
If your natural hair isn't very thick we recommend purchasing real human hair extensions that are thicker and heavier than your natural hair.
This will help to conceal your extensions and make the blend less artificial.
It's also important to keep in mind the weight of the hair extensions as this may cause strain on your natural hair and may lead to damage or hair loss.
Also Read: Why Do My Hair Extensions Cause an Irritated Scalp?
Color and Texture of the Hair Extensions
We recommend looking for hair extensions that are a close match to your natural hair. It will help to make the transition more realistic.
A great way to change up the color without making a drastic change is to add highlights or low lights to your new extensions.
The Price
The cost of hair extensions is largely dependent on the type of extension you choose and the application process.
Clip-in hair extensions may be applied at home and will save you the cost of the hair salon appointment.
The average price for installment is around $200 but will differ based on the overall number of extensions used.
Synthetic Hair or Real Human Hair
Another aspect you may want to consider when looking to find the best extensions for short hair is whether or not you want to have synthetic hair or real human hair.
The upside of having synthetic hair is that it is the more affordable choice and that it is easier to maintain and care for.
The disadvantage is that synthetic hair only lasts for a few months whereas human hair can last up to a year with the right haircare routine.
Another key factor to keep in mind is that not all synthetic hair extensions are heat-friendly and cannot have heat styling tools or curling wands placed onto the hair or it will cause damage and the hair may melt. You may also need to look into the right kinds of shampoo for your hair extensions.
Disclaimer: This site is not intended to provide professional or medical advice. All of the content on LovedByCurls.com is for informational purposes only. All advice should be followed at your own discretion. Ingredients may change at any time so always check the product label before using. Check our full disclaimer policy here.
Dee has been following the Curly Girl Method for over four years and is our in-house Curly Girl expert. She has a keen interest in natural haircare and has tried and tested her share of CGM products. She has a photographic memory of most sulfate and silicone-free hair products available on the high street and she's always happy to recommend you her favorites.