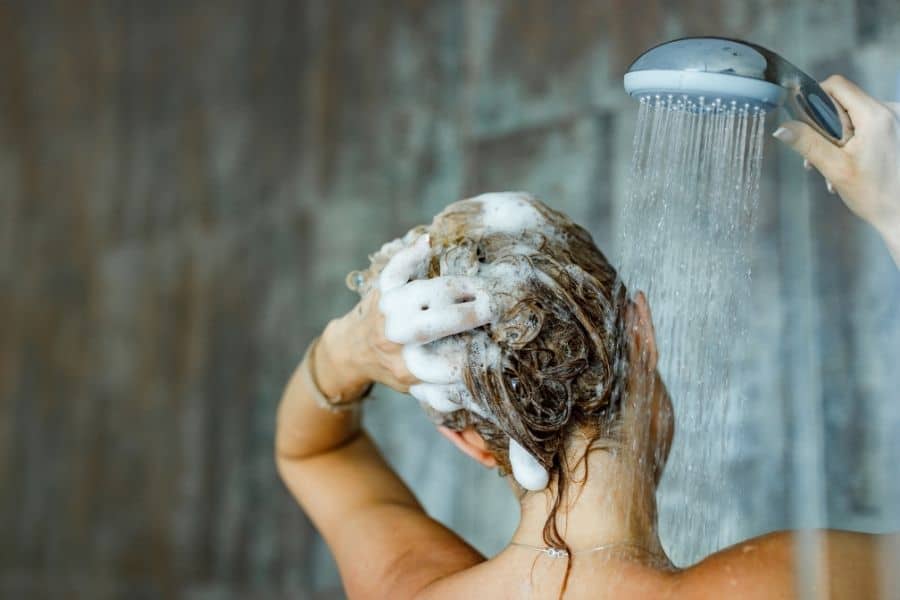 Chemicals to avoid in shampoo include sulfates, parabens, drying alcohols, and synthetic fragrances. These should be avoided by anyone with a sensitive, irritated, or damaged scalp.
This post contains affiliate links and we may earn if you click on them (at no extra cost to you). Please read our full disclosure policy here.
Why Do We Use Shampoo?
Shampoo is commonly sold as a way of eliminating dirt, bacteria, and excess grease from the hair and scalp and restoring it to a healthier state.
That's not all shampoo is used for, though. There are a variety of shampoo products out there that are targeted for different hair types like curly hair, straight hair, oily hair, dry hair, and extremely damaged hair.
Some of these products claim to restore your hair to a healthier condition with increased shine and softness while some may also be promoted to help with hair loss.
This appeals to many people who are looking for a quick fix to get healthier-looking hair.
There are also some medicated shampoos and hair care products on the market that help to manage and treat scalp conditions. These are conditions such as dandruff and psoriasis.
These are commonly used to soothe and treat an itchy scalp, as well as dryness, flaking, and redness. No two shampoos are the same!
Do We Need To Use Shampoo?
In short, no, we do not need to use shampoo to have healthy hair.
Although many people prefer to opt for a shampoo to remove dirt and excess grease from their hair due to the lathering and 'clean' effect it has, there are many alternatives that are just as effective.
For some people, especially those who follow the Curly Girl Method, using a natural cleanser like Apple Cider Vinegar or a natural conditioner (also known as co-washing) is a much preferable way of keeping the hair clean.
It is a misconception that you need the lathering effect that is present in shampoo to thoroughly cleanse the hair.
Apple cider vinegar and conditioner can gently remove excess oils, bacteria, and rebalance the scalp without stripping it of its natural oils.
Also Read: Shampoo Bars Pros and Cons: Most Important Facts
This is something that many shampoos on the market fail to do.
Of course, using shampoo every few weeks may be necessary as a way of clarifying the hair.
It's therefore recommended that you opt for a natural alternative that is gentle and soothing on the hair and scalp.
Common Ingredients In Shampoo
Water
When you look at the ingredients list on shampoos, water is most often the main ingredient. In fact, shampoo generally contains about 80% water. This is important as it thins out the product. Without water, the shampoo would likely be too thick to pour out of the bottle or distribute evenly on the hair.
Sulfates
Most shampoos on the market contain sulfates such as Sodium Laureth Sulfate. Sulfate is responsible for creating the foaming effect.
This ingredient is added with the purpose of cleaning the hair by removing dirt and oils from the hair and scalp.
Citric Acid
Citric acid is commonly added to shampoo to bring down the pH level. This is so that hair products aren't too harsh on the hair and scalp.
Cocos Nucifera
Cocos Nucifera is simply coconut oil. It is added to a lot of shampoo products today to provide a sweet scent, as well as softer, more manageable hair. You'll also find that coconut oil is one of the top ingredients in beauty products and cosmetic products.
If you prefer to use products without coconut, there are a variety of coconut-free shampoos on the market.
Fragrance
Most shampoos contain a fragrance to make the hair smell nice. Some are natural and are in the form of essential oils such as lavender or tea tree.
These ones provide more than just a good scent. They help to soothe and nourish the scalp.
Does Shampoo Contain Harmful Chemicals?
Shampoo itself isn't necessarily harmful to your health, but the chemicals in shampoos can have a drying effect on the hair and scalp.
They can also create an imbalance of the scalp's pH, which can have a detrimental effect. Any imbalance of the hair and scalp can lead to dandruff, scalp irritation, and brittle strands.
The issue with the chemicals is that they are simply too harsh on the hair and scalp. If you decide to use shampoo, always try to avoid toxic ingredients and opt for ones that contain gentle, natural ingredients.
Which Chemicals Should I Avoid In Shampoo?
When you look at a bottle of shampoo, you may feel overwhelmed trying to identify what is good for your hair and what isn't.
Here are some of the chemicals in shampoo that you should definitely try to avoid where possible:
Sodium Lauryl Sulfate
SLS and SLES are chemicals that you will want to avoid when choosing a shampoo.
These chemicals can be harmful ingredients as they are very harsh on the hair and scalp. This is due to the fact that they strip it of its natural oils, which leaves the scalp unbalanced and prone to bad bacteria and other common scalp problems.
Sulfates can also cause allergic reactions in some people.
Also Read: Hydrolyzed Wheat Protein: The Secret To Amazing Hair?
Isopropyl Alcohol
Some alcohols can have a very bad drying effect on the hair follicles, and Isopropyl Alcohol is one of them that tops the list.
This chemical can strip the hair of moisture, making it dry, brittle, and susceptible to damage. It can also lead to a dry, irritated scalp.
Parabens
In order to keep shampoo long-lasting, parabens are added to shampoo to help preserve it. However, parabens have been linked to hormone disruptions and many experts now believe they should be avoided.
Parabens mimic estrogen, which means that it can cause less production of estrogen in the body. This is believed to increase the risk of breast cancer in some women.
Formaldehyde
Formaldehyde is a strong irritant and when used on the hair and scalp, it can cause a reaction.
This chemical can be absorbed through the skin and get into the bloodstream, and this does present some health risks.
Synthetic Fragrances
If it's not clear from the list of ingredients whether a synthetic or natural fragrance is added, then you should avoid it.
Synthetic fragrances have been known to cause hormone disruptions, which can cause a whole host of health risks within the body. These chemicals can also irritate the scalp.
How To Identify Chemical Free Shampoos
If you're searching for a shampoo that is free of chemicals then you should avoid the ones mentioned above, including sulphates and parabens.
Of course, this does depend on your own preference and you need to take into account any ingredients that you are sensitive to.
For instance, some people may need to avoid many alcohols as they can be drying on the skin and cause a reaction.
That doesn't mean that all alcohols are bad for the hair and scalp. For example, Cetearyl alchohol and Stearyl Alchohl are often considered to be effective yet not harmful.
Also Read: Does Low Porosity Hair Need Protein? (How To Tell)
Similarly, not all fragrances are harmful; just synthetic ones. If a shampoo is fragranced with essential oils such as tea tree or lavender, this will provide you with a healthier, nourished scalp without any of the drying effects.
So, with that said, the decision falls entirely into your hands. You could for example try switching to Japanese shampoos which often contain far fewer chemicals than regular shampoos.
The more natural a product is, the less risk there is of skin irritation or any harmful effects, so that's something to consider.
Most shampoo products will state if a product contains sulfates or parabens, so look for one that says on the label that it's free of these harmful chemicals.
Many shampoos often state how natural the product is, e.g. 90% naturally derived ingredients.
Shampoos To Use Instead
It can be challenging finding the right shampoo to suit your needs as well as finding a product that works well for your hair type.
These are some of the products that we recommend; they are all sulfate-free and gentle on the hair and scalp.
This shampoo by As I am contains Zinc Pyrithione, which has antibacterial properties to target a dry, itchy, or sensitive scalp.
It works in combination with tea tree and olive oil to gently nourish the scalp, remove flakes, and treat conditions such as dandruff and Seborrheic Dermatitis.
Using this shampoo regularly will help to reduce product build up and keep the scalp thoroughly cleansed.
This hydrating shampoo by Giovanni contains no sulphates or parabens and is color-safe.
This formula is targeted at those with damaged hair because it's enriched with vitamins and nutrients to strengthen and nourish the hair strands; leaving it revitalized.
This shampoo is gentle enough to be used regularly as it's designed to balance the hair's pH.
Johnsons' Baby Shampoo is suitable for both children and adults who have sensitive skin.
It does not contain sulphates, parabens, or dyes that can be harmful to the hair and scalp.
This shampoo may be gentle, but it thoroughly cleanses the hair and removes dirt, excess grease, and product build-up without stripping the natural oils.
Also Read: 4 Amazing Benefits Of Using Chamomile For Hair
"center","linkDestination":"custom"} –>
This sulfate-free shampoo by Love Beauty And Planet lightly moisturizes, cleanses, and adds volume to the hair without being too harsh on delicate skin.
It's infused with gentle, natural ingredients such as coconut water and mimosa flower to hydrate and soften the hair while giving it that much-needed body and bounce.
---
Coralle is an experienced beauty writer with a passion for wellness, women's health, and sustainability.