It might seem strange to say, but most people don't actually know their hair type. Obviously, you'll very likely know your natural hair color, and whether it's prone to waves or curls. But what are the different hair types and which is the rarest?
It may be surprising, but the rarest hair type is in fact what's known as hair type 1A. Hair type 1A is super straight and fine and you'd be hard-pressed to encourage it to hold a curl or a kink. It's typically found in people of Asian descent.
Read on for more information about the different hair types, as well as the characteristics of each, and detail on hair porosity.
Hair Types: The Classifications
We hear you, it can be overwhelming, if not downright alienating, hearing people refer to their hair type if you don't have a clue what they mean.
That's why this article aims to clarify the classification system used to determine what your hair type is. This is so that you can become more familiar with the lingo and work out your own hair type.
The hair type system to which the vast majority of people refer is the Andre Walker Hair Typing System.
Walker is Oprah's stylist, and he created this classification system in the 1990s. This was to establish the hair type of each individual category.
There are four key hair types:
Type 1 is straight hair, type 2 is wavy hair, type 3 is curly hair, and type 4 is coily hair.
Within these classifications, there are subcategories referring to the thickness and density of hair.
Type A hair is fine or wide, type B hair is medium, and type C is small, compact, or tight hair.
Depending on your hair type, you may be a 2C or a 4A. This will then classify the type of hair you have and its dominant characteristics.
Everyone's hair type, by this system, has a number and a letter: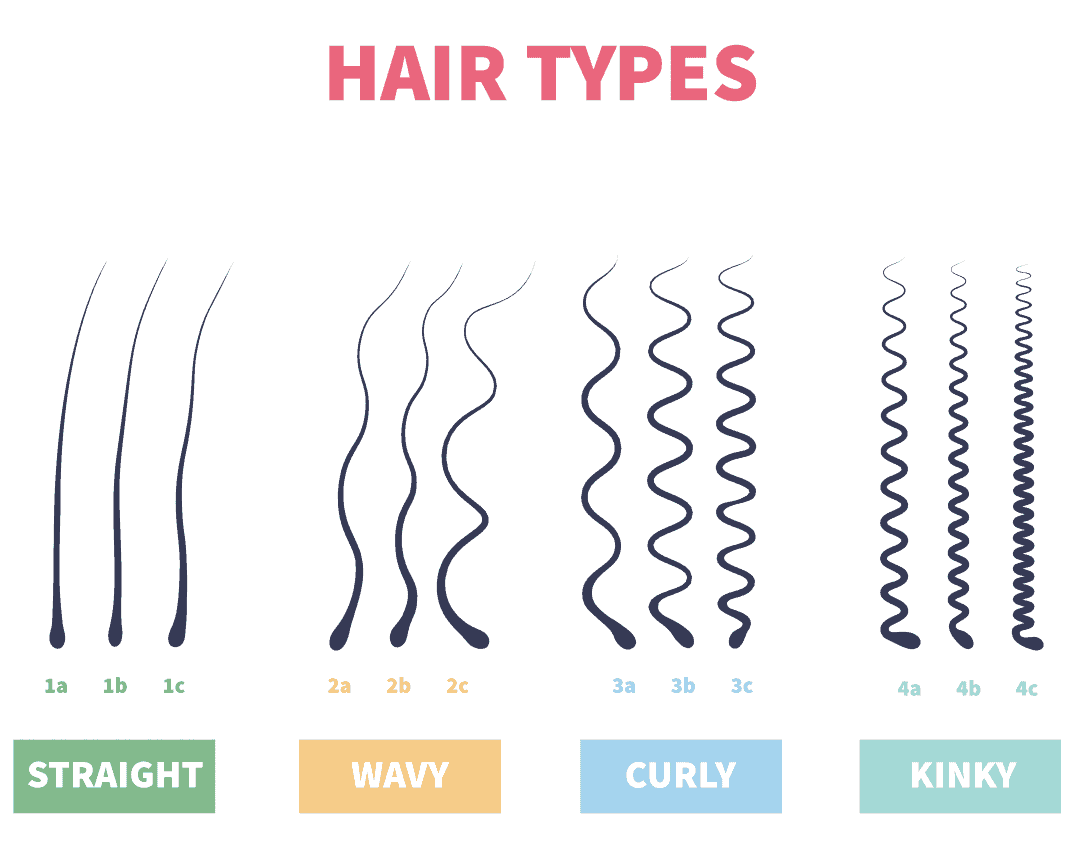 What Are The Different Hair Types?
Type 1 Hair
Type 1 hair is straight and is the rarest hair type.
Typically, straight hair will lie flat to the scalp and be both shiny and lustrous. This is because its natural oils can travel up and down the hair shaft with ease.
In certain hair types, this can make the hair look oily. Within type 1 hair are three subcategories:
1A hair
This is the rarest hair type. It's very strong but soft and shiny and is therefore hard to damage. But it is also hard to curl for the same reason. It's prone to looking oily if not properly managed.
1B
Hair is more voluminous, with more body and bounce than type 1A hair. Usually, because of its medium texture, it will better hold curls and may have more movement and texture compared to type 1A. This is often described as the most common hair type.
1C hair
This hair type is straight, but it's much coarser and thicker than either 1A or 1B hair. Depending on the climate, it can be prone to frizziness, but it also has a more naturally tousled, textured look.
Also Read: Full List Of Protein Ingredients In Hair Products
Why Is 1A Hair The Rarest Hair type?
1A hair is basically the most straight hair you can find.
It is predominantly found in people of Asian descent and is characterized by being straight, fairly strong, and thick.
You might think that most Asian people have 1A hair but that is in fact not true.
Many Asian people, although they have straight hair and their hair grows the fastest, experience some sort of waves in their hair which would make them type 1B.
Of course, this rare hair type is not only found in people of Asian descent. It can be found in some Western countries too.
But think of anyone you may know with straight hair.Do they have absolutely no waves or bends in their hair? It's actually incredibly hard to find.
Type 2 Hair
Type 2 hair is wavy hair – that is, hair that naturally forms an 'S' shape – and is thicker than type 1 hair.
It's a happy medium between curly and straight hair and is less prone to becoming oily.
Wavy hair strands lay flatter to the scalp than either curly or coily hair, and vary according to the subcategories of classification:
2A hair
This is fine and thin, also known as the 'barely there' wave. This hair type is easily straightened or styled, but it's best to avoid heavy products, as this will weigh it down.
2B hair
Typically slightly frizzier than 2A hair, this hair has a defined 'S' shape and can be resistant to styling.
Hair will tend to lie flat at the crown of the head, with the 'S' shape waves forming as hair falls to the neck and beyond.
2C hair
This hair is thicker than either 2A or 2B hair, and is therefore both the waviest, thickest, and coarsest of all.
For this reason, waves will be wider and more well-defined. However, it can be resistant to styling and become frizzy with ease.
Using products like leave-in conditioner is best for this hair type, as is avoiding heat styling.
Waves will begin at the hair's roots, meaning that there's usually a lot of volume to this hair type.
Also Read: Does Guar Gum Leave White Flakes In Your Hair?
Type 3 Hair
Type 3 hair is curly – specifically spiral curls (rather than coiled).
This hair type will form naturally defined ringlets – even when wet – because the hair follicle doesn't lie flat to the scalp.
It's for this reason that type 3 hair can be more prone to tangles, dryness, and breakage, but it's also full of volume and bounce. The subcategories are:
3A hair
3A hair falls in loose curls with a definite pattern and a combination texture. Typically, hair will be thick and full, with lots of body – but it can be vulnerable to frizz for this reason.
3B hair
Curls in 3B hair will be tight and springy, but there'll be a medium amount of space between them, which leads to some definition.
Like 3A hair, 3B hair is textured, coarse, and dense, and may become frizzy.
3C hair
These curls are known as corkscrews or 'coily-curly', as they're very tightly curled and typically very thick.
This hair type is super textured, and the most voluminous. It, therefore, needs extra love and attention in order to manage it, as it is most prone to shrinkage.
Type 4 Hair
Known alternatively as kinky or coily hair. This hair type has tightly defined ringlets or coils that are thickly packed together and will maintain their shape and texture when dry or wet.
Coils differ from curls as they're tighter and typically bouncier.
Using hair styling products with heat is not advised for this hair type, which is already prone to breakage and dryness. The heat may only exacerbate this.
Typically, it'll also need extra oiling and moisture, as the coils prevent natural oils from traveling down the hair shaft.
The subcategories are:
4A hair
These are tight, thin, springy coils which are 'O' shaped and clearly defined, but finer than type 3 curls. When dry, hair strands will shrink down to half their length
4B hair
These curls are more 'Z' shaped than anything, with a tight crimped or kinked pattern. They're tightly coiled and more defined than type 4C hair.
4C hair
These coils are tight with almost no discernable kink pattern as they're typically densely packed.
People with this hair type will have significant volume, but hair is delicate and very prone to breakage and shrinkage.
Specially designed hair products such as leave-in conditioners and heat protectants are advised in order to properly care for this type of coil.
Also Read: How To Use Pomelo Oil For Hair Growth
What Are The Different Hair Porosities?
So now that you know that 1A hair is the rarest hair type, are you wondering about porosity?
The porosity of your hair is essentially its ability to absorb moisture.
There are three main hair porosities:
High porosity: your cuticles – the tough outer layer that protects your hair – are more widely spaced
Medium porosity: your cuticles are less tightly overlapping
Low porosity: your cuticles are knit close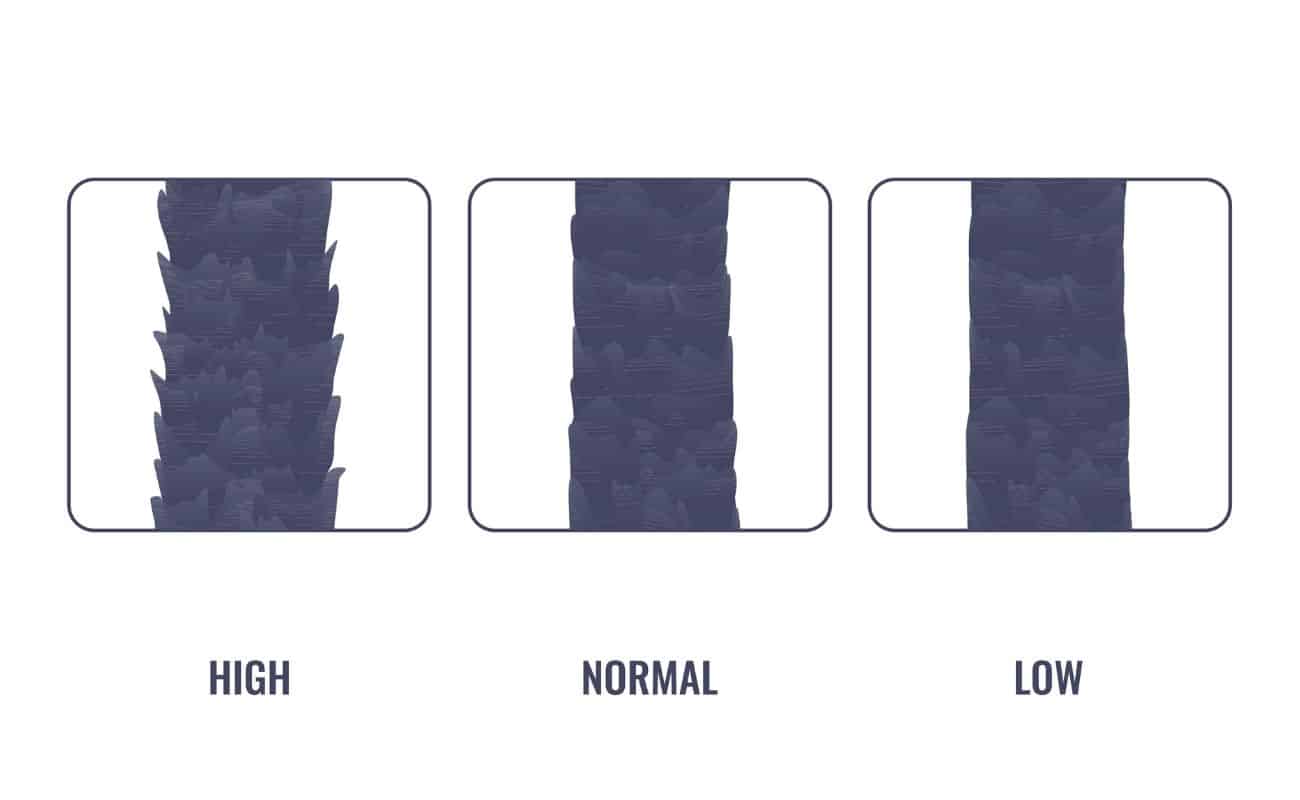 Whether your hair is porous or not will determine how well it takes in and retains moisture.
So, if you're rubbing hair oil in and wondering why it's not penetrating your hair shaft, it may be because of your hair's porosity!
When your cuticles are tightly overlapped, it's more difficult for water and oils to penetrate into the hair shaft.
By contrast, your hair will be dryer if your cuticles are too widely spaced. Genetics broadly determine what porosity your hair has – there's no miracle fix, unfortunately!
It's good to be aware of, however, so that you can tailor a haircare routine that accommodates both to your hair type and porosity.
Disclaimer: This site is not intended to provide professional or medical advice. All of the content on LovedByCurls.com is for informational purposes only. All advice should be followed at your own discretion. Ingredients may change at any time so always check the product label before using. Check our full disclaimer policy here.
Alice is an experienced writer and researcher with a background in the Creative Arts. She is a published poet and is currently completing her Ph.D., having worked in a variety of industries, including as a theatre dramaturg.
Alice is passionate about the environment, so is always on the lookout for the best zero-waste products that are vegan and cruelty-free.