Do you have fine hair and are dreaming of having fuller, thicker locks? Then hair extensions might be the solution. In this article, we will cover the different types of hair extensions, what to look for, and what to avoid when it comes to finding the best hair extensions for fine hair.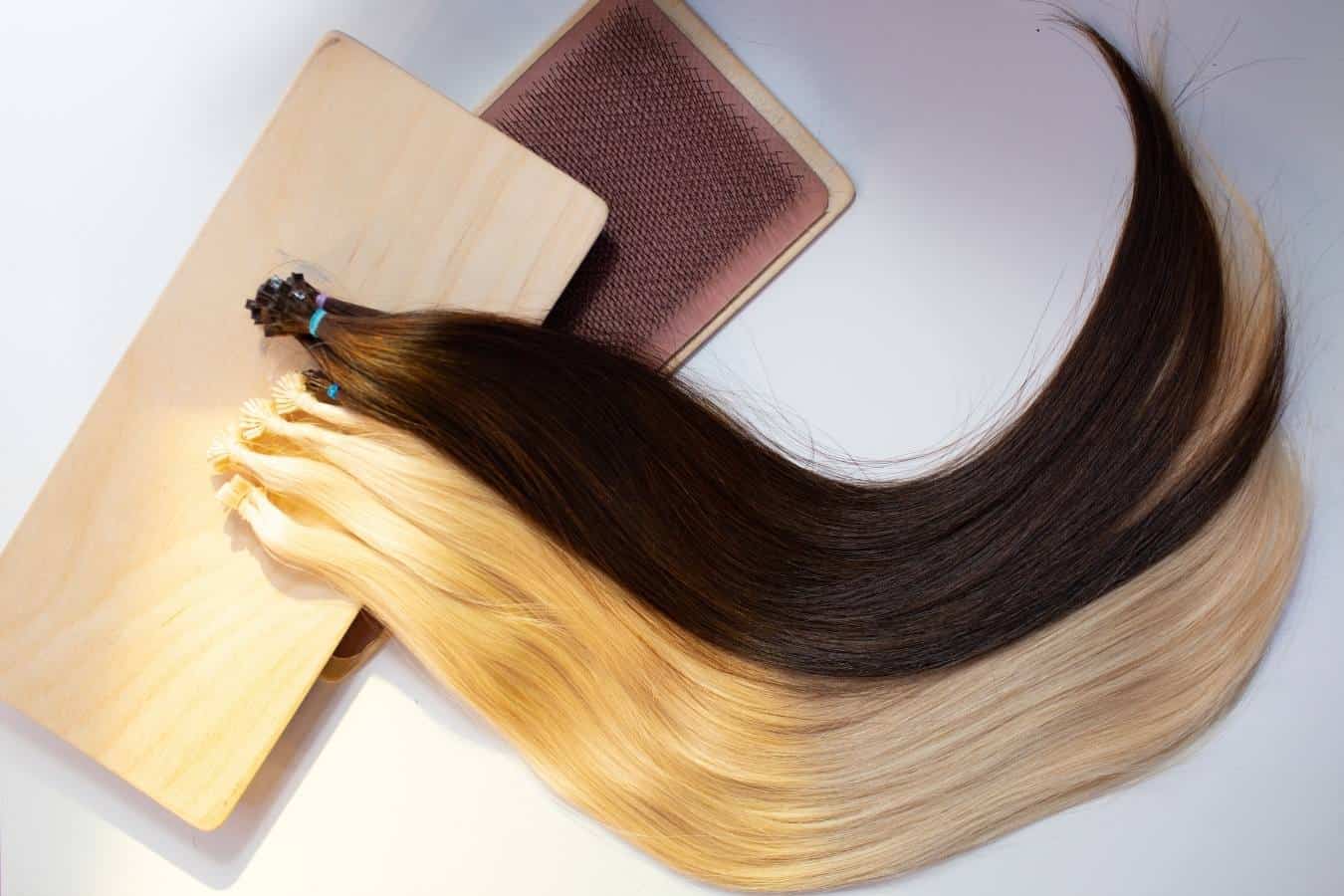 The best hair extensions for fine hair are tape-in hair extensions and smaller micro-link extensions. For temporary extensions, a halo hair extension is your best bet. All of these options blend well with fine hair and are less heavy than other techniques.
Types Of Hair Extensions
There are a few different types of hair extensions you can opt for. Choosing the best hair extensions for your fine hair starts with knowing what's available, so you can choose the ones that won't damage your hair.
Braided Weft Hair Extensions
This is a time-consuming way of getting hair extensions. It involves having your entire head of hair braided into rows. A stylist will then sew the wefts of hair extensions into the braided rows.
This is not a recommended technique for low density or fine hair as you won't have enough hair to create braids to secure the wefts, and it can cause tugging and breakage.
Micro-links Hair Extensions
Micro-links, or even smaller nano-links, involve linking extensions to your hair lock by lock.
It works by threading the natural hair through the micro-link and clamping them onto the locks of natural hair near the root. If secured properly they should not cause damage to the hair and your hair can still continue to grow.
Fusion Hair Extensions
Fusion hair extensions are one of the original methods of attaching hair extensions. Strands of hair are fused to your natural hair with ultrasonic waves that cause keratin bonding. Basically, it's like gluing extensions to your hair using heat, with keratin as glue.
These types of extensions are often used for people with short hair.
Clip-in Hair Extensions
These are temporary hair extensions that attach to your own hair via a weft with a clip. They are quick and affordable but are better suited to thick hair due to their weight.
Tape-in Hair Extensions
This is one of the quicker options for installing semi-permanent hair extensions as they take about half an hour to an hour to install.
The extensions are secured to the hair via double-sided medical tape. Rows of your natural hair are sandwiched between the extensions in this way. They lie flat against the head and look natural and are lightweight.
Halo Hair Extensions
Halo hair extensions are an easy, affordable, and a temporary option to create longer thicker hair.
They come in one piece and consist of an adjustable, virtually invisible wire attached to the extensions.
You place the extensions on your head like a halo, then pull your natural hair through and over the extensions to conceal the wire.
Also Read: Why Do I Get Bumps On My Scalp After Braids? (How To Treat)
3 Best Hair Extensions For Fine Hair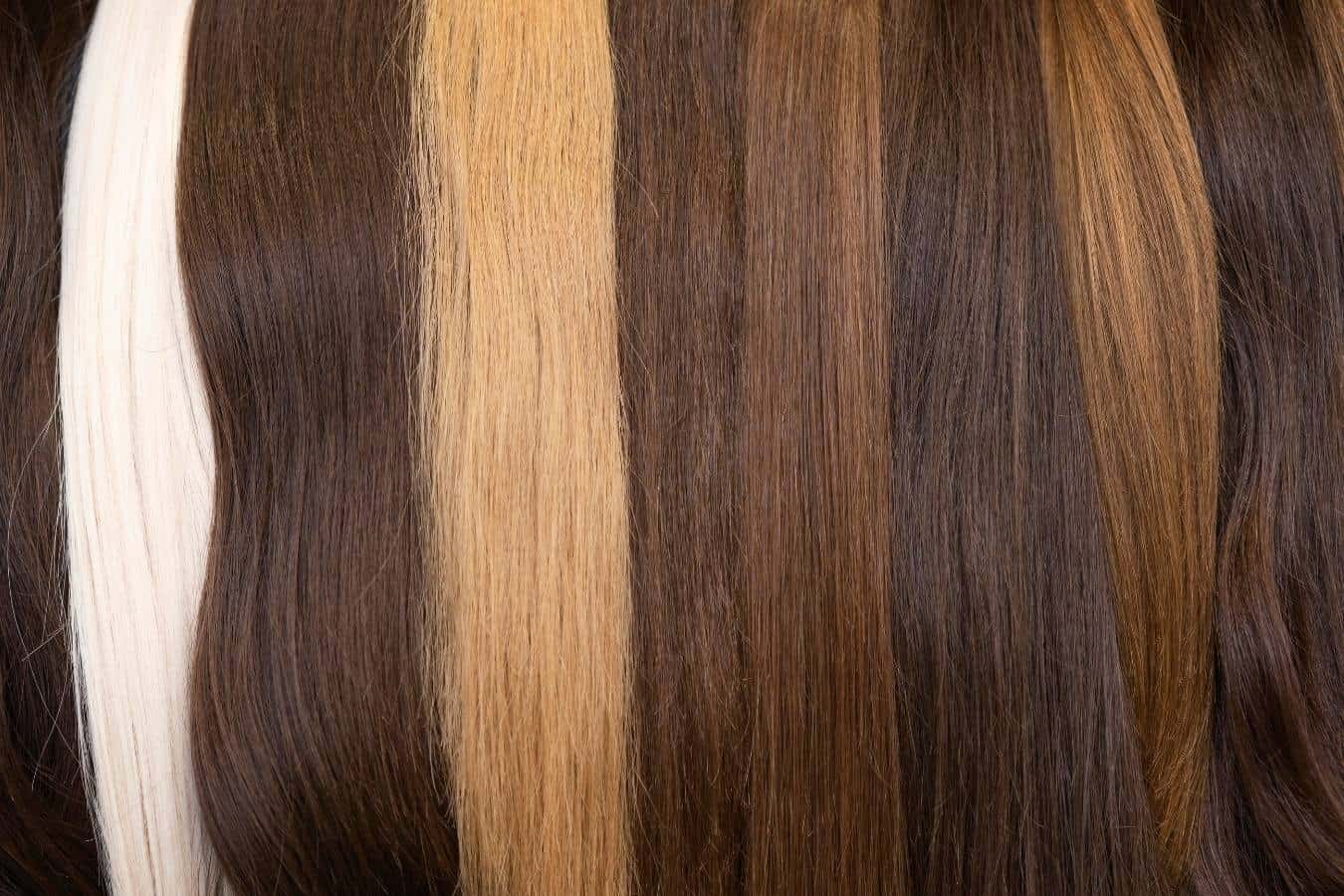 The best hair extensions for fine hair need to be lightweight, as heavier extensions can pull on the hair and lead to hair loss over time. They also need to be types that can easily be concealed by your natural hair and therefore should match in color.
If you're looking to dye your hair extensions, do note that it's not recommended to dye synthetic hair. Instead, opt for human hair.
Here is our round-up of the best hair extensions for fine hair, as well as the kinds you should avoid.
1.Tape Hair Extensions
Tape hair extensions are one of the best kinds of extensions you can get for fine hair. They are lightweight and very thin so they can be easily concealed by your natural hair.
The wefts are sandwiched between the natural hair and are secured with polyurethane tape close to the root.
For very fine hair, a single weft can be applied to one layer of natural hair rather than the natural hair layer being sandwiched between two wefts.
They are thin, lightweight, and evenly distributed across the head so that there is no tension placed on individual strands.
They are easy and quick to apply and remove, with the application process typically taking about 30 to 90 minutes. They last for up to six weeks before needing to be adjusted to account for regrowth.
A couple of things to bear in mind with this application method is that you should avoid bathing, showering, or doing any form of exercise that causes you to sweat within the first 48 hours after application. This is so the tape can properly cure.
You should also be cautious about oil-based hair products, as these can cause the tape to slip, and the chemicals used in pool water can also weaken the tapes.
Micro-Link Hair Extensions
The key with micro-link hair extensions is getting the right ones installed for your hair. You can get lighter micro-link or nano-link hair extensions that are suitable for finer hair.
Be sure to get a consultation appointment with your hair technician first, as they will be able to determine how much weight your hair will be able to hold. If correctly installed, micro-links should not cause damage to finer hair.
Depending on the type you have, micro-links and nano-links can last from six to twelve months. However, bear in mind that they may slip if your hair is too soft or oily.
Also Read: How To Dye Synthetic Hair (What You Need To Know)
Halo Hair Extension
Halo hair extensions are a great temporary option as they will cause zero damage to your hair. This is because they do not bond to the hair via adhesives, links or clips.
Just be sure to take them out before bedtime as otherwise they may get tangled up with your natural hair.
Which Hair Extensions To Avoid With Fine Hair?
As a general rule, the worst hair extensions for fine hair are those which add unnecessary weight and strain to the hair.
This could result in hair loss over time. It's also important to have extensions that can easily be concealed under fine hair.
The two worst types of extensions for fine hair are:
Clip-in Extensions
They are quick, temporary, and affordable, but clips-in can be a bad choice for those with fine hair as they are heavy and difficult to conceal. They also tend to slide out of fine hair. Clip-ins are better suited for those with medium to thick hair.
Hot Fusion Hair Extensions
A traditional method for adding extensions to hair, these extensions are bonded to the natural hair using a heat tool and keratin as glue.
These types of extensions don't fuse well to fine hair and can pull out your own hair over time.
In addition, removing them is a tricky and intricate process. If not removed correctly by a professional these types of extensions can cause damage and breakage to your fine hair.
Also Read: How To Sleep With Braids (A Complete Guide)
Things To Consider Before Getting Hair Extensions
Choose A Method That Doesn't Cause Hair Damage
If you have fine hair, you need to avoid any hair extension method that could cause unnecessary strain and even breakage to your hair. You also want to make sure that your scalp doesn't suffer from irritation because of the extensions. After all, you want to make your hair look thicker, not run the risk of making it thinner.
Opt For Hair Extensions That Hide Well
This means that clip-ins are a definite no-no for fine hair, as they are a little chunky. You need to choose a method that can be easily concealed, such as a hair halo, or tape-ins if you want something longer-lasting.
Natural Hair Extensions Are Best
Always choose natural over synthetic hair extensions. This is because extensions made of natural hair will blend well with your own hair, whereas synthetic extensions will look fake as they are made of plastic.
Natural hair extensions can also be heat styled just like your normal hair.
We would also recommend choosing a company that sources natural hair ethically, meaning that they pay the donors (usually women from poorer countries) more.
Find A Certified Hair Extension Specialist
Temporary extensions such as clip-ins and halo extensions are easy to do yourself.
The semi-permanent ones, not so much. It is possible to do tape-in hair extensions by yourself, but it is tricky and requires patience.
If you're not confident to do them yourself, or it's your first time having tape-in hair extensions, it's always best to visit a specialist.
For any of the other methods, like fusion, micro-rings, and weaves, you absolutely must visit a specialist as you won't be able to do these yourself.
These methods are intricate, long-winded, and can cause hair damage if not done properly.
Make sure you visit a certified hair extension specialist so you don't cause damage to your hair. Always follow their instructions and get your extensions refit regularly to ensure the health of your fine hair and to keep them looking their best.
Also Read: 10 Best Flat Irons For Fine Hair – 2022 Buying Guide
How Much Do Hair Extensions Cost?
The cost of hair extensions varies widely. It depends on the type of hair extensions you choose and how much labor is involved. It also depends on the quality of the extensions themselves. You can pay anything from about $100 to up to $3000 in a high-end salon.
If you only want temporary extensions that you're only going to wear once or twice, you might want to go for lower-quality extensions.
Whereas if you're planning to have extensions long-term it makes sense to invest more money upfront as they will last a long time.
How Long Do Hair Extensions Last For?
Micro-rings last 3-4 months before needing to be re-fitted due to re-growth. Because they are attached to the roots of your natural hair, they need to be treated with extra care.
Tape-ins will last 4-8 weeks. If you look after them well, shampoo, and dry correctly, then you can have the same extensions refitted. Brush them with a hair extension brush several times a day, but never brush them while wet.
Halo hair extensions last anywhere from 3 months to 2 years, depending on how well you look after them.
A general rule for all types of extensions is the more you wash and heat style them, the shorter their lifespan will be. Since they don't receive oils from your scalp as your natural hair does, it's important to keep them moisturized.
Disclaimer: This site is not intended to provide professional or medical advice. All of the content on LovedByCurls.com is for informational purposes only. All advice should be followed at your own discretion. Ingredients may change at any time so always check the product label before using. Check our full disclaimer policy here.
Nicola is a freelance writer and researcher whose specialisms lie in health and wellness, beauty, and psychology. She has fine, wavy hair and is a big fan of co-washing every alternate day between shampoos (as dry shampoo makes her sneeze!)