Sleeping with braids can be a challenge if you don't treat them with the care they need. In this article, we guide you through how best to sleep with braids, as well as some general tips about braid care.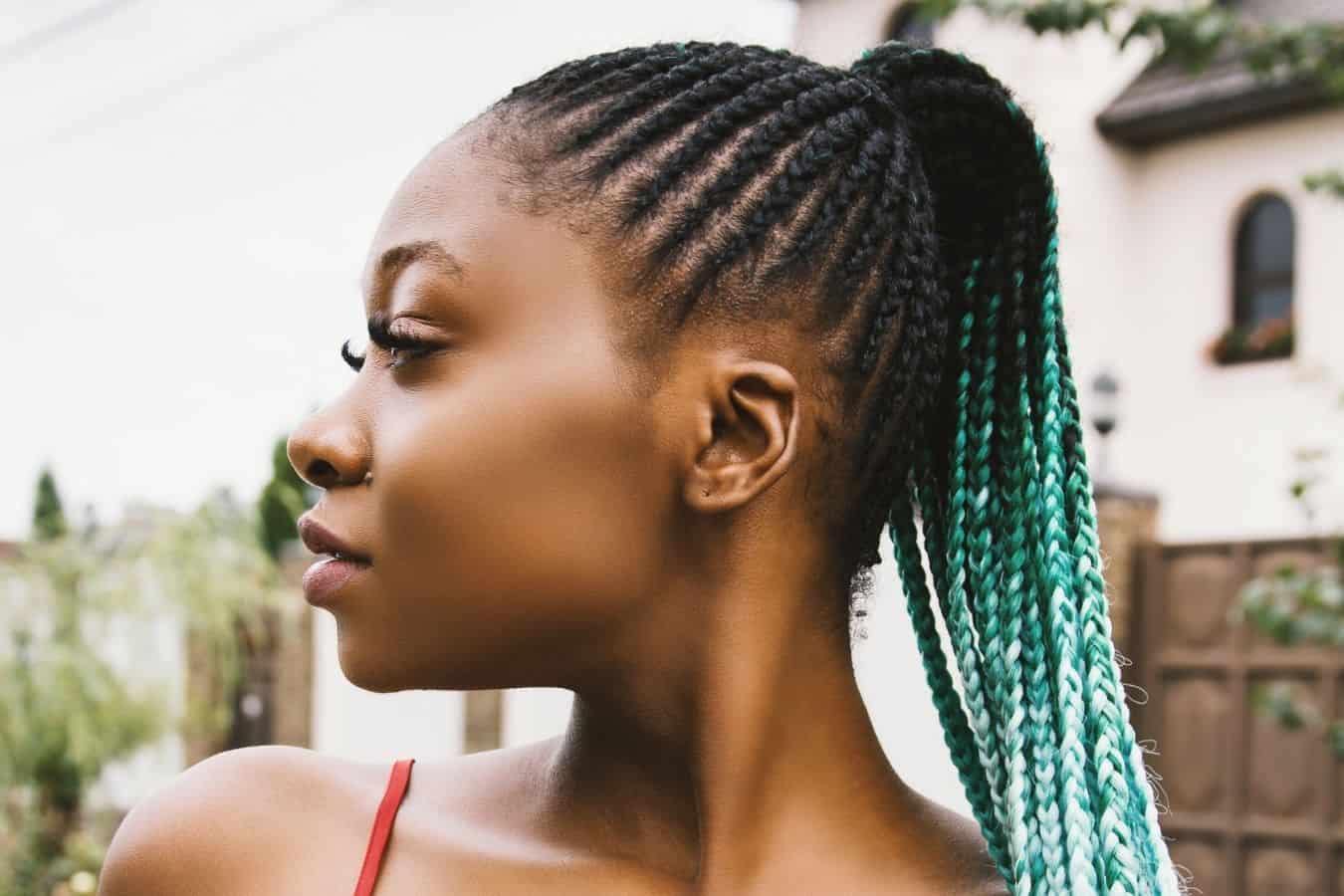 This post contains affiliate links and we may earn if you click on them (at no extra cost to you). Please read our full disclosure policy here.
So, what is the best way to sleep with braids?
The best way to sleep with braids is to wrap your hair in a silk or satin scarf or bonnet to protect them. This way, you're not only caring for your braids but you're also ensuring that they don't disrupt you while sleeping.
Steer clear of cotton or any fabric other than silk or satin! Cotton – and other fabrics like linen – are fairly rough in texture. They are therefore prone to friction.
If you're a light sleeper, you're likely to toss and turn. This will cause the cotton to rub against your hair and result in frizzy braids that don't last long.
Silk or satin, by contrast, will ensure your braids are looking their best for as long as possible. Plus, they're super breathable fabrics and help to lock in moisture.
Be aware, too, that you're likely to experience tension in your scalp and even your shoulders right after having your hair braided.
However, this should not feel painful or last for longer than 24 hours. If you do get bumps on your scalp after braiding, consider loosening your braids or give yourself a scalp massage.
If it does, you might want to think about removing the braids. Pain just isn't worth it.
General Tips For Sleeping In All Braids
From cornrows to box braids, the braid is such a versatile hairstyle that it's hardly any wonder so many people are turning to it to add some oomph to their look.
Once you've spent time and money on your beautiful braids, you want to keep them looking as good as possible.
Before we detail the best way to wrap your hair depending on specific braid type, here are a few tips in order to keep all braids looking their best.
Use Silk pillowcases
Hello the best skin and hair of your life. Silk pillowcases are having a huge moment right now, because they have anti-ageing benefits, are breathable, and work to maximize the moisture in your skin and hair.
You also won't wake up with lines from the pillow indented in your face.
It also means that if you forget to wrap your braids at night, it's not the end of the world. You'll still experience the payoffs of silk.
Use the right hair ties
Scrunchies, hair ties, bobbles. It doesn't matter what you call them, just be sure to use the right ones in order to sleep well in braids.
Don't use the ones with metal clasps or tags. They'll only cause breakages and wreak havoc on fragile hair.
Scrunchies are best as they won't leave a dent in hair, and any hairband or tie should be fabric – or better still, silk.
Maximize hair moisture
Using a leave-in conditioner or anti-frizz spray will help to keep your braids in tip top condition.
Try to use a conditioner up to three times a week. This will keep your strands silky smooth and ensure your braids look their best for as long as possible.
If you can, use an oil like coconut and massage into your scalp every few days to boost moisture even further.
If you have neither leave-in conditioner nor anti-frizzy spray, you can spritz the hair with water.
But make sure you do not soak your braids or sleep with wet hair.
Hair is more prone to breakage when wet, and sleeping with wet braids will only exacerbate this.
Keep your scalp and scarf clean
Just like your sheets, you need to be cleaning your scarf, bonnet, or pillowcase at least once a week.
That way, your braids (and skin) aren't being exposed to excess oil. Your scalp should also be kept clean for the same reason. Don't forget to add essential oil for extra hydration or antibacterial effects.
Don't use any heavy creams or butters, however, as this could end up weighing your braids down and making them too oily.
Wash your braids at least once every two weeks too, so that any product or sweat build-up is cleansed away.
Choose the right braid style
Your first night of sleep with your new braids is going to be slightly uncomfortable. Particularly if you're not used to sleeping with braids.
So, it's important to take stock of which braid style works best for you. Do you sleep better with French or box braids?
You'll only know through trial and error.
Ensure your braids are done with care
This might seem obvious, but you want to be sure that you are gentle when braiding your hair. If you pull too tightly, you'll cause excess tension and potentially contribute to breakage.
Don't pull your edges too tight or tighten loose strands. It might seem appealing, but you'll actually be causing damage.
It's a good idea to apply leave-in conditioner to hair before you get your braids, as this will loosen strands and ensure they're looking their best.
Similarly, once your braids are in place, don't pull them into tight ponytails or buns, as this will cause tension along the hairline.
After a few weeks, your braids will have grown out somewhat. Consider reinstalling the braids along your hairline and tidying these up, rather than having your whole head re-braided.
Don't wrap hair too tightly
You want a scarf or bonnet that feels firmly in place, but isn't going to cause you to wake up with indentation marks.
Remember, too, that it's maybe not the most glamorous look. You're doing this to sleep well with braids, not to earn style points.
Similarly, don't keep your braids in for too long – no longer than eight weeks. Any longer and your new growth will stretch, damage, and break.
Also Read: Is Olive Oil Soap Good For Hair? (Question Solved!)
How To Sleep With Box Braids
Okay, so now that we've covered the basics on how to keep your braids looking their best, here are our specific tips on methods by which to wrap your braids.
Wrapping your braids whilst you sleep will keep them looking fresh, moisturized, and you protect the more fragile hair around your hairline.
It can be overwhelming, however, which is why we detail two methods for wrapping your box braids before sleep.
Note that if you have a square scarf, you want to fold it at the corners so that it forms a triangle. If you have a longer scarf, create one long rectangle.
Method 1
Note that this will keep your box braids smooth and straight – if you want a wrapping method to add slight curl to them, method 2 is for you.
Divide your braids evenly into two halves. Ensure they're parted comfortably with no tangles, and don't pull them too tightly, as this can damage both your roots and hairline.
Cross the two halves of your hair over – leave one half on your shoulder as you work on the other half.
Take all of the braids on the half you're working with, and secure them with a hair tie – including all the short braids.
Repeat on the other side.
Grab the halves and cross them over each other at the back of your head, before bringing them to the front of your head. Secure these ends together with a hair tie.
Grab your satin or silk scarf and cover your head with it – tie the ends together at the back. You can add a bonnet on top of this for maximum coverage.
Tuck all your loose ends into your bonnet or scarf.
Method 2
This will add a little bounce or volume to your box braids whilst you sleep.
As above, divide your hair into two halves. Secure each with a hair tie.
Using either satin rollers or foam, roll the ends of the braids up – but don't roll right the way up, as this may cause tightness and discomfort.
Tie your scarf around your head, cover with a bonnet, and tuck in any loose ends or strands.
How To Sleep With Short Box Braids Or Cornrows
If your box braids are shoulder length (or shorter), or you have cornrows, this is the method to take.
Instructions
Wrap a silk scarf around the front of your head. Tie its ends in a secure knot at the base of your scalp. If you're using a triangle-shaped scarf, tuck the loose corner under the edges of your hair, or place a bonnet over the top.
If you have cornrows, we recommend avoiding pinning any hair. This will cause them to loosen and may cause breakage.
Also Read: The Best DIY Pre-Poo Recipes For Damaged Hair
How To Sleep With French or Dutch Braids
French and Dutch braids are very similar, and super popular, as they can help people achieve that beachy, wavy look.
You want to be using two satin or silk scarves to wrap these braids. We don't recommend a bonnet, as French and Dutch braids can be very tight after installation, and a bonnet could end up causing neck tension.
Method
Grab your scarf and place it over your hair, pulled behind your ears. Pull the strands forward, tie them, and pull the scarf tightly behind them.
Next, take your second silk scarf, placing it under your neck. You want to keep one side longer than the other. It'll make tying everything together at the end much easier.
Tie this second scarf securely around your braids. Treat it like you're tying your braids into a ponytail with the scarf.
Take the long section of the scarf and wrap it around your braids' roots. Tuck any excess away to reduce breakage and frizz, or use a hair tie to secure.
The Best Silk Scarves, Bonnets, And Wraps
We've done the work so you don't have to. Searching far and wide for the best silk or satin scarves, bonnets, wraps, and pillowcases for you to sleep well with your braids.
Be aware of the different recommendations specified above for different braid types. If you've tried sleeping with a hair wrap and it's just not for you, don't forget that you can use a silk pillowcase.
You won't get all of the benefits of a wrap, but your braids will still be in better shape and easier to sleep with than if you use a cotton pillowcase.
Zimasilk Mulberry Silk Sleep Cap
You can choose from a number of dreamy colors for this sleep cap, which is made from 100% Grade 6A mulberry silk – the absolute premium.
Lightweight and breathable, we love the fact it's elasticated as this makes it much easier to pop the cap on over your pre-wrapped braids.
Just be sure to machine wash on delicate to keep it looking its best.
Alaska Bear Mulberry Silk Pillowcase
This pillowcase is great because you can choose from a variety of different sizes and colors.
Naturally hypoallergenic, the pillowcase is 100% mulberry silk and feels super luxurious against your skin and hair.
Disclaimer: This site is not intended to provide professional or medical advice. All of the content on LovedByCurls.com is for informational purposes only. All advice should be followed at your own discretion. Ingredients may change at any time so always check the product label before using. Check our full disclaimer policy here.
Alice is an experienced writer and researcher with a background in the Creative Arts. She is a published poet and is currently completing her Ph.D., having worked in a variety of industries, including as a theatre dramaturg.
Alice is passionate about the environment, so is always on the lookout for the best zero-waste products that are vegan and cruelty-free.