Is your hair prone to tangling? Fed up of fighting with knots? Although dry, fine, curly or kinky hair is the most prone to tangling, we've all been there at some point: fighting with a comb to get those pesky knots out. Surely there's an easier way? Well yes, there is. Did you know that you can use oil as a natural detangler for your hair?
There is a range of natural oils you can use as a detangler. Unlike many shop-bought detangling sprays, oils are gentle on the hair and help maintain and improve its condition. A popular choice is coconut, but you can use many different oils, depending on preference and hair type.
This post contains affiliate links and we may earn if you click on them (at no extra cost to you). Please read our full disclosure policy here.
What Are The Benefits Of Using Oil As A Detangler?
Unlike conventional detanglers which can be bought from shops, if you use natural oils to detangle your hair, you can be sure that what you're using is all-natural and gentle.
The problem with shop-bought sprays is they can be loaded with chemicals which, although they work to detangle your hair in the short term, will lead to dryness and damage over time.
And the drier and more damaged your hair is, the more it will tangle. So, it's basically a vicious circle which you'll want to avoid.
If you use oil as a detangler, you can be sure that your hair will be free of harmful silicones and sulfates, and keep your hair happy!
What Oil Can You Use As A Detangler?
The great thing about using oil as a detangler is you have a good range of choice, depending on your hair type and preferences.
Not sure where to start? Then allow us to introduce you to our top five oils for detangling hair:
Top Five Oils For Detangling Hair
1.Use Coconut Oil As A Detangler
Coconut oil is one of the best oils you can use on your hair as a detangler.
Coconut oil is great at providing your hair with moisture and helping to prevent protein loss. It's great for getting out gnarly knots in the hair.
Just work some coconut oil into the offending section. The coconut oil will penetrate and strengthen the hair and provide some slip to help you work through the knot.
2. Use Olive Oil As A Detangler
Olive oil is a great choice if your hair is very dry or damaged.
It adds softness to the hair and helps to give shine by smoothing the outer cuticles of the hair.
Warning: use sparingly if your hair is straight and/or fine. Olive oil may weigh down the hair for these types.
3. Use Avocado Oil As A Detangler
Especially great for curly and kinky hair, avocado oil works as a great natural detangler and conditioner. Avocado oil is rich in vitamins, minerals, antioxidants, and essential fatty acids. It has great slip and will help you work out those knots in no time.
4. Use Argan Oil As A Detangler
Nicknamed "liquid gold", argan oil is an amazing detangler.
Not only that, but due to its smaller molecules, it can penetrate the hair more easily than many other oils.
This makes the hair softer and less prone to tangling in the first place.
5. Use Jojoba Oil As A Detangler
Jojoba oil closely mimics the natural oils our body produces. Its oily composition makes it a great detangler, and it's also rich in vitamins and minerals that help to nourish and strengthen the hair.
Other oils also include soybean oil or hazelnut oil which are penetrating oils and castor oil which is a sealing oil.
Penetrating oils are great for textured hair types and for routines such as the LOC method or for length retention.
Pine tar oil may also be useful if you're suffering from an itchy scalp or dandruff.
And if you suffer from moisture overload, for example, it's a good idea to seal your hair with oil so that water doesn't penetrate the hair shaft and cause further damage.
Also Read: [Answered] Yellow Or White Shea Butter – Which Is The Best?
How You Can Use Oil As A Detangler
One way you can use oil as a detangler is to apply a small amount of oil on your hands then distribute through damp hair, concentrating on tangles, and using your fingers to gently work through knots.
A wide-toothed comb is also ideal as it's gentle on the hair and will help minimize pulling and snagging.
The water helps your hair to stretch without breaking while the oils give the hair better slip and help you untangle without breakage or pulling.
An even better (and more exciting) way is to make your own DIY detangling spray! All you'll need is your oil of choice, water, a spray bottle and some optional essential oil.
DIY Detangling Spray
What you'll need:
4 oz. glass spray bottle (glass is best as it doesn't absorb product or smells; especially ideal if you're using essential oils)
Oil of choice
Essential oil (optional)
Measuring spoon
Funnel
Put one tablespoon of your chosen oil into the bottle (adjust amount according to preference and size of spray bottle).
Fill up the rest of the spray bottle with warm water. Warm water is best as it helps the ingredients to mix.
Add a few drops of your favorite essential oil if you like (good ones to use are lavender, tea tree, rosemary or peppermint oil).
Shake up to combine the ingredients.
It's that simple! Remember to shake the bottle before each use as the ingredients will settle. You're now ready to use your favorite oil as a DIY detangler!
How To Detangle Hair The Gentle Way Using Oil
Lightly mist your homemade detangling spray onto wet or dry hair (wet hair is best if your hair is curly or very dry and/or prone to breakage).
Using a wide-toothed comb, gently comb through your hair in sections, working from the bottom up to reduce snagging and tension.
Wide toothed combs are the best for detangling as they help to prevent tugging and pulling.
If you come across a stubborn tangle, section the tangle off from the rest of the hair, spot spray the mist onto the knot and finger comb through.
Then, using your wide-toothed comb, start combing from the very bottom of the tangle and work upwards to reduce straining the hair.
Work out tiny knots with your fingers if possible.
Also Read: How To Bleach And Dye Hair In The Same Day (Must-Know Facts)
Other Ways To Detangle Hair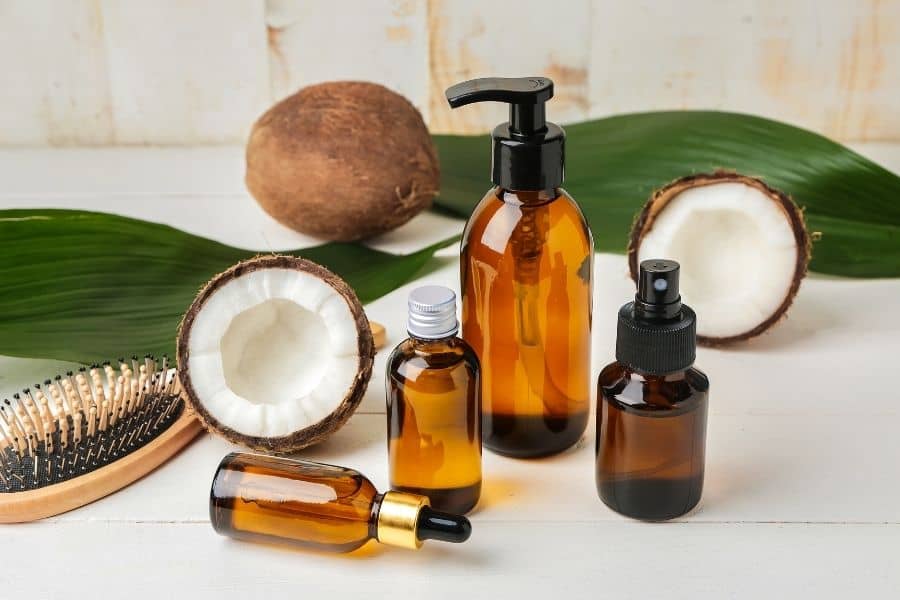 If you don't fancy using oil as a detangler, you can follow the DIY recipe above, but instead of using oil, put a couple of tablespoons of your favorite conditioner into the spray bottle instead.
Leave in conditioner also works great at doubling up as a detangler!
Try the As I Am Leave-In Conditioner which contains extracts of coconut and green tea for added nourishment.
Finally, perhaps the best tip for detangling your hair is to try and keep your hair in the best condition possible, so you don't have to detangle it as much in the first place.
The best way to do this depends on your hair type, but good general rules are to not wash your hair too frequently and use a hair mask best suited to your hair condition at least once a week.
Because let's face it, who has time for tangles?
Disclaimer: This site is not intended to provide professional or medical advice. All of the content on LovedByCurls.com is for informational purposes only. All advice should be followed at your own discretion. Ingredients may change at any time so always check the product label before using. Check our full disclaimer policy here.
Nicola is a freelance writer and researcher whose specialisms lie in health and wellness, beauty, and psychology. She has fine, wavy hair and is a big fan of co-washing every alternate day between shampoos (as dry shampoo makes her sneeze!)