Length retention refers to the upkeep of curly hair in order to prevent split ends and breakage. Curly hair doesn't retain its length as well as other hair types and requires additional care to prevent excessive damage. The key to maintaining long curly hair is therefore a combination of growth and retaining the length. In this article, we'll explain the importance of sealing your hair for length retention and exactly how you should do it.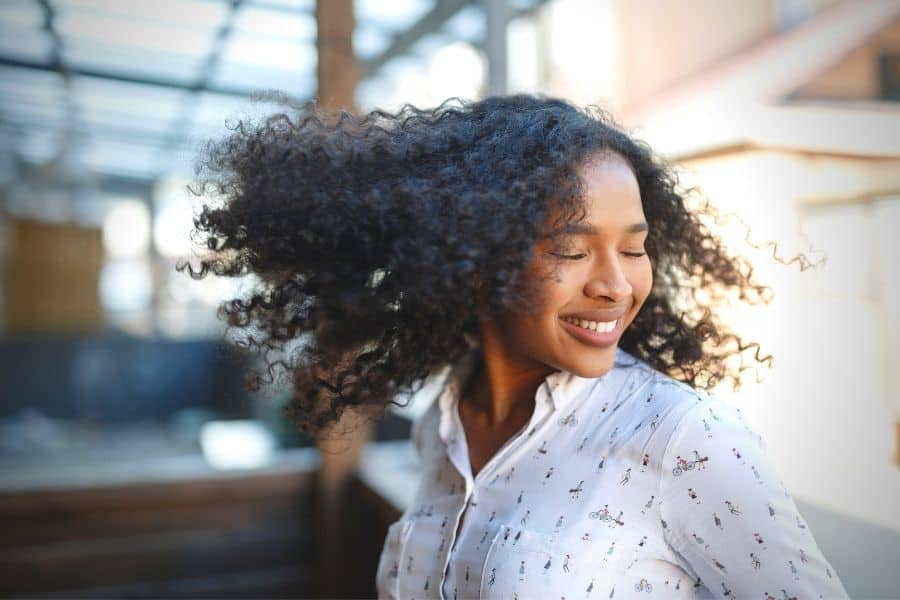 Sealing hair with oils or butters for length retention is a common method that is very effective at maintaining and promoting hair growth. This is why sealing and moisturising the ends regularly with either the LOC or LCO method will ensure maximum length retention. Castor oil, grapeseed oil, and Shea butter are commonly used to seal the hair and lock in moisture.
This post contains affiliate links and we may earn if you click on them (at no extra cost to you). Please read our full disclosure policy here.
Our Top Picks: Best Products For Sealing Hair
Tropic Isle Living Jamaican Black Castor Oil
100% Pure Unrefined Yellow Shea Butter
SheaMoisture Raw Shea Butter Moisturizing Detangler
Why Is Curly Hair So Fragile?
Curly hair is more prone to breakage due to its fundamental structure. For example, curly hair is a lot drier than straight hair.
This is because the natural oils from your scalp can travel down the strand of straight hair much easier than curly hair.
Hair is fragile at the best of times, but curls can be affected even by the slightest change in your hair care routine.
Colouring or chemical treatments can even affect your curl pattern and make your curls much looser.
Curls are at their most fragile state when they are wet. This is why you need to be careful when handling them and brushing them.
If they are overworked or tugged at, this can lead to breakage.
Curly hair is also more susceptible to weather damage.
Your hair may therefore require frequent deep conditioning treatments in the colder months to prevent dryness and frizzy curls.
If you have curly hair, it is important that you moisturize and care for your hair which you can do by sealing it for length retention.
Also Read: How To Spot Calcium Build Up in Hair (3 Ways To Fix It)
What Is Hair Sealing and How Does It Work?
Sealing hair for length retention is the process of locking in moisture after wetting your hair. This can be done either through washing with regular water or a water-based product.
Castor oil or Shea butter is most commonly used for sealing and there are plenty to choose from to reach your desired result.
The purpose of sealing is to reduce the likelihood of the hair becoming too dry and too brittle and breaking off at the ends.
It does what you would expect it to do – keep the moisture in!
Who Should Seal Their Hair for Length Retention?
Many people can benefit from this kind of treatment. It is however mostly used on curly, kinky, and afro-textured hair.
These are the hair types that are most susceptible to breakage.
The more breakage there is to the hair, the less growth there will be. It is therefore very important that you moisturize your hair often and that you're sealing regularly and correctly.
2 Ways to Sealing Hair for Length Retention
LOC (Liquid, Oil, Cream)
The LOC method is a highly effective hydrating method that follows a sequence in which you apply liquid, oil, and cream.
The liquid refers to either water or a water-based leave-in conditioner.
The LOC method is the best method for high porosity hair.
This is because high porosity hair is very susceptible to moisture. It is, therefore, preferable to apply oil to your hair before applying a moisturizing cream.
It's recommended that you use a water-based leave-in conditioner such as the SheaMoisture Raw Shea Butter Moisturizing Detangler.
Then you apply oil and finally cream.
Use a good quality product such as Shea butter or avocado butter to allow the ends of the hair to stay hydrated.
As butter is heavier than oils, this is a good option for thicker hair or for the colder months when the hair is more susceptible to weather damage.
LCO (Liquid, Cream, Oil)
Similarly, the LCO method can be used to seal hair for length retention and promote hair growth.
This is a preferable method for those with low porosity hair as they will have a hard time absorbing moisture.
Low porosity hair has very tightly closed cuticles and so a moisturizing cream such as the SheaMoisture Curl and Style Milk should be added before oil so it can be absorbed.
Oil is then added as the final step to seal in the moisture.
There is a range of oils you can use to seal everything in.
This includes jojoba oil, castor oil, and coconut oil but it would depend on your hair type and personal preference.
If you are not sure which method to choose, read our post on the LOC vs LCO method and which one is right for you.
Also Read: Protein vs Deep Conditioning Hair Treatment – Which Do I Need?
How Often Should I Seal My Hair For Length Retention?
How often you need to seal the ends depends on your hair type and how quickly your hair becomes oily.
Quite often, high porosity hair will need to be sealed on wash day and one other time during the week.
Whereas low porosity hair may only need to be sealed on wash day, which could be just once a week if your hair isn't prone to oiliness.
Regardless of hair porosity, everyone is different.
You should therefore examine your hair regularly and make a judgment call on how frequently you plan to seal the ends.
The weather in your local region can also determine whether you need to restore lost moisture as well.
Best Products for Sealing Hair
If you have thick hair or hair that tends to get dry, then you might prefer to use heavier oils or butters.
Whereas if you have thinner hair or hair that gets oily quickly then it's recommended that you opt for lighter oils instead.
Here are some of the products that are great when sealing hair for length retention:
Heavy Oils & Butters
If you're looking for a thicker oil that will seal in moisture and strengthen the hair follicles, then this Jamaican Black Castor Oil is a great option.
As it strengthens the ends of the hair, this will also promote hair growth and leave your curls with a natural shine.
The protective coating will prevent the hair from splitting or snapping off.
---
This yellow smooth shea butter contains vitamin A and E which are essential for hair health.
In particular, vitamin E helps to prevent dryness, improve elasticity and repair damaged follicles, which in turn, helps to promote hair growth.
This product helps to heal, protect, and nourish the hair strands, making it a good choice option for sealing the ends.
---
Lighter Oils
This organic Jojoba oil is a better option for anyone with thinner hair or hair that becomes oily quickly.
It's lightweight, fast absorbing, and it's suitable for use on sensitive skin.
As it contains many vitamins and minerals, including vitamin E and B-complex, you can rest assured that this product will help to maintain the health of your hair.
---
Grapeseeds contain antioxidants that are anti-inflammatory and antibacterial, which are very beneficial to the hair and skin.
This Grapeseed oil is 100% natural, easily absorbed, and it helps in the process of repairing damaged follicles.
Using grapeseed oil regularly when sealing hair for length retention can lead to healthier, glossier curls that maintain their natural curl pattern.
---
Other Tips For Hair Retention
Finger Detangling
If you experience breakage or tangling when using any kind of comb, then you could simply switch to using your finger to separate and detangle the strands.
Using fingers is a gentler method of separating the hair and avoiding knots, which will lead to less damage when the hair is wet.
Sleep On a Silk Satin Pillow Or With Bonnet
Cotton can be particularly bad for curly hair, especially when your head is tossing and turning all night and creating unnecessary friction.
Switching to satin will ensure that the moisture stays locked in and your hair is less prone to frizz and breakage.
We love this silk pillow case from Amazon made from 100% pure Mulberry silk as well as this satin hair bonnet that is sure to stop your hair from getting frizzy at night.
Low Maintenance Styling (No Pulling Twists, Braids Etc)
Styling your hair daily, combing excessively, and tugging at the hair can all contribute to poor length retention.
You need to let your hair breathe and relax as often as possible, so opt for styles that do not require too much upkeep.
Maintain Healthy Scalp
A healthy scalp is essential for a healthy head of hair so you need to make sure that you are cleansing thoroughly to avoid build-up and residue.
Use a sulfate-free shampoo such as the As I Am Dry & Itchy Scalp Care Olive Oil & Tea Tree Shampoo to make sure you're gently but thoroughly cleansing your scalp.
You should also avoid hairstyles and clips that are too tight on the scalp.
Weekly Deep Condition
Dry hair needs moisture and during the colder months, it's even more important that you listen to your hair's needs.
Deep conditioning, with special care on the ends of the hair, will help to heal the hair and promote growth.
We absolutely love the Shea Moisture Superfruit 10-in-1 Renewal System Hair Masque. It's incredibly hydrating as well as sulfate and paraben-free.
Stimulate and Promote Hair Growth
Scalp massages with essential oils can help with stimulating hair growth.
Use a scalp massager such as this one rather than your nails to avoid scarring or damaging the scalp in any way.
Trim Ends When Needed
If you have split ends then you'll fail to see any hair growth.
Regularly trimming the ends every 6 – 8 weeks or whenever you notice any split ends will help keep the ends healthy and accelerate growth.
Avoid Harsh Chemicals Such as Sulphates, Silicone, Drying Alcohols
You always need to ensure that you stay away from any products containing sulfates, silicone, drying alcohols, or any other chemicals that can disrupt the hair and lead to further damage.
Have you tried the Curly Girl Method yet? It's a great way to bring out the best of your curls using products that are free from all of the above.
Check out my list of over 30 CG approved products.
---
Disclaimer: This site is not intended to provide professional or medical advice. All of the content on LovedByCurls.com is for informational purposes only. All advice should be followed at your own discretion. Ingredients may change at any time so always check the product label before using. Check our full disclaimer policy here.
Coralle is an experienced beauty writer with a passion for wellness, women's health, and sustainability.