One of the best ways you can stay on top of your curly hair is by using a hair dryer with a diffuser attachment. That's why we've summarized the best hair dryers with diffusers for curly hair that we can find.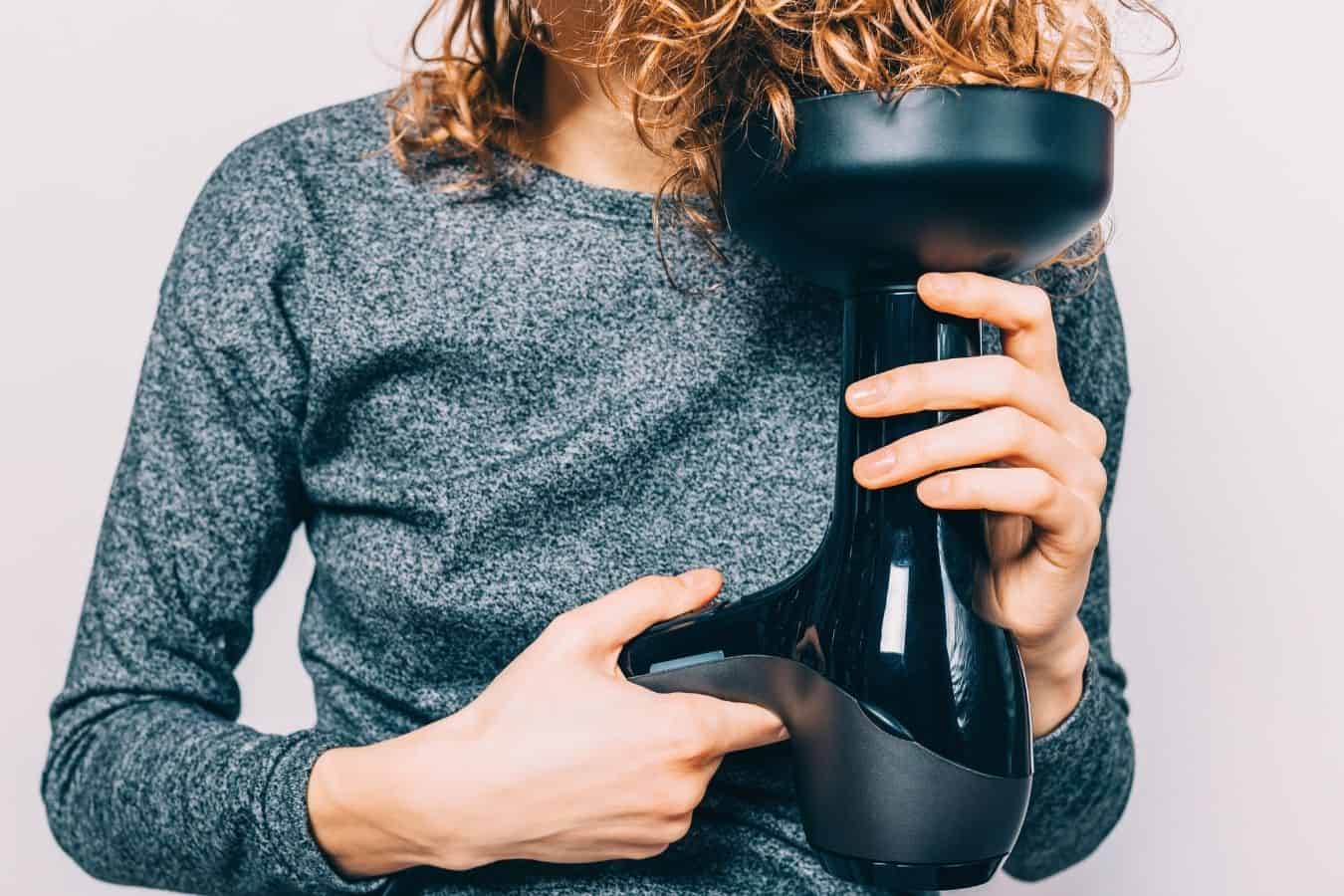 This post contains affiliate links and we may earn if you click on them (at no extra cost to you). Please read our full disclosure policy here.
In A Hurry? Our Top Picks…
| | Description | Price | |
| --- | --- | --- | --- |
| Top | Revlon 1875W Titanium Hair Dryer | | Buy on Amazon |
| | Ionic Hair Dryer, 1800w Professional Folding Blow Dryer (with Powerful DC Motor), Negative Ion Technology , | | Buy on Amazon |
| | Panasonic Nanoe Hair Dryer, 1875 Watt Professional Blow Dryer for Smooth, Shiny Hair with 3 Attachments Quick Dry Nozzle, Diffuser and Concentrator Nozzle – EH-NA65-K (Black/Pink), Black | | Buy on Amazon |
| | NITION Negative Ions Ceramic Hair Dryer with Diffuser Attachment Ionic Blow Dryer Quick Drying,1875 Watt 2 Speed / 3 Heat Settings,Cool Shot Button | | Buy on Amazon |
Product prices and availability are accurate as of the date/time indicated and are subject to change. Any price and availability information displayed on [relevant Amazon Site(s), as applicable] at the time of purchase will apply to the purchase of this product.
Prices pulled from the Amazon Product Advertising API on:
What Is A Diffuser?
If you've got curly, thick, frizzy hair, you need a diffuser. It dries hair whilst dispersing the heat of the dryer, ensuring that you get bouncy, vibrant curls that maintain their moisture and shine.
A diffuser looks a bit like a bowl with prongs attached – use these to massage your scalp as you dry, or curl your hair around them and let it dry. You can always use products like curl cream alongside a diffuser if you want.
Benefits Of Using A Diffuser On Curly Hair
Cuts Drying Time
Diffusers cut your drying time in half whilst still ensuring that your strands are all properly dried and maintain their full shape. They're therefore great in the morning when you're in a hurry.
Minimizes Heat Damage
Curly hair is more vulnerable to heat damage – but diffusers disperse that heat over a larger area. Your locks are therefore less exposed to heat and its potential adverse impacts.
Creates Volume
Using a diffuser enables you to dry your curly hair sideways, upside down, etc. This will help you achieve a lot more volume than if letting your hair air dry. You can use hair clips to pin your roots while using the diffuser for even more volume on your crown.
13 Best Hair Dryers With Diffusers For Curly Hair
The titanium technology swiftly transfers heat to your hair, ensuring faster drying times, which means you get longer to style. It'll also minimize any over-drying which can cause frizz or damage.
There are three heat and two-speed settings so you can customize your experience, and a cool shot button. The cap removes easily for cleaning and the diffuser will disperse the air to help you define your curls.
Why we like it: Titanium technology sounds good to us
---
With three different styling attachments, this hair dryer is great for girls who need a diffuser, but will also have your back if you want to go for a straighter style.
You'll get a diffuser engineered to disperse the air evenly, thereby helping you get gorgeous curls, as well as a styling concentrator and smoothing nozzle. There's a removable filter on this dryer, so you won't get any hair sucked into the fan, and it's easy to clean.
The nozzle turns 360 degrees, and the handle is both ergonomic, making it comfortable to hold, and has a handle for easy storage. The dryer also works via ionic technology, releasing millions of negative ions to reduce static, leaving hair smooth and silky.
There's also great temperature control, with one cold air mode and two different speeds.
Why we like it: The handle – great for easy storage and minimizing bathroom or bedroom clutter
---
This hair dryer consistently tops lists for the best hair dryers with diffusers, and it's easy to see why.
Panasonic's nano technology is designed to give hair a gorgeously healthy shine whilst minimizing split ends and breakage, balancing your hair's moisture.
The ionic technology penetrates into the hair shaft from cuticle to root, providing 1,000 more moisture than a typical dryer.
You'll also get different styling attachments, three-speed settings, and four heat settings, so the dryer is a great all-rounder. Plus, we love the pink color!
Why we like it: The ergonomic design and cute color
---
How many hair dryers have you seen that look like this? Us neither, but that's why it works.
The ceramic technology will tame your frizz whilst boosting shine, and there are three heat and two-speed settings.
The round diffuser head helps maintain your curls, and the cord is six feet long, so will keep you tangle-free whilst you get on with drying.
Why we like it: The 6 feet tangle-free swivel cord!
---
The ceramic of this hair dryer is infused with nano silver, argan oil, and tourmaline, helping to repair damaged hair and leaving it smoother, shinier, and healthier. There are two speed and three heating options as well as a cool shot button, as well as three different attachments, so you can fully customize your drying experience.
Why we like it: Choose from three different colors
---
We thought we'd add a collapsible hair diffuser into the list – and what better than The Curly Co's version?
Super popular with all curly girls, this silicone device stretches and shrinks over almost any hair dryer, and collapses flat to fit in a bag with ease.
Don't use it with super high heat, but this collapsible diffuser is a fantastic, adaptable product for your curly hair.
Why we like it: It's a collapsible product that doesn't compromise on quality
---
This hair dryer has an oscillating nozzle for quick drying. What does that mean? Essentially, the nozzle moves backward and forwards swiftly in order to distribute the airflow more evenly over the hair.
It'll minimize heat damage but also ensure that your scalp won't experience uncomfortable hot spots. It will dry hair to salon standard without drying it out, delivering super fine, moisture-rich nanoe particles to penetrate and dry hair from the shaft outwards.
There are different settings too, so you can customize, and various attachments – including the all-important diffuser.
Why we like it: The oscillating nozzle is very sophisticated
---
This hair dryer uses ionic technology to deliver smooth, silky, shiny hair with minimal frizz.
There are smart temperature and speed settings as well as a diffuser attachment, and standard and concentrated nozzles. It's very small and light, super portable, and won't break the bank.
Why we like it: A very reasonably priced hair dryer
---
Say hello to ceramic technology with this hair dryer, which will deliver powerful drying technology thanks to its ionic, and titanium/ceramic technology.
Three heat and two-speed settings allow you to customize the experience, and a removable lint filter makes maintenance easier and will prolong the dryer's life.
Why we like it: Reasonably priced but still delivers the dry you need
---
This is a highly rated hair dryer, and it's easy to see why. There are three heat settings and two speed settings, as well as a cool shot button.
The cord is eight feet long and the dryer even has a hanging loop for easy storage – which we love.
It promises you'll have fully dry hair in around three to six minutes, and the ceramic and ionic technology will evenly distribute heat throughout your hair. Plus, there's a removable filter to make cleaning easier and the dryer is very quiet.
Why we like it: It's quiet and there's a handle for easy storage to minimize bathroom or bedroom clutter.
---
This hair dryer is very powerful, delivering 2300 wattage of power via negative ionic technology.
The ceramic will evenly distribute heat in order to keep hair healthy and smooth, and you can choose from different nozzles depending on what style you're going for.
Three heat and two speed settings, as well as one cool setting, make for a customizable dry. It's also very quiet and has a removable filter for easy cleaning.
Why we like it: The color is snazzy and it's a very powerful dryer
---
The negative ions of this hair dryer's tourmaline technology will leave hair looking conditioned and smooth, as well as boosting shine.
Triple ceramic coating helps distribute heat to minimize damage, and the infrared technology penetrates the hair's cortex to dry fast. We also think that the pearlescent color is cute.
Why we like it: Powerful infrared technology dries hair fast
---
This powerful dryer will reduce static and frizz, keeping your hair healthy whilst maintaining sleek smoothness.
It's highly rated, so you know you're getting a good product, and uses ionic technology to dry hair.
It has a double safety net to minimize any accidents with hair getting tangled, is very powerful, and has a number of customizable settings.
Why we like it: An unfussy dryer that will get the job done
---
What Makes A Good Hair Dryer For Curly Hair?
Negative ions: This technology sounds really complicated, but it's not. Ionic technology produces negative ions which swiftly break down the water molecules in your hair. That means dryer hair, faster. It will also help to keep your locks frizz-free.
Ceramic technology: Dryers with ceramic heating material are a great way of minimizing heat damage, as the ceramic provides a more constant flow of heat to the hair, stabilizing temperature and dispersing it more evenly.
2000 watts+ for powerful drying: High wattage in hair dryers equals dryer hair, faster. Curly hard tends to be denser as hair strands are packed tighter together, which can make drying a longer process. With a high wattage hair dryer, you'll have a much faster drying time.
Infrared technology: Again, this will dry your hair faster and more gently, using deep-penetrating infrared light to infuse heat into the hair cuticles. It therefore helps hair hold onto its moisture and minimizes any damage, as well as improving drying time by up to 50%.
How To Use A Diffuser For Curly Hair
Follow our instructions in order to get healthy, happy hair with beautifully defined curls.
1. Clean and condition your hair
No matter how good your hair dryer is, it just won't work as well with dirty strands. Remove all the product build up and residue in your scalp and strands with a good shampoo or co-washing session. You also want to be hydrating them as much as possible, and gently detangling.
2. Squeeze excess water
Use a towel – preferably microfiber to minimize damage-inducing friction – in order to squeeze any excess water out of our locks. They should be damp but not dripping.
3. Shape your curls
Using your fingers, gently work through any remaining knots and detangle your locks. Then, gently twist your curls into place. Be sure not to overdo this, as it might cause frizz. Use a leave-in conditioner too, in order to ensure your hair has maximum hydration – which is always an issue with curly locks.
4. Use a heat protectant
You can have all the best ceramic technology in the world, you still need a good heat protectant to minimize damage. Spritz onto your strands to create a necessary barrier between the heat and your hair.
5. Grab your diffuser
Flip your head upside down and start diffusing your roots first. This ensures maximum volume. Use the diffuser on different sections of your hair, and move it through your tresses in a circular motion to ensure that all of your scalp and strands receive the same amount of heat. That'll ensure uniformly dry and curly curls. It's also best to avoid over-drying on your ends, which will cause frizziness and split-ends. Also, avoid any brushes or combs – unless you're going for really big volume.
6. Don't go overboard
You want to be using a diffuser until your hair is about 80% dry – and from then, leave it to air dry. It'll give it a nice bouncy finish.
7. Use a holding spray
If you feel like it, you can use a holding spray to keep your curls in check for as long as possible. This is totally up to you, however.
---
Disclaimer: This site is not intended to provide professional or medical advice. All of the content on LovedByCurls.com is for informational purposes only. All advice should be followed at your own discretion. Ingredients may change at any time so always check the product label before using. Check our full disclaimer policy here.
Alice is an experienced writer and researcher with a background in the Creative Arts. She is a published poet and is currently completing her Ph.D., having worked in a variety of industries, including as a theatre dramaturg.
Alice is passionate about the environment, so is always on the lookout for the best zero-waste products that are vegan and cruelty-free.