Even if you have thick curly hair, straightening your hair at home shouldn't have to be too difficult. In this article, we're going to explain why your hair might be poofy after you straighten it and how to avoid this.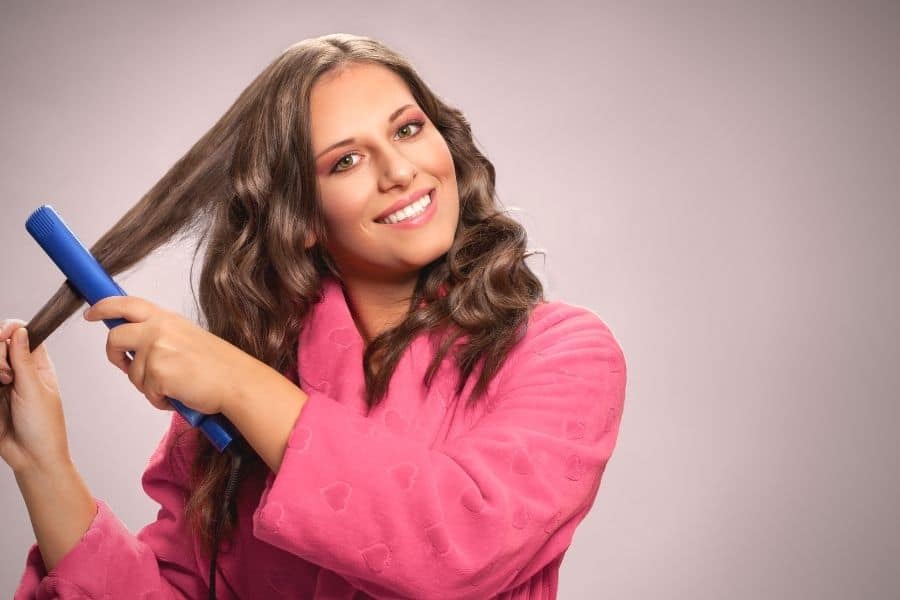 Hair can become poofy after you straighten it due to the high temperatures of the heat styling tools removing moisture from the hair. Reducing heat exposure and using the right products for your hair type can help prevent this from happening.
Why Do Hair Straighteners Cause Damage To Hair?
Hair straighteners run the risk of damaging the hair simply because the high temperature removes moisture from your hair. Even steam straighteners, although they are not as bad, use heat to manipulate your hair into turning straight.
Heat can damage the cuticle wall, exposing the inner cortex of the hair and thus cause hair to become dry and 'poofy.'
In order to avoid this, the hair shaft needs to be protected from heat damage.
To do this, you should follow the steps below, as well as avoiding straightening your hair too frequently.
How Can I Prevent Poofy Hair After Straightening?
There are many ways that you can protect your hair from heat damage and avoid unhealthy looking hair.
To avoid the dreaded 'poofy' and frizzy look after you have straightened your hair, you should follow these key steps:
Check Your Products
When using shampoo alone you might notice that your hair lacks moisture and becomes dull, dry, and poofy as a result of this.
Always Use Conditioner
A natural conditioner created for your specific hair type will help to ensure your hair remains sleek, smooth, and healthy-looking.
Using a conditioner helps to prevent tangles by smoothing the hair cuticles, making your hair more manageable and easier to style.
A super lightweight and affordable conditioner without silicone is the Yes To Cucumbers Volumising Conditioner. It is made from 99% natural ingredients and perfect for normal to fine hair.
Also Read: The Best Way To Avoid Frizzy Hair During Menopause
Buy The Right Products
To avoid your hair from becoming poofy after you straighten it, it's important that you understand your hair's porosity.
This is so that you can better understand which hair products you should be using for your hair type.
If You're Lacking Moisture
For instance, if you have low porosity hair then you could be experiencing protein overload, which means you will benefit from adding more moisturizing products to your hair routine and avoiding protein treatments.
For a moisturizing protein-free conditioner, try Faith in Nature Natural Jojoba Conditioner.
Jojoba oil is known to help repair damaged hair and the products from Faith in Nature are made from naturally derived, cruelty-free ingredients.
Follow up with a protein-free deep conditioner such as the Mystic Black Hair Mask from Novex.
If You're Lacking Protein
On the other hand, if you have high porosity hair then you will benefit from adding additional protein-packed products into your routine to add body and volume.
Try As I Am's Detangling Leave-In Conditioner. It helps strengthen hair and repair damaged areas whilst adding shine.
You could also use coconut oil as part of your hair straightening routine. Coconut oil helps high porosity hair retain moisture and aids in rebuilding limp and damaged hair.
Simply switching up your daily products can eliminate poofy hair after you straighten it.
Change Your Washing Routine To Prevent Poofy Hair After you straighten it
Changing your washing routine could make all the difference. Try some of these tips:
Finish With Cold Water
Finishing your hair routine with a cold water rinse can prevent poofy hair after you straighten it.
This is because rinsing with cold water flattens the hair cuticles which helps to reduce frizz and enhance shine. Doing this regularly can keep hair feeling moisturized and less prone to tangles.
Also Read: Is Sparkling Water Good For Your Scalp? (Solved)
Weekly Deep Condition
A weekly deep conditioning treatment is highly important to keep dry, coarse, or curly hair moisturized and full of shine.
As the weather gets colder you'll lose essential moisture from your hair, making it become poofy after straightening it.
One of the most popular deep conditioning har masks is the Banana Hair Food from Garnier. It's rich, affordable and has a fantastic smell!
Locking in that much-needed moisture is key to getting smoother, more manageable locks. If your hair starts to become limp or weak then you might benefit from a deep conditioning treatment every 2 to 3 weeks instead.
Brush The Right Way
There's a right and a wrong way to brushing your hair, especially when it's wet, because it's at this stage that the hair is most vulnerable.
Don't take a brush to your hair when dry because this can cause breakage and further tangles.
Instead, either use your fingers to detangle your hair or use a wide-tooth comb like this one. This will lead to smoother hair that is less prone to split ends and further damage.
Dry Your Hair The Correct Way
Yes you can do it the wrong way. Follow these steps for a better drying routine:
Don't Let Your Hair Dry Before Blow Drying
If you're aiming for smooth, straight, sleek hair that's free of frizz then you need to blow dry your hair immediately after washing.
Curls begin to form as soon as the hair starts to dry, so leaving it until after it's already partially dry will make it harder for you to achieve straightened hair without it being poofy.
You also need to avoid towel-drying your hair as this can lead to excessively frizzy hair that lacks moisture.
If needed, use a t-shirt or a microfibre towel to remove some of the excess water.
Also Read: How To Use Castor Oil For Protein Sensitive Hair
Use A High Quality Blow Dryer To Prevent Poofy Hair After You Straighten it
Using a high quality blow dryer with varying temperatures and attachments will help to ensure that you get the style that you're looking for.
It's best to look for a dryer with high speed settings so that hair dries quicker much faster, which in turn, minimizes the length of time your hair is exposed to heat.
This Babyliss hairdryer comes with a diffuser attachment which helps prevent frizz.
Blow Dry The Right Way
The way you blow dry your hair is very important because if done incorrectly this can cause excessive frizz and dryness.
The best way to blow dry hair is to use a round brush and direct the airflow down the hair shaft to reduce frizz, enhance shine, and achieve a smoother finish.
The smoother the hair is after blow drying, the easier it will be to straighten it afterwards.
Perfect Your Straightening Method
Use Ceramic Hair Straighteners To Prevent Poofy Hair After You Straighten it
If you've perfected your blow drying technique but are still getting poofy hair after you straighten it then you should consider if you're using the best straightener for your hair.
The GHD Original Styler is still one of the very best ones on the market.
Ceramic straighteners are the best choice because the negative ions neutralize the positive ions that are produced which helps to seal the hair cuticle and decrease frizz.
Ceramic straighteners diffuse heat evenly throughout the hair, which reduces the risk of heat damage.
Also Read: Protein vs Deep Conditioning Hair Treatment – Which Do I Need?
Use A Straightening Cream
One way of achieving sleeker, smoother hair is to use a straightening cream.
Here's the best way to use it:
Wash your hair as usual and gently remove any excess water. Brush your hair to ensure there are no knots or tangles.
2. Using a small amount at first, rub the cream into your hands before applying it over your head, starting from the roots to the ends. Make sure the product is distributed evenly by brushing it gently through your hair
3. Part your hair in sections. Use a round brush to blow dry your hair and continue until the hair is completely dry
4. Finally use a straightener to smooth the hair cuticles and prevent any flyaways and frizz
Use Heat Protectant
Heat protectant spray does exactly what it says – it protects your hair from heat damage.
Heat protectant creates a protective layer around the hair shaft which minimizes the damage caused by high temperatures.
Not only does it protect the hair from potential damage but it also helps to smooth down the cuticles and increase hair's natural shine, reducing the chance of poofy hair after you straighten it.
Section Your Hair
It's important to part the hair into small sections when drying and straightening the hair so that the heat is distributed evenly throughout the hair
A common mistake that people make is sectioning the hair into bigger sections thinking that this will save them time and effort, but unfortunately, the hair won't be thoroughly straightened with this method.
Smaller sections will ensure that you don't miss any hair strands or end up with too many flyaways. If you have thick hair then you can't skip this step!
Leave hair to cool
After you've straightened your hair you might be tempted to continue combing it or running your fingers through it but this could increase frizz and cause the hair to lose its shape.
Instead, leave it to get completely cool before touching or styling it.
Seal Your Hair With Oils
Additionally, you can use sealing oils like grapeseed oil or castor oil to lock in some extra moisture and increase shine.
Straightening dry hair can result in hair that appears poofy and frizzy, due to lack of moisture. Using a good sealing oil will ensure that your hair remains hydrated and healthy.
---
Disclaimer: This site is not intended to provide professional or medical advice. All of the content on LovedByCurls.com is for informational purposes only. All advice should be followed at your own discretion. Ingredients may change at any time so always check the product label before using. Check our full disclaimer policy here.