Haircutting scissors are a must-have for any hairstylist who wants to be able to do their job with ease. In this article, we explore four different types of hair cutting scissors that may come in handy.
The Four Main Types of Hair Cutting Scissors
Haircutting and thinning Scissors
Our Pick: ULG Hair Cutting and Thinning Shear Kit
If you're looking for the best hair cutting and thinning scissors, then you can't look any further than ULG Hair Cutting and Thinning Shear Kit.
It is made from high-quality stainless steel with an ergonomic design to help you have a solid grip when using it.
The ULG Hair Cutting Shears have sharp blades that give a clear cut and a polish finish.
The 30 teeth on the side make them ideal for thinning as they can achieve up to a 25% thinning rate.
What's more, you'll enjoy a safer and more comfortable grip with this haircutting scissor.
Its thumb handle is shorter than the finger handles, making it a less strenuous scissor to use.
Your thumb and wrist can move normally, and your elbow can relax when using the scissor, which allows you to work faster as well.
They also come with a 12-month warranty that caters to any quality-related issues that may affect their operation within the warranty period.
Key Features
Amazingly razor-sharp blades for seamless cutting without tugs and pulls
Very light and easy to control
Made of durable, bright, and shiny Japanese stainless steel
It comes with removable inserts that are ideal for your finger size
---
Long-Bladed Barber Scissors
Equinox Professional Hair Cutting Scissors
Equinox professional hair cutting scissors are ideal for all types of salon services.
They feature long-bladed, straight scissors with razor-sharp blades, enabling them to cut through thick and coarse hair without inflicting any stress on the person's scalp or neck.
They come in a standard size, which is suitable for most professionals, but you can also customize them to fit the size of your hand.
One nice feature is that they're effortless to use and come with a lifetime warranty against manufacturing defects.
They are equally highly affordable, especially considering how excellent their quality is!
With its perfect 6.5″ size, this scissor is safe for use on babies, children, women, men, and the elderly, especially when used by professional barbers.
Key Features
Ergonomic design for an ultra-comfortable grip
Perfectly balanced for effortless cutting, trimming, and styling
Manufactured from the highest quality Japanese steel with an anti-corrosive titanium coating
It weighs only 3.5 ounces, an ideal weight for anyone using the scissor
It comes with an adjustment screw for easy customization of your preferred tension level
---
Texturizing Shears
6 Inch Barber and Salon Hair Cutting Shears
Manufactured to the highest quality standards, these shears are crafted from Japanese cold steel for maximum durability and sharpness.
They have durable and stain-free stainless steel razor blades for smooth, error-free haircuts.
This explains why hairstylists, salon workers, professional barbers, and hairdressers prefer them to other shears.
You don't have to worry about hand or finger fatigue since they are designed to give a powerful trimming and thinning haircutting feel or experience.
The glossy stainless steel texture ensures no hair remains trapped on its teeth, reducing the rate of hair loss and pain during the process.
The product's dimensions are a perfect fit for both professional and unprofessional users.
The 6-inch overall length and the 2-inch high-quality thinning blades make ideal synchrony.
You can hold the scissor for a long time without getting tired or bored by your shaving work.
Key Features
Sharp and durable teeth that cut seamlessly with the layer
It has a muffler that reduces the noise of scratch as the scissor moves
It comes with an adjustable tension screw
Blunt tips for safer cuts; no need to worry about getting pierced when using the scissor
Its 440C blade is extremely durable and hard, which helps extend the scissor's lifespan
---
Short-Bladed Cutting Scissors
Purple Dragon 5.0 Inch Hair Cutting Scissors
The Purple Dragon 5.0Inch Hair Cutting Scissor is a true definition of a modern haircutting scissor in a short-blade design.
It is excellent for people with little or no hair-cutting experience since it allows you to make precise cuts without exerting too much effort.
Also, its lightweight nature provides the user with less fatigue when using it over long periods.
This means hairdressers can use it the whole day on their clients without feeling a pinch of fatigue.
It's made of 440C grade stainless steel that's strong, highly durable, and functional.
You can trust the scissor to serve you for years to come when you take good care of them.
The blade equally boasts a perfect western design and is finely honed to ensure it cuts seamlessly and more efficiently.
The company offers a lifetime guarantee for this product, which shows how confident they are with the performance of this product.
You can trust that the scissor will not fail you for a long time.
And in case it does, the company will offer free maintenance services or a full refund if you're dissatisfied.
Key Features
Solid and durable stainless steel material
Finely honed blade for smooth cutting
Lifetime guarantee and warranty offer
Tension adjustment screw for perfect shaving
Double-sided cutting helps minimize the chopping off of clumps of hair when cutting your client's hair.
---
How Can You Maintain Your Scissors?
Your scissors will last longer and perform better if you take care of them.
You should oil the blades regularly with a special cutting tool oil to prevent rusting, drying out, or damage from disuse.
The following tips can help you maintain your scissors:
Oil Your Scissors Daily
Applying a coat of oil at the end of the day after using your scissor will help prevent rust and extend the life of your scissors.
Wipe Your Scissors After Each Use
After every use, wipe down your shears with a clean cloth to remove moisture and debris that can lead to corrosion.
Always keep your scissor blades closed when storing them, so they do not come in contact with other objects or get damaged.
Always Store Your Scissor in a Dry Place
Your scissors are still under threat of picking moisture when stored in a humid or wet environment.
Be sure to keep your scissor in an area that is dry and free of debris like dust, dirt, etc.
Maintain the Right Tension and Keep the Blades Sharp
Hairdressers are always looking for the right tension when cutting hair.
The tension of your scissors can be adjusted by checking if they are too loose or too tight.
If both blades do not meet in the middle, then it is likely that you will need to adjust them so that they do.
If your scissors get dull over time, you should always get them re-sharpened.
Dull blades can cause severe damage to your hair and scalp by pulling and tearing at the strands while cutting instead of using clean, precise snips.
You Need a Hair Cutting Scissors for Each Level You Cut
You can have one standard scissor to use on all types or levels of hair, but to achieve a specific look, you may need more types of haircutting scissors.
Suppose your client has Afro-Caribbean or African American hair.
In that case, using a Teflon-coated blade is necessary because it will not cause any damage while trimming the thick curly strands.
Therefore, instead of overusing one type of scissor, you should consider getting a variety of types used for cutting different types and levels of hair.
Don't Cut Anything Else with Your Hair Cutting scissors
There are types of haircutting scissors that can be used on any kind or level of hair.
However, some varieties should not be used to cut anything other than a person's natural hair.
For example, hairdressers' shears must never be used for cutting paper, plastic, wire, and string because the blades might become dull.
Buying Guide: What Should You Consider When Buying Hair Scissors?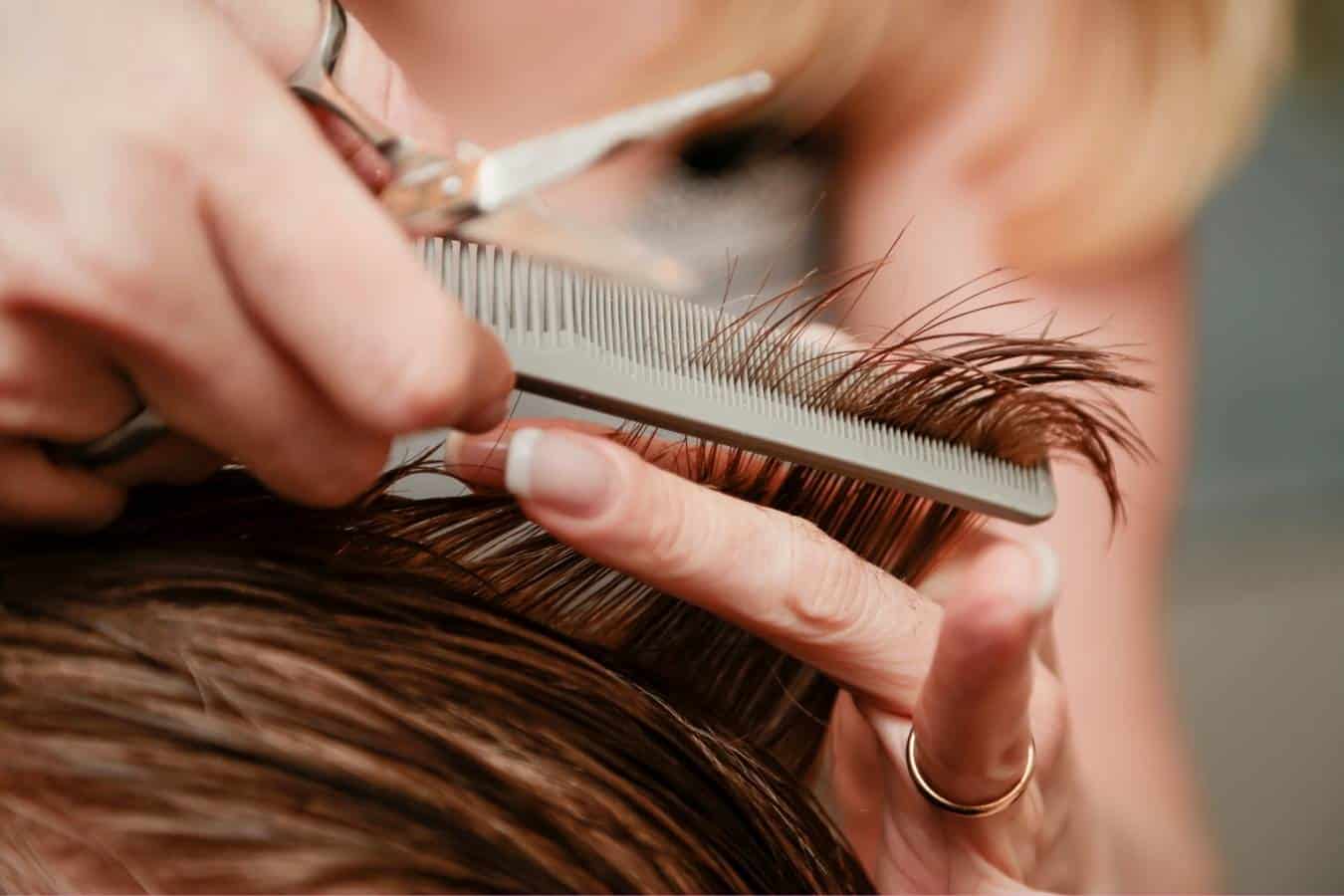 Since you already know what types of hair cutting scissors to choose from, it's essential to consider these important factors before buying one:
Size
The size of a haircutting scissor can make a massive difference in the types of cuts it can produce.
For example, substantial scissor blades are best for creating wavy or layered styles that require lots of movement and texture.
Another thing to consider is your personal preference when choosing a size. You should choose one that feels comfortable in your hand so you will use it with ease.
The size of a scissor is measured in inches. It's the distance from the tip of one blade to another when they are placed together at a 90-degree angle.
In most cases, you should opt for hair scissors with an overall length of about six inches. However, some types are larger or smaller.
You should avoid scissors with blades shorter than four inches because they will not cut through thicker hair types, which can cause pulling and discomfort.
On the other hand, longer blades tend to get in the way when you're trying to snip small sections of hair.
So it is best to avoid them if you don't have the necessary skills.
Material
The material used to make a pair of scissors is another essential factor to consider.
For example, hairdressers usually prefer haircutting scissors made from stainless steel because they are durable and can hold their sharpness for a long time.
Stainless steel is also the best choice if you want your scissors to remain rust-free at all times.
Rusting can ruin the scissors' cutting ability significantly.
As far as types of haircutting scissors go, you will find stainless steel in different grades depending on how hard it is to bend when applied pressure.
Also Read: 8 Crazy Hair Cutting Superstitions You Never Heard About
Do They Have a Warranty?
Of course, most types of hair-cutting shears come with a warranty, and you should see to it that the one you choose has at least three years.
If they don't have a warranty, such hair-cutting scissors can be pretty expensive and might not last long enough for your liking.
As far as types of hair cutting shears go, you should always look for a model with as many kinds of features as possible.
Disclaimer: This site is not intended to provide professional or medical advice. All of the content on LovedByCurls.com is for informational purposes only. All advice should be followed at your own discretion. Ingredients may change at any time so always check the product label before using. Check our full disclaimer policy here.