Thin hair can be difficult to straighten, so you need to make sure you have the right tool. But which is better for thin hair – ceramic or titanium hair straighteners?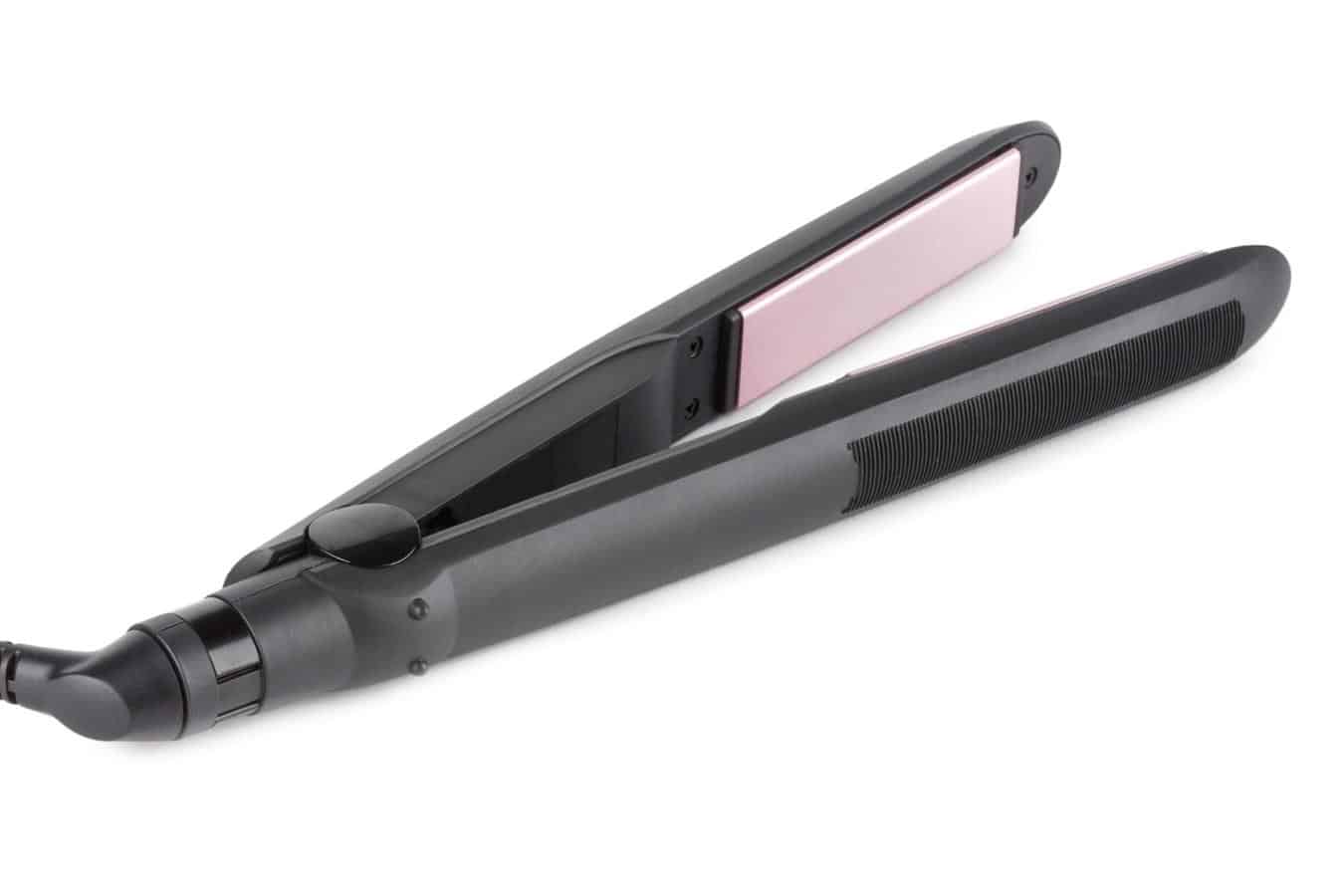 Ceramic hair straighteners are the better option when it comes to thin hair. Ceramic materials have a more gentle touch and preserve moisture in each strand of hair to lock in hydration. Titanium materials heat up quickly and get the job done in less time, but they can be hard on your hair.
If you are looking for an excellent hair straightener and are not sure what options are suitable for your thin hair, this article is for you.
We will be discussing the differences between ceramic and titanium hair straighteners, the pros and cons of each, and which one is the better option for fine hair.
This post contains affiliate links and we may earn if you click on them (at no extra cost to you). Please read our full disclosure policy here.
Ceramic Vs. Titanium Hair Straighteners for Thin Hair
Both ceramic and titanium hair straighteners are great options when shopping for a styling tool that offers excellent performance and gives you a beautiful shine.
However, each offers its own benefits along with a set of drawbacks as well.
When searching for a flat iron to straighten naturally thin or damaged hair, you are going to want a product that is gentle while still providing the services you need.
So, which tool should you reach for when preparing to flatten your beautiful thin hair? Let's take a look.
Ceramic Hair Straighteners
Ceramic hair straighteners have been around for a very long time, making them a staple in many household bathrooms, salons, and travel bags.
Ceramic plates are a popular choice in the hair care world because of how well they distribute heat evenly and glide through your locks without snagging or pulling.
Ceramic plates work so well because they use infrared technology to heat the hair up from the inside (think, microwave.)
This protects each strand's outer layer and gives your hair a smooth, clean, and healthy shine.
Unfortunately, ceramic flat irons will take longer to heat up than other options, and you are going to have to pass it over each strand multiple times to get that pin-straight look you really want.
Ceramic straighteners are perfect for those with thin hair, who do not straighten their hair often, or those on a budget.
Pros:
Heats evenly
Locks in moisture
Less damaging to your hair
Ideal for thinning or fine hair
Cons:
Requires longer time to heat up
It will need to pass through multiple times
Titanium Hair Straighteners
Titanium hair straighteners are newer than ceramic but already almost as popular.
These products heat the hair from the outside, which could cause more damage and the possibility of burning, especially if you have damaged or naturally thin hair.
However, this material will heat up very quickly and can straighten your hair in less time compared to a ceramic one, with fewer passes required.
Titanium hair straighteners are ideal for those with thick, curly, or unruly and healthy hair.
These hot irons will also be more expensive because of their fast and effortless performance.
Pros:
Heats up quickly
Requires fewer passes
Reduces frizz
Works well on all hair types
Cons:
Tougher on the hair
can dry out thin hair quickly
The Verdict Is?
As you can see, both of these products have many great benefits and can get the job done.
While titanium will do the trick in a quicker time frame, ceramic is the winner here.
Ceramic hair straighteners are going to be the go-to for anyone who has thin hair because it is less likely to become damaged with extensive or repeated use.
It goes without saying that titanium flat irons are great tools, ideal for many types of hair, especially when you have a lot of it, it's very thick, or you have stubborn hair that doesn't style easily.
These options are often the top choice for hairstylists and other professionals. However, their high cost, damaging side effects, and moisture-absorbing qualities make them a terrible choice for thin hair.
5 Ceramic Hair Straighteners Perfect For Thin Hair
Now that we have established that ceramic is a better option for anyone with thin hair, we decided to put together a list of great brands for you to consider while shopping around.
When choosing ceramic hair straighteners for thin hair, we looked for high-quality products that had great reviews and were affordable for all types of budgets.
When shopping around for a ceramic hair straightener, you have to watch out.
While ceramic is a great material for thin hair, there are some companies that will sell ceramic "coated" straightening plates.
While some will work fine, others will start to chip and peel apart; this is going to tug and pull at your hair and will also take away from the performance of the tool.
Although ceramic straighteners are typically cheaper, you should always look for quality products made by reputable and respected companies.
Is Ceramic Tourmaline Straighteners Good For Your Thin Hair?
One of the newer ceramic hair straighteners out there is ceramic tourmaline.
Tourmaline is a crystal boron silicate mineral that helps smooth out the hair.
It emanates negative ions, which counteract the positive ones that are found in damaged and dried-out hair.
Combining ceramic and tourmaline combines the best of both worlds, giving your hair a fabulous shine while keeping it healthy and strong.
Ceramic straighteners are not the only products that have paired up with tourmaline.
You can also get titanium tourmaline straighteners too; this is going to help counteract some of the damage these flat irons can cause, making titanium a little easier on thinner hair.
How Can You Protect Your Thin Hair From the Heat of a Straightener?
Although ceramic straighteners are a little safer to use in your hair, it doesn't mean they can't cause any damage.
No matter which product you choose, flat irons are designed to apply heat directly to every inch of your hair strands in order to flatten them out.
This added heat will definitely do some harm over time and can give you dried-out, damaged hair.
The best way to protect thin hair when using any type of straightener is to utilize products that protect your hair from heat.
These products are very abundant on the internet and at your local department or specialty stores.
Frequently asked questions
Are Ceramic Straighteners Good for Thin Hair?
Applying heat directly to your hair shaft is never "good" for your hair. However, with the proper products, ceramic straighteners are one of the best options when it comes to hair tools. This material glides through the hair easily while applying heat from the inside out and evenly.
Are Titanium Straighteners Good For Your Thin Hair?
Titanium straighteners almost instantly apply heat to your hair and can heat up much quicker than ceramic, which is ideal for thick or curly hair but is not good for thin hair since it can easily damage the shaft. 
Which Product Costs More, Titanium or Ceramic Straighteners?
The price of flat irons will differ depending on the brand, but for the most part, titanium straighteners are going to be a bit more expensive. These options are more frequently found in salons, whereas ceramic straighteners are ideal for at-home use or beginners. 
Which Product is Better for Curling Thin Hair, Titanium or Ceramic Straighteners?
Like straighteners, the better product for curling hair is going to depend on the type of hair you have. You are still better off using a ceramic-plated flat iron for those with thin hair.
Disclaimer: This site is not intended to provide professional or medical advice. All of the content on LovedByCurls.com is for informational purposes only. All advice should be followed at your own discretion. Ingredients may change at any time so always check the product label before using. Check our full disclaimer policy here.
Dee has been following the Curly Girl Method for over four years and is our in-house Curly Girl expert. She has a keen interest in natural haircare and has tried and tested her share of CGM products. She has a photographic memory of most sulfate and silicone-free hair products available on the high street and she's always happy to recommend you her favorites.