In this article, we outline the top ten best titanium hair straighteners available on the market right now.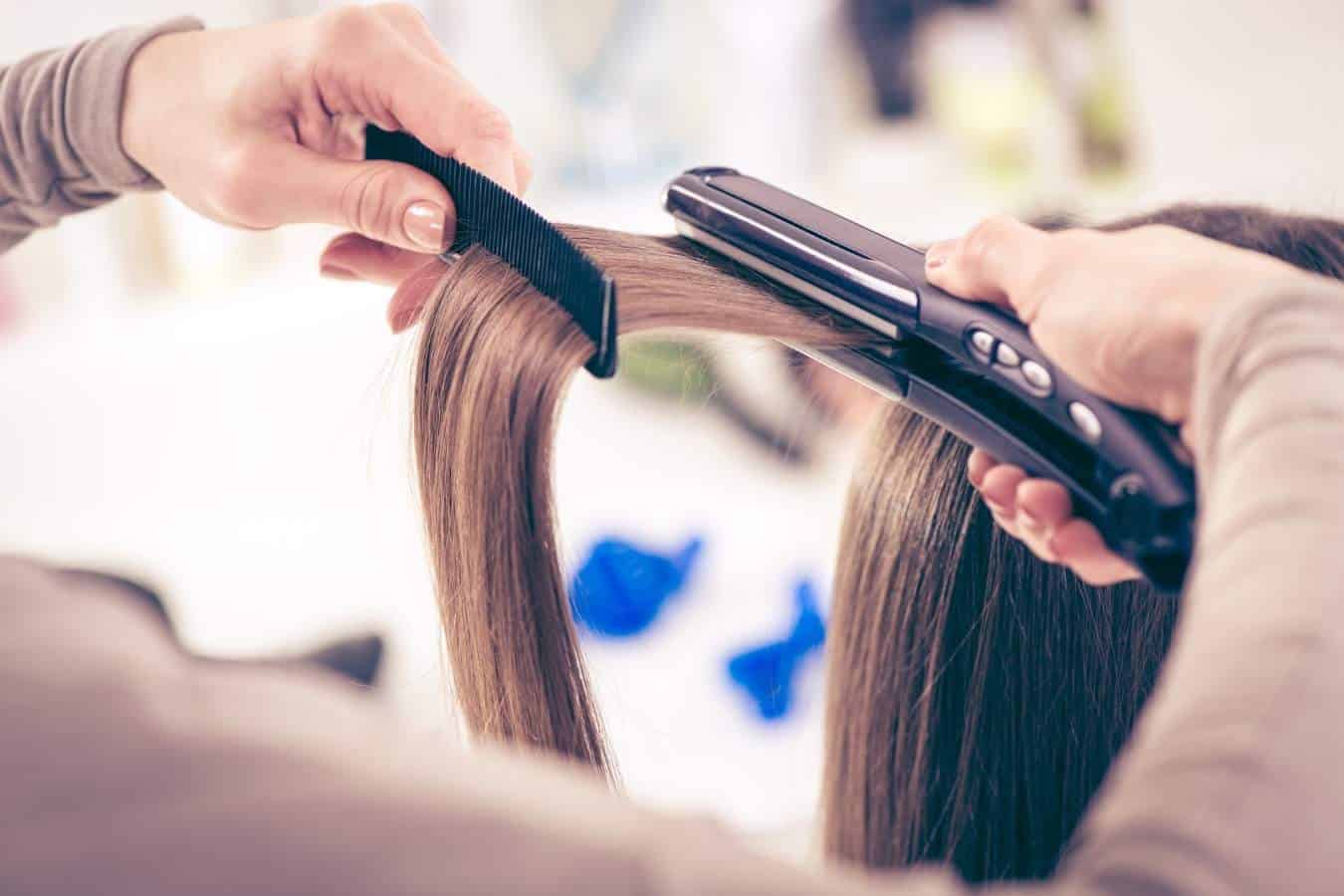 This post contains affiliate links and we may earn if you click on them (at no extra cost to you). Please read our full disclosure policy here.
In A Rush? Our Top Picks
| Image | Title | Buy |
| --- | --- | --- |
| Top | Professional Hair Straightener Titanium Flat Iron for Hair Makes Hair Shiny Dual Voltage Flat Iron Heats up Fast, Dark Rose Gold | Buy on Amazon |
| | Hair Straightener, Titanium Flat Iron, Plancha de Cabello Professional | Buy on Amazon |
| | MHU Professional Titanium Hair Straightener 1 Inch Hair Flat Iron Negative Ionic Technology Straightening Iron | Buy on Amazon |
| | Bcway Professional Hair Straightener, 2.16'' Extra-Large Floating Titanium Flat Iron for Hair | Buy on Amazon |
What Is A Titanium Hair Straightener?
A titanium hair straightener consists of titanium plates which are more lightweight than ceramic plates and often heat up more quickly.
It works the same way as any other straightener by breaking down the positive hydrogen bonds and changing the natural structure of the hair.
This allows the hair to take on a different form and hold it. The high temperatures smooth away frizz and leave the hair looking smoother and straighter.
How Is A Titanium Straightener Different From A Ceramic Flat Iron
When deciding between a ceramic and titanium straightener, you might feel confused. Will any straightener give you the results you're looking for?
Well, no. Some hair straighteners work better on thinner hair, while others will provide better results on thicker or curlier hair.
Titanium plates heat up very quickly, often in just a few seconds.
This allows you to straighten your hair more quickly and the high temperature makes it a great option for thicker hair.
Ceramic plates also heat up quickly, but not as quickly as titanium.
The time it takes ranges from 30 seconds to 2 minutes, depending on the model.
In some ways, this is good because it means there is less chance of burning your hair or skin, and it could be more suited to thinner and more fragile hair.
If you're looking for less hair damage, it's always best to stick to a lower heat setting, regardless of which straightener you choose.
Both titanium and ceramic plates will work in the same way, which can lead to damage if you're not careful.
Both titanium and ceramic plates provide even heat distribution, but it seems that ceramic plates win this category.
Even heat distribution allows you to straighten the hair at slightly lower temperatures, which can lead to less damage but with the same great results.
Both of these straighteners are great choices, but you will need to take into account your current hair type and the hairstyles you're looking to achieve before making a decision.
For thick or curly hair, we recommend titanium plates, especially if you're looking for super straight hair.
10 Best Titanium Hair Straighteners
Looking for a high-quality straightener that gives you the hair of your dreams? We've compiled a list of the best titanium hair straighteners that will give you instantly smooth results.
1. VAVOOV Professional Hair Straightener
The rose gold straightener from VAVOOV has 3D titanium floating plates to help with accurate styling, which minimizes damage since it limits the amount of time the hair comes into contact with heat.
There's adjustable temperature, so even people with thin or fragile hair can benefit from this straightener.
The smooth titanium plates ensure that it glides over the hair effortlessly, smooth out frizz, and leave hair shiny.
Why we like it: Varying temperature control, 3D floating plates for ease of use, and less pulling on the hair.
---
2. VANESSA P Hair Straightener
This lightweight hair straightener from VANESSA claims to have the world's longest titanium plates, which means you can straighten your hair in just a fraction of the time.
With its sleek design and 11 temperature settings, this straightener will help you get smooth results no matter what hair type you have. Transform frizzy, tired, and dull hair into salon-worthy results!
Why we like it: Simple to use, shortens the straightening time, and seals in moisture.
---
3. MHD Professional Titanium Hair Straighteners
This hair straightener from MHD features negative irons to help close the cuticle and lock in moisture and shine.
With floating plates, you can be confident that it will reduce snagging and provide an easy glide. This will help to reduce damage and give you straighter hair with very little effort. It has 3 different heat settings, ranging from 250 Fahrenheit to 450 Fahrenheit, making it suitable for all hair types.
The auto shut-off feature also means that you'll never waste any power when it's not in use.
Why we like it: Precise setting adjustment, easy glide, and shuts off automatically.
---
4. Bcway Professional Hair Straightener
With 3D floating plates and 5 adjustable temperatures, this titanium straightener has everything you need.
This flat iron heats up in 30 seconds, with the heat setting ranging from 248 to 450 Fahrenheit, making it suitable for all hair types. Featuring a 2.16-inch titanium plate, you can feel confident that this will provide faster and even results.
Why we like it: Extra wide titanium plates, heats up very quickly, and a 360 swivel cord for more flexibility and control.
---
5. INFINITIPRO BY CONAIR Rainbow Titanium Flat Iron
This rainbow titanium straightener has floating plates to allow you to tilt it to different angels and get the exact style you're looking for with minimal effort.
This flexible straightener has 6 different heat settings, so you get to decide on the right temperature for your hair. For tighter curls, all you need to do is slowly glide it through the hair to achieve smooth and shiny locks. Say goodbye to frizz and unmanageable hair with this high-quality flat iron from INFINITI PRO BY CONAIR.
Why we like it: Unique design, varying heat levels, and floating titanium plates for more flexibility.
---
6. SUTRA Professional Magno Turbo Flat Iron
This titanium straightener from SUTRA can work on really thick and coarse hair due to its turbo heating element.
It has an adjustable digital temperature to make things run smoothly and the titanium plates heat up in just 5 seconds, which is great if you're in a hurry. The straightener heats up to 450 Fahrenheit, which can smooth out stubborn frizz and leave hair looking sleek and shiny.
With the 360 degrees swivel cord, you can get all of the right angels with none of the effort. It's great for achieving all kinds of hairstyles!
Why we like it: Consistent heat, adjustable digital temperature settings, and increased flexibility with the swivel cord
---
7. BaBylissPRO Nano Titanium Prima Ionic Straightener
This straightener from BaBylissPRO is sleek and lightweight, which makes the straightening process a breeze! The nano titanium plates heat up instantly and provide efficient heat transfer to help you achieve smooth and manageable hair.
The plates heat up to 465 Fahrenheit, making them suitable for all hair types and any hairstyle.
Why we like it: Lightweight, heats up instantly and works great on curly hair.
---
8. Paul Mitchell Neuro Smooth Flat Iron
Whether you want to make waves or very straight hair, the Paul Mitchell neuro smooth straightener is one of the best choices.
The titanium plates heat up to 450 Fahrenheit instantly, so you can get smooth and straightened strands in just a short space of time.
The plates allow for the heat to spread out evenly through each section of hair, leaving it silky, frizz-free, and more manageable.
Why we like it: Adjustable heat settings, sleek design, and heats up very quickly.
---
9. ANGENIL Professional Titanium Flat Iron
No matter what hair type you have, the titanium straightener from ANGENIL will work wonders for you.
With varying heat settings, from 140 – 450 Fahrenheit, you have full control over the temperature needed for your hair. With a 360 degrees swivel cord, you can say goodbye to pulling and snagging.
This makes straightening your hair easier and less damaging to your locks. Create any style you want effortlessly with this professional titanium straightener!
Why we like it: Suitable for all hair types, swivel cord makes it more flexible, and it's less damaging on the hair.
---
10. GSK Titanium Flat Iron Rose Gold
GSK is a popular hair company that will not disappoint with its rose gold straightener. This straightener features PTC smart temperature to ensure that the temperature is consistent and heats up each section evenly.
The 3D floating plates help it to glide over the hair easily and quickly, preventing snags and breakage.
With an adjustable temperature from 230 – 450 Fahrenheit, this titanium straightener will work well for all hair types.
Why we like it: Easy to use, adjustable heat settings, and 3D floating plates to minimize damage.
---
Benefits Of Titanium Hair Straighteners
Titanium hair straighteners are safe and easy to use. They are a great choice for all hair types, especially thick and curly hair.
Here are some of the benefits of using them:
Heats Up Quickly
The great thing about titanium hair straighteners is how most of them heat up in less than 30 seconds.
This not only saves you time but it reduces the amount of time that your hair comes into contact with heat.
Long-lasting Results
Using a titanium straighter will give you instantly smoother and shinier hair that could last until you next wash your hair.
As long as you wear a cap while sleeping and take extra care of it, you can enjoy straighter hair for much longer.
Reduces Frizz
The high temperature of the titanium plates helps to smooth the cuticles and reduce frizz.
Just one or two passes of a section of hair could be enough to keep frizz and flyaways at bay for a long time.
Your hair will look smoother, shinier, and more manageable.
Can Reduce Damage
In some ways, the titanium plates can reduce damage as you may only need to pass it through each section of hair once or twice.
And you may not need to straighten your hair more than once a week to get the results you're looking for.
Limiting heat on the hair is the best way to prevent damage, so switching to a titanium straightener could keep your hair strong and healthy.
Downsides To Titanium Hair Straighteners
Most people can benefit from a titanium hair straightener, but that doesn't mean it's suitable for everyone.
Titanium plates heat up quickly to high temperatures, so when using one at home, there is a risk that you could burn the hair if you are not careful.
If you have very thin, delicate, or damaged hair, you should use the lowest heat setting, or opt for a ceramic straightener instead.
One of the cons to titanium straighteners is they provide uneven heat distribution in some cases, which can lead to poorly straightened hair or increased damage.
But that's not always the case. If this is a concern of yours, look for a straightener with 3D floating plates, this will help you to easily adjust the angles and ensure that the heat is even throughout the hair.
Disclaimer: This site is not intended to provide professional or medical advice. All of the content on LovedByCurls.com is for informational purposes only. All advice should be followed at your own discretion. Ingredients may change at any time so always check the product label before using. Check our full disclaimer policy here.
Coralle is an experienced beauty writer with a passion for wellness, women's health, and sustainability.