If you have short to medium-length hair and are growing it out, there may come a time when you notice that it starts to curl or flick outwards. This article answers any questions or concerns that you have about what causes the ends of hair to curl outwards.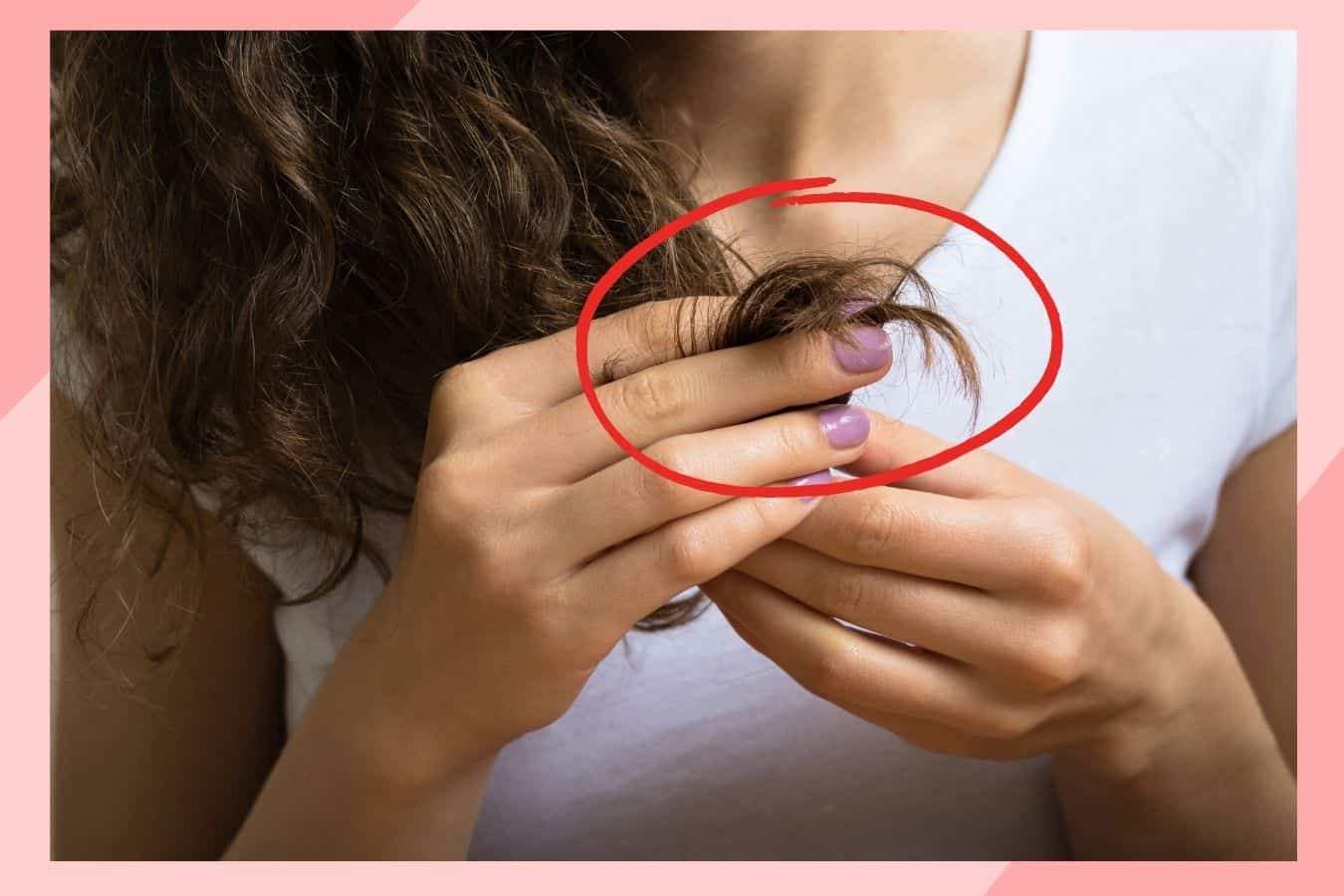 This post contains affiliate links and we may earn if you click on them (at no extra cost to you). Please read our full disclosure policy here.
What Causes The Ends Of My Hair To Curl Outwards?
If you've had your hair really short and are growing it out, you may notice that, once it gets to shoulder length, it starts to flick or curl out a bit.
This can be seriously frustrating, and there are a number of reasons why this may be.
If you find yourself wondering what causes the end of the hair to curl outwards, the answer may be complex. Hair damage, stress, hormonal changes, a bad haircut, changes to climate, changes to your haircare – all of these can be causes for the ends of hair to curl outwards.
As such, it can therefore be difficult to establish the exact reason is as to why your hair is flicking out unattractively.
We'll outline why these causes might result in curled hair, which may help you to work out what factor it is that's impacting your tresses:
Change In Climate
Have the seasons just changed? Have you relocated from an area with a humid climate to an area with a dry climate or vice versa? Is it windier than usual?
All of these factors will impact whether the ends of your hair curl outwards.
If you live in dryer climates, your hair can suffer from a lack of moisture.
As a result, your hair may be more prone to split ends and other damage – and split ends are a major reason why hair can curl or flick outwards.
Alternatively, if you live in humid climates, your hair is highly likely to curl as a result of hydrogen bonding with the proteins and water molecules in your hair.
Change Of Hormones Or Stress Levels
Hormonal imbalances can cause your hair to flick outwards because they can impact the texture of your hair or even hair loss.
In fact, if you're going through pregnancy or menopause, this will also cause hormonal fluctuations that will change the way your hair grows.
Similarly, if your stress levels are high, this may also cause your hair to flick outwards.
Higher stress levels mean that you'll have hormones like cortisol pumping through your system, which can impair the growth of your hair follicle.
Damaged Or Dehydrated Hair
If your hair is properly hydrated and moisturized, then it will be happier and healthier (aren't we all?!)
By keeping your hair in a well-conditioned state, it's less likely to flick or curl outwards.
Overly Bleached Or Colored Hair
If you bleach or color your hair frequently, or if you are over-reliant on heat styling tools, you're more likely to damage your strands.
Bleach, in particular, can cause serious breakage and frizz, which results in dehydrated strands that are more prone to damage.
This can therefore impact the way that your hair curls, and may cause it to flick outwards.
Wrong Haircut For Your Hair Type
Your hair type will determine what kind of haircut is best for you. You can have curly, coily, wavy, or straight hair.
Your hair's porosity, texture, and elasticity will also be unique.
Straight hair is more prone to be thin and fine, which can result in a greater number of split ends or a higher vulnerability to breakage and damage.
As described above, split ends and hair damage can cause your hair ends to curl outwards.
Similarly, if your hair is straight and shoulder-length, you're more likely to have hair that flicks outwards.
That said, if you have wavy hair, you can still experience split ends, which will cause your hair to curl outwards.
Curly or coily hair can become easily dehydrated, which may also impact whether it flicks or not.
How To Prevent Ends From Curling Outwards
Go In For A Fresh Hair Cut
One of the most tried-and-tested ways to prevent the ends of hair from curling outwards is by getting a haircut.
Adding layers can really help to manage any hair flicking or curling, and will minimize any damage that's been causing your hair to weigh down.
Your stylist will also work with your hair type and texture in order to give you a cut that works for you.
Use Products For Your Hair Type
If your hair is curly or coily, it will be more vulnerable to lack of moisture.
Using a serum, such as SheaMoisture Hair Serum Oil for Damaged Hair, will help to condition and intensely hydrate any parched curls or coils.
It's all-natural and uses shea butter to condition strands. You can also use Morrocanoil Treatment Oil, which boosts hydration and shine with argan oil.
Apply to your ends and tame frizz whilst deeply conditioning.
If your hair is wavy, but you're suffering from flicked ends, it may be that you're using the wrong products.
Look for haircare specifically for wavy hair, and avoid anything that's too heavy.
We love the OUAI wave spray, which will add texture, volume, and bounce to your waves without weighing them.
Take Vitamin Supplements
If you think you're suffering from hormonal imbalances, and that this may be causing the ends of your hair to curl outwards, then you may want to consult your doctor and discuss whether you can take any supplements.
Iron deficiencies and thyroid issues can impact your hair's health, as can vitamin D or B12 deficiencies.
There are ways to manage this, but it's always best to consult a physician.
Managing Changes To Climate
Depending on what kind of climate you're located in, there are a number of steps you can take.
1. For dry climates
If you live in dryer climates and suffer from dehydrated, damaged hair, you can manage this with hydrating, moisturizing, conditioning products.
Use a deep conditioner regularly and seal the ends of your hair with hair oil. (We detail more on what products to use below).
2. For humid climates
Using an anti-humidity cream or spray can help you to manage the frizz caused by humidity.
We like this OGX Smoothing & Shea Sleek Humidity Blocking Hairspray, which will boost your moisture levels and help your to better manage your hair. It also smells fantastic.
Alternatively, the Color WOW Supernatural Spray adds shine and moisture to your hair via heat-activated polymers that minimize frizz.
Using a UV Protectant is also a great idea – we're fans of the Moroccanoil Protect & Prevent Spray.
Manage Any Hair Damage
Hair damage is a major cause of the ends of hair curling outwards. The best way to manage that is by using hair masks, deep conditioners, or serums regularly.
This is particularly important if you regularly bleach or color your hair, and if you use heat styling tools frequently.
Hair masks, serums, and conditioning treatments will restore life to your damaged locks, nourishing them from within and boosting their hydration levels.
They'll look shinier, have more volume and bounce, and feel healthier overall.
If you're looking for a great hair mask, we recommend this Hydrating Argan Oil Mask from Arvazallia.
It's free from sulfates or parabens and will repair, restore and strengthen your strands from the inside out. Your hair will feel softer and silkier, and be less likely to curl outwards.
For those of you who regularly use styling tools like straighteners or a curling wand, you should be using a heat protectant regularly.
We like the HSI Professional Argan Oil Heat Protector, which works to prevent breakage and damage, and is free for colored hair.
A great hair serum is the Herstyler Hair Repair Serum.
It's light enough that it won't weigh hair down, but is still intensely moisturizing, thanks to the aloe vera and argan oil content. We particularly recommend it for those of you who experience frizzy hair.
Get A Perm
Yes, you read that right – getting a perm can help to minimize the ends of hair from curling outwards.
Perms are long-lasting – as they're chemical treatments, they'll stop any unwanted flicks or curls from forming for a while.
Alternatively, you could go for a keratin treatment, but be aware that a perm is likely to last longer.
Also Read: How To Perm Asian Hair – A Complete Guide
Why Does My Hair Curl Up When It Gets Longer?
It is true that when your hair grows longer, it's more prone to flicking or curling outwards.
Typically, this will happen when hair begins to grow beyond shoulder length.
This can happen for a number of reasons.
If your hair is naturally wavy or curly, and you notice that it starts to curl or flick outwards when it gets to shoulder length, this might be because that's where your curl pattern sets in.
Your curl or wave will only appear when your hair hits a particular length. At this point, your hair's ends will start to flick, wave, or curl.
If your hair isn't long enough, however, for the full curl or wave pattern to establish itself, this can make your hair curl outwards.
Once your hair grows longer, the pattern will be able to repeat, and you'll notice natural-looking curls or waves.
It's the in-between period that causes your hair's ends to flick out in ways that can be unattractive.
You can manage this by using a flat iron to straighten the loose curls until your hair's grown a bit longer – don't forget your heat protectant! Combing it can also help.
Why Do The Ends Of Hair Curl Inwards?
If you notice the ends of your hair are curling inwards, it may be that your stylist wasn't experienced enough, and cut your hair badly.
The angle of the stylist's scissors determines how the hair falls, and this will impact whether curls form or not.
As above, this can be managed with the use of a flat iron and a smoothing product.
You should also probably go to a better stylist who can give you a fresh cut which will rectify the issue.
Disclaimer: This site is not intended to provide professional or medical advice. All of the content on LovedByCurls.com is for informational purposes only. All advice should be followed at your own discretion. Ingredients may change at any time so always check the product label before using. Check our full disclaimer policy here.
Alice is an experienced writer and researcher with a background in the Creative Arts. She is a published poet and is currently completing her Ph.D., having worked in a variety of industries, including as a theatre dramaturg.
Alice is passionate about the environment, so is always on the lookout for the best zero-waste products that are vegan and cruelty-free.