Tangled hair can make hair unmanageable and prone to breakage. One way to correct this is to change your hair care products. Here is our round-up of the best shampoos and conditioners for tangled hair.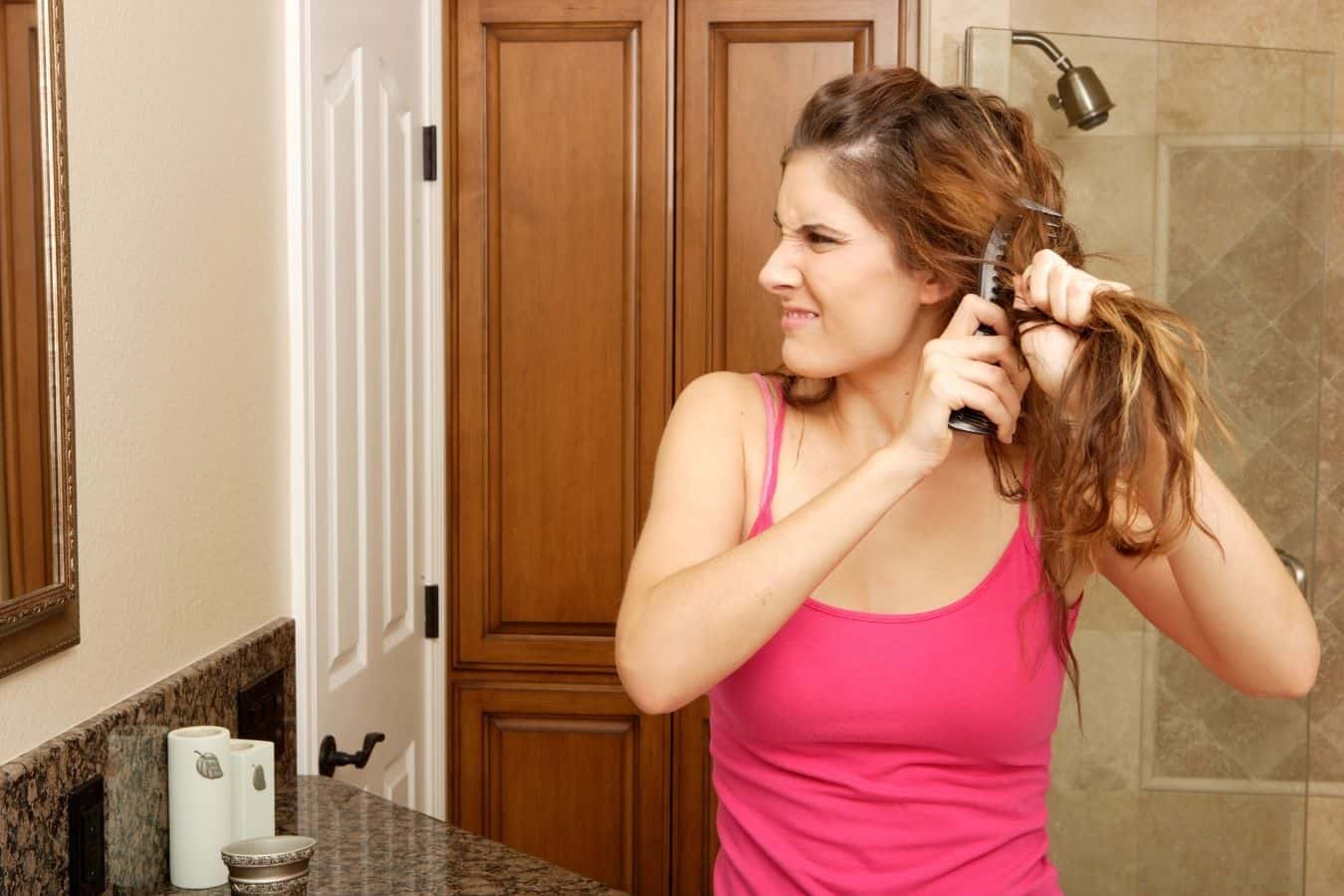 This post contains affiliate links and we may earn if you click on them (at no extra cost to you). Please read our full disclosure policy here.
What Causes Tangles?
Tangles occur when the hair cuticles become damaged and open up. When this happens, it's typical for the cuticles to block each other, forming knots and tangles.
The hair strands become intertwined and they can be difficult to separate. When you tug at the hair with your fingers or a comb, this can actually worsen the issue and lead to breakage.
Generally, the more damaged the hair is, the more it will be prone to tangles.
You are at risk of tangles and knots if you:
Have curly hair
Bleached or chemically treated hair
Damaged or dry hair
Frequently expose your hair to heat
Use products that contain drying or irritating ingredients
You over style your hair or frequently touch, tug, or pull at it
Sometimes, tangles are unavoidable. Going out in harsh weather conditions when there is wind and rain is likely to result in knots or tangles unless the hair is braided or tied up.
Even those with healthy, conditioned hair will experience knots and tangles from time to time.
However, there are things that you can do to minimize them.
How To Best Reduce Tangles
Reducing tangles will make your hair easier to style and look after. It will also prevent breakage and split ends in the future. These are some of the best methods to preventing knots and tangles.
Use A Detangling Shampoo Or Conditioner
Using shampoos and conditioners that are designed to manage tangled hair is one of the best methods of tackling the issue.
These products will moisturize the hair and allow the hair strands to slip past each other more easily. Using them regularly can prevent damaged hair and split ends.
Switch Your Pillowcase
If you usually sleep on a cotton pillowcase and frequently wake up with frizzy, unruly hair, then it might be time to switch to silk.
Cotton pillowcases can be very drying on curly hair, which can lead to your hair becoming dry and damaged over time. Silk, on the other hand, will reduce friction at night and lead to your hair becoming healthier and shinier as a result.
Use A Wide Tooth Comb Or Fingers
Using an ordinary brush can cause further friction and tangles. In fact, it can make your hair go static! Using a wide-tooth comb is a gentler way of avoiding and removing tangles.
Start at the bottom of the hair and work your way up to avoid putting too much pressure on the roots. You can also use your fingers to separate hair strands, but do this gently to avoid any damage.
Protect Hair When Sleeping Or Exercising
It's always recommended that you tie your hair up loosely when sleeping or exercising.
You can use a scrunchie and put your hair in a low ponytail or you can loosely braid your hair instead. This will help to prevent tangles by reducing friction during the night.
Also Read: 16 Best Japanese Shampoo in 2021
12 Best Shampoos And Conditioners For Tangled Hair
These shampoos and conditioners are all suitable for reducing tangles and leaving the hair strands smooth and separated.
Mane 'n Tail have created a unique line of hair products that are designed for both horses and humans.
Their detangler solution is a leave-in conditioner that works by nourishing, strengthening, and separating the hair strands to prevent knots and tangles. It's formulated with natural herbal extracts and it is pH balanced to keep your hair healthy and glowing.
To use this product, apply to damp or dry hair. Spray the solution throughout your hair and use a wide comb to separate the strands. This works best when it's left in the hair, so avoid rinsing it out. You can style your hair as usual.
---
Shea Moisture's extra-moisture detangler is designed to strengthen weaken strands and reverse damaged hair.
It's formulated with sea kelp and argan oil, both of which help to reduce hair loss and split ends by locking in moisture. Made with natural and organic ingredients, this product is gentle enough to be used on most hair types.
This leave-in conditioner will help to improve hair's elasticity and manageability by leaving it smooth, silky, and easier to comb through.
---
If you're looking for a gentle shampoo that will help to define and hydrate your curls, then African Pride's shea miracle detangling shampoo might be the answer.
This product is enriched with shea to provide moisture and softness to the hair without weighing it down. Designed for curly, wavy and mixed textured hair, this product aims to increase body and bounce, leaving the hair weightless and defined.
With regular use of this shampoo, it should improve your hair's manageability and give you a natural shine and softness.
---
Imbue's curl liberating sulphate-free shampoo is a popular product amongst the curly girl community. It contains nourishing ingredients like coconut oil and cupuacu butter to leave curls hydrated and defined.
Imbue's hair products don't contain harsh and drying ingredients like sulfates, parabens, and waxes. This shampoo is typically suitable for all hair types, including those with sensitive scalps and dry, damaged hair.
This gentle formula helps to separate the hair strands, leaving curls bouncy, smooth and shiny.
---
Aunt Jackie's knot on my watch instant detangling therapy is a leave-in conditioner that is suitable for all hair types.
Enriched with shea butter and olive oil, this detangling spray gently moisturizes the hair, allowing the hair strands to slip past each other with ease. It can be used on both wet and dry hair.
Using this product regularly can help to prevent hair breakage and split ends.
---
The coconut oil and shea butter leave-in conditioner by Marc Anthony is designed to detangle, strengthen and hydrate the hair strands.
This leave-in conditioner is enriched with coconut oil and shea butter which works by softening and smoothing the hair, resulting in tangle-free curls with improved manageability.
You can apply this product to wet or damp hair. Simply spray it along the lengths of the hair and comb through, making sure it's distributed evenly. When the hair is dry it should be shinier and softer to touch.
---
The leave-in detangling conditioner by As I Am helps to repair damaged hair and leave hair free of knots and tangles.
This product contains a blend of natural ingredients like shea butter and royal jelly which are added to provide hydration and strength to the hair strands.
It has a rich consistency that allows for easy application and a little amount goes a long way. It can also be used to prepare the hair for heat styling tools.
---
All of Faith In Nature's hair products are made with natural and organic ingredients that are gentle on the hair and scalp.
Their natural wild rose conditioner is designed to gently moisturize the hair, leaving the strands feeling softer and silkier to touch. Using this product frequently can help reduce the changes of tangles and knots.
Apply this conditioner along the lengths of the hair and leave it on for at least 5 minutes. Rinse out as usual. Your hair should feel softer and healthier.
---
Beautiful Textures tangle taming leave in conditioner has the perfect formula to tame frizz and prevent tangles.
This intensely moisturizing conditioner contains a blend of natural oils to help define curls, soften the hair, and improve manageability.
Apply all over the hair and comb though with fingers or a wide tooth comb, making sure to distribute it evenly. If a tighter curl is what you're looking for then allow your hair to air dry instead of blow-drying.
---
The ORS olive oil professional neutralizing shampoo helps to gently remove product build up from the hair and scalp without stripping the oils. It doesn't contain the most common harsh or drying ingredients so it can be used on sensitive or oily scalps.
Olive oil helps to soften and hydrate the hair strands while reducing tangles. Following use, hair will feel softer, cleaner, and more manageable.
For best results, let the shampoo sit on the hair for 2 – 3 minutes before rinsing it off.
---
Original Sprout's sulfate-free classic shampoo is a gentle formula that hydrates the scalp and improves the overall condition of the hair.
It contains organic emollients which allows the hair to easily slip past each other, reducing the occurrence of knots and tangles. Using this shampoo frequently will help to reduce breakage and improve manageability.
This shampoo has a gentle pH which makes is suitable for sensitive or irritated scalps. It can also be used on damaged hair.
---
Max Green Alchemy's scalp rescue conditioner is designed to treat an itchy scalp while providing deep hydration to the hair strands.
This conditioner contains a blend of botanical extracts and essential vitamins to provide strength and shine to the hair without weighing it down.
This product is popular in the curly hair community because it contains nourishing ingredients like Shea Butter and Neem Oil that leave curls nourished and separated. Say goodbye to frizzy, dry curls and hello to shiny, defined curls!
Disclaimer: This site is not intended to provide professional or medical advice. All of the content on LovedByCurls.com is for informational purposes only. All advice should be followed at your own discretion. Ingredients may change at any time so always check the product label before using. Check our full disclaimer policy here.
Coralle is an experienced beauty writer with a passion for wellness, women's health, and sustainability.