Tangled hair can make hair unmanageable and prone to breakage. One way to correct this is to change your hair care products. Here is our round-up of the best shampoos and conditioners for tangled hair.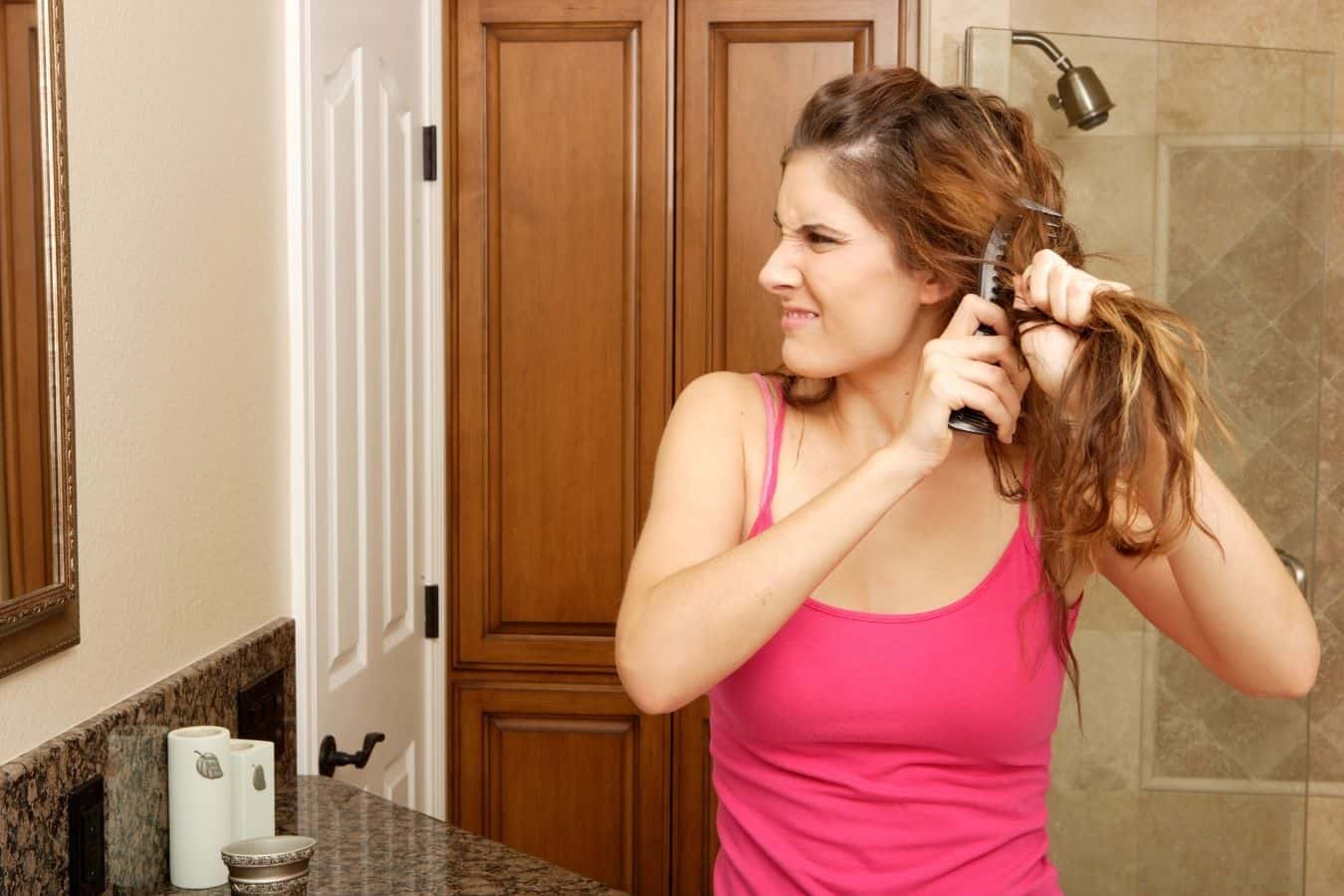 This post contains affiliate links and we may earn if you click on them (at no extra cost to you). Please read our full disclosure policy here.
What Causes Tangles?
Tangles occur when the hair cuticles become damaged and open up. When this happens, it's typical for the cuticles to block each other, forming knots and tangles.
The hair strands become intertwined and they can be difficult to separate. When you tug at the hair with your fingers or a comb, this can actually worsen the issue and lead to breakage.
Generally, the more damaged the hair is, the more it will be prone to tangles.
You are at risk of tangles and knots if you:
Have curly hair
Bleached or chemically treated hair
Damaged or dry hair
Frequently expose your hair to heat
Use products that contain drying or irritating ingredients
You over style your hair or frequently touch, tug, or pull at it
Sometimes, tangles are unavoidable. Going out in harsh weather conditions when there is wind and rain is likely to result in knots or tangles unless the hair is braided or tied up.
Even those with healthy, conditioned hair will experience knots and tangles from time to time.
However, there are things that you can do to minimize them.
How To Best Reduce Tangles
Reducing tangles will make your hair easier to style and look after. It will also prevent breakage and split ends in the future. These are some of the best methods to preventing knots and tangles.
Use A Detangling Shampoo Or Conditioner
Using shampoos and conditioners that are designed to manage tangled hair is one of the best methods of tackling the issue.
These products will moisturize the hair and allow the hair strands to slip past each other more easily. Using them regularly can prevent damaged hair and split ends.
Switch Your Pillowcase
If you usually sleep on a cotton pillowcase and frequently wake up with frizzy, unruly hair, then it might be time to switch to silk.
Cotton pillowcases can be very drying on curly hair, which can lead to your hair becoming dry and damaged over time. Silk, on the other hand, will reduce friction at night and lead to your hair becoming healthier and shinier as a result.
Use A Wide Tooth Comb Or Fingers
Using an ordinary brush can cause further friction and tangles. In fact, it can make your hair go static! Using a wide-tooth comb is a gentler way of avoiding and removing tangles.
Start at the bottom of the hair and work your way up to avoid putting too much pressure on the roots. You can also use your fingers to separate hair strands, but do this gently to avoid any damage.
Protect Hair When Sleeping Or Exercising
It's always recommended that you tie your hair up loosely when sleeping or exercising.
You can use a scrunchie and put your hair in a low ponytail or you can loosely braid your hair instead. This will help to prevent tangles by reducing friction during the night.
Also Read: 16 Best Japanese Shampoo in 2021
12 Best Shampoos And Conditioners For Tangled Hair
These shampoos and conditioners are all suitable for reducing tangles and leaving the hair strands smooth and separated.
---
---
---
---
---
---
---
---
---
---
Disclaimer: This site is not intended to provide professional or medical advice. All of the content on LovedByCurls.com is for informational purposes only. All advice should be followed at your own discretion. Ingredients may change at any time so always check the product label before using. Check our full disclaimer policy here.