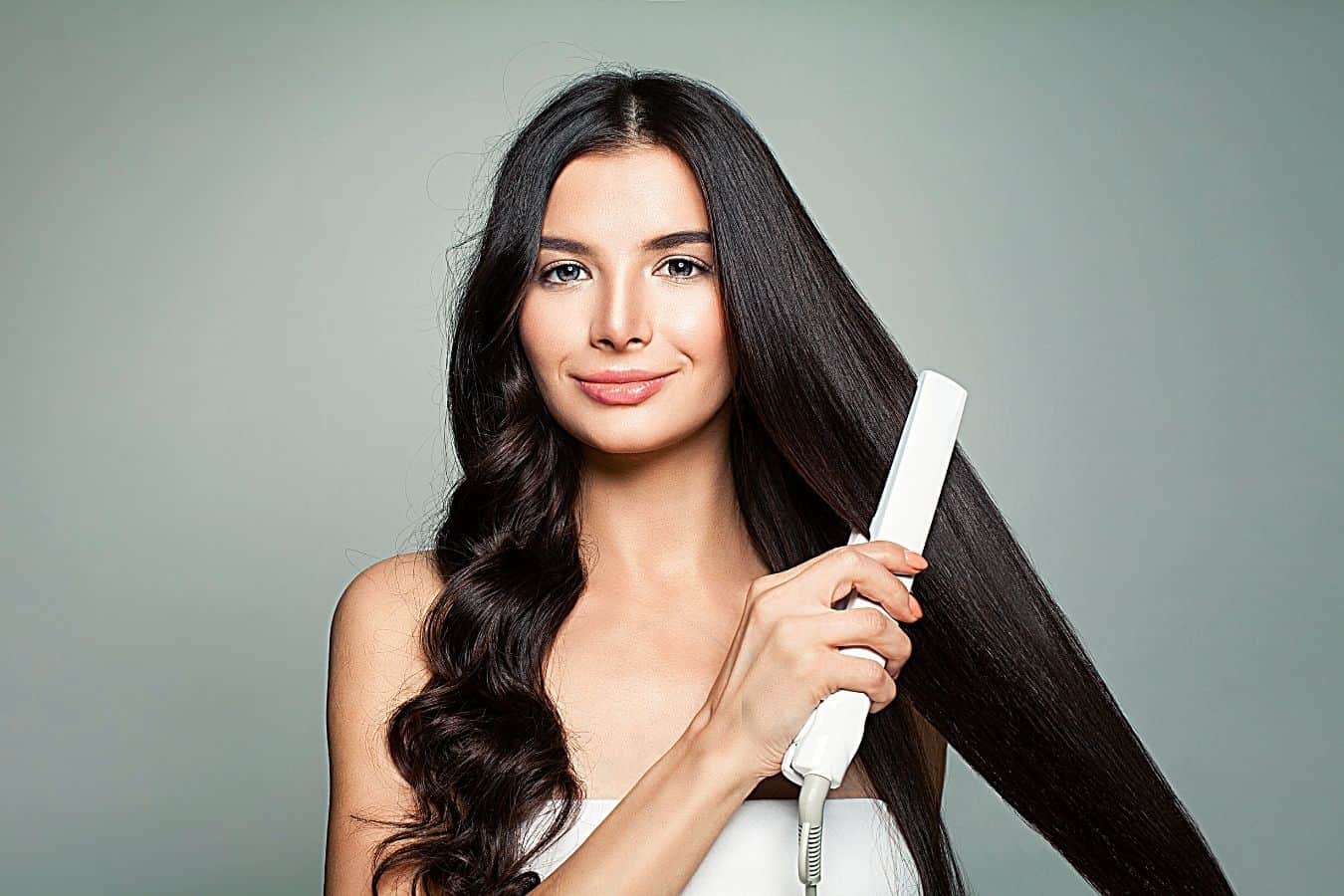 Two of the most popular techniques for permanently straightening your hair are Japanese hair straightening and Brazilian Blowout. But what are the differences between these two techniques and which is best for your hair?
Japanese hair straightening is a permanent technique that alters the inner structure of the hair to give you pin-straight locks. Whilst a Brazilian Blowout coats the outer layer of the hair in keratin to leave it more manageable and frizz-free. It won't leave it pin-straight, but it will be easier to straighten using a flat iron.
What Is Japanese Hair Straightening?
Japanese hair straightening, also known as thermal reconditioning, is a permanent way of straightening your hair.
It will give you pin-straight locks for 6 months or more.
This is possible because it uses a cysteine-based chemical solution to break the natural bonds of your hair and alter your hair structure from the inside out.
This means the treatment will not wash out but has to grow out. It will need to be retouched every six months or so.
According to Healthline, the process of Japanese hair straightening is as follows:
The cysteine solution is applied to the hair.
The solution is left on the hair for 20 minutes. During this time, a chemical process disables bonds in the hair.
The product is washed out.
The hair is prepped with conditioning treatments that will keep it hydrated and strong throughout the process.
Small sections of hair are passed through a hair straightener at 180°F (82°C) or lower for damaged hair.
After the hair is fully ironed straight, then it needs to be neutralized with another solution. This takes approximately 10 minutes.
The neutralizer is rinsed out.
The hair is blow-dried without the use of styling brushes.
Of course, putting your hair through such an intensive process means you'll need to treat it with special care afterward to avoid damage.
Aftercare
In the first 72 hours after undergoing treatment, you'll need to keep your hair completely dry, avoiding any form of moisture, including rain, showers, and sweat.
You must also avoid all hair products including oils, gels, and dry shampoo.
You should leave the hair hanging straight down, meaning you can't pull it back into a ponytail or even tuck it behind your ears.
After the first three days, the treatment will have set, and you can go back to your normal routine, with a couple of exceptions.
The use of sulfate shampoos and excessive sun exposure should be avoided. It is also advised to avoid chlorinated water for the first few weeks after the treatment.
Also Read: What Is A Trim Haircut? Everything You Need To Know
What Is A Brazilian Blowout?
A Brazilian Blowout is a process where a layer of protective keratin is added to the hair to make it stronger, shinier, and frizz-free.
This is different from a Dominican Blowout which doesn't make use of any chemicals to straighten the hair. This also means it won't last as long.
A Brazilian blowout will slightly straighten the hair, without leaving it pin-straight. However, the treatment makes the hair much easier to straighten with a flat iron if you choose to.
Unlike the Japanese hair straightening method, a Brazilian Blowout is not permanent but washes out. It generally lasts for an average of three months.
This is the method for the Brazilian Blowout treatment:
Your stylist will thoroughly shampoo your hair to remove all product.
The Brazilian Blowout formula is applied root to tip.
The hair is blow-dried smooth.
A flat iron heated to 450 degrees is used on the hair to seal the treatment in.
The treatment is rinsed out.
A deep conditioning mask is added to the hair.
Your hair is blow-dried smooth a final time.
Overall, the process takes about an hour to an hour and a half.
Unlike Japanese hair straightening, you can do what you like with your hair post-treatment, although it is still advised that you wash your hair with a sulfate-free shampoo to preserve your Brazilian Blowout for as long as possible.
It is important to note, however, that the Brazilian blowout solution can contain 11.5 percent formaldehyde, which is a dangerous chemical.
If treatment is done inexpertly, it can produce formaldehyde gas, which can be harmful. Pregnant women should avoid getting a Brazilian blowout or other chemical hair treatments.
Japanese Hair Straightening vs Brazilian Blowout – The Main Differences
So, what are the key differences between Japanese hair straightening vs. a Brazilian Blowout?
Unlike Japanese hair straightening which has permanent results, a Brazilian Blowout washes out after about 3 months.
While Japanese hair straightening gives you pin-straight locks, a Brazilian Blowout mainly tames frizz while reducing the natural wave or curl. However, it makes straightening the hair easier.
Japanese hair straightening changes the bond of the hair from the inside out, while a Brazilian Blowout only smoothes out the outer layer of the hair (the cuticle).
Japanese hair straightening requires special aftercare as it's an intensive process that alters the inner structure of the hair. With a Brazilian Blowout, you can pretty much revert straight back to your usual hair care routine afterwards.
Japanese hair straightening is tough on the hair and is only recommended if your hair is already healthy and in good condition. A Brazilian Blowout, on the other hand, can strengthen your hair, as it coats it in a layer of keratin.
Japanese hair straightening can take a few hours to complete. A Brazilian Blowout is a much faster process, taking about an hour to an hour and a half.
The Japanese hair straightening technique does not use formaldehyde, whereas the Brazilian Blowout process does.
Also Read: 5 Important Chemicals To Avoid In Shampoo (And Why)
Which Treatment Is Best for Your Hair Type?
When it comes to deciding which treatment to opt for, there are a few factors to take into account. For example:
How long would you like the effects to last? Do you want a treatment that will wash out, or one that will grow out?
What condition is your hair in? It's thickness and texture are also important considerations.
Do you want to have any chemical treatments or color your hair in the future?
Will the treatment be compatible with your lifestyle?
How straight do you want your hair to be?
Consult with your stylist to figure out the best option for you and your hair. No matter which technique you choose, it's essential that you have a stylist with expertise in permanent straightening techniques.
Disclaimer: This site is not intended to provide professional or medical advice. All of the content on LovedByCurls.com is for informational purposes only. All advice should be followed at your own discretion. Ingredients may change at any time so always check the product label before using. Check our full disclaimer policy here.
Nicola is a freelance writer and researcher whose specialisms lie in health and wellness, beauty, and psychology. She has fine, wavy hair and is a big fan of co-washing every alternate day between shampoos (as dry shampoo makes her sneeze!)