In the pursuit of straightened, glossy hair, you might find yourself reaching for a flat iron to achieve the desired look. Unfortunately, using a flat iron repeatedly can leave your hair feeling dry and damaged. There is another option that will get you the results that you're looking for while protecting your hair against heat damage: The Dominican Blowout.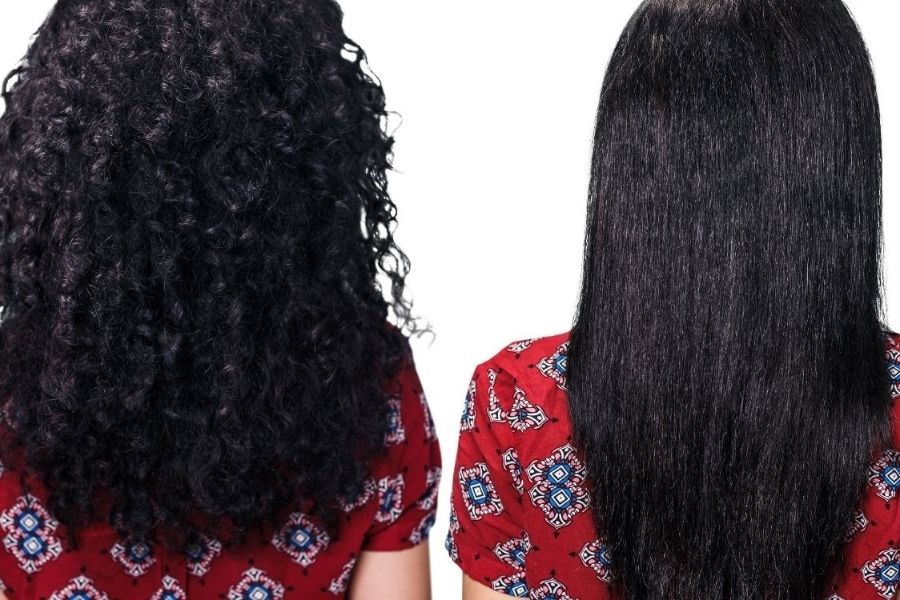 A Dominican blowout is the method of straightening hair, originating from the Dominican Republic. The process has several steps – shampooing and conditioning, rolling, blow-drying, and wrapping. This is a temporary hair treatment that lasts 1 – 4 weeks, or until hair is exposed to water.
What Is A Dominican Blowout?
A Dominican Blowout is a temporary hair treatment that straightens the hair, often without the use of a flat iron.
You can receive a blowout at many of the popular salons. However, many people opt for a Dominican salon as the stylists have a lot of experience in this area. They can help you achieve longer-lasting results.
Check out these results from Classy Touch Beauty Salon and give them a follow on Instagram:
There are several steps to this process, but one thing that should be noted is that no chemicals are used throughout.
So if you are looking for a way to achieve sleek, shiny hair that can withstand many weather conditions, then a Dominican Blowout could be the best option for you.
Also Read: How To Spot Calcium Build Up in Hair (3 Ways To Fix It)
What Is the Process Of A Dominican Blowout?
Step 1 – Clarify
A stylist will begin the process by using a clarifying shampoo on your hair to remove any product build-up. They will then follow up with a deep conditioning.
Hair is much easier to style when it's been thoroughly cleaned and all oil and residue is removed.
The products used will vary depending on the salon, and you can request to bring your own.
The aim is for you to feel as comfortable as possible. Make sure to discuss your needs with the stylist beforehand.
Step 2 – Rollers
The next important step is to have your hair set on rollers. This is the process of stretching and straightening the hair.
At this stage, you shouldn't have any product applied to the hair.
Once the hair is rolled you will sit under a dryer for 1 to 2 hours, depending on the length and porosity of your hair.
Step 3 – Blow Dry
Once the hair is dry and the rollers are removed, the stylist will usually apply a heat protectant throughout your hair before they start blow drying.
A big roller brush is used alongside a blow-dryer with a nozzle and the stylist is trained to work through the hair as quickly as possible.
After the hair has been blow-dried, a flat iron may be used.
It isn't often necessary; however, some stylists may use one to smooth down any hair that's been resistant.
An oil or serum may also be applied to the hair to seal in moisture and shine.
Step 4 – Doobie
The final step in the process is to have your hair wrapped around your head.
This is often referred to as a 'doobie', to ensure that it's completely straight and has a smooth finish.
This also creates more body and bounce and allows for long-term maintenance.
Also Read: 5 Important Signs There's Too Much Protein In Your Hair
Where Can I Get a Dominican Blowout?
There are many Dominican salons in big cities, so it shouldn't be too difficult to find out that's close to your home.
Check out stylishher from Charlotte NC's amazing results on Instagram:
To make it simple, you can use Google maps or Yelp to search for 'Dominican Blowout Near me' and see what results pop up.
For instance, some popular choices in New York are Dolores Beauty Salon and Beauty Dry Dominican Salon, and based on the abundance of good reviews it would be considered a good choice.
How Much Does A Dominican Blowout Cost?
The cost depends on what area you are looking in but you can generally expect to pay between $15 – $60.
Dominican salons often have lower prices, which explains why the Dominican blowout is so popular.
How Long Does the Treatment Last?
You can expect to maintain your sleek, straightened hair for 1 – 4 weeks.
The treatment will last until the next time you wash your hair. This means that you must avoid water whenever possible.
You can extend the length of your hair treatment by doing the following:
Wearing a cap in the shower or the bath
Carrying a cover in your bag to protect your hair against rain and wind
Keeping hair covered or wrapped tightly when exercising
Can A Dominican Blowout Damage My Hair?
Every time you apply heat to the hair, there is a risk of damage.
Some people may have reservations when considering a Dominican Blowout because of the heated equipment that's used throughout the process.
There's the roller set, the blow dryer, and sometimes a flat iron is used as well.
Repetitive heat can lead to hair damage. However, a good stylist will ensure that they carry out the hair treatment with minimal risks to the hair.
Furthermore, you can protect your hair by avoiding heat in between salon visits.
This will ensure that your hair is exposed to heat as little as possible which will help to maintain the health of your hair and keep it looking shiny.
Also Read: Moisture Overload – How To Fix In 3 Simple Steps
Things to Know Before Getting a Dominican Blowout?
It Only Lasts One Wash
That's right – as soon as the hair gets wet it will revert back to its normal state.
For some, this can be a downside if they're hoping to maintain shiny, straight hair for more than a few weeks.
For others, this can be a huge bonus if they're only looking for a hair change for a week or two.
It's important to be realistic before you agree to a Dominican Blowout. You, therefore, need to if it's the most suitable treatment for you based on your needs.
It's Chemical Free
If you're looking for a hair treatment that is completely free of chemicals, then the Dominican Blowout might be the one for you.
The products used are often water-based and gentler on the hair and scalp.
Works Best On Healthy Hair
This treatment isn't recommended for those who have damaged or chemically treated hair.
This is, therefore, something that you'll need to consider beforehand.
If your hair is already breaking or you have brittle ends, then you'll need to avoid using heat on your hair for the time being.
Potential Heat Damage
As there's always a risk of heat damage when heated tools are used on the hair, you can protect it further by deep conditioning your hair prior to treatment.
Stylists will often recommend this as it's easier to style and work with healthy hair.
If your hair has recently been exposed to a lot of heat either through a flat iron or a blow dryer, then you should wait a few weeks until it's in better condition.
Speak To Your Salon Beforehand About The Need To Relax Hair
Although it's not often the case, there have been some reports of salons applying relaxer in shampoo without discussing with the client first.
Those with naturally curly hair will often avoid using a relaxer as they contain alkaline chemicals that can break down the hair's structure.
In some cases, it can lead to extremely damaged hair.
It's essential that you speak to the stylist prior to treatment. This is so you can request that any chemical relaxer is not applied to your hair.
If you have doubts or you're still unsure, you can simply bring your own shampoo and conditioner products.
Also Read: Glycerin For Hair: The Best Answer for Frizz-Free Curls?
Risk Of Losing Curl Pattern
Heat damage and the potential use of a relaxer can contribute to loss of curls. There have been some cases where the curls take several months to return to their natural state.
However, many salons will understand this and will take the necessary steps to avoid damaging your natural curls.
Who Should Not Get a Dominican Blowout?
Those Who Wish To Permanently Straighten Hair
If you're looking for long-lasting results then the Dominican Blowout is definitely not the right treatment for you, as it only lasts until the hair is washed.
Permanently straightened hair is often achieved through the use of chemicals, which alters the proteins in your hair.
This can pose some risks such as breakage and skin irritation from the chemicals.
You should consider these risks before you use a treatment that gets permanent results.
Those Who Don't Want To Use Heat
Understandably, some people wish to avoid using heat on their hair at all times and opt for a gentler approach.
The Dominican Blowout does involve using a blow-dryer that it set to a high temperature. This isn't a good option for everyone, particularly those who have hair that is susceptible to breakage.
You should always weigh up the risks before exposing your hair to heat.
Those Who Have Damaged Hair
It's not recommended that you use heated tools on damaged hair. This is because damaged hair needs to heal and repair itself and any form of heat can compromise that.
If the hair is already damaged before undergoing any treatment, then the high temperatures from the heated equipment is likely to result in immediate breakage.
It's also very difficult to style damaged hair as it doesn't cooperate with the styling tools and it will lack the shine that you're looking for.
---
Disclaimer: This site is not intended to provide professional or medical advice. All of the content on LovedByCurls.com is for informational purposes only. All advice should be followed at your own discretion. Ingredients may change at any time so always check the product label before using. Check our full disclaimer policy here.
Coralle is an experienced beauty writer with a passion for wellness, women's health, and sustainability.