From pin-straight 1a hair to texture and volume, every woman's locks are different. In this article, we offer a complete guide to type 1 hair straight hair and explore some of the best products, styling techniques, and haircuts.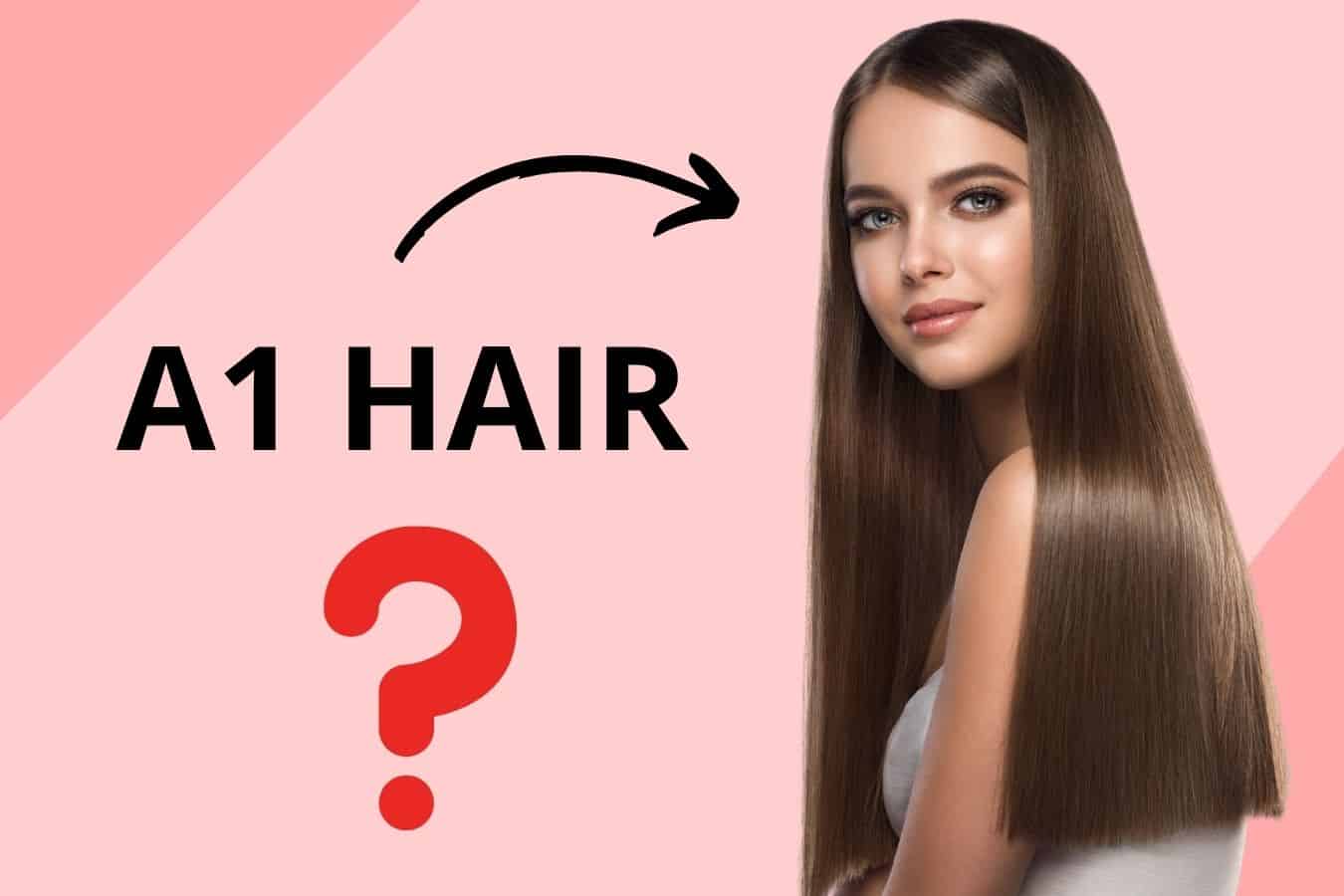 1a hair can be defined as having the most straight hair type possible. It is often very fine in texture and people with type 1a hair tend to have shinier hair than those with curly textures. This is due to the natural oils being able to travel straight down from the root to the tip.
This post contains affiliate links and we may earn if you click on them (at no extra cost to you). Please read our full disclosure policy here.
Hair Types – The Andre Walker System
The Andre Walker system breaks up the various hair types into four main categories. 1, 2, 3, 4.
1 is straight, 2 is wavy, 3 is curly and 4 is kinky.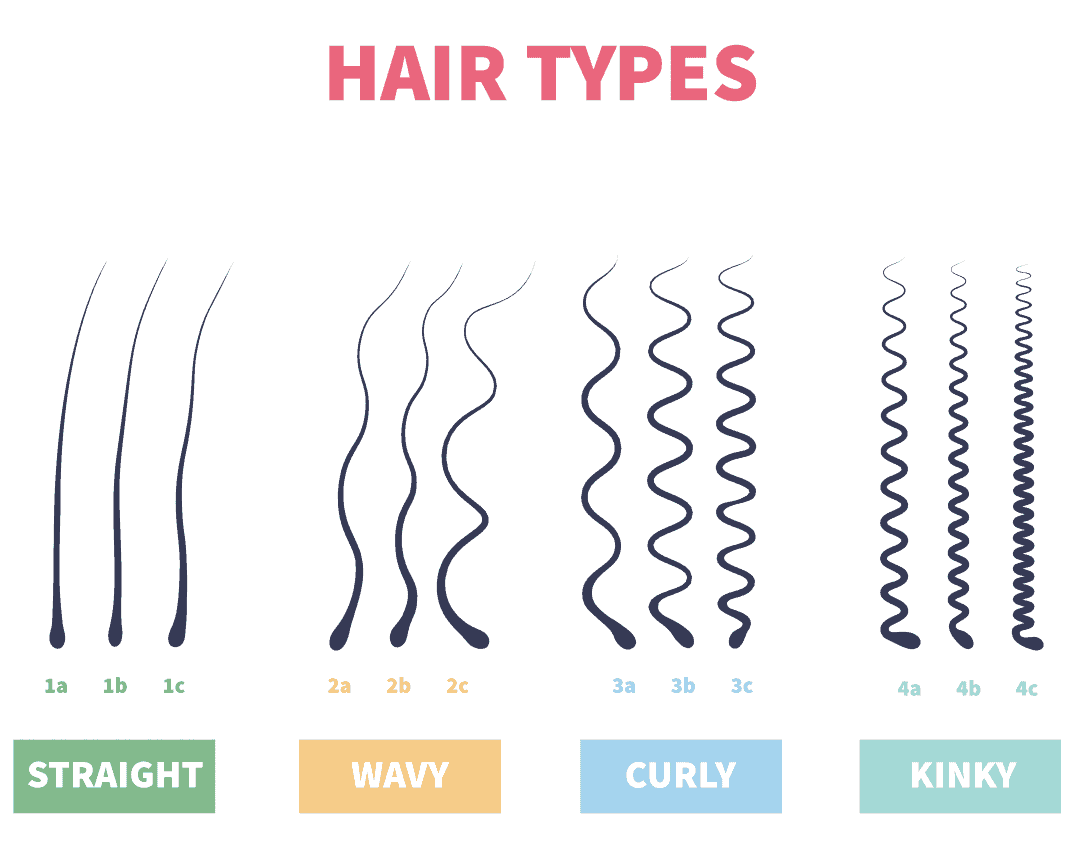 Within each of these categories, there are 3 subcategories. a, b, or c. You'll find that your hair will most commonly fall into a range of subcategories because your hair is seldom just one of these characteristics.
As the name suggests, Oprah's Winfrey's former stylist Andre Walker is the creator of this system.
What is Type 1 Hair – All Straight Hair Types
According to the Andre Walker System, there are three subcategories for straight hair. These include type 1a, type 1b, and type 1c.
Each category of straight hair could require different styling products as they will ultimately help to maintain the shine and body of your hair.
Type 1a hair is the most straight hair can get and is a prevalent hair trait amongst Asian people who generally don't have very porous hair. This type of hair is usually very glossy compared to curly hair.
This is due to the fact that the natural oils on the scalp can travel directly down the hair strand and moisturize the hair. For people with curly hair, natural oils have a harder time reaching the ends of the hair.
Type 1b hair is also very straight but can be slightly denser with a medium texture. This hair type also has slightly more volume than 1a hair.
Type 1c hair is still straight but is known to be a bit thicker and coarse. It also has a great shine and you're able to achieve a tousled look.
Type 1c hair may experience frizziness without proper styling.
Also Read: Can You Use Oil As A Detangler? A Helpful Guide
Common Straight Hair Problems – 1a, 1b, 1c
When it comes to having straight hair, there are a few common problems you may experience.
From dryness and limp flat hair to styles that often frizz or tangle. Fine hair can also be a problem, and if you have type 1 hair, you may struggle to maintain a hairstyle even with the use of gel or hairspray.
In some cases, naturally straight hair usually means thin hair. Thin hair could lead to premature balding and hair loss.
Frequently curling or straightening could speed up this process as heat styling can be very damaging to your hair.
Finally, people with straight hair may experience a lack of volume in their hair.
How To Curl Type 1a Hair
If you're looking for a bit of texture and you have 1a hair, the good news is that it is possible to achieve long-lasting curls. With the right products and a few styling techniques, you can create the volume you desire. The trick lies in using lightweight hair care products that will not weigh your strands down or create product build-up.
You should also:
Ensure that your hair is not conditioned before styling and curling. If your hair is conditioned, it may be harder for it to hold the curl and your style will not last.
Try to incorporate a heat-protecting pre-styling treatment to avoid doing any damage to your hair.
Use a hairspray after curling. This will help to hold your curls in place and create a long-lasting style for you to enjoy.
Choose a large barrel size for your curling iron. This will help to create loose curls rather than smaller, tight curls.
If you, on the other hand, were hoping to achieve waves or curls naturally, there may still be a way. You may have heard about the Curly Girl Method, which is a naturally curly hair routine developed by Lorraine Massey.
You may just find that even if you have straight hair, the CG method could help add some texture to your hair.
Following the Curly Girl Method for straight hair is easy and best of all, there are no heat styling tools in sight!
Also Read: How To Bleach And Dye Hair In The Same Day (Must-Know Facts)
Best Hair Care Routine For Type 1a Hair
When it comes to the best hair care routine for type 1a hair, there are a few things you can do to create a balance between keeping your hair moisturized and not letting it get too oily.
Wash Your Hair Regularly
It's important to wash your hair regularly, every 3 days or so.
This will prevent your hair from looking limp and flat and will help to add a bit of body to your hair.
A helpful tip is to use dry shampoo between washes to refresh your roots. This will also make your hair more manageable between washes.
Don't Overuse Hair Products
A great way of managing this is to use one product that has multiple benefits for your hair.
Try to select organic products that don't contain harmful chemicals that are soft on your hair.
When styling your hair, after it is dry you could incorporate some dry shampoo into your styling.
This helps to create texture to your straight hair and soak up excess oil. Your style will last longer, and your hair will have added volume and bounce.
Don't Sleep With Wet Hair
One way to create unwanted frizz is to go to bed with wet hair.
If you have no choice other than to go to sleep with damp hair, apply a leave-in conditioner to your strands. You can also use shea butter for this.
Then braid your hair loosely before bed. This will go a long way in eliminating frizz and causing damage to your hair from friction.
7 Tricks and Tips for Styling Tips for 1a Hair
Type 1a hair is classified as being extremely straight and as a result, it is prone to being flat at times and lacking volume.
There are a few handy tricks you can add into your everyday routine to combat this issue and uplift limp hair:
If you're planning to make use of any heat styling tools, it is best to blow dry your hair upside down first to add volume to your locks.
Leave in conditioners are great for styling hair and fighting off any excess oil commonly found in type 1a hair.
Choose a blunt haircut as this will go a long way in giving the appearance of thicker hair. If you have medium to thick straight hair, you may want to add some layers to give your hair extra movement and volume.
Try to avoid products that are too heavy or that have too much hold. This may create a product build up causing your hair to become limp.
Regular haircuts are great for removing dead ends but when it comes to straight hair, they can also make your hair appear thicker and full of life.
Women with fine, straight hair such as the 1a hair type should opt for lightweight formulas such as mists and sprays. Products such as heavy conditioners tend to weigh fine hair down.
Finishing products such as creams and hair serums are light and are ideal for last-minute touch ups when it comes to styling fine, 1a type hair.
Also Read: Can Water Softeners Cause Hair Loss (What You Need To Know)
What Are the Best Cuts and Hairstyles for Straight Hair?
Find the perfect cut and style with these trendy hairstyles for straight hair below:
Long Layers
If you're looking to add bounce to your hair and added volume, the signature Jennifer Anniston look is always a winner.
The popular 90's style features a multi-layered cut with face-framing strands. Whether your hair is pin straight or has a slight wave to it, adding layers will create a classic look that is suitable for most women.
Try Wearing a Side Braid for Long Hair
Braids have become a popular style and a side braid is ideal for an effortless, causal look to sport during the day.
You could also style your braid into a bun for the perfect style to wear on a formal occasion.
Long Layers with Ombre
Layers add movement and volume to long hair and has been known to transform your look.
Ombre is a coloring technique which creates an amazing effect as the color changes along the length of your hair.
Balayage on Straight 1a Hair
Sporting a balayage of any color on straight hair is the perfect way to wear color and really show off the full effect.
This popular hair coloring technique is applied freehand to create natural-looking highlights across your strands.
A Straight Bob
A straight bob is ideal for small faces as it is very flattering. If your hair has a slight wave in it, try straightening it with a flat iron to accentuate the length and add drama.
High Ponytail
It could be said that there is never a bad time to wear a ponytail.
This style can be dressed up or down and is effortlessly chic. For added volume and lift, try teasing the hair at the crown and using hairspray for a long-lasting hold.
Medium Layered Haircut For 1a Hair
Layering is a common, go-to hairstyle for straight hair thanks to its versatility.
Adding layers will not only create movement but give your hair extra body and texture as well.
Some women suffer from dull hair when it comes to having straight or fine hair. Medium layers will help to create the illusion of volume.
Medium Bob
Bobs are back on trend which is great news for women with straight hair.
When your hair is short it will help to give it shape and make it appear full.
A medium bob is an ideal length as it is short enough to add volume but long enough to be able to style it in a ponytail over the summer.
Also Read: How Does Alcohol Get Into Your Hair? (Interesting Facts)
1a Haircare Routine Your Locks Will Love
One of the best ways to maintain your 1a hair is to develop a moisturizing haircare routine. This goes a long way in helping to keep your hair healthy and manageable.
Moisturizer For 1a Hair
One of the most common issues with 1a hair is that it is often prone to becoming greasy and oily.
While the scalp remains oily, the ends often remain dry. It may seem difficult to balance these issues, but a simple trick is to focus on the dry ends.
Apply a moisturizer or conditioner directly to your hair strands avoiding the top of your head and this will add the moisture to your hair where it's needed most.
Use a Degreaser for Straight Hair
You may find that straight hair often needs a lot of product during styling for long-lasting wear.
Often the product, such as hairspray or dry shampoo, creates build-up, causing hair to become greasy. Straight hair is known to be rich with natural oils so coupled with hair products it may lead to unmanageable hair.
A great way to combat this issue is to use a clarifying shampoo to remove the product build-up from your hair and scalp.
If you live in a hard water area, you may also experience mineral build-up. In this case, try chelating your hair to regain its natural health.
Give Flat Hair Volume
If you're looking to add more volume and lift to your hair, a great way is to use silicone-free shampoo and conditioner.
It's known to replenish nutrients to dry, damaged, and frizzy hair. It also includes Argan Oil, Vitamin C, Shea Butter, and rejuvenating natural oils that rejuvenate your strands from top to bottom.
To conclude, type 1 hair should not be that hard to manage. Make sure to stay away from heat styling tools if you want to keep your locks moisturized and glossy and use dry shampoo in between washes.
Disclaimer: This site is not intended to provide professional or medical advice. All of the content on LovedByCurls.com is for informational purposes only. All advice should be followed at your own discretion. Ingredients may change at any time so always check the product label before using. Check our full disclaimer policy here.
Dee has been following the Curly Girl Method for over four years and is our in-house Curly Girl expert. She has a keen interest in natural haircare and has tried and tested her share of CGM products. She has a photographic memory of most sulfate and silicone-free hair products available on the high street and she's always happy to recommend you her favorites.