Despite falling out of fashion for a while, scrunchies are quickly regaining root in the hair fashion industry, and you can still find them in stores today. Their progressive return has left many wondering whether wearing scrunchies is bad for your hair or not.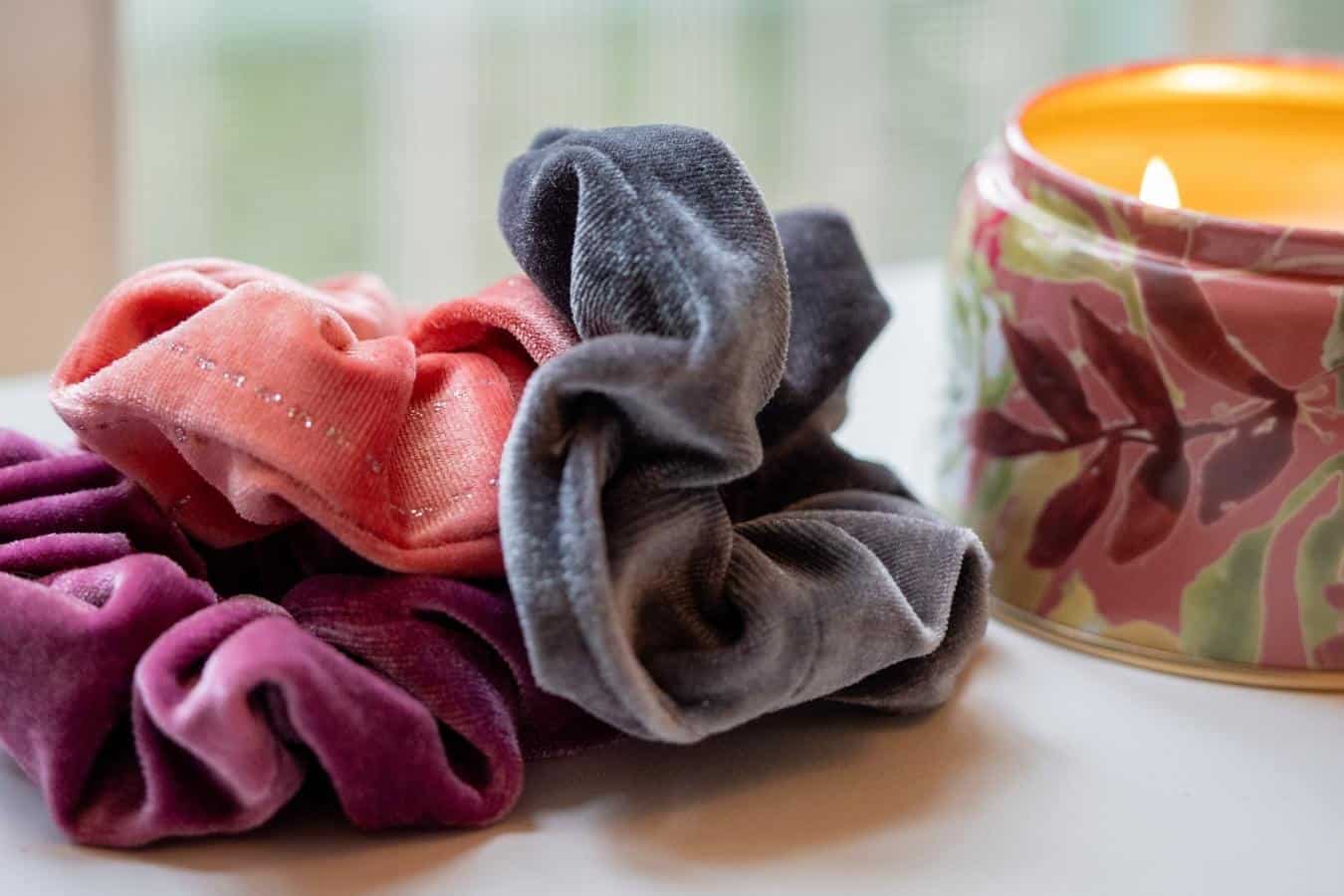 The short answer is no, scrunchies are not bad for your hair. Scrunchies are great for holding back your hair when you're working out or running around town. They help get rid of tangles and knots in your locks, too.
Why Are Scrunchies Good for Your Hair?
Maybe most of those using scrunchies again are doing so to help reminisce the good old days of the '80s, '90s, and early 2000s.
But scrunchies aren't just here to help you fulfill your nostalgic needs. They're great for your hair in the following ways.
Scrunchies will Get Rid of Tangles and Knots in Your Hair
Scrunchies help eliminate tangles and knots in the hair as they pull all of it together, like a ponytail.
This is especially helpful when you haven't washed your hair yet and don't feel like using any other styling products on them — scrunchies help make the hair look neat, tangle-free, and easy to manage.
They Help Prevent Hair Breakage
Another significant benefit of scrunchies is their ability to prevent your hair from breaking off or splitting.
Many hairstylists recommend it as an excellent way to keep all those split ends in check while still getting a good night's sleep.
Scrunchies Don't Cause Headache
One of the most common misconceptions about scrunchie is that it causes headaches.
While tight ponytails can cause headaches, this is not the case with modern-day scrunchies.
While this used to be a problem back in the '80s when scrunchies first came around, modern-day versions don't have so much fabric and have a lightweight stretch, thus they don't cause any pain or tension on your scalp.
They are Stylish and an Upgrade to Elastic Hair Bands
Scrunchies come in all sorts of styles and colors these days, making them an excellent choice for those who don't like the look or feel of elastic hair bands.
You can wear them as part of an actual hairstyle that you've created yourself, so they're not only practical but also stylish and fun to wear.
Scrunchies Reduce Friction and Add Protection to Your Hair
Scrunchies are also good for your hair because they reduce the friction that comes from elastic bands.
Since scrunchies don't have any tightness or pull on them, there is no damage to your hair at all. You can count on them for some extra protection while still looking great.
Furthermore, scrunchies are easy to wash.
They Can Be A Great Addition Of Color to Any Outfit
Scrunchies are great when you're looking for something that adds a nice pop of color or pattern to your outfit.
They can be made out of anything, like silk or cotton, so they'll work with whatever style and colors you want to wear too.
They Easily Slide Down Your Hair
The biggest reason why scrunchies are better than elastic bands is that they slide down your hair when you start removing them.
They won't pull on the ends of your hair or cause tangling as other hair ties do.
This makes them perfect hair ties for those who want to maintain smooth hair all along.
How to Use Scrunchies
Scrunchies are the easiest to use of modern hair ties. To use them effectively, you'll only need to loop the scrunchie around your ponytail, wrap it a couple of times, and tie.
You can even get scrunchies that have an elastic band on one end if you prefer not to deal with wrapping them up yourself.
Some people also like using two or three at once for a thicker look, which is excellent too.
While it seems easy to use scrunchies, you should be careful not to over-tighten your hair while at it.
This can create a bad hairstyle for you and cause breakage, which is the opposite of what scrunchies are supposed to do.
You should also be careful how often you use them so that your hair doesn't feel too weak or dry at the roots.
While they provide excellent protection against heat damage, it's still important not to overstrain your hair.
Additionally, you should be careful when detangling your hair with a scrunchie, as it can get the tangles going in the opposite direction and cause more problems for you instead of avoiding them.
It may seem like an easy way out if you don't have time to brush through knots, but scrunchies could lead to more problems down the road.
Scrunchies can be a styling tool with benefits, but only if you use them correctly and don't overdo it with their usage.
Scrunchies To Try
Scrunchies are great for updos, buns, and ponytails that require a little something extra to hold them in place.
Plus, today's available options come with different materials, patterns, and colors, so you can find one that best matches your style.
If you're looking to purchase affordable hair scrunchies, then Sufermoe hair scrunchies are a great option to consider. Not only are they affordable, but they also come in a variety of colors, so you can tie one that matches your outfit of the day.
They're equally easy to use, and they hold your hair perfectly well. It doesn't matter whether you have thin, medium, or thick hair; these scrunchies are fit-it-all. You can also style them out as bracelets or accessories for your wrists during casual events.
---
Another affordable choice in the list but with a more appealing look is the Ivyu big silk scrunchies. These hair scrunchies are made from quality materials that not only keep your hair neat but also prevent them from falling flat before you tie them up.
The best part is they come in various sizes and designs so that you can have one for any occasion or outfit choice. They're easy to adjust and the material is soft on your hair.
Also, they don't slip off or get squeezed by tight headbands, so you don't have to worry about them being painful from time to time. And if that wasn't enough for you, they come in packs of four, which means you can pick a different one every day to match your outfit or mood.
In short, they're a great hair accessory that will spice up any boring updo and give you the perfect scrunchie look in seconds.
---
These trendy and stylish hair ties allow you to take your fashion game to a whole new level. Their unique bow design is the perfect accessory for your hair, and they are made of high-quality materials that won't damage or put too much pressure on your hair.
They come in various colors, so you can choose one that matches your outfit best. Plus, their adjustable design fits all head types, which means everyone can enjoy them — from kids to grannies!
What's more, they achieve a smooth, seamless slide when you take them off. You'll not have to worry about the ties pulling off your hair every time you take them off.
---
Maybe four, six, or ten hair scrunchies in a pack are not something you'd typically consider a good deal in terms of price and amount. But when the number is raised to 60 scrunchies in a pack, suddenly the deal becomes amusing. That's what you get in a pack of BeeVines Satin Silk hair scrunchies.
The scrunchies are made out of satin silk, making them some of the most comfortable scrunchies on the market today. They also have a rubber band to boost their comfort and make them perfectly stretchable and durable for any hair.
The package also comes with a storage gift bag you can use to store and organize your scrunchies when going out.
---
Disclaimer: This site is not intended to provide professional or medical advice. All of the content on LovedByCurls.com is for informational purposes only. All advice should be followed at your own discretion. Ingredients may change at any time so always check the product label before using. Check our full disclaimer policy here.