Straightening relaxed hair can increase the danger of harming hair that is already fragile from chemicals used to change its texture. That is why choosing a good flat iron if you have relaxed hair is more important than you think.
Below, we have the 14 best flat irons for relaxed treated hair to give you the sleek look you want while protecting your hair.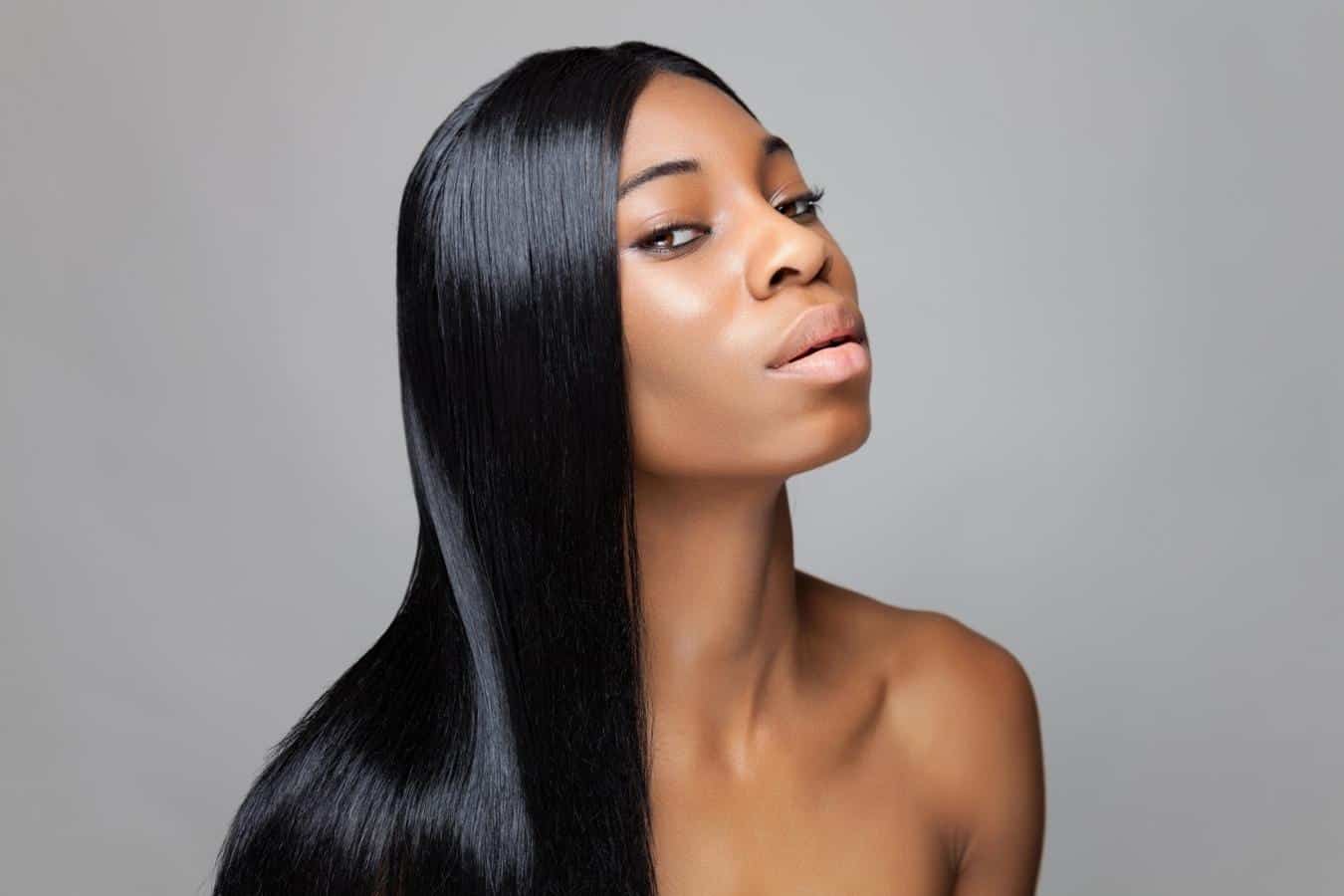 This post contains affiliate links and we may earn if you click on them (at no extra cost to you). Please read our full disclosure policy here.
Highlights
Looking for the best flat iron for relaxed hair, this straightening iron is ideal for relaxed hair. It features cushioned bio-ceramic plates filled with nano-ionic material that flat iron relaxed, curly, or wavy hair in just a few passes.
Features
Sonic Vibration Technology
9-foot swivel cord with universal voltage
Natural volcanic rock mineral Infused plates with bioceramic heaters for consistent and even heating.
What We Like
Hair can be styled in just one or two passes, cutting down on styling time and resulting in shine and sleek locks. We also enjoyed its economical design.
What We Didn't Like
Its price may be too much for some people.
---
Highlights
A flat iron that is gentle to hair that has been relaxed, Its nano titanium/ceramic plates and Sol-Gel technology offer even heat distribution, so there are no hot spots, leaving locks smooth & shiny.
Features
3 heat settings – 340F, 400F, 450F
Heat resistant Ryton housing
Rubberized thumb rest
What We Liked
It is pretty comfortable and lightweight to use, and it is built of highly durable materials. This flat iron is also versatile since it can be used to produce curls and waves.
What We Didn't Like
Limited settings
---
Highlights
The eight microsensors help this iron prevent hair damage and glide down smoothly, not snagging your hair. This iron can straighten, flip, and curl hair with this iron. Furthermore, it is highly efficient at controlling frizz.
Features
Adjustable dial heat settings ranging from 140F up to 450F
110/120 Worldwide dual voltage
Tourmaline infusion plates to reduce frizz
What We Like
The dial temperature setting lets you adjust your heat precisely, and it is very effective against frizz.
What We Didn't Like
It's an investment price-wise.
---
---
Highlights
This iron has six temperature settings that range from 330°F to 430°F, allowing you, the user, to select the temperature that best suits your hair texture and thickness. The plates are infused with keratin and argan oil, implanting nutrients into your traumatized hair.
Features
Ceramic coating
Heats up Fast
40 minutes shut off
What We Like
The keratin-infused plates really deliver a smooth shine to your hair.
What We Didn't Like
It has no dual voltage function.
---
Highlights
The FURIDEN compliments all hair types, and this includes relaxed hair. It has a button-less design, which means it doesn't have a physical button to turn it on and off. All you have to do to modify the temperature is rotate it clockwise. It comes with MCH heaters, long-lasting, energy-efficient, and efficient. It only takes 15 seconds for this flat iron to heat up. It also has a temperature setting that can be adjusted from 250 to 450 degrees Fahrenheit.
Features
Heats in 15 seconds
360 long swivel cord
Floating plates
What We Like
It heats up super quick to get the job done, and we love it has worldwide voltage; thus, you can take it anywhere.
What We Didn't Like
It gets hot outside of the iron, so you have to be careful not to burn your fingertips when curling.
---
Highlights
This straightening hairstyling iron is ideal for hair that is prone to heat damage. Relaxed hair is just that. It is equipped with the most modern technological technology, which slims your tresses and protects your hair from thermal damage. Straightening your hair simply takes a few passes.
Features
World travel dual voltage
60-minute auto-shut-off feature
Color-coded digital temperature setting
Titanium infused ceramic plates
What We Like
A mighty iron that creates the straight bone look without overheating your hair.
What We Didn't Like
A high heat iron. Beginners should start at a low temperature to prevent hair from being overcooked.
---
Highlights
Another good flat iron for relaxed hair. The damage-free flat iron hair straightener helps to keep moisture in your hair and improves it over time, leaving your hair looking healthy and vibrant, exactly what you want for relaxed hair.
Features
Swivel cord
Worldwide dual voltages
Automatic shut off
Invisible screen unseen till turned on
What We Like
This iron is made from nanometer titanium and is loved for its durability and easy, lightweight styling.
What We Don't Like
Not the best for very thick hair.
---
Highlights
Heating up in 5 seconds and infused with micro-silica, this flat iron flatters relaxed hair and any hair to smoothness. Then, using and employing a far-infrared ionic technology to gently close the cuticle layer and seal in your hair's natural moisture, thus minor heat damage to your hair.
Features
Five temperature settings (170 to 400F)
Ionic far-infrared technology
Lightweight, comfortable to hold
Beveled plates that float
What We Like
Its fast heating and wide 1″ inch plate let you take larger sections, getting your styling done quickly.
What We Didn't Like
It only operates at 120V, 35W, and 50/60 Hz.
---
Highlights
Called the smart iron, your relaxed hair will be reinforced strong, lustrous, and healthy as a result of using this iron. It's the world's first intelligent flat iron, and it's meant to adjust to the temperature your hair requires automatically (heats up to 365F) according to its sensor that measures heat 250 times per second. One pass glide through may be all you need.
Features
A barrel and wishbone hinge allows for a snag-free style of elegant locks, curls, flicks, and waves.
Heat resistant plate guards
Universal voltage
9 ft swivel cord
What We Like
The heat is evenly distributed, it heats fast, and your hairstyle lasts.
What We Didn't Like
This iron heats up max to only 365F, so it does take a couple of passes to get desired results if you have coarse textured hair.
---
Highlights
The Revlon Smooth Brilliance Ceramic Hair Flat Iron has ten customizable high heat settings that allow you to manage your perfect heat seating for your relaxed hair. The heat range of this iron is 285-455F, and it has a 3X ceramic tourmaline ionic coating on its 1-inch plates, which gives it a healthy-looking finish to your hair, eliminating the frizz and bringing an added shine.
Features
1-hour automatic shut off
10-second heat-up
Extra-long plates for fuller coverage
What We Like
Its 1-hour automatic shut-off also features a built-in counter rest, recessed buttons, and lock switches.
What We Didn't Like
It is not a good iron to do curls or waves with.
---
Highlights
An excellent flat iron for relaxed hair, the Remington Anti-Static Flat Iron has these titanium-coated ceramic plates that can be heated up within seconds, creating a smooth glide. Its anti-static negative particles result in 50% less static and flyaway hair, and its 1-inch plates provide secure control for effortless styling.
Features
LCD temperature screen
30-second heat-up
Six different heat settings
Turbo Boot Function sets iron at the highest heat.
What We Like
The anti-static feature is a nice touch and leaves your hair sleek. It also has an automatic shut-off feature. It does well for its affordable price.
What We Didn't Like
It releases a bad smell when turned on for the first week or so.
---
Highlights
The original CHI flat iron delivers silky smooth hair that is frizz-free instantly. This is all due to its powerful ceramic technology and design. Its ceramic floating plates distribute heat evenly while infrared heat penetrates the hair with negative ions for impressive styling results.
Features
Flash heating up to 392F (202C)
11 feet Swivel Cord
Limited 2-Year Warranty
Dual voltage for travel convenience
What We Like
It is not heavy or clunky, and the iron glides through the hair effortlessly. Your hair is smooth and shiny afterward.
What We Didn't Like
The original CHI does not have an automatic switch, and it heats only up to 392F, so it may take several passes to get you shiny results.
---
Highlights
Hot steam technology helps DORISLIK's Professional Ceramic Tourmaline Flat iron straighten and smooth while sealing in hair moisture, leaving your hair straight, frizz-free, and nourished.
Features
Lockable plates
One minute heats up
5 Steam Vents for Conditioning
What We Like
It reaches heat up to 450F and impressively leaves your hair soft and straight.
What We Didn't Like
The control button is oddly located on the inside of the iron where the plates are. This runs the risk of you getting burned.
---
Highlights
Another steam straightener and just what your chemically treated hair needs. Its seven steam holes erupt 4.5 g of steam to help lock in moisture and soften and straighten your hair for a soft, natural, healthy hair look.
Features
Auto-temperature lock
30-second heat-up
Titanium plated Aluminum plates
5 level adjustable temperature
Removable 4D brush
What We Like
It lets you control your steam options from no steam, medium steam to full stream, and six heat settings. The plates are large too, so it allows you to work with a little more hair to get you styled straight quicker.
What We Didn't Like
This steam flat iron won't substitute hair oil instead of water.
---
Frequently asked questions
Can Flat Irons Damage Relaxed Hair?
 Yes, you've already put your hair through the chemical process of the relaxer, so it is more prone to heat damage than flat ironing hair that has not been through a chemical treatment process like a relaxer. 
Should You Use Heat Protectant on Relaxed Hair?
Yes! Putting direct heat on your hair evaporates the water molecules in the inner structure of our hair, changing its properties and allowing us to change our hair's curl pattern. Sadly, it also causes damage. A heat protectant can help lessen the damage done.
Is Titanium or Ceramic Better for Relaxed Hair?
It all depends on the hair type, rather than if the hair is relaxed. Choose a flat ceramic iron if your hair is soft, thin, and easy to straighten. A titanium straightener is the finest option for coarse, thick, and obstinate hair.
How Often Can You Straighten Relaxed Hair?
You should straighten your hair no more than once a week. 
Sources
https://www.arelaxedgal.com/2014/08/hair-damage-from-direct-heat.html
Disclaimer: This site is not intended to provide professional or medical advice. All of the content on LovedByCurls.com is for informational purposes only. All advice should be followed at your own discretion. Ingredients may change at any time so always check the product label before using. Check our full disclaimer policy here.
Dee has been following the Curly Girl Method for over four years and is our in-house Curly Girl expert. She has a keen interest in natural haircare and has tried and tested her share of CGM products. She has a photographic memory of most sulfate and silicone-free hair products available on the high street and she's always happy to recommend you her favorites.