In this article, we will look at the best shampoos for relaxed hair and a few things to consider when choosing the right one.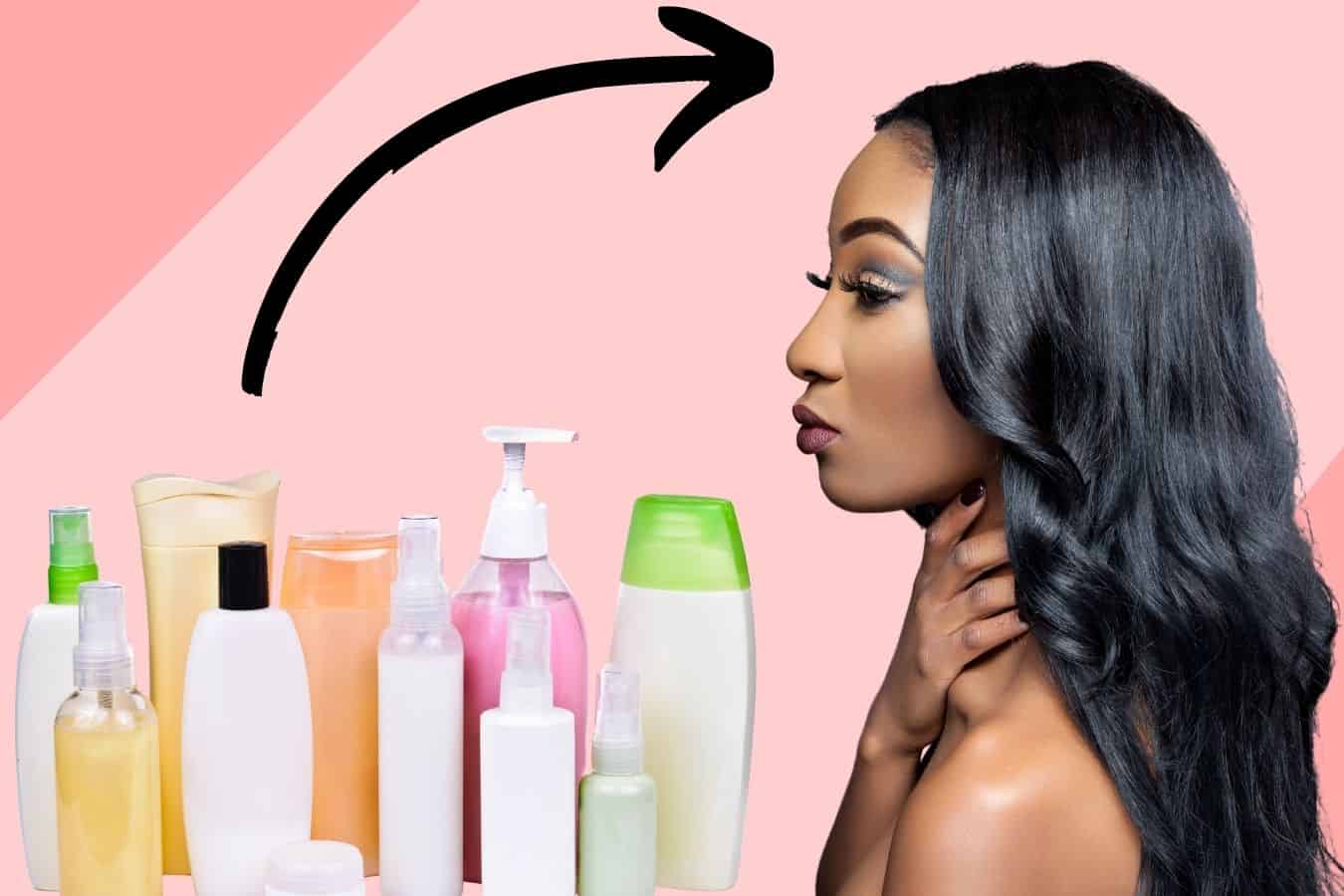 This post contains affiliate links and we may earn if you click on them (at no extra cost to you). Please read our full disclosure policy here.
In A Hurry? Our Top Picks
| Image | Title | Buy |
| --- | --- | --- |
| Top | Davines NOUNOU Shampoo | Hydrating Shampoo for Bleached, Permed, Relaxed, Damaged Hair | Buy on Amazon |
| | MIZANI Moisture Fusion Gentle Clarifying Shampoo, 16.9 Fl Oz | Buy on Amazon |
| | Redken Bonding Shampoo for Damaged Hair Repair | For All Hair Types |10.1 Fl Ounce | Buy on Amazon |
| | Pantene Pro-V Truly Relaxed Moisturizing Shampoo, 25.4 Fl Oz | Buy on Amazon |
Picking The Right Shampoo For Relaxed Hair
When it comes to picking a shampoo for relaxed hair, there are a few factors to consider.
Type Of Shampoo
When your hair is relaxed, it is important to strike the right balance between getting it clean and avoiding drying it out.
Look out for products that are specifically tailored to your needs, for example:
Chemically treated
Damaged
Dry
Try to avoid shampoos that are laden with chemicals.
Ingredients
When picking a shampoo for relaxed hair, look at the ingredients.
Relaxed hair needs to be nourished and fortified. Ingredients like keratin, jojoba, aloe vera, shea butter, and argan oil do this.
As a rule of thumb, the first three ingredients make up the largest part of the product. So make sure these provide your relaxed hair with nourishment.
Brand Exclusives
Some brands of shampoo formulated for relaxed hair have specific additional benefits.
For example, the Redken brand contains a bonding agent which is a mixture of acids that seal the ends of the hair to protect from frizz and dryness.
As hair relaxers alter the structure of the strands, there is some loss of keratin.
Shampoo for relaxed hair is often formulated with added keratin proteins so this can help repair damage to the cortex and reduce any hair loss.
Shampoos for relaxed hair can also contain biotin which increases hair's elasticity and adds bounce, both of which can be affected by the chemical procedure of relaxing.
Gentle Formula
Your hair will have undergone damage from the chemicals in the relaxing treatment. This can make it more susceptible to breakage and dryness.
For this reason, it is important to choose a shampoo with a mild formula. The shampoo should cleanse the scalp and hair but not irritate.
Avoid shampoos containing harsh surfactants such as sodium Laureth sulfate and sodium lauryl sulfate (SLS and SLES).
12 Best Shampoos For Relaxed Hair
There are lots of shampoos on the market for relaxed hair.
We have rounded up 12 for you to consider:
Nounou has created a rich formula that cleanses relaxed hair. It provides deep nourishment for hair that might be a little damaged.
Blended with Fiaschetto Tomato extract, this shampoo leaves your relaxed hair feeling soft and hydrated.
Why We Like It
Can be used on bleached, permed, or relaxed hair
---
Mizani have helped tackle the issue faced by many who get their hair relaxed: lack of moisture. A blend of argan oil, honey, and capuacu butter help to replenish lost hydration.
This shampoo is good for all textures of hair and helps keep relaxed tresses look fresh throughout the day.
Why We Like It
Leaves hair hydrated but not greasy
---
A salon favorite, Redken works to give relaxed hair a moisture boost after styling. The rich, sulfate-free formula provides robust strengthening repair and intense conditioning.
This bonding shampoo for relaxed hair pledges 56% less breakage, hair that is eleven times smoother and 82% less visible split ends. Using up-to-date hair technology helps fortify weakened hair bonds.
Why We Like It
As well as strengthening hair, it keeps hair color vibrant
---
With a blend of Pro-V nutrients and antioxidants, this shampoo from the makers at Pantene gives your relaxed hair defense against damage. Nourishing coconut oil and jojoba oil leave your locks feeling smooth, silky and soft.
Why We Like It
Good for managing frizz even in humid conditions
---
If you're tired of your relaxed hair getting knotted and tangled, then this shampoo from Avlon may be just what you need.
The hydrolyzed wheat protein in this shampoo blend prevents friction between hair fibers. This detangles hair strands, resulting in less breakage. Excess oils are removed from the scalp without stripping oils that are required for healthy hair and scalp.
Why We Like It
Reduces the number of split ends
---
Quantum Clarifying Shampoo has a dual chelating system that breaks down minerals, chlorine, and deposits of hard water. Any of which you may experience if you are a regular swimmer or live in an area of hard water.
By removing this build-up, follicles are free to breathe. Hair is nourished and repaired with a blend of polyquaternium-10, sweet almond oil, and vegetable protein.
Why We Like It
Pocket-friendly at an affordable price
---
From Paul Mitchell comes Tea Tree, the brand's natural plant-based line. Relaxed hair needs a shampoo to tackle all of the scalp's residual grime, which this product accomplishes.
It offers protection against dandruff and has reparative properties to help heal hair that has been damaged through the relaxing process.
Tea tree oil, peppermint, and lavender combine to soothe the scalp and leave hair lustrous and full of vitality.
Why We Like It
Peppermint-infused tingling sensation- very refreshing first thing in the morning!
---
Morrocanoil Clarifying Shampoo combats product build-up that can leave your relaxed hair looking lifeless and dull.
A high-performance formula, it is enriched with keratin and infused with lavender, chamomile, and jojoba plant extract.
Your hair will be left shiny and weightless, like avocado oil and argan oil work to restore hair health.
Why We Like It
Paraben-free, phosphate-free and sulfate-free
---
Created in a Brooklyn kitchen in 1993, Carol's Daughter Luscious Moisture Shampoo is a thoroughly hydrating shampoo for relaxed hair, thanks to aloe vera.
Sweet clover and rose extract give dull hair an injection of shine. This shampoo cleanses and replenishes relaxed hair, leaving it soft and manageable.
Why We Like It
Contains no harsh sulfates
---
In this botanical blend from PHYTO, you will find ingredients that are environmentally kind, yet effective on relaxed hair. Formulated for anyone with dry hair and a dehydrated scalp, this shampoo will nurture and hydrate stressed-out strands.
A blend of mallow flowers, jojoba milk, and pea proteins work to restore elasticity, leaving relaxed hair supple and smooth
Why We Like It
PHYTO boasts the highest content of pure plant extracts in today's beauty market.
---
If your relaxed hair needs some TLC, then SheaMoisture promises to deliver. This sulfate-free formula gently cleanses while replenishing moisture to damaged hair.
Manuka honey, mafura oil, and fig extract complement each other to provide your relaxed hair with the hydrating pampering it needs. It also helps protect hair from damaging environmental influences.
Why We Like It
Formulated with Fair Trade shea butter
---
This shampoo blend from PURA D'OR promotes a clean scalp for stronger, healthier hair growth. It soothes any itching in the scalp with a winning combination of peppermint, tea tree oil, and lavender oils.
At the same time, it works to gently remove grime and build-up, leaving you with relaxed hair that is squeaky clean.
This Scalp Therapy Shampoo can also help combat any frizz you have been battling, improving the overall texture of your hair.
Why We Like It
Contains argan oil for deep hydration
---
Frequently Asked Questions
How Often To Shampoo Relaxed Hair?
Try to limit washing relaxed hair to twice a week.
It is more prone to dryness and frizz so needs a little 'breathing space'. This will allow the natural oils in your scalp some time to do their job of nourishing.
Focus on replenishing the hair with plenty of moisture, especially if it has been over-processed.
However, if your scalp is very oily or if you get sweaty due to working out, then you may need to increase to three washes a week. Try to ensure you use a sulfate-free shampoo.
Should I Use A Clarifying Shampoo On Relaxed Hair?
Clarifying shampoos work great for relaxed hair that needs a really deep clean.
It is gentle but will get rid of any sebum build-up or product build-up after days of not washing.
How Long After Relaxing Hair Should You Wash It?
You can wash your hair the day immediately after you get your hair relaxed. Relaxers cannot be rinsed out with water so it should be safe to do so.
However, it is recommended that you wait at least a week to let the texture of the hair set in.
Furthermore, relaxed hair is weak as a result of the chemicals used. Getting it wet, will weaken it further and may make it more susceptible to damage.
So, if you are searching for the best shampoo to make the most of relaxed hair while giving it everything it needs, you have plenty to choose from.
Disclaimer: This site is not intended to provide professional or medical advice. All of the content on LovedByCurls.com is for informational purposes only. All advice should be followed at your own discretion. Ingredients may change at any time so always check the product label before using. Check our full disclaimer policy here.