Why use a heat protectant with 4C hair? Well, if you've worked hard to get your natural hair looking its best, why would you want to sacrifice your hours of care with one bad blow-dry?
That's why we've picked the 9 best heat protectants for 4C hair, to ensure that your curls stay as happy and healthy as possible whilst you can keep using styling tools as you'd like.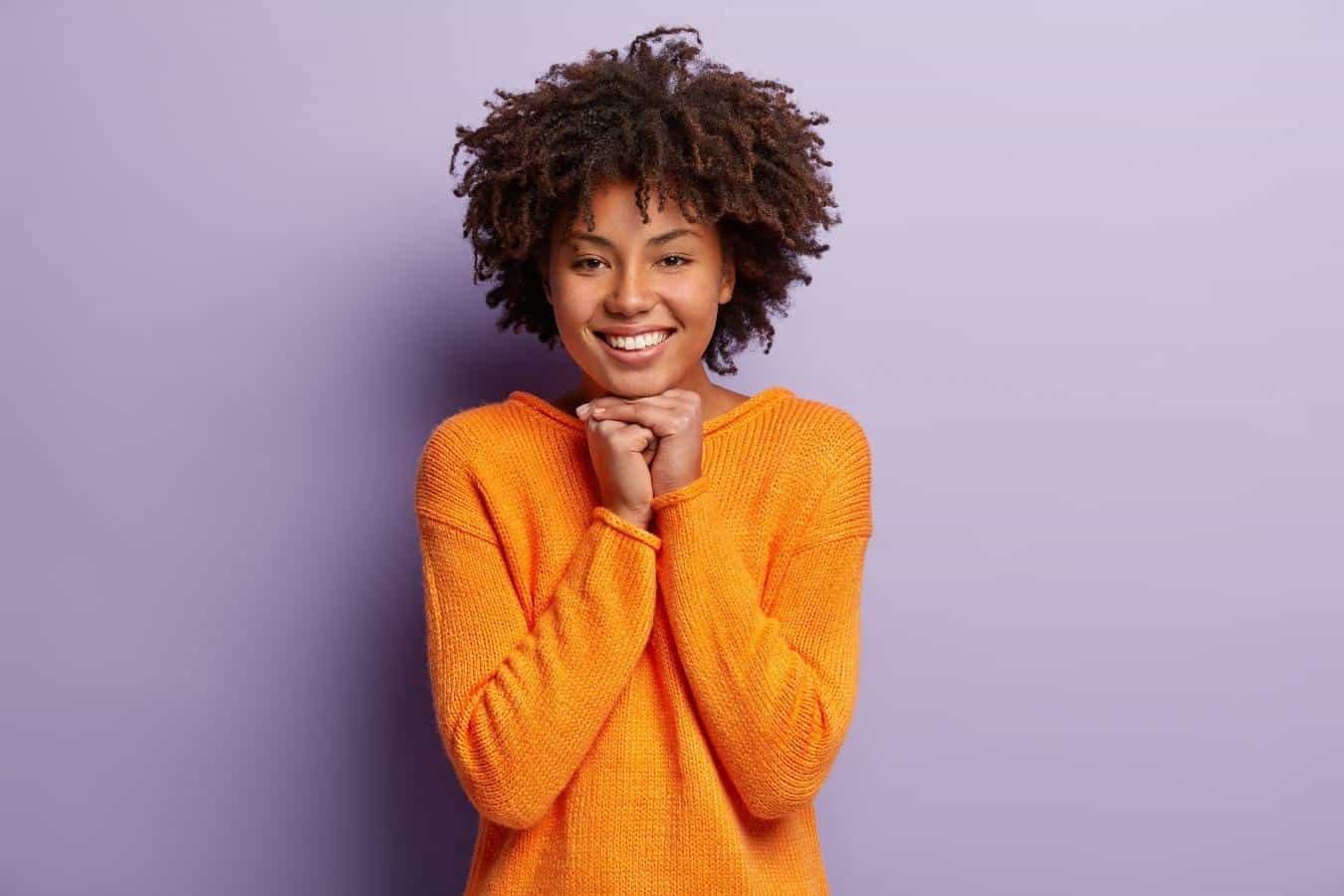 This post contains affiliate links and we may earn if you click on them (at no extra cost to you). Please read our full disclosure policy here.
Our Top 5 Picks
4. BEST FOR LAYERING PRODUCTS
Importance of Heat Protectants For 4C Hair
Your hair needs nourishment and care – whether it's relaxed, natural, or color-treated. Keeping 4C hair looking its best can take some work, which is why using a hair protectant is so recommended.
Heat protectants are designed to minimize the impact of styling tools like curling irons and blow dryers on your hair.
Heat inevitably causes some damage, and if used in excess, can cause hair to frizz badly and even break.
As curly hair is even more prone to lack of moisture and split ends if uncared for, using the best heat protectant possible is even more important.
For 4C hair, this is even more important, as the tight, kinky coils mean that natural oils from your scalp struggle to travel down each hair strand.
That's why using the best heat protectant possible for 4C hair is so important.
Remember that it's best to keep your styling tool to heat levels lower than 450 degrees Fahrenheit – any higher, and no matter how good your heat protectant is, your hair is still likely to experience some damage.
The 9 Best Heat Protectants For 4C Hair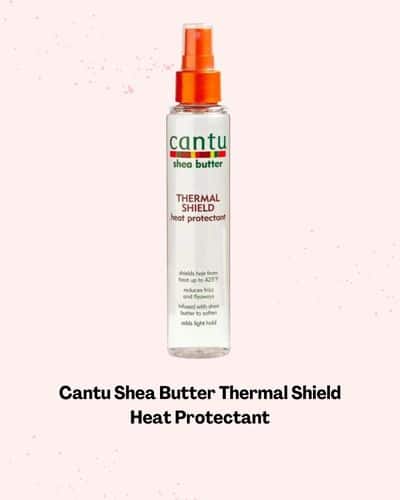 This thermal heat protectant is the one we best rate for 4C hair, as it's specifically designed for girls with curls. It's infused with shea butter to add nourishment to your locks and seal in moisture.
It's also nonsticky but will keep your hair looking beautifully shiny nonetheless. Minimize frizziness and ensure smoothness with this heat protectant, which will protect against heat up to 425F.
Ideal for use with both hairdryers and tools like curling irons or straighteners. Simply spray onto your hair when damp and away you go.
Pros:
Lightweight, non-sticky formula
Specifically designed for girls with curls
Shea butter is intensely moisturizing
Cons:
This is such a popular formula that it can frequently be sold out – so it's best to stock up on supplies whilst you can!
---
Protect your hair from the worst effects of heat with this spray, which will eliminate any frizz without weighing your hair down.
Apply to clean, wet hair after shampooing, and use a wide-toothed comb to gently work it through your curls before using any tools with heat.
The ingredients are all-natural too, which we love, and include almond, argan, and mongongo oil to add extra hydration.
Pros:
All-natural ingredients with no chemical nasties
Lightweight and silky-smooth formula
Smells delicious
Cons:
Some women reported that it made their hair feel a little rough at times
---
Designed for natural hair, this formula will work to minimize breakage and protect against heat damage for 4C hair.
Blended with black castor oil, this product creates a barrier between your strands and the heat tool you're using, thereby minimizing their impact.
The castor oil is deeply nourishing and combines with shea butter to intensely hydrate hair.
It's also not tested on animals and has been refined over generations, as SheaMoisture is a family-owned company who work hard to consistently improve their products.
Pros:
The formula is not tested on animals
Shea butter and black castor oil are intensely hydrating
Doubles up as an anti-breakage spray
Cons:
The formula is maybe slightly sticky
---
This heat protectant serum frequently ranks amongst the best for 4C hair, and we can see why.
It's lightweight but deeply nourishing thanks to the shea butter in the formula, and anti-breakage ceramide technology helps to create that essential barrier that safeguards hair against heat damage.
Apply to cleansed and conditioned 4C hair prior to blow-drying – or whatever heat tool you plan to use – and away you go.
Pros:
Designed with 4C and curly hair in mind
Anti-breakage ceramic technology protects hair against heat damage
The creamy consistency makes this a great serum to layer under other styling products
Cons:
The scent is strong, so avoid if you're averse to highly perfumed products
---
Honestly, it's hard to go wrong with a Moroccanoil product, and this heat protectant is one of the best for 4C hair.
The spray is lightweight, blending seamlessly into your strands without any residue, and the formula is enriched with argan oil for extra moisture.
It will protect against heat up to 450F, so should work with most heat tools. Just remember to use it on either damp or dry hair – not sopping wet. Simply mist and comb through before using your designed styling tool.
Pros:
The scent is a deliciously amber, musky smell
Works on dry and damp hair
Spray makes for easy application
Cons:
You don't get much product for your money
---
Guard against the worst damage of heat with this sulfate-free heat protectant. It'll protect against heats of up to 450F whilst detangling and hydrating your hair thanks to the antioxidant-rich argan oil with which the formula is infused.
The spray goes onto your strands like a weightless mist, and the formula is both color-safe and never tested on animals.
Pros:
A color-safe formula
Argan oil nourishes and hydrates hair
No sulfates, parabens, or pthalates
Cons:
Among the more expensive heat protectants.
---
If a heat protectant for 4C hair that's creamier in the formula is your thing, then this product is for you.
It reduces hair breakage by up to 85% thanks to the rosehip, argan, and coconut oil with which the product is infused.
There are no sulfates, silicones, parabens, or phthalates in here, and you'll get intense shine and fortifies hair strands.
Pros:
The smell is delicious
A creamy formula is great for all hair types and will minimize frizz
Vegan and cruelty-free with minimal chemical nasties
Cons:
Not a budget option
---
This weightless formula is a classic, helping hair to stay silky and shiny without breaking your bank.
There are positively charged, hydrolyzed silk molecules in the formula to seal the cuticle and get your hair as sleek as possible, and the formula glides onto strands easily.
Pros:
Lightweight formula that seals in moisture
Hydrolyzed silk keeps your hair cuticles happy and healthy
A good budget option
Cons:
The smell is definitely strong, and not to some peoples' liking.
---
Protect hair up to 450F with this heat protectant. Coconut and argan oil nourish and moisturize, helping your hair stay as shiny and sleek as possible.
The formula is sulfate, paraben, and dye-free, and has a subtle but delicious scent. Shake up well and then spray liberally onto your strands before use.
Pros:
A delicious scent
Minimal chemical nasties
Coconut and argan oil are hydrating and nourishing
Cons:
You need to use a fair amount of product to ensure your hair is as protected as possible.
---
Frequently Asked Questions
What To Look For In Heat Protectants
A good heat protectant will create a barrier between your hair and the source of heat. Heat protectants can come in different forms, as either sprays, serums, or creams.
Depending on how well your hair responds to different levels of moisture, you may need to test out different heat protectants for 4C hair, in order to ensure you're using the best product possible for your unique tresses.
These are the main qualities to look out for in a heat protectant for 4C hair:
High Heat Protection
It goes without saying that for 4C hair, you need the highest heat protection possible. That way, you're keeping the moisture that you've worked hard to lock into hair, and don't have to worry about breakages.
Conditioning Ingredients
Look for ingredients that will reduce frizz and ensure maximum hydration. Shea butter and aloe vera are great, as are coconut, almond, and argan oil.
They will seal your hair cuticle and ensure that your locks stay smooth and silky for as long as possible.
Non-sticky
No one wants a head that's weighed down by dense ingredients such as gel, but you also don't want hair that's sticky to the touch either.
You want a heat protectant for 4C hair that's lightweight but full of humectants, thereby attracting moisture to your strands.
Having slippery hair that feels sleek is great, but not sticky, so we've been careful to avoid heat protectants that risk stickiness.
Should I Choose A Silicone-Free Heat Protectant?
The haircare world is constantly debating whether or not silicone is bad for your hair.
The fact of the matter is that silicones work to moisturize and coat your hair, creating a protective barrier between your strands and the heat.
If you're regularly using heat tools, having a product with silicones in is no bad thing, as they will guard against the worst heat damage.
Silicones also create that slippery feel in hair. You just need to use a clarifying shampoo regularly, so as to minimize build-up.
Can I Use Coconut Oil As Heat Protectant For 4C Hair?
Using oil on natural hair can be very beneficial.
Coconut oil is deeply moisturizing, which is why it features so frequently in haircare products. However, it can be too dense for some hair types, leading to limp, lifeless locks.
It's best to mix coconut oil with some alternatives like grapeseed oil. Be sure that these oils have a high smoke point if you do plan to use them in your hair as heat protectants.
You really want to be using a product that combines the best of natural oils with premium technology to ensure that your heat protectant is doing its job.
Can I Use Shea Butter As A Heat Protectant For 4C Hair?
Shea butter conducts heat really well, as well as being intensely moisturizing, which is why it's such a popular ingredient in so many heat protectants for 4C hair.
If the tool you're using has a really high temperature, however, it may result in the shea butter burning your hair.
You can minimize this by adding a lightweight leave-in conditioner or moisturizer to your hair before adding the shea butter, but you do need to be careful when doing so.
No one wants dry, frazzled strands as a result of mismanagement.
Disclaimer: This site is not intended to provide professional or medical advice. All of the content on LovedByCurls.com is for informational purposes only. All advice should be followed at your own discretion. Ingredients may change at any time so always check the product label before using. Check our full disclaimer policy here.
Alice is an experienced writer and researcher with a background in the Creative Arts. She is a published poet and is currently completing her Ph.D., having worked in a variety of industries, including as a theatre dramaturg.
Alice is passionate about the environment, so is always on the lookout for the best zero-waste products that are vegan and cruelty-free.