You may have noticed 'Hydrolyzed Wheat Protein' on the list of ingredients in your haircare and skincare products many times before.
It's been added to a range of products for many years due to the fact that it has abilities to strengthen the hair as well as improve hair structure.
It's often added to natural, organic products as it can be used frequently to protect the hair from damage and improve the overall health of the hair.
Let's look into what Hydrolyzed Wheat Protein actually is and the benefits it holds.
Hydrolyzed Wheat Protein is very useful for hair maintenance. It helps to keep hair hydrated, enhance curl definition, and promote hair growth. It is added into many topical products such as shampoo and conditioner but can also be consumed orally.
What is Hydrolyzed Wheat Protein
Hydrolyzed Wheat Protein gets its name due to the fact it's derived from wheat germ.
It's rich in amino acids and proteins which provides many benefits to the hair. This includes renewed strength and increased hair growth.
Wheat proteins are very useful for curly, dry, or even damaged hair because it helps to retain moisture and create more volume.
Is Hydrolyzed Wheat Protein Safe To Use?
Hydrolyzed Wheat Protein is usually safe for use in most people. It is however recommended for people with coeliac disease or a gluten sensitivity.
As it's derived from wheat germ, it can cause a reaction in individuals even when used topically, as it can get into the bloodstream and cause a bad reaction.
Even if you don't have either of these conditions, there's still a small risk of reacting to it, especially if you have sensitive skin.
It's for this reaction that you can do a patch test or simply discontinue use if you experience any kind of unusual reaction.
Also Read: 5 Important Signs There's Too Much Protein In Your Hair
Why Is Protein Essential For Curly Hair?
As you may or may not know, curls lose moisture far more than any other hair type.
Protein is needed for strength, protection, and defined curl structure.
When hair is lacking in protein, it will appear dull, limp, or stringy. Curls need lots of protein in order to retain their shape, otherwise they may fall flat or appear weighed down.
Getting the right balance of moisture and protein will result in curls that are softer, bouncier, and full of volume.
Proteins penetrate the hair cuticles to keep it hydrated, which is so important for curly hair because curls can lose hydration and moisture very quickly.
While straight and very fine hair may not require much protein, curls greatly benefit from regular protein treatments.
What Type Of Products Contain Hydrolyzed Wheat Protein?
Hydrolyzed Wheat Protein is added to a range of hair products, particularly products targeted at curly hair.
However, that's not all it's used for. This ingredient is used in all kinds of beauty products as a way of nourishing and moisturizing the skin.
It's usually considered a safe ingredient in products as it doesn't usually cause adverse reactions.
Here are some of the products that would expect to find this ingredient in:
– Shampoo
– Conditioner
– Hair supplements
– Shower gel
– Anti-aging cream
– Styling cream
– Leave-in cream
– Concealer
– Lip gloss
– Face powders
Benefits Of Using Hair Products With Hydrolyzed Wheat Protein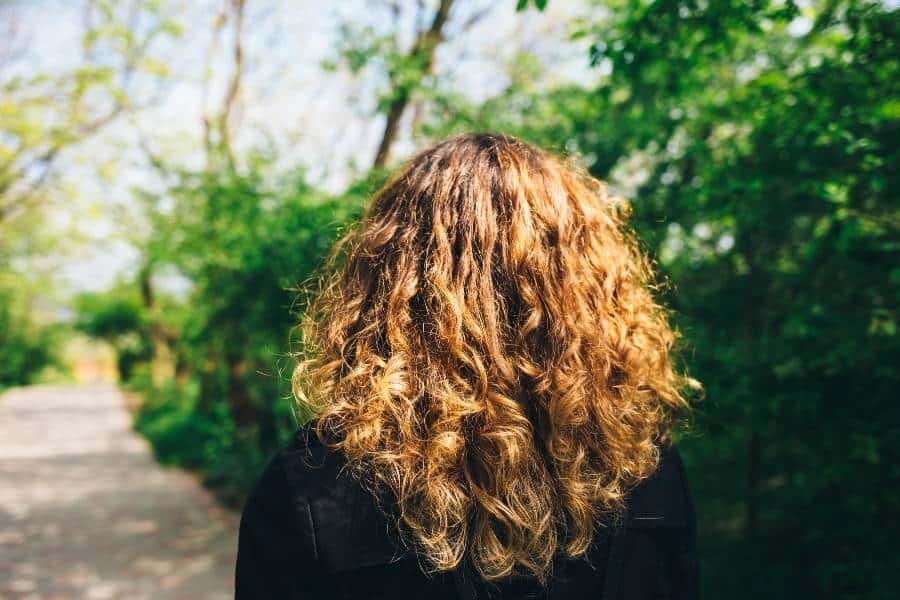 There are many benefits to using products containing Hydrolyzed Wheat Protein. These are:
Retains Moisture
It's important that hair retains moisture in order to be healthy and protect it from damage.
Curly hair needs a good balance of moisture and protein, and Hydrolyzed Wheat Protein works by penetrating the cortex of the hair strands, and keeping moisture locked in.
Also Read: Is Sparkling Water Good For Your Scalp? (Solved)
Prevents breakage
Hydrolyzed Wheat Protein improves the elasticity of the hair, which is very important at preventing breakage and brittle ends.
If you have low elasticity you may experience strands that break off easily and hair that is difficult to style or shape.
This is simply because the hair is lacking hydration, therefore, it becomes weakened and susceptible to damage.
Over time, this can lead to recurring split ends and even hair loss. Hydrolyzed Wheat Protein hydrates the hair, which in turn, prevents it from splitting.
Repairs damaged hair
Hair that has become weakened and damaged can be due to a lack of protein or an imbalance of protein and moisture.
Hydrolyzed Wheat Protein is the most recommended treatment for dry, damaged hair that lacks moisture because it is a protein itself and it can restore damaged hair follicles.
Anyone who has damaged hair due to regular chemical treatments or heat styling would greatly benefit from using a product with Hydrolyzed Wheat Protein.
Increases volume
The more conditioned and hydrated the hair is, the more you will experience increased volume and body.
Hydrolyzed Wheat Protein attracts moisture and keeps it locked in, which is what gives the hair its volume.
Those with thinning hair or those simply looking to enhance their natural curl pattern would benefit from using a product with this ingredient in it.
Aids in manageability
Hair that is dry, damaged, and lacking moisture is usually harder to style.
It may become tangled and frizzy, making it extremely vulnerable to any kind of styling.
Hydrolyzed Wheat Protein helps by smoothing the hair cuticles and conditioning dry and brittle hair so it is softer and more manageable.
Also Read: 5 Ways Ashwagandha Can Help With Hair Loss
Other Types of Hydrolyzed Protein
Hydrolyzed Silk Protein
Hydrolyzed silk protein replenishes the hair with cysteine, which is an amino acid that is essential for hair health. It's known for its moisturizing benefits and improving the elasticity of the hair, resulting in less breakage.
Hydrolyzed Soy Protein
Obtained from soy, this protein is responsible for strengthening the hair fiber and adding shine and moisture to the hair strands.
As it's highly conditioning it can result in fewer flakes and less risk of scalp irritation.
Hydrolyzed Keratin Protein
Hydrolyzed milk protein is a large protein molecule that can treat chemically and heat-damaged hair by providing renewed strength to the hair strands.
Creating a protective layer around the hair, this protein results in shinier, healthy-looking hair that is more manageable.
---
Disclaimer: This site is not intended to provide professional or medical advice. All of the content on LovedByCurls.com is for informational purposes only. All advice should be followed at your own discretion. Ingredients may change at any time so always check the product label before using. Check our full disclaimer policy here.
Coralle is an experienced beauty writer with a passion for wellness, women's health, and sustainability.