If you've made a mistake with your toner and are not happy with the color result, we've compiled some tips on how to wash toner out of your hair faster.
To wash toner out of your hair faster, try using a clarifying shampoo or anti-dandruff shampoo. These should make the color fade from your hair faster than your usual shampoo. If this isn't doing the trick, you could try washing your hair with baking soda, dish soap, or leave lemon juice in your hair overnight.
What Is Toner?
A toner is a tint or a 'topcoat' that you can put on your hair after dying or bleaching the hair. It works to minimize or enhance certain tones in the hair.
For example, if you have bleached your hair, you can buy toner to minimize the brassy, yellow hues in the hair that are exposed after bleaching, leaving you with a cooler, platinum shade of blonde.
If you've dyed your hair red and the color is starting to fade, you can refresh your fiery hue with a red-tinted toner.
Toner is a stain, rather than a permanent dye. It does not penetrate the hair shaft.
Unlike permanent hair dye, it washes out. Toners usually wash out after a month or so, and they come in several different types.
For example, toners can come as gels, glosses, and demi-permanent colors. Tinted shampoos and conditioners can also be classed as toners as they subtly alter the shade of your hair, rather than drastically change it.
Toner adds a subtle change to your existing color and usually needs to be applied to dyed or bleached hair.
Depending on the type of toner you use, it may wash out after just a few washes or may last a few weeks.
What If Toner Ruins My Hair Color?
Hair color disasters are not that common with toners, as they are gentler than hair dyes.
However, sometimes they may give an unpleasant color result, giving your hair an unwanted tint.
For example, purple shampoos to neutralize brassiness in bleached hair can tint the hair purple if left on for too long. Some toners may even tint the hair green!
If you're not happy with your toner or made a mistake with it, all is not lost. Fortunately, toner will wash out over time.
How long it takes will depend on the type of toner you use – some will fade in a few washes, some will last for a month or so.
Washing your hair more frequently will get the color to fade faster. But there are certain techniques you can try to wash the color out even faster still.
You can wash your hair with a clarifying or dandruff shampoo to make the color fade faster.
You can also use homemade treatments including ingredients such as dish soap, baking soda, and lemon juice to get toner out of your hair.
Read on to find out more about these different techniques.
Also Read: Blue Or Purple Shampoo For Gray Hair? Which Is Best?
How To Wash Toner Out Of Hair (6 Easy Ways)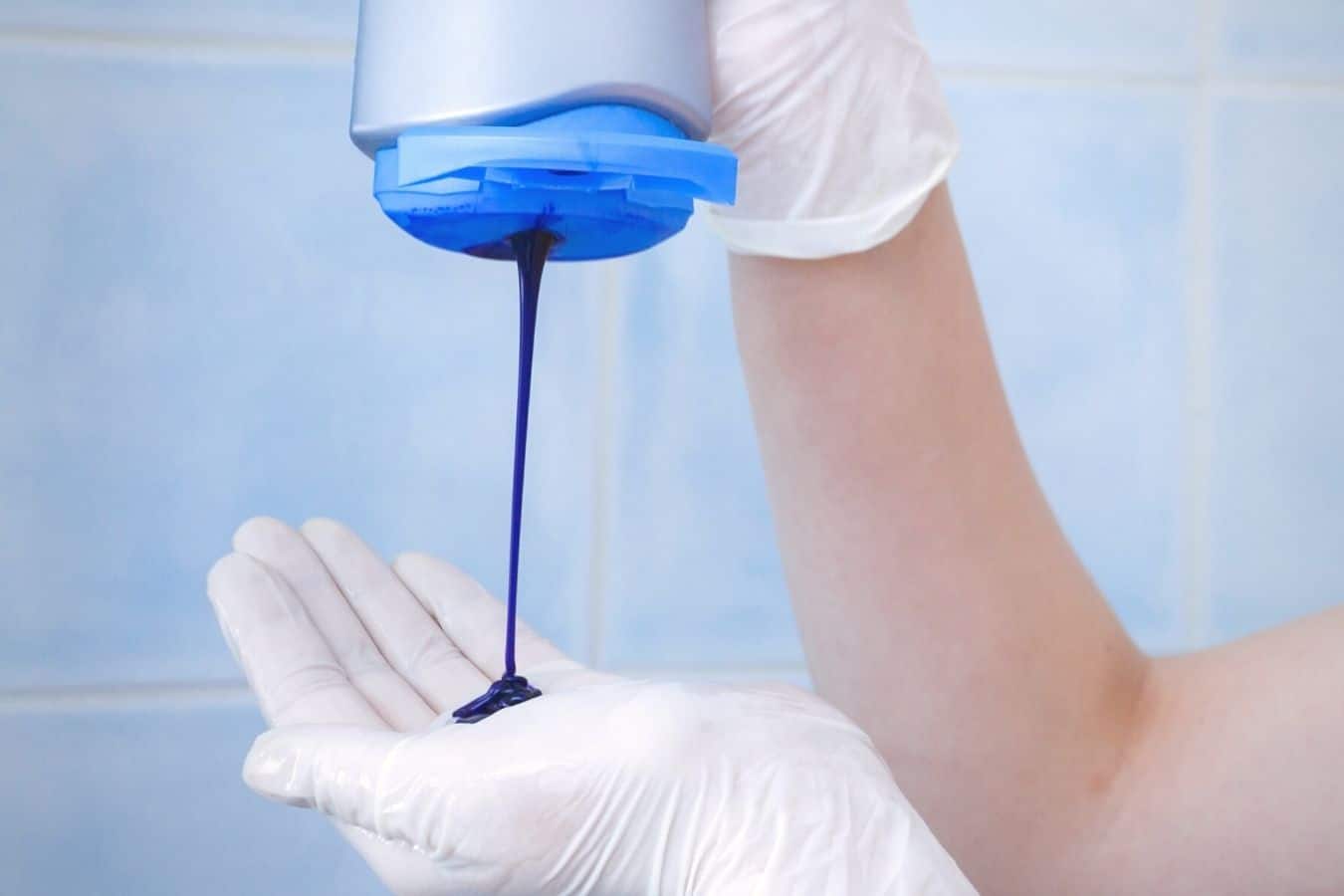 1. Clarifying Shampoo
Using clarifying shampoo is one of the simplest methods when it comes to washing toner out of hair. It is one of the gentlest methods on this list and is a great place to start.
Usually, clarifying shampoo is designed to remove excess oils and product build-up from the hair. But it is also a good way to gently remove unwanted colors.
However, it probably won't remove all the toner from your hair in one go. Instead, it will help it to fade faster over time.
Overuse of clarifying shampoo can dry out the hair, so it's best not to use it more than twice a week, and it's a good idea to use a deep conditioning mask afterward.
2. Mix Baking Soda With Shampoo
You can boost the toner-fading effects of your clarifying shampoo, or even just your regular shampoo, by adding some baking soda to it.
Be warned though, that this method is damaging for your hair, so you'll need to follow up with a deep conditioning treatment afterward.
Simply add half a teaspoon to a teaspoon of baking soda to a dollop of shampoo and mix together.
Then shampoo your hair as normal. Make sure to rinse your hair thoroughly to get all of the baking soda out.
3. Use Anti-Dandruff Shampoo
Washing your hair with anti-dandruff shampoo is another simple and relatively gentle way to wash the toner out of your hair faster.
The reason why is it works in a similar way to clarifying shampoo, working to break down excess oils on the scalp.
It provides a deeper cleansing than most shampoos and therefore helps to fade color in the hair too.
Again, this will work over time, so it won't remove the toner instantly, but help it to fade faster.
Anti-dandruff shampoos can be high in sulfates which strip moisture from the hair, so be sure to follow up with a good conditioning treatment.
4. Dish Soap
Dish soap can be another effective way of helping hair toner to fade faster. It is designed to break down grease, so will help your hair release the unwanted color faster.
Of course, dish soap is not designed to be used on hair, so it can be very drying for the hair.
For this reason, it's best to use it no more than twice a week, and always follow up with a deep conditioner.
5. Lemon Juice
Lemon juice can be an effective way of fading out unwanted color from hair. Because it is highly acidic, however, it can be very drying for the hair.
It's best to mix the lemon juice with some conditioner to negate the drying effects.
You may also have to repeat this process a few times, spaced a few days apart, in order to remove all the toner from your hair.
For best results, you should first perform this method within 24 hours of toning your hair. Fresh-squeezed lemons are best, but you can also use pre-packaged lemon juice in a pinch.
To use the lemon juice method:
Juice some lemons. For short to medium length hair, you'll need about 3 lemons. For long hair, you'll probably need about 6.

Mix the lemon juice with conditioner. You'll need 3 parts lemon juice to 1 part conditioner.

Apply the mixture to your hair from root to tip. Make sure all the hair is completely saturated, then cover your hair with plastic wrap or a plastic bag.

Leave the mixture on your hair for a minimum of 3 hours, but overnight is even better. The acid in the lemon juice will slowly strip the color from your hair. You can add heat to the process if you wish, such as sitting in the sun, or using a hair dryer or hooded dryer. This will help the lemon juice to work faster.

In the morning, or after 3 hours, shampoo and deep condition your hair.
6. Lemon Juice and Dish Soap
Using a mixture of lemon juice and dish soap is known as 'chelating'.
It is a process designed to remove grease and product buildup from the hair and is normally done before dying the hair. However, it can also be used as a method to fade toner from the hair.
Again, this method is very drying for the hair, so be sure to give your hair some TLC afterward.
To follow the chelating method:
Wash your hair with a tiny bit of dish soap, and rinse out.
Squeeze a lemon directly onto your head, and work the juice through the lengths of your hair.
Leave the lemon juice in for at least a minute to a few minutes.
Rinse the lemon juice out of the hair.
Follow up with deep conditioner, as chelating is very drying for the hair.
Also Read: Can I Use Purple Shampoo On Dry Hair? (Helpful Tips)
Can You Leave Toner In Your Hair Without Washing?
This is a personal choice. Since toner produces a much subtler color result than dye, you're unlikely to get any major color disasters after using it.
Depending on the type of toner you've used, it will naturally wash out after a few washes or a few weeks anyway.
If the toner has produced a tint in your hair you're not happy with, you can follow one of the above procedures to remove the unwanted color from your hair faster.
Be aware, however, that all of the above methods will damage your hair to some extent, so it's important to give your hair extra care afterward.
It's probably best to begin with a gentler method such as using a clarifying or dandruff shampoo and take it from there.
Alternatively, to get the toner to fade out faster, you could wash your hair with your regular shampoo more frequently than you normally do.
Since this extra washing will be a strain on your hair, remember to frequently use deep conditioning treatments so your hair can replenish lost nutrients.
If the color of the toner isn't bothering you too much, it's best just to let it fade naturally, as this is easier on your hair.
And finally, any major color disasters are best addressed by visiting a salon, to negate the risk of further damage.
What Should You Do After Removing Toner From Your Hair?
If you decided to follow one of the methods for washing toner out of the hair, you'll probably notice that your hair feels at least a little drier than usual.
All of these methods cause damage to the hair, especially those that involve the use of baking soda, dish soap, or lemon juice, as these are not products that are usually used on the hair.
To get the most benefit from using these methods, you'll need to commit to a good hair care regime that restores the health of your hair and gives it a chance to recover.
Here are some tips to follow to help restore your hair's health:
Use A Deep Conditioning Treatment
Using a deep conditioning treatment is the important first step. You can easily buy a deep conditioning treatment from a store or salon. These will restore lost moisture and nutrients to the hair.
They are usually left on the hair for a few minutes to an hour. For extra benefit, put on a shower cap or plastic wrap over your head so that the heat from your scalp can help the hair mask penetrate the hair.
Use Oils
There are various types of oils that are good for dry hair and scalp. These include:
Coconut oil
Olive oil
Avocado oil
Almond oil
Argan oil
Each of these can be used as a mask, left on for 10 minutes, and then rinsed out. They can also be applied as leave-in treatments.
Coconut oil also makes an ideal overnight hair mask treatment.
Avoid Dying Your Hair For A While
If you can, try to avoid dying your hair for a while. Dying your hair when it is dry and damaged will only dry it out further and even cause your hair to break.
Try to avoid coloring your hair for 6 to 8 weeks to allow it time to recover.
Disclaimer: This site is not intended to provide professional or medical advice. All of the content on LovedByCurls.com is for informational purposes only. All advice should be followed at your own discretion. Ingredients may change at any time so always check the product label before using. Check our full disclaimer policy here.