What happens when you mix conditioner with hair dye and is it actually a good idea? In this article, I explain everything you need to know as well as some pitfalls to watch out for.
This post contains affiliate links and we may earn if you click on them (at no extra cost to you). Please read our full disclosure policy here.
What Happens If You Mix Conditioner with Hair Dye?
I reached out to Natalie Palomino, Master Hairstylist and the owner of North Authentic Haircare who says:
'Mixing conditioner with hair dye is only recommended when dying your hair with a semi-permanent color; adding it with permanent colors will make the dye take on an uneven, mottled appearance'. 
Mixing conditioner with hair dye is only recommended when coloring with direct dye, like blue, red, magenta, etc, to dilute the pigment when you don't want the color to deposit as vibrant as what you see in the bowl.
You should never mix conditioner with permanent colors as not only will it change the consistency, but it will inhibit the ability of the color to work.
It could interfere with the developer and cause uneven distribution or not deposit as it should (i.e. grey hair is not covered, contributing controlling pigment is not deposited leaving hair overly warm, etc).
Always use hair dye as directed by the manufacturer, especially when you are coloring at home.
Why Mix Hair Dye with Conditioner?
Palomino argues that you should never mix anything with permanent hair dye that isn't recommended in the directions.
First, ask yourself why you want to mix conditioner with hair dye in the first place.
If you are concerned about the porosity or health of your hair and therefore worried about uneven distribution, then do a weekly strengthening treatment and moisture mask.
Doing both of these will improve your hair's health and porosity to allow for even distribution.
Contrary to belief, diluting hair dye with conditioner therefore won't combat hair damage as a result of exposure to UV rays.
Again, the only time to add conditioner to a hair dye is when you are using a direct dye product (i.e. the color does not require developer).
These tend to be fashion colors, so the conditioner is only used to soften the color or dilute the pigment.
For example, you only have a deep vibrant blue direct dye and you want it to look more baby blue. Otherwise, only mix as directed by the manufacturer.
Does Conditioner Dilute Hair Dye?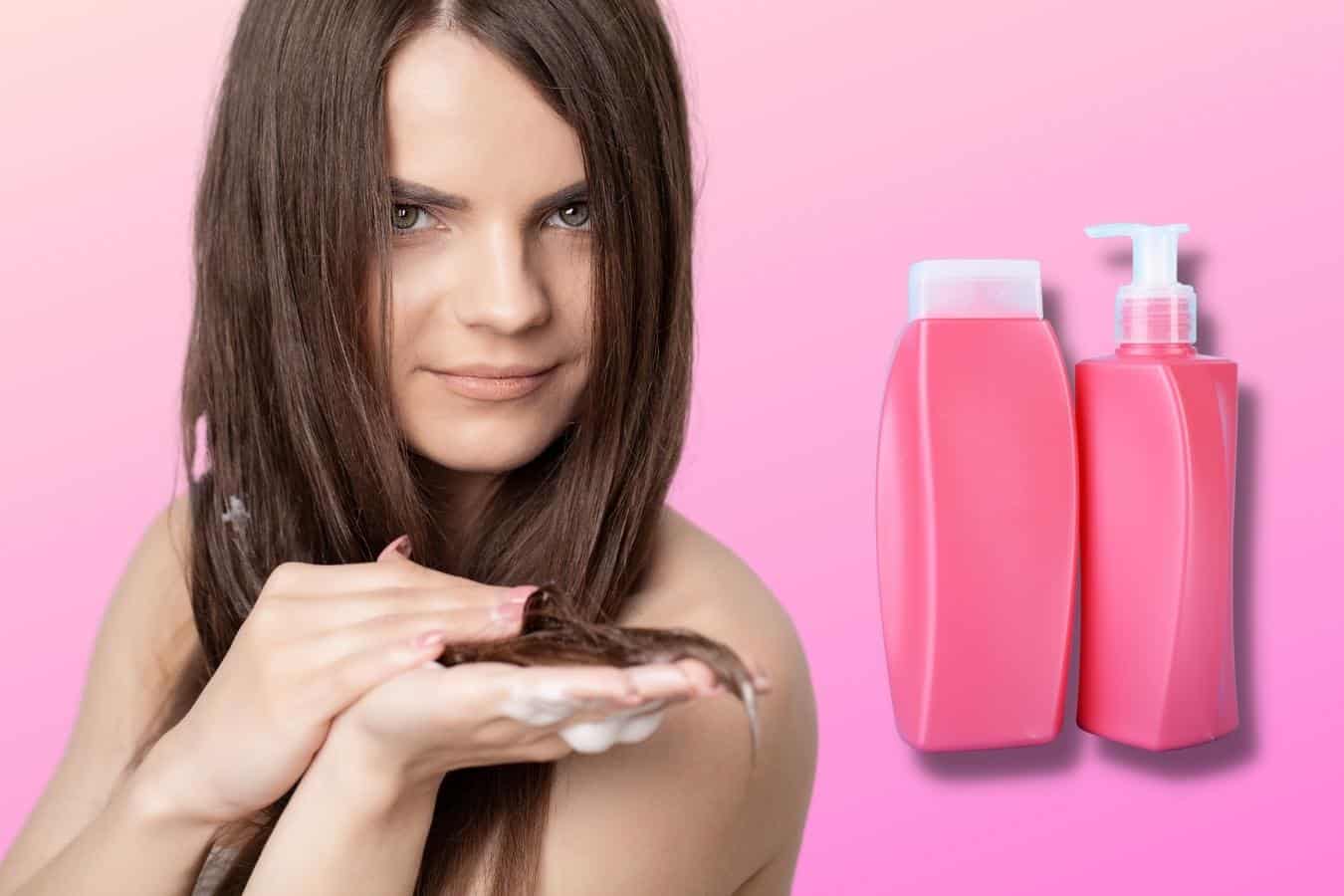 The combination of adding conditioner and hair dye together has been known to cause dilution in the final hair color result.
Hair dyes can also be diluted in a number of other ways.
For example, adding shampoo or even hair oil to your hair dye formula may result in impacting the overall shade.
Water can also be used to dilute the final color transformation and even mixing colors can help produce a softer shade.
The final result is always going to be a somewhat muted tone and unless you're using vibrant fantasy colors, you may just end up with an uneven application.
However, some commercial hair dye manufacturers have created formulas that won't necessarily be affected by the use of conditioners or any other hair products.
If you're looking for a more subtle color, try henna hair dye.
When should you use conditioner in the hair coloring process?
Gina Rivera, celebrity stylist and founder of Phenix Salon Suites says:
'Always condition the hair prior to the chemical process because you want the hair in the best condition possible when coloring it.
Make sure you're on a good regimen of conditioning with a professional wet line recommended by your stylist. This will ensure your hair is in the best shape possible and will increase the longevity of the color as well as even out the porosity of the hair.
It's never advised to condition the hair during the process of coloring and toning. Always tone the hair first and condition afterwards'.
Gina also recommends using a bonding cream such as Olaplex when lightening the hair as it can contribute to maintaining the integrity and strength of the hair during the lightening process.
Choosing the right conditioner
If you have decided to mix your semi-permanent hair dye with conditioner, there are two important things to consider to avoid staining and uneven application:
1. The ingredients
Choose a conditioner that is either white or clear in color so as to not interfere with the color of the dye. It is also important that your conditioner is free from the following:
Sulfate
Parabens
Silicones
Drying alcohols
Synthetic fragrance and color
Any of these ingredients are harmful chemicals that can interfere with the dyeing process and cause damage, uneven color tone, or even a faster fade. To get the best results, use a conditioner that is gentle on your scalp and hair.
Any of the following conditioners would work well:
2. Mix The Right Ratio
When applying conditioner with hair dye, it is recommended that you follow a 1:3 ratio. This means that you will need to use three parts of conditioner to one part of hair dye for the best effect.
How to mix conditioner with hair dye
It's fairly straightforward to dye your hair using both conditioner and a semi-permanent hair color – just follow these easy steps:
Step 1. Mix the dye
Make sure you have the following at hand:
A plastic bowl or plastic container
Conditioner
Dye
Gloves
Applicator brush or comb
Instructions
Put on your gloves
Add three parts conditioner to one part dye in the plastic bowl
Give it all a good mix
Step 2. Apply the dye
Brush your hair and divide into sections
Use a towel or plastic cover to protect your clothes
Mix through the conditioner and dye one last time using the applicator brush
Apply the mixture as you normally would, starting with your roots
Let sit for the recommended time on the box.
Step 3. Rinse hair
Once the time is up, rinse your hair thoroughly
If needed, tone your hair
Apply conditioner to soften and smooth out your hair
After you have dried your hair, refrain from washing your hair for the next 24 hours to allow the product to be fully absorbed.
This will help to create long-lasting color for several weeks of wear. Typically, semi-permanent hair dyes last for around eight hair washes.
Can I Mix Purple Shampoo with Hair Dye?
The simple answer is yes, you can mix purple shampoo with hair dye. For those with blonde and yellow tones in their hair, purple shampoo is a great way to correct yellow/brassy tones as well as taking care of gray hair.
A bonus is that it also adds shine and radiance to your strand. Most purple shampoo formulas contain antioxidants which helps to hydrate dry hair and protect against UV damage from sun exposure.
If you're looking to mix purple shampoo with your hair dye the best ratio is a 50/50 mix.
So, in other words, you will need to add an equal amount of shampoo to the amount of hair dye formula you use.
Make sure the products are thoroughly mixed together well and apply gently to your hair.
Handy Hair Dye Tips for At-Home Coloring
prep tools and work area
If you're choosing to color your hair at home rather than at a hair salon there is no reason you can't enjoy a salon-worthy experience.
We highly recommend getting a coloring kit. This will include everything you need from a bowl and brush to a hair comb all of which can be reused several times.
Another handy tool to have is a pair of reusable gloves and a salon cape. Both are easy to wash and eco-friendly and go a long way in protecting your hands from coming into contact with the formula.
Open a window to ensure the smell of hair dye doesn't linger afterward. Also, ensure you protect your surroundings from hair dye by laying down a protective cover. Hair dye can be difficult to remove from tiles but not impossible.
Finally, always dispose of hair dye in an environmentally efficient way.
Always Do a Patch Test
If you have any history of allergies or you're worried about breaking out, make sure you test your color before making a bold change.
This will help to determine if you are allergic to the brand as well as see how the new shade works for your skin tone.
A friend of mine went from bright blonde to vibrant red hair and although it looked fantastic, she reacted very badly to the dye. She had to switch brands a few times before finding a dye that worked for her.
A helpful trick is to color a few hidden strands of hair first so that they can be styled away or hidden if you don't like the final result.
Leave Hair Down During the Application Process
For many of us twisting your hair into a bun or knot away from resting on your shoulders is a more comfortable solution while you pass the time.
We recommend leaving your hair down rather than twisting it so that you don't run the risk of uneven color or patches of light and dark shades in the final result.
Try Adding Water and A Light Massage
Surprising as it may sound, a great way to make your color look even and avoid any streaks or patches is by adding a tiny bit of water to your hair.
Once the application has been on for some time simply spritz a little water directly on to your hair and massage it around your head.
This will help to promote even color in the end result.
Never Use Metal Bowls or Clips
Did you know the developer found in many commercial hair dye boxes can have a negative reaction to metal?
This in turn could cause the formula to oxidize and may affect your overall color.
For at-home coloring, we recommend using a glass bowl or a plastic bowl and clips during the coloring process.
Use Olive Oil and Toothpaste to Remove Dye Stains
What happens if you mix conditioner with hair dye, and you end up spilling a bit of hair dye directly onto your skin? This handy tip is just for you.
Staining your forehead and neck with formula is a common mistake and one that can be easily corrected.
One of the quickest ways to remove the stain is by mixing a tablespoon of olive oil with a small amount of whitening toothpaste.
Simply combine the two products and mix gently to create a paste. Using cotton wool apply the mixture directly to the stain and it will help to gently remove it from your skin.
I hope this guide has been helpful in answering whether you can mix conditioner with hair dye. Best of luck with your new hair color.
So, What Happens If You Mix Conditioner with Hair Dye?
Mixing hair dye with conditioner will dilute the dye and create a softer tone and color when you dye your hair. Conditioner should only be mixed with semi-permanent dyes and preferably vibrant colors such as pink, purple, green, and red.
This will soften the colors and create a lighter shade. You should never mix conditioner with permanent hair color as it may change the consistency of the dye and produce an uneven result
Frequently Asked Questions (FAQs)
Can I Mix Black Hair Dye With Conditioner?
Mixing conditioner with hair dye generally works best if the dye is a vibrant color. However, it is perfectly fine to mix black hair dye with conditioner. This will cause the color to become a bit more muted rather than completely black.
Can You Mix Hair Dye With Shampoo
Mixing hair dye with shampoo may seem like a good idea in order to prolong the dye effect. However, you should be aware of the risks which can include poor coverage ande uneven application. The strong chemicals in shampoo could interfere with the dye. You should always follow the instructions on the box for the best results.
Can I Use Conditioner Instead Of Developer?
You cannot replace conditioner with a developer as the two ingredients have completely different purposes. Conditioner helps to soften and moisturize your hair while developer lifts the hair cuticles and allows for hair dye to penetrate.

Disclaimer: This site is not intended to provide professional or medical advice. All of the content on LovedByCurls.com is for informational purposes only. All advice should be followed at your own discretion. Ingredients may change at any time so always check the product label before using. Check our full disclaimer policy here.
Dee has been following the Curly Girl Method for over four years and is our in-house Curly Girl expert. She has a keen interest in natural haircare and has tried and tested her share of CGM products. She has a photographic memory of most sulfate and silicone-free hair products available on the high street and she's always happy to recommend you her favorites.