You may have read much online about the benefits of apple cider vinegar for hair. But perhaps you're wondering whether it's safe to use it on colored hair? After all, apple cider vinegar is an acidic substance, so will it strip hair color?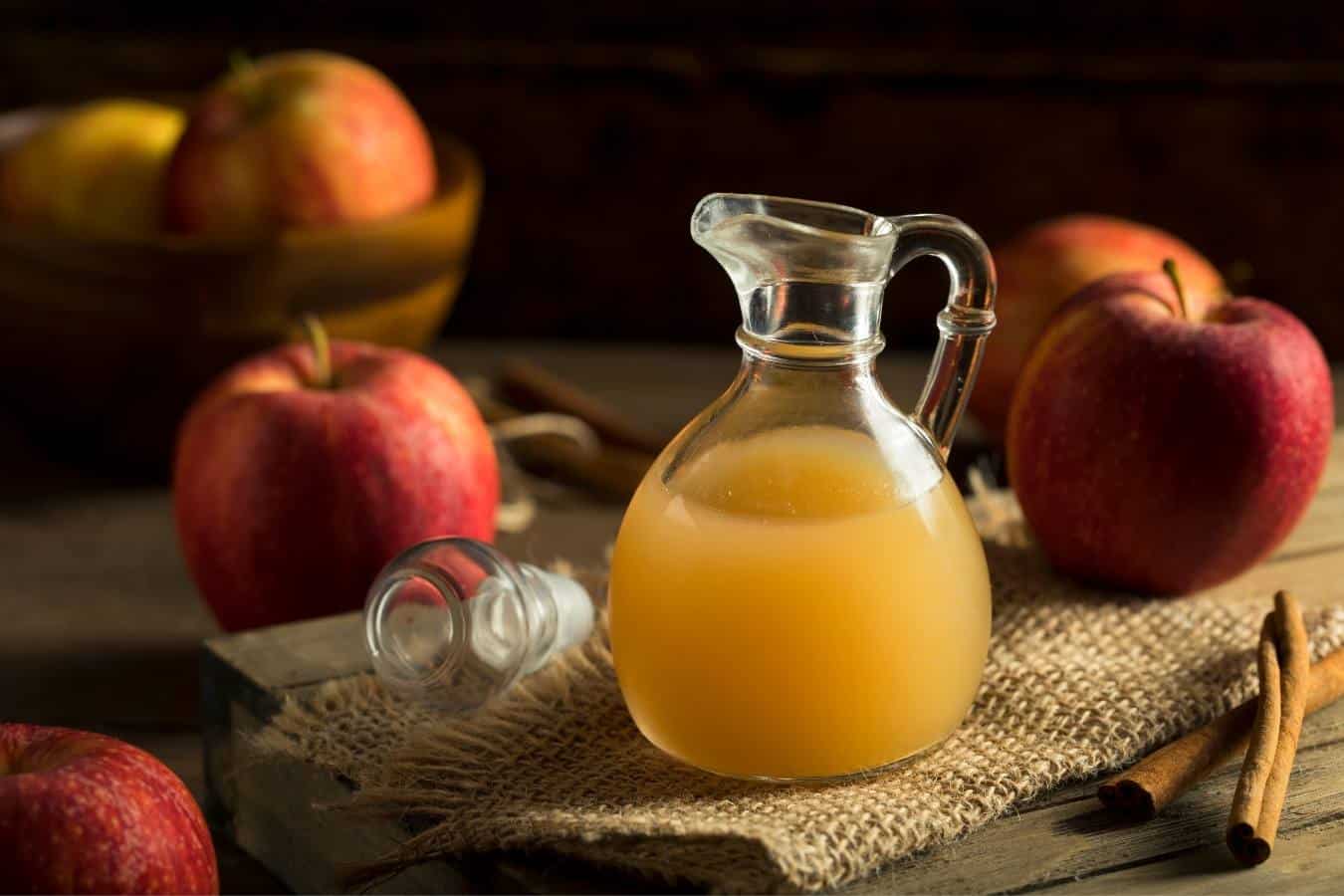 This post contains affiliate links and we may earn if you click on them (at no extra cost to you). Please read our full disclosure policy here.
Apple cider vinegar will not strip your hair color. Although it is acidic, it is only slightly so, meaning it is perfectly safe to use on colored hair. In fact, it even enhances color by smoothing down the cuticles of the hair, helping to prevent color molecules from escaping.
Benefits of Apple Cider Vinegar
Apple cider vinegar has many benefits for hair.
Due to its mildly acidic properties, it helps to balance the pH of the hair and scalp, close cuticles and has antibacterial and antifungal properties.
Here is a list of benefits that doing an apple cider vinegar rinse has for the hair:
Removes product buildup
Closes cuticles to create shine
Fends off frizz
Removes dandruff
Strengthens strands
Improves color
Detangles hair
Reduces hair loss
Incorporating an ACV rinse as part of your hair care routine can leave you with healthier, shinier hair that is less prone to buildup.
A couple of times a week should be okay for most people.
Does Apple Cider Vinegar Strip Hair Color?
Apple cider vinegar can help to slowly remove hair color, but only if the color is temporary.
In fact, apple cider vinegar can even remove black hair dye, but again, only as long as the dye is temporary. Apple cider vinegar does not strip permanent hair color.
However, ACV can actually enhance your hair color. Why is this?
Unlike clarifying shampoos, ACV can remove product build-up and excess oils without drying the scalp and hair (unless used excessively).
Clarifying shampoo is high in sulfates which do a great job of deep cleansing the hair. However, they can quickly dry out the hair and make the color fade faster.
On the other hand, apple cider vinegar can remove build-up without drying out the hair and scalp.
This makes it especially good for those with dry or curly hair, as well as those with colored hair.
An ACV rinse coats the cuticle, leaving the hair shiny and locking in color. It also adds shine and eliminates frizz.
It also acts as a chelating agent, removing metals and minerals from your hair which can dull hair color over time and leave it brassy.
If you apply an apple cider vinegar rinse right after dying your hair (after rinsing the color off), it can help to prolong the color.
This is because most hair colors are alkaline, which opens up the hair cuticle. If you apply an apple cider vinegar rinse, which is acidic, this will help to reseal the cuticle.
Can I Use ACV Before Coloring My Hair?
There is some anecdotal evidence to suggest you can use an apple cider vinegar rinse BEFORE coloring your hair.
By doing so, the theory is that you will help to counteract the effects of the chemicals in the hair dye.
If you want to use this technique, apply the rinse after shampooing the hair.
Leave to sit for a few minutes, then wash out. Do NOT follow up with a conditioner, as this will make it harder for the dye to cling to your hair strands.
Regular use of an ACV rinse as part of your routine will help ensure that your color stays bright and lasts for longer.
How To Do An Apple Cider Vinegar Rinse
The following is a general guide for how to do an apple cider vinegar rinse, but you may want to alter the strength of the rinse according to your hair and scalp health and your particular needs.
Do not use this rinse if you have any open wounds on the scalp, and do not use the rinse in conjunction with a scalp scrub, to avoid irritation.
As a general rule, you can use an ACV rinse once or twice a week, but again, this depends on your hair and scalp and your own specific needs.
Here's how to do an apple cider vinegar rinse:
Instructions
1 – Shampoo and rinse your hair first.
2 – Mix five parts of water to one part vinegar in a spray bottle and shake to ensure it is evenly mixed. You can add a few drops of essential oil if you find the acidic smell to be too unpleasant.
3 – Spray the vinegar rinse onto your scalp so that it is evenly coated. The mixture should be diluted enough that it won't burn the scalp.
4 – Work the vinegar rinse through your hair with your fingers.
5 – Leave the mixture to sit in the hair for three to five minutes.
6 – Rinse out the hair and scalp with cool water.
7 – Follow with a light conditioner that won't weigh down the hair.
8 – Then rinse again, making sure all the product and vinegar is down the drain. After rinsing, the vinegar smell should quickly go away.
You can use an ACV rinse once or twice a week. Use it less if your skin is sensitive. If your hair is dry, use more water in the vinegar rinse, but if you have oily hair, you can use less water.
Alternatives for Apple Cider Vinegar
In most hair recipes that use ACV you can always replace it with distilled white vinegar if you prefer, or if you have no ACV to hand.
It will have similar effects, but just be aware that distilled white vinegar is more acidic, so it will need to be diluted with more water.
It also has a more pungent smell, so you may want to add a few drops of essential oil.
There are also many other kinds of hair rinses you can try, with various beneficial properties. These include:
Aloe vera juice hair rinse
Lemon juice hair rinse
Black tea hair rinse
Baking soda hair rinse
Coconut water hair rinse
Coca-Cola hair rinse
Epsom salt hair rinse
Honey hair rinse
Jojoba oil hair rinse
Coffee hair rinse
Vodka hair rinse
Beer hair rinse
Rice water hair rinse
If you don't fancy making a DIY hair rinse, there are always some premade options you can buy.
If you want to try the benefits of ACV without making your own rinse, here are a couple of the best products you can get online:
This gentle shampoo will soothe and clarify the scalp while adding high shine and volume to the hair. It's free of sulfates, dyes, and parabens and is safe for all hair types, including colored hair.
---
---
Add this gentle hair rinse to your routine as a shampoo substitute, to cleanse the hair and remove impurities without stripping the natural oils from your scalp and hair.
The formula is infused with the goodness of lavender extract and aloe vera for extra softness.
And you don't need to worry about it fading your color either; using the power of ACV it will seal the cuticle and keep your color vibrant.
Downsides of Apple cider Vinegar
There are, however, a couple of potential downsides of incorporating an apple cider vinegar rinse as part of your hair care routine. Let's take a look at these in detail.
1 – Can Be Irritating
Apple cider vinegar contains acetic acid, which is known to be caustic. This means it can irritate or burn the skin.
This is why it's so important to dilute ACV before putting it on your hair and scalp. Always close your mouth and eyes when using an apple cider vinegar rinse to avoid discomfort.
If the rinse is too strong, simply dilute it with more water.
And if you get ACV in your eyes, quickly rinse out with clean water.
2 – Can Be Drying For The Hair
Apple cider vinegar has many advantages for the hair, but if you overdo it, it can be drying for the hair.
If your hair or scalp issues get worse, stop using ACV rinses. Or at least dilute it more and reduce the frequency of your ACV rinses.
Disclaimer: This site is not intended to provide professional or medical advice. All of the content on LovedByCurls.com is for informational purposes only. All advice should be followed at your own discretion. Ingredients may change at any time so always check the product label before using. Check our full disclaimer policy here.
Nicola is a freelance writer and researcher whose specialisms lie in health and wellness, beauty, and psychology. She has fine, wavy hair and is a big fan of co-washing every alternate day between shampoos (as dry shampoo makes her sneeze!)