Hair extensions are an investment, so naturally, you will want to keep them looking good and lasting for as long as possible. One of the best ways you can do this is by investing in a good leave-in conditioner for your hair extensions.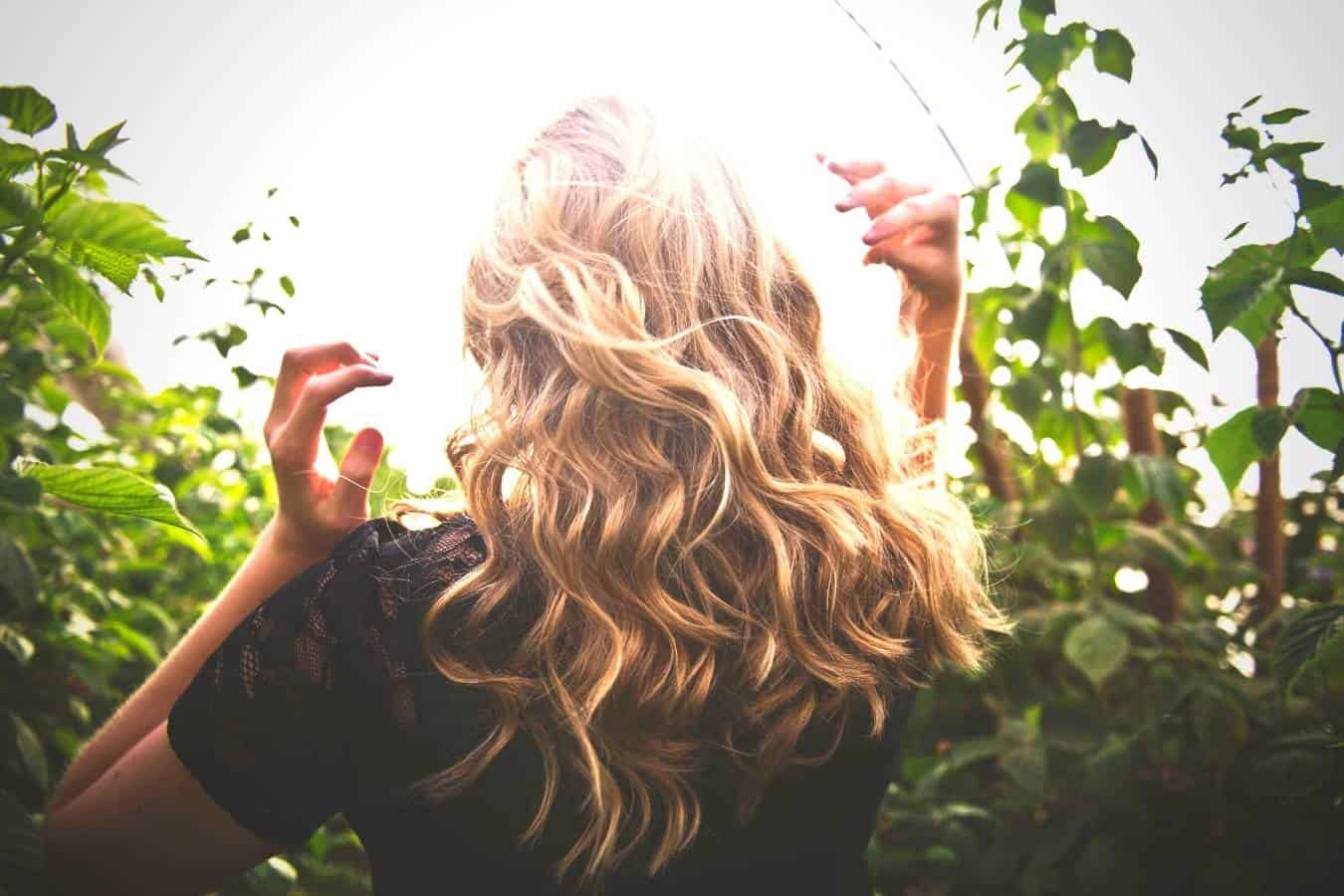 This post contains affiliate links and we may earn if you click on them (at no extra cost to you). Please read our full disclosure policy here.
In A Hurry? Our Top Picks
| Image | Title | Buy |
| --- | --- | --- |
| Top | CHI Keratin Leave-in Conditioner ,6 Fl Oz | Buy on Amazon |
| | Garnier Fructis Sleek & Shine Intensely Smooth Leave-In Conditioning Cream, 10.2 Ounce (2 Count) | Buy on Amazon |
| | HairUWear"Restore" Leave in Conditioner & Heat Styler Protector for Wigs & Hair Extensions 8 oz. | Buy on Amazon |
| | Mitch Stone X-Tender Hair Extension & Wig Leave In Conditioner | Buy on Amazon |
Why Use Leave-In Conditioner On Hair Extensions?
You might wonder if it's really necessary to invest in a leave-in conditioner for your hair extensions.
Here are a good few reasons why you should consider doing so:
1. They Need The Extra Moisture
Because hair extensions are not attached to the scalp like your natural hair, they do not directly receive natural oils and nutrients from the scalp.
For this reason, they tend to be drier than your natural hair and can easily become frizzy.
Therefore, it's good to have a dedicated product that will moisturize your hair extensions.
2. Helps For Detangling
Hair extensions can lead to some tangling nightmares if not cared for properly.
Using a leave-in conditioner on your hair extensions will help with detangling.
This saves both precious time and the health of your natural hair and your hair extensions.
3. Acts as a Primer Before Styling
Applying a leave-in conditioner to your hair extensions will prime your hair for styling, giving them a smooth, soft, and even surface.
Some leave-in conditioners also work as heat protectants, so you can cut down on the number of products you use.
4. Prolong the Lifespan of your Hair Extensions
Hair extensions are an investment.
After investing so much time and money into getting your extensions, why wouldn't you want to keep them lasting and looking as good for as long as possible?
The right care and products will prolong the lifespan of your hair extensions.
13 Best Leave-In Conditioners For Hair Extensions
This sophisticated formula is enriched with argan oil and jojoba oil, as well as the powerful reconstructing properties of keratin.
It will rebuild the hair cuticle, restore elasticity, softness and shine. An ideal leave-in conditioner for hair extensions if you like to heat style your hair regularly.
Why we like it…
Lightweight but powerful formula. Ideal if you like a spray, but want results. Not too heavy and ideal for daily use.
---
Ideal for getting a lasting, sleek look, you can use this leave-in conditioner sparingly as a little goes a long way. Designed for intense frizz control in up to 97% humidity. The smell is a definite bonus as it's very sweet and fruity.
Why we like it…
Garnier is a great quality budget-friendly brand. And since it can be used sparingly, you get even more for your money.
---
If you have synthetic hair extensions, then this leave-in conditioner is a great choice for you as it's specially designed for them. It has a gentle formula that will soften the synthetic hair fibers leaving them in good condition. Its dual-purpose formula means that your extensions are also protected from heat styling.
Why we like it…
It serves as a heat protectant as well as a leave-in conditioner for synthetic hair extensions, meaning you can cut down on the number of products you use.
---
This is another formula that is specially designed for hair extensions, both natural and synthetic. It contains aloe vera and silk amino acids to keep hair shiny and smooth. Aloe vera is also great for soothing the scalp and reducing dandruff. Instantly detangle your extensions without build-up.
Why we like it…
Aloe vera is a wonder ingredient for the hair and scalp that will leave your extensions shiny, soft, and strong.
---
This affordable leave-in conditioner for hair extensions instantly detangles and repairs your damaged tresses. Makes combing your extensions a pain-free experience, and also serves as a heat protectant.
It contains vitamin E, hydrolyzed soy proteins, and papaya oil to soften and moisturize your extensions, reducing frizz and flyaways.
Why we like it…
Not only is this a great, affordable, and dual-purpose leave-in conditioner for hair extensions, it also has a lovely subtle fragrance that smells like a summer's day with a slightly citrusy finish.
---
Apple cider vinegar can have great benefits for hair extensions, and this formula provides all the benefits without any lingering odor. This super lightweight formula absorbs into the hair quickly and speeds drying time.
It will leave your extensions soft, light and manageable. It is a gentle formula that contains no parabens, sulfates, phthalates or silicone, and is completely vegan.
Why we like it…
This is a perfect leave-in conditioner if your hair extensions are dyed, as it protects against UV rays and color fade.
---
This daily leave-in cream helps to preserve hair color by locking in color pigments with pomegranate extract. It has UV filters and an illuminating mother of pearl gives shine and luster to your hair. Ideal if you're planning to dye your extensions.
Why we like it…
This is a great leave-in if you want to preserve your color and prefer a leave-in with a cream texture.
---
This lightweight spray is ideal if you prefer a lighter leave-in conditioner for your hair extensions. It uses a special plant cell technology, along with antioxidants to protect hair against environmental factors like the sun and humidity.
Full of fast absorbing proteins that penetrate the hair, restoring weakened and damaged hair
Why we like it…
A lightweight formula that will nonetheless leave your extensions looking smooth, shiny and flawless.
This rich, restoring leave-in from iconic brand Shea Moisture is as good for your extensions as it is for your natural hair. It's great for those who regularly heat style their hair, as well as those with kinky and curly hair.
Packed with quality natural ingredients such as shea butter and Jamaican black castor oil, it will soften your hair, prevent split ends, and make detangling easier.
Why we like it…
It's cruelty-free and packed with quality natural ingredients like shea butter, peppermint, and apple cider vinegar, and absolutely no nasties.
---
This lightweight spray is like a salon bar in a bottle, smelling of hints of mint, ginger, and sandalwood. It's a very lightweight formula that won't weigh down your hair by leaving any residue.
Containing acai, biotin, and coconut milk, it nourishes and detangles hair. Ideal for damaged and overworked strands, this formula is specially designed to nourish the hair before a blowout.
Why we like it…
The unique aerosol bottle ensures the product comes out as a fine mist. Perfect for lightly spritzing over the hair before heat styling.
---
A little goes a long way with this luxe formula that is perfect for medium to thick hair and extra-long hair. Contains argan oil and vitamin E to smooth and add shine to your extensions. These key ingredients can make a big difference to the longevity of your extensions so it's well worth investing in.
Why we like it…
The luxe cream feels like a quality product that will restore softness and shine, even to thick hair
---
If you have wavy or curly hair extensions then you may find that frizz is a big issue for you. Luckily this product is packed with conditioning agents and glycolic acid that works to block humidity and leave your hair softer, smoother, and more manageable.
Why we like it…
If you want silky hair extensions that last this leave-in conditioner is a must-have. It also ensures that your waves and curls get healthier over time.
---
This amazing product works to repair damage and prevent future damage to your hair extensions. Packed with aloe vera and natural keratin amino acids, it seals split ends and replaces lost protein in your precious strands, leaving your extensions soft and full-bodied with extra bounce.
Why we like it…
A great choice for restoring damaged extensions and sealing split ends.
---
How To Use Leave-In Conditioner On Hair Extensions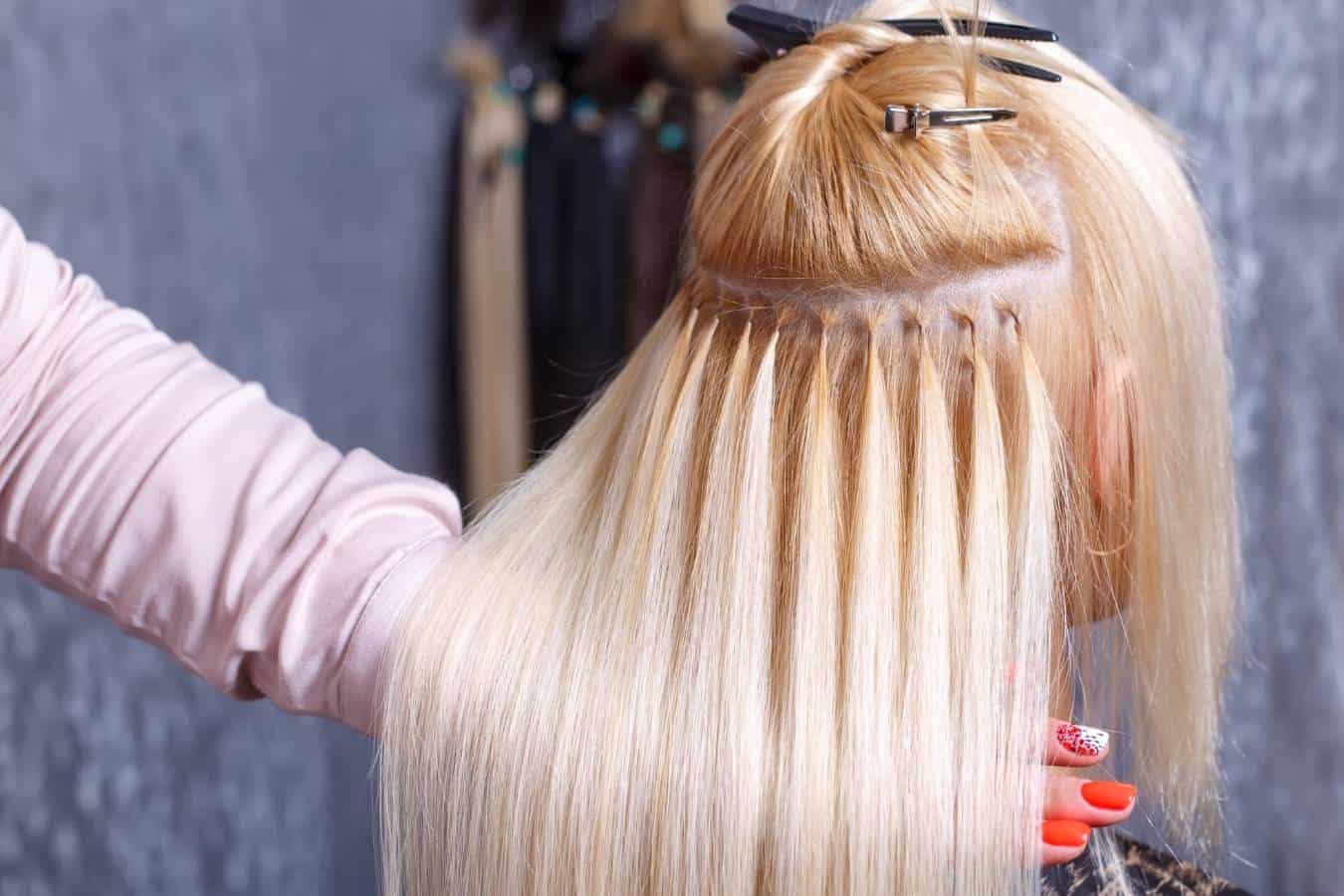 Making sure you apply leave-in conditioner properly will ensure the maximum benefit for your hair extensions.
After washing your hair, pat dry with a towel until your hair is damp.
Squeeze out at least a pea-sized amount of the leave-in conditioner. Rub your hands together so that the product is thinned out over the palms of your hands.
Run the product through the lower half of your extensions and the ends. Try not to get any on the bonds or wefts of your extensions as this could cause them to slip
Finally, use a wide-toothed comb to comb the product through your extensions. This will ensure even distribution and prevent the product from clumping at certain areas.
How Often Should I Condition My Hair Extensions?
The simple answer is: regularly!
Since hair extensions do not receive nutrients or natural oils from the scalp as your natural hair does, they require special care.
Although, how often you apply will depend on your individual requirements, including the texture and thickness of your extensions. Below are some options for you to consider:
After washing and towel-drying the hair
Before bed and again in the morning
Before and after swimming
Before and after exercise
Before and after sunbathing
Disclaimer: This site is not intended to provide professional or medical advice. All of the content on LovedByCurls.com is for informational purposes only. All advice should be followed at your own discretion. Ingredients may change at any time so always check the product label before using. Check our full disclaimer policy here.
Nicola is a freelance writer and researcher whose specialisms lie in health and wellness, beauty, and psychology. She has fine, wavy hair and is a big fan of co-washing every alternate day between shampoos (as dry shampoo makes her sneeze!)