There are many different types of hair conditioner products with different purposes that you should be aware of. Some offer intense hydration whilst others contain protein which helps to rebuild hair. In this guide, we go through all the different types of conditioner so you can pick the right one for you.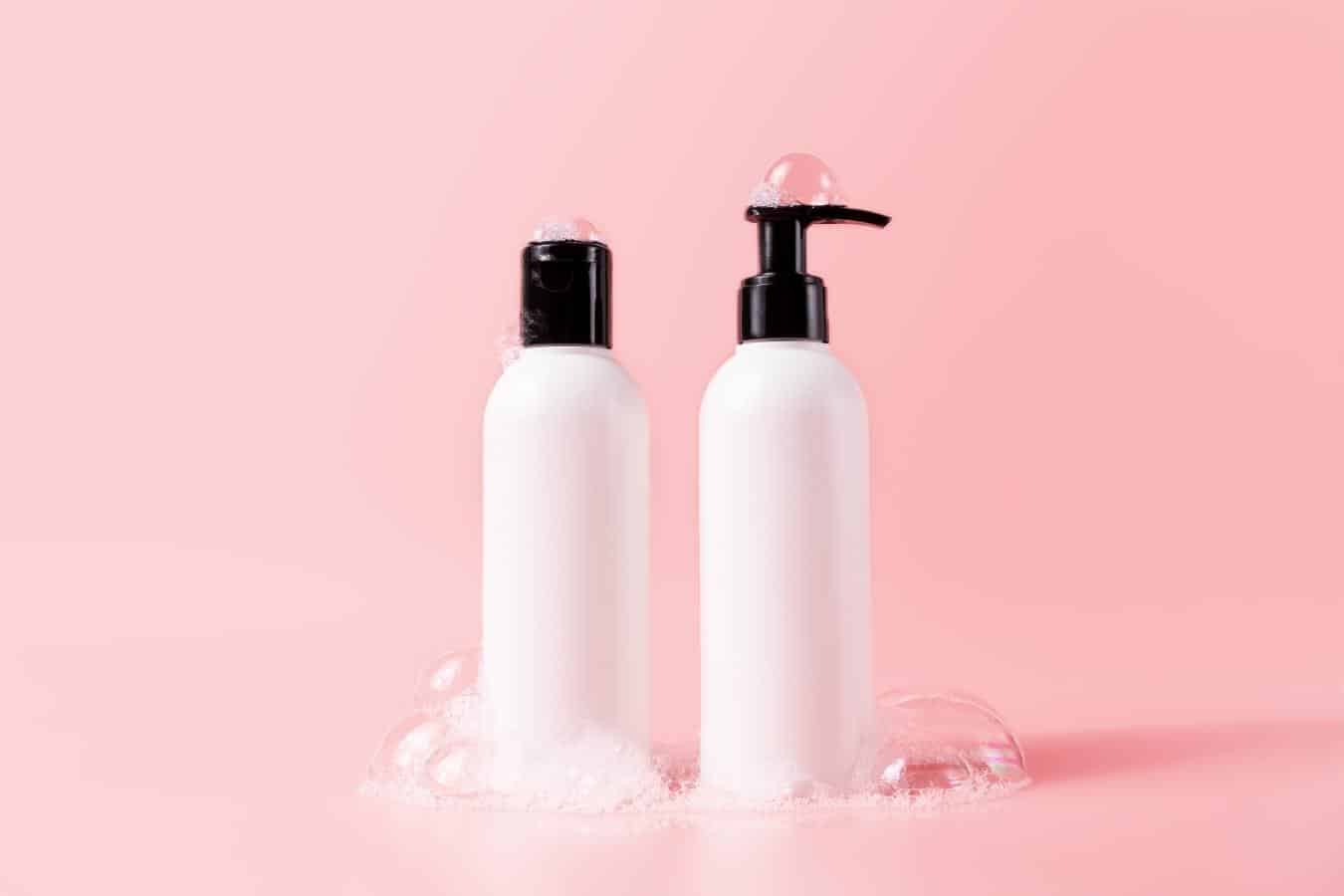 There are essentially seven types of hair conditioners:
Rinse conditioners
Leave-in conditioners
Deep conditioners
Hair masks
Protein conditioners
Volumizing conditioners
Let's take a closer look at each one.
1. Rinse Hair Conditioners
The first conditioner type we're highlighting is rinsible or "rinse-through" conditioner.
It's what people most commonly think of when they think of hair conditioning products and is the basic second step following your shampoo.
This type of conditioner falls into two categories: Regular rinse-through and cream rinse-through conditioner.
Regular Rinse-Through Conditioner
Rinse-through conditioners generally get applied to the ends of your wet hair after you've shampooed and rinsed.
You let this product sit and soak into your hair to add a protective barrier, soften, and moisturize the strands before rinsing it out.
These tend to be the more affordable conditioning products, offered by popular hair care brands like Herbal Essences, Pantene, and Dove.
Wash-out conditioners commonly consist of silicone ingredients and lipid (fat) ingredients to add moisture.
Silicone ingredients work especially well to moisturize because they coat the hair shaft to keep moisture from escaping, leaving the hair shiny as a result.
Cream Rinse-Through Conditioner
Note that regular rinse-through conditioners are generally heavier than most conditioners since they get washed out.
But there are other rinse-throughs that are thinner in consistency known as cream rinse-through conditioners.
Because it's lighter and thinner than a regular wash-out conditioner, it won't provide as much moisture to hair.
But this consistency is sometimes desired for individuals with naturally oily hair who don't want strands to be weighed down with product residue.
2. Leave-In Hair Conditioners
For some individuals, leave-in conditioners are more beneficial because of excessive hair dryness or frizz.
In particular, if you have curly or coiled hair, it might be prone to dryness, damage, and flyaways when the weather is hot or humid.
Leave-in conditioners provide a little extra moisture and support after your hair dries since the product doesn't get washed out.
What's more is that there are different intensities of leave-in conditioner, depending on your personal hair care needs.
Sometimes, they come in the form of serums, while other leave-in products are creams or sprays, such as:
Leave-in conditioner cream for natural hair
Curl enhancing leave-in conditioner
Leave-in conditioner with shea butter
Basic leave-in conditioner for straight hair
No-frizz leave-in conditioners
Important Ingredients in Leave-In Conditioners
A decent leave-in conditioner contains similar ingredients found in rinse-out conditioners, like silicones and lipids.
But they should also contain proteins, natural oils, and emollients (hair softening agents) like cetearyl alcohol (fatty alcohol).
The more intense leave-in products also contain oils such as shea butter because they have useful vitamins and reparative properties without adding surplus grease to your hair.
3. Deep Conditioning Hair Products
Unlike wash-out conditioning products and leave-in conditioners, deep conditioning treatments are not usually made for daily or weekly use.
Deep conditioners are special treatments for hair that is especially damaged or dry, such as naturally coily or curly hair. It can also benefit people with color-treated, bleach-damaged, or chlorine-damaged hair.
You really only need to deep condition your hair about once or twice a month at most.
They provide benefits including:
Softer hair
Detangled hair
Repaired hair
Improved hair moisture
Typically, deep conditioners are designed to be rinsed out after a few minutes, rather than left in.
Important Ingredients in Deep Conditioners
Deep conditioning products typically have more proteins than regular conditioners do.
Sometimes, they supplement keratin protein (the protein found in skin and hair) in order to repair damaged hair strands.
Certain amino acids are also important to hair health because they help keratin to protect your hair from damage.
One such amino acid – glutamic acid – is found as a direct ingredient in certain deep conditioners or included in plant-based ingredients found in deep conditioners.
In studies on mice, glutamic acid has even been linked to increased hair growth.
4. Conditioning Hair Masks
Hair mask conditioning products are the next step up above deep conditioners, and they're sometimes even used in combination with deep conditioning products. Conditioning hair masks are sometimes referred to as "intensive conditioners".
They are similar to skin or facial masks in that you leave them on your hair for a longer period of time before washing them out.
They need more time to set in and take effect, but shouldn't be left in your hair like leave-in creams or serums.
Designed to moisturize your hair and scalp while providing essential nutrients, they also soften hair and reduce frizz.
People with curly or extra dry hair can benefit from hair masks, which should be used as often as once a week or as seldom as once a month.
Important Ingredients in Hair Masks
Masks are made with moisturizing nutrients like conditioners are, but they also sometimes contain clay.
Some conditioning hair masks contain plant-based oils and extracts, as well, such as avocado oil, argan oil, coconut oil, aloe, eggs, and honey.
5. Protein-Based Hair Conditioner
Protein conditioners are another staple in the world of hair moisture. These products are exactly what their name implies – conditioners fortified with extra proteins.
The main purpose of a protein conditioner is to strengthen hair – specifically the cortexes of individual hairs. If your hair is lacking in nutrients, like keratin protein, this is the product for you.
Ideally, hair should be somewhat elastic, rather than brittle and prone to breaking. Having enough protein is key to restoring that elasticity.
Protein conditioner is a heavier type of conditioner that can weigh your hair down if used in excess. You really only need to apply it as often as you would with a deep conditioner.
What Is Protein Conditioner Made Of?
Protein conditioners usually contain hydrolyzed protein (protein broken down into peptides and amino acids).
BMC Biotechnology studies have shown that hydrolyzed proteins benefit hair health by strengthening hair fibers and reducing hair breakage.
Protein conditioners typically derive these hydrolyzed proteins from plant-based protein (like oat protein or soy protein), collagen, keratin, and even dairy.
6. Volumizing Hair Conditioner
Last but not least, we want to highlight volumizing hair conditioners, as they are useful for people with thin hair or naturally straight/flat hair.
In this way, a volumizing conditioner also works well on hair that is prone to a bit of oiliness since it isn't super heavy.
Volumizing conditioners achieve a few purposes:
They moisturize and protect hair strands as any other conditioner does
They detangle hair and smooth it
They lift hair and add volume
They are light enough to not weigh hair down
For example, Pantene Pro-V offers a basic Volume & Body conditioner for fine or limp hair. Keep in mind that volumizing hair conditioners are not ideal if you have dry, damaged, or brittle hair.
For that, you need a product that's more nourishing and focused on delivering repair to the hair strands.
Ingredients In Volumizing Conditioner
Volumizing conditioners are usually made of ingredients such as amino acids (important for hair keratin protein) and plant extract oils.
They also contain some fatty and waxy alcohols, such as cetyl alcohol and Cetearyl alcohol, as well as hydrolyzed proteins:
Jojoba protein
Oat protein
Soy protein
Final Thoughts
When browsing different types of hair conditioners, keep in mind that a variety of conditioners exist for different types of hair textures and health.
Whether you need a leave-in conditioner or deep conditioner for dry or curly hair, or you prefer a wash-out conditioner for naturally oily hair, there are options.
Make sure to assess your hair's moisture level and needs before choosing a conditioner.
Frequently Asked Questions (FAQ)
Does the type of conditioner matter?
Yes, the type of conditioner you use should be based on how dry/oily, damaged/healthy, straight/curly, or fine/thick your hair is since different conditioners have different key ingredients.
Which conditioner is best for frizzy hair?
Conditioning hair masks and certain leave-in conditioners tend to be the best conditioning products for frizzy hair, as they're designed to smooth and soften hair.
Do I really need conditioner?
You technically don't have to use conditioner, but some kind of regular conditioning is recommended for all hair types. Without conditioning, hair is subject to more dryness, damage, breakage, and frizziness over time. 
Disclaimer: This site is not intended to provide professional or medical advice. All of the content on LovedByCurls.com is for informational purposes only. All advice should be followed at your own discretion. Ingredients may change at any time so always check the product label before using. Check our full disclaimer policy here.
Dee has been following the Curly Girl Method for over four years and is our in-house Curly Girl expert. She has a keen interest in natural haircare and has tried and tested her share of CGM products. She has a photographic memory of most sulfate and silicone-free hair products available on the high street and she's always happy to recommend you her favorites.