Having your hair done at a salon is always a treat, but you may have gotten accustomed to your own products. So, can you bring your own shampoo to a salon?
If you want to bring your own shampoo to a salon, the best thing to do is to call in advance and ask if it is OK. It is not against any rules to do so, but your stylist may prefer to use their own products.
Potential Disadvantages Of Using Salon Shampoo And Conditioner
Allergic reactions
If you've had a bad allergic reaction to a hair or skincare product, you'll be keen to avoid a repeat incident.
Maybe there's a certain essential oil that your skin or hair just doesn't get on board with, or perhaps certain haircare products inflame a pre-existing condition. Either way, avoiding allergic reactions is a must.
If you think that in-salon haircare products might incite just such an allergic reaction, then it would be totally appropriate to bring along your own as a safety precaution.
It's wrong for your hair type and texture
Different hair types and textures have different needs.
And whilst we might like to think that hair stylists know it all when it comes to hair, in reality, they may be less knowledgeable about the particular needs of certain hair types and textures.
As such, if they use haircare products that are wrong for your specific hair type or texture, you may end up with undesirable results.
For example, you could experience protein build-up if your strands are overly exposed to products containing protein. Alternatively, you may experience dandruff, and a salon shampoo might exacerbate the problem in certain instances.
You'd hope a stylist wouldn't make such a mistake, but unfortunately, they can sometimes happen.
Poor-quality haircare products
If you're headed into a salon, you'd hope that the shampoos and conditioners used would be of superior quality – but they might not be.
Many haircare products today still contain chemical nasties like parabens, sulfates, silicones, and synthetic fragrances.
If you like your hair to be kept free of these ingredients, then bringing in your own shampoo to the salon might be a good way of ensuring that your strands aren't exposed to them.
Alternatively, if you use shampoo bars instead of liquid shampoo, your hair might be used to the former and react strangely to the latter.
Shampoo bars are more intense than liquid shampoo, and it can take hair a while to adjust to their use.
As such, it makes sense that hair might react strangely to a return to liquid shampoo – even if it's a one-time thing!
What's more, salon shampoo and conditioner may not be cruelty-free. If you are a staunch supporter of animal rights or are vegan, this may be a dealbreaker for you, in which case you might want to bring your own shampoo in so that it can be used instead.
Should You Wash Your Hair Before A Haircut?
It really depends on the kind of haircut that you're getting.
If you are only booked in for a dry cut, then you should head into the salon with freshly washed hair.
Hair that hasn't been washed for a few days will naturally have some build-up, which can weigh hair down.
This might therefore impact the overall cut.
Most stylists prefer to cut wet hair rather than dry.
It makes the whole cutting process easier, particularly if you're looking to cut more than an inch off your hair length.
Equally, if you have especially curly or coily hair, then it's useful to go in for a wet cut so that your hairdresser can properly gauge your hair's length and the amount that you want off.
If you're going in for a wet cut, then you don't need to have worried about washing your hair before a haircut.
Part of the joy of heading to a salon is having the opportunity to relax and enjoy yourself after all, so why not make the most of the whole experience and book in for a wet, rather than dry, haircut?
You may even benefit from a scalp massage, too!
That said, you should avoid heading to the salon with completely dank, greasy hair. It's all about striking a balance.
Do salons shampoo your hair?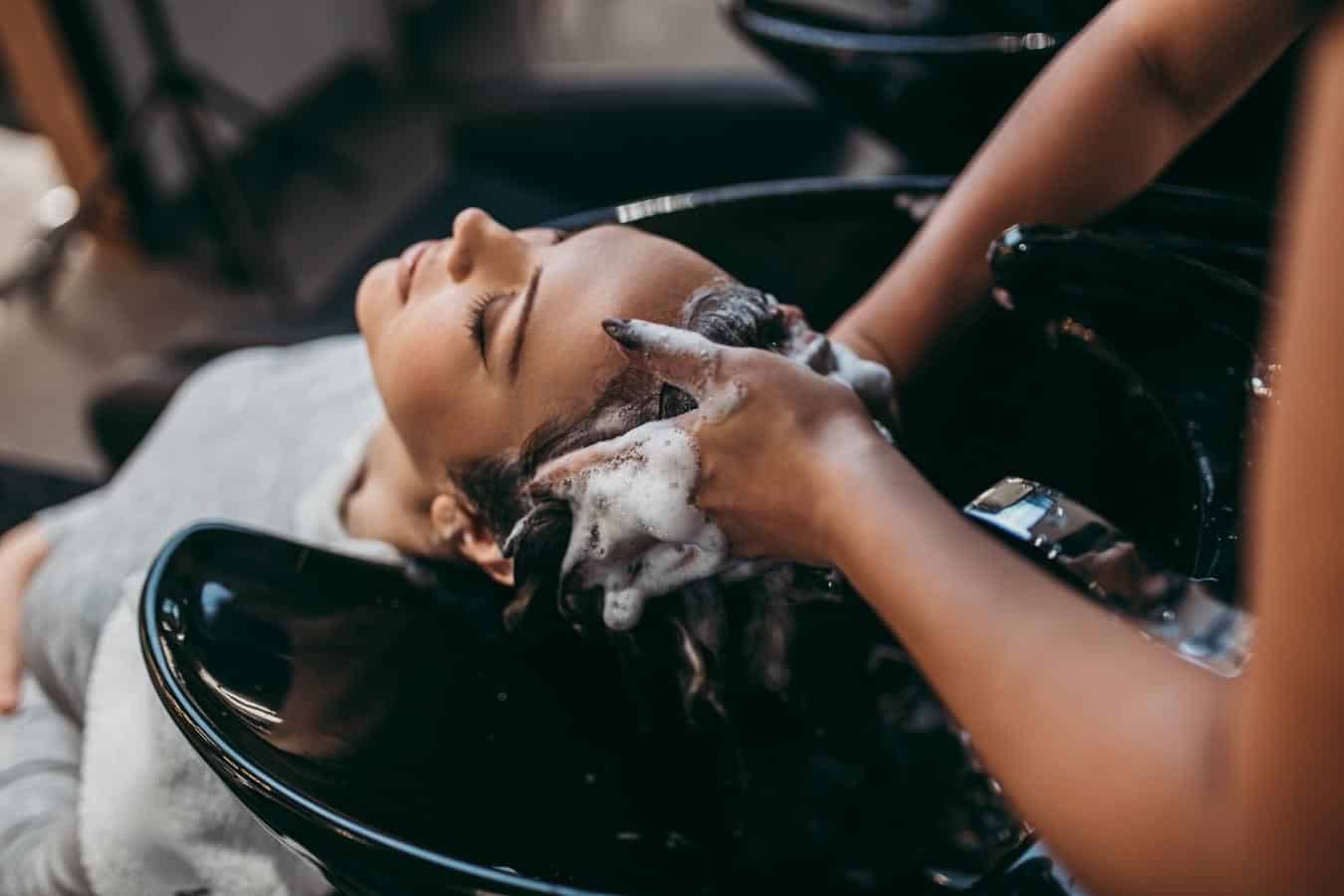 Whether a salon will shampoo your hair or not depends on the kind of haircut you've booked, but you can assume that most salons will wash your hair before cutting it as part of the appointment.
What should you bring to a hair salon?
If you have a particular hairstyle in mind for your new look, it's helpful to bring a photo for your stylist. Otherwise, there's no distinct rule about what to bring or not to bring to a hair salon, but it's best to check if items like food are allowed, for courtesy's sake.
Disclaimer: This site is not intended to provide professional or medical advice. All of the content on LovedByCurls.com is for informational purposes only. All advice should be followed at your own discretion. Ingredients may change at any time so always check the product label before using. Check our full disclaimer policy here.
Alice is an experienced writer and researcher with a background in the Creative Arts. She is a published poet and is currently completing her Ph.D., having worked in a variety of industries, including as a theatre dramaturg.
Alice is passionate about the environment, so is always on the lookout for the best zero-waste products that are vegan and cruelty-free.