Sweet orange oil offers incredible benefits for your hair, health, and skin. In this article, we show you how to create your own DIY hair masks at home and reveal 5 ways you can benefit from introducing this citrus oil into your lifestyle.
Sweet orange oil contains vitamin C and folic acid which is great for hair as it encourages growth and promotes strength. Sweet orange oil also works as a natural antiseptic and effectively treats a dry scalp and eliminates dandruff. Using the oil regularly in your beauty routine will result in well-nourished, healthy hair.
What is Sweet Orange Oil?
Sweet orange essential oil is extracted from the zest of the orange fruit. It belongs to the same family of citrus fruits that include other essential oils such as grapefruit, tangerine, and mandarin.
This unique oil consists of high levels of Vitamin C, folic acid and has other revitalizing properties. It can be used to help treat skin conditions, boost your immune system, and uplift your general mood.
While it is commonly found in skincare brands today, it can also be found in hair masks and products caring for your hair.
Benefits Of Using Sweet Orange Oil for Your Hair
Here are some of the amazing benefits of introducing sweet orange oil into your hair care routine:
Promotes Hair Growth and Reduces Hair Loss
Sweet orange oil contains vitamin C and is great for promoting hair growth so you can enjoy long, luscious locks.
It has been known to assist with increasing the levels of collagen in your hair resulting in stronger, nourished strands.
Sweet orange oil also helps hair that is prone to breakage by strengthening your roots and stimulating growth in the process.
Treats Dandruff
Did you know sweet orange oil is ideal as a solution to dandruff? One of the reasons you can experience dandruff is by a condition called seborrheic dermatitis.
This occurs when your scalp produces oil in excess. By applying sweet orange oil to your hair, it helps to limit the oil production on your scalp and works to unclog your pores resulting in less dandruff.
Helps to Ease an Itchy Scalp and Functions as an Antiseptic
Sweet orange oil is great at treating an itchy scalp and provides a calming feeling and sense of relief. It also has antifungal properties and functions as a natural antiseptic.
Sweet Orange Oil Helps Moisturize Hair
Sweet orange oil is not only beneficial for your hair but your roots and hair follicles as well. It helps to clean and unclog your pores so that your strands are able to absorb conditioner and other moisturizing hair products.
This will result in your hair looking shiny and feeling well-nourished.
Soothes an Irritated Scalp
Sweet orange oil has soothing effects on your skin and an added bonus is that it helps to soothe an irritated scalp as well.
Thanks to its antiseptic and anti-inflammatory properties, this citrus oil is ideal to use as a natural anti-itching remedy.
Also Read: How To Use Pomelo Oil For Hair Growth
How to Create DIY Hair Masks Using Sweet Orange Oil for Hair
If you're looking to incorporate sweet orange oil into your hair care routine or for treating your hair after hair dye, these simple DIY hair masks are perfect for you:
DIY Sweet Orange Oil for Anti-Dandruff Hair Mask
If you're looking for a simple homemade recipe to treat dandruff and a dry scalp, this sweet orange oil rinse for your hair is a great solution.
Simply mix a few drops of orange essential oil with some water and gently massage the mixture directly onto your scalp.
2. Apply generously and make sure all your hair is covered.
3. Rinse off the mixture and wash your hair as normal.
Essential oils can be very potent so always dilute the mixture with another carrier oil, water, or a hair product such as shampoo or conditioner.
Sweet Orange Oil Shampoo Recipe
If you're looking for an organic shampoo alternative for your hair that includes the use of sweet orange oil, this recipe ticks all the boxes.
It's free from all the harmful chemicals found in most commercial shampoo brands but the great news is that it is just as effective.
Another added bonus is that this homemade sweet orange oil shampoo for your hair controls an oily scalp and keeps your scalp regulated.
For this recipe you will need:
Orange essential oil
Baking soda
Water
Instructions:
Mix one tablespoon of baking soda with one cup of water.
Then add 7-8 drops of sweet orange essential oil to the mixture. A
Add this mixture to a bottle and it is ready for use replacing your regular shampoo.
We recommend shaking the bottle well before each use.
Sweet Orange Oil Moisturizing Mask
For this recipe you will need:
1 x tablespoon butter
2 x tablespoons of fat sour cream / mayonnaise
5-6 drops of sweet orange oil
To create your hair mask, you will need to combine all the ingredients together until the mixture is smooth.
Apply the mixture directly on to your hair and make sure all your strands are evenly coated with the mixture.
Allow the hair mask to sit for 30 minutes so it can be absorbed by your hair strands.
Rinse off and wash your hair thoroughly.
This homemade sweet orange oil hair mask recipe offers incredible hydration for your hair and is known to lock in moisture.
Organic Sweet Orange Oil Hair Serum for Effective Hair Growth
If you're hoping to achieve thicker, fuller hair using sweet orange oil for your hair, this recipe is a perfect choice.
To create this homemade serum, simply add 4 drops of orange oil with one tablespoon of coconut oil.
Lather carefully directly onto your strands and pay special attention to the thinning areas on your head.
Let it absorb for around 10-15 minutes or so and then rinse off the serum thoroughly.
Also Read: Can Olive Oil Penetrate The Hair? (Question solved)
Possible Side Effects of Sweet Orange Oil
1.For those of you with extremely sensitive skin or for those who are more susceptible to allergies, we highly recommend performing a small patch test to see whether or not this oil will result in you experiencing an allergic reaction
2.Sweet orange oil is safe to use during pregnancy, but we recommend speaking to your general practitioner first and applying a patch test to be sure you are not allergic
3.While this citrus oil is known to have a low risk of phototoxicity, we still recommend exercising caution if you plan on venturing outdoors if you have applied it directly to your skin. Another important element to note is that you should never apply undiluted essential oils to your skin
Alternative Citrus Oils
When it comes to essential oils, citrus-based oils are often the most popular choice for hair and beauty regimes.
They offer a rich blend of vitamins and will result in your hair becoming soft and smooth with added shine and vitality.
Alternative citrus oils great for your hair include:
Lemon essential oil
Lime essential oil
Grapefruit essential oil
Tangerine essential oil
Mandarin essential oil
3 Other Ways To Use Orange Essential Oil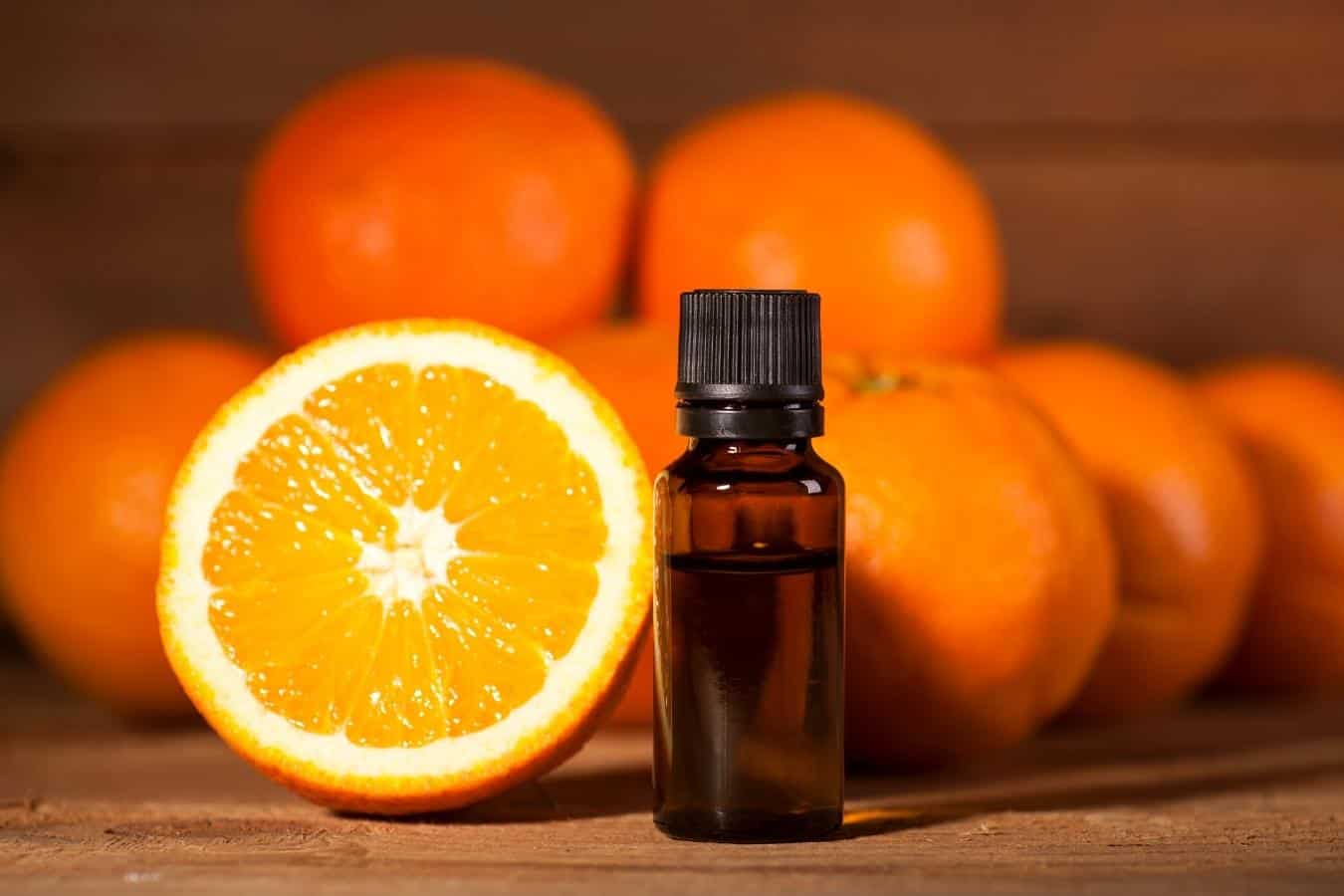 Sweet orange oil is great for your hair, but did you know you could also use the oil to help lift your mood or as an organic hand cleaner? Some of its incredible uses can be found below:
1. Use Orange Oil to Help Lift your Mood
If you're looking for a natural way to uplift your mood and to enjoy an aromatherapy experience from the comfort of your own home, sweet orange oil is a great solution.
Simply add some oil to a diffuser and it will help to change the atmosphere of your room and overall mood.
3. Orange Oil May Help Relieve Hay Fever
Did you know sweet orange oil may help in treating summer allergies and will help to provide relief to itching eyes or a blocked nose? An added bonus is that you will soon be able to smell its sweet, citrus smell.
4. Works Great as a Natural Hand Cleanser
To create a natural hand cleanser at home, simply miz a few drops of orange oil into your favorite hand cream and rub both your hands together spreading the oil evenly. The oil works to combat germs and leaves a pleasant aroma in the process.
Disclaimer: This site is not intended to provide professional or medical advice. All of the content on LovedByCurls.com is for informational purposes only. All advice should be followed at your own discretion. Ingredients may change at any time so always check the product label before using. Check our full disclaimer policy here.