How to make the ultimate Homemade hair gel without gelatin.
In this article, I've outlined 3 gelatin-free hair gel recipes that you can make at home. They're easy, affordable, and best of all, cruelty-free.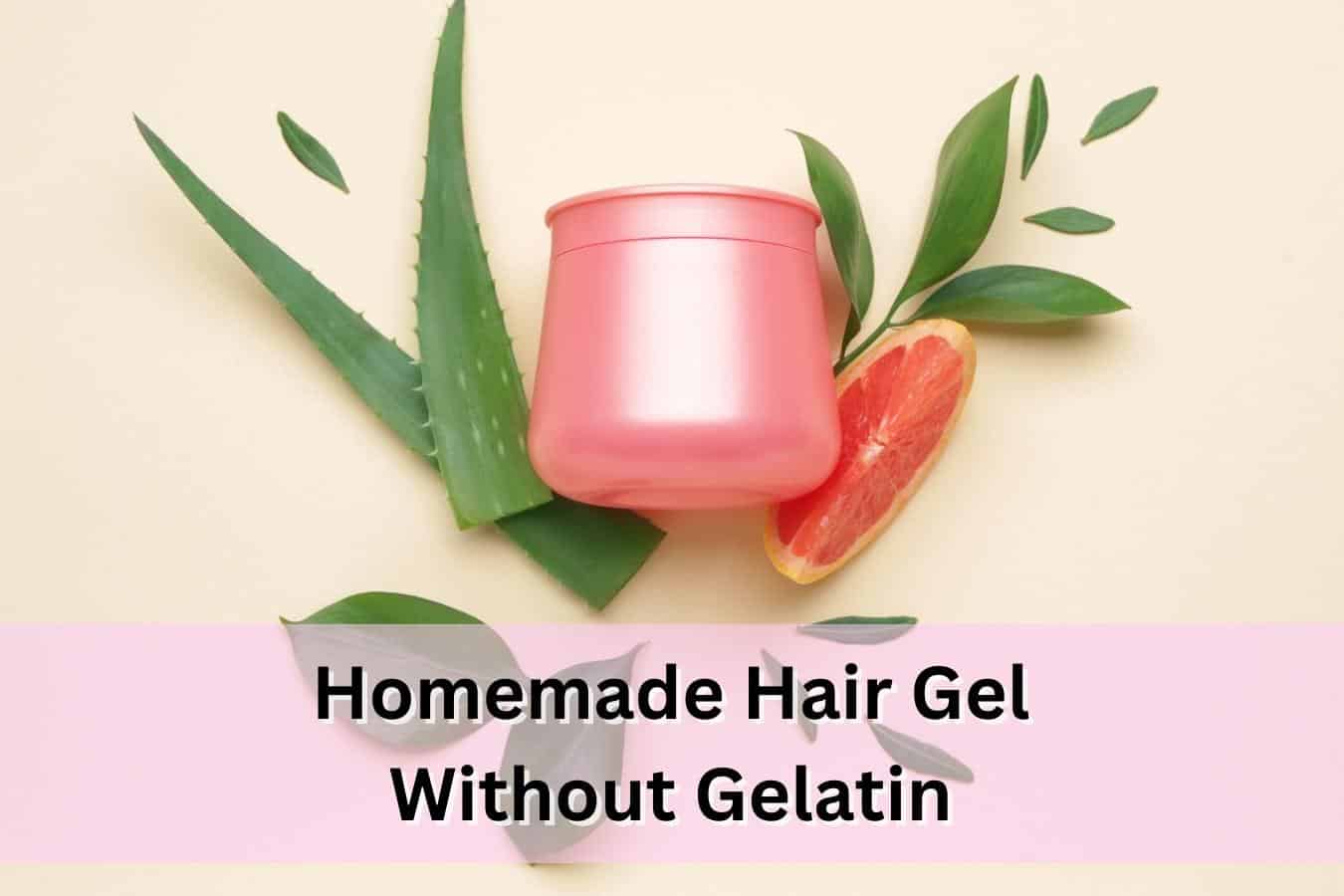 How To Make Homemade Hair Gel Without Gelatin
There are a few different recipes that will result in gelatin-free hair gel, and most require ingredients that you might already have in your kitchen. If not, they're cheap and you can easily purchase them online or from a supermarket or health store.
The biggest challenge when it comes to making gelatin-free hair gel is how to create the 'stiffness', but the trick is to use one of the following:
Aloe vera gel
Chia seeds
Flax seeds
Essentially, anything that is thick and gummy should work, but these are tried and tested recipes that will keep your hair out of your face and allow you to avoid animal products at the same time.
They are also easy, fairly quick, and only require a few ingredients that you likely already have to hand. Let's find out how to make them!
Aloe Vera Hair Gel
Aloe Vera has become a very popular plant in recent years, and you'll find it used in many skin and haircare products.
Using aloe vera is a great way to make gelatin-free hair gel because it provides the sticky texture that you need for truly effective hair gel.
What you'll need:
A cup of water
1 lemon
1 large aloe leaf
Method:
Begin by cutting your lemon in half and squeezing both halves. Collect the juice into a small mixing bowl. Discard the rinds.
Take out a chopping board and a sharp knife. Remove the skin from the aloe vera leaf so that you can get at the gel inside. Collect the gel up and set it to one side for 10 to 15 minutes.
Boil 1 cup of water. Once it has come to a boil, add the gel and the lemon juice, and stir.
Boil for 5 to 10 minutes, until the mixture is starting to thicken.
Turn off the heat and leave the gel to thicken and cool.
Once it has cooled, decant it into a container and use it on your hair like ordinary gel.
Aloe vera is naturally hydrating and it can help to heal infections, so it's a great thing to add to your scalp.
It can also eliminate frizzy hair, meaning it's a perfect way to tame your curls and get your hair into the style that you want.
Chia Seeds Hair Gel
If you don't have an aloe vera plant, you might be looking for a hair gel solution in your kitchen cupboards – and the great news is that chia seeds will also work well.
These are becoming an increasingly popular pantry staple, so if you've got a packet, you can easily whip up your own hair gel with no gelatin in it.
What you'll need
½ cup of fresh coconut milk
1 teaspoon of hair oil
1 teaspoon of lemon juice
1 cup of chia seeds
Method:
Start by taking your cup of chia seeds and adding enough water to cover them.
Soak them for 12 hours or overnight before moving on to the rest of the instructions.
Once the chia seeds have soaked, squeeze your lemon and set the teaspoon of juice aside.
Get out a medium size pan and add the chia seeds, and then boil them for around 20 minutes, adding more water if necessary to prevent them from burning (but not excess water or your gel will be runny). They should begin to thicken and become jellied.
Add the hair oil, the lemon juice, and the coconut milk to the pan, and stir gently until they are combined and a gel is forming.
Turn off the heat and leave the mixture to cool, and then transfer it to a container and use it on your hair as needed.
Chia seeds are another great option for gelling your hair because they are rich in protein that will nourish the scalp and may help to strengthen your hair follicles.
Additionally, coconut oil and lemon juice have antiseptic powers that will help to clean your scalp and leave it feeling fresh and pleasant.
Flax Seed Hair Gel
Making hair gel with flax seeds is another great vegan option that you might want to try, especially if you already have these available in your kitchen.
They are reasonably inexpensive and create the same gel effect that you're looking to replicate when removing the gelatin – so they are an ideal choice if you have them.
What you'll need:
½ teaspoon of honey
1/3 cup of flax seeds
½ teaspoon of shea butter
2 cups of water
Method:
Start by taking out a medium pan and placing it on the stove. Add the flax seeds and the water, and turn the stove to high heat.
Stir the flax seeds consistently so that they do not stick, and bring the mixture to a boil. Keep boiling until the surface turns foamy, and make sure you continue stirring throughout.
When the mixture has foamed and begun to thicken, remove it from the heat and drain it through a fine strainer, reserving the liquid (this is what you will actually make the gel from, not the seeds).
Discard the seeds and rinse the pan.
Add the shea butter and honey to the bowl of liquid and stir well to combine all the ingredients. The mixture should thicken a little as it cools, and can then be decanted into a clean container and used as needed.
Flax seeds will make your hair beautifully shiny, so they're a great option for gel.
The shea butter and honey will nourish your scalp and help to heal any infections, and the gel is thought to be particularly great for styling curly hair – so it's definitely one to try if you are struggling with unruly ringlets or waves.
Conclusion
Hair gel is an essential product for many people, but if you are struggling to find a gel that is free from animal products, making it yourself at home is a simple, quick, and economical solution! You don't need to use gelatin to get control of your hair, and many of these recipes will be better for your hair and scalp anyway.
Frequently Asked Questions
Can you add essential oils to hair gel?
Yes, just add up to 10 drops of your favorite essential oils before the mixture sets and it will be pleasantly scented.
Do you need to refrigerate homemade hair gel?
Most homemade hair gel recipes do recommend refrigeration, especially if you are making a large amount of gel at once. If you are only making a small quantity, it will generally keep at room temperature for a couple of weeks, but for long-term storage, put it in an airtight container in the refrigerator.
Does it cost a lot to make your own hair gel without gelatin?
It will depend on the ingredients that you choose when you make the gel, but in general, making gel at home will be significantly cheaper than buying it. You can store it in an empty hair gel container or a clean glass jar, and the ingredients cost very little.
Disclaimer: This site is not intended to provide professional or medical advice. All of the content on LovedByCurls.com is for informational purposes only. All advice should be followed at your own discretion. Ingredients may change at any time so always check the product label before using. Check our full disclaimer policy here.