Xanthan gum is becoming an increasingly common ingredient used in hair products, but what is it exactly, and what are the benefits of Xanthan gum for hair?
In this article, I'll explain just why this naturally-derived ingredient is great to have in your haircare products.
Main Takeaways
Xanthan gum is great for thickening hair products and keeping ingredients fresh
Xanthan gum is perfectly safe for hair
You can use xanthan gum in DIY hair products, for instance hair gel and shampoos
Xanthan gum may cause white flakes in your hair if not used correctly
What Is Xanthan Gum?
Xanthan gum is a substance made by fermenting sugar. While it's typically used as a food additive, it can be used in many other ways as well, including as an ingredient in hair products.
Not only can it keep ingredients from separating, but it's also an emulsifier, which means it's able to bind moisture to hair.
You can find xanthan gum in all kinds of hair products, including shampoos, conditioners, and hair gels.
When it's used in hair products, it can give the products a thick, creamy texture that makes them easy to apply to hair.
Is Xanthan Good For Your Hair?
Xanthan gum isn't damaging to hair and can safely be used on hair of any type.
According to the Environmental Working Group, xanthan gum isn't harmful or toxic in any way.
Although xanthan gum isn't quite as nourishing as ingredients found in other hair products, it's incredibly versatile and can help hair in many ways.
Since it's not harmful to any hair type, the benefits of xanthan gum are something that anyone can take full advantage of.
5 Benefits Of Xanthan For Hair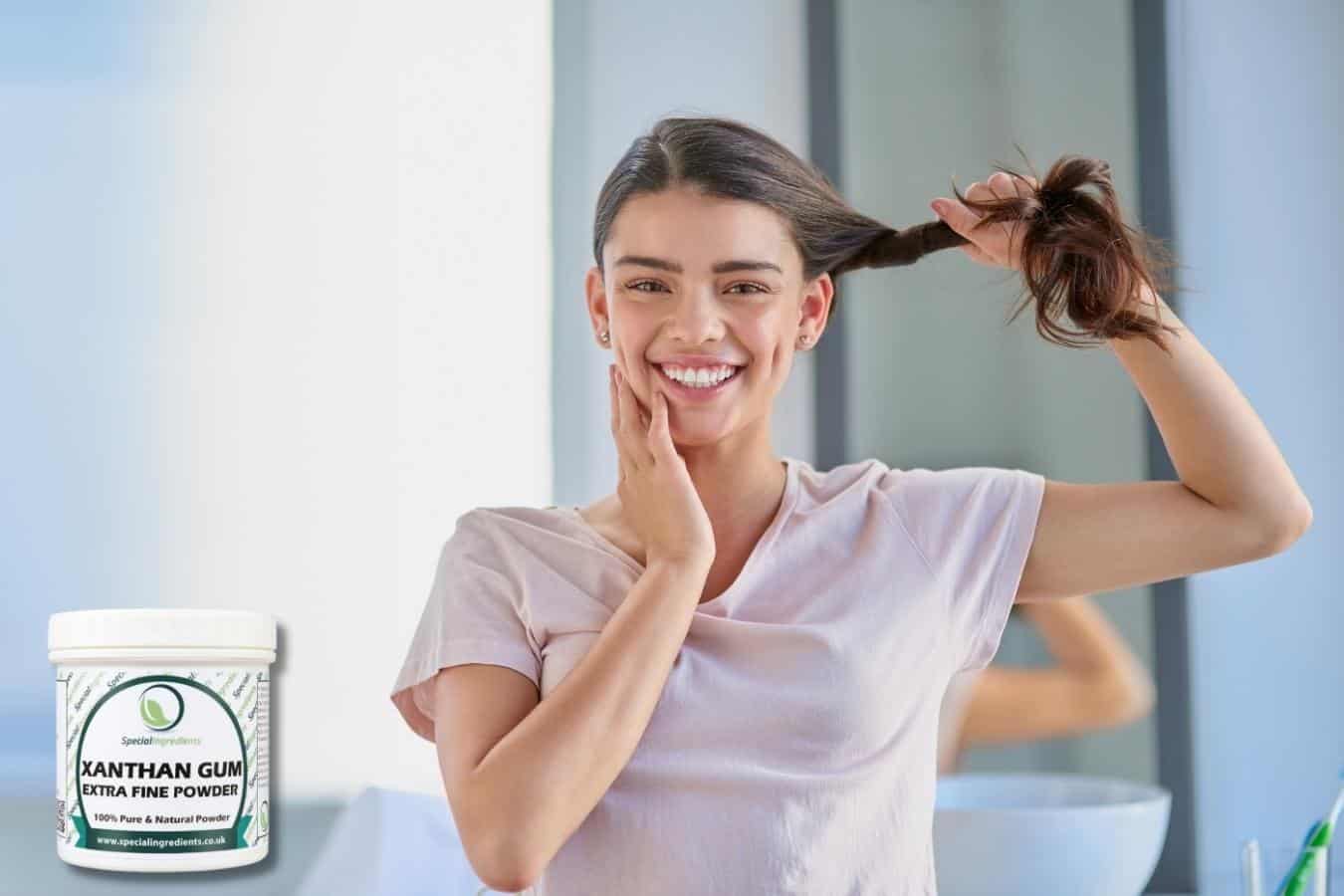 It Keeps Hair Products Fresh
Xanthan gum is often used as a preservative agent for foods, and it can do the same thing for ingredients in hair products.
It's an all-natural ingredient that can keep hair products stable and fresh for long periods of time.
Normally, the ingredients in hair products can degrade over time, which can make them less effective.
Thus, when a product contains xanthan gum, that product will last longer.
You can also add a small amount of xanthan gum to your own hair products to help extend their shelf life.
It's a Great Way to Thicken Hair Products
Some hair products, like shampoos, have a thin, runny texture that can make them difficult to work with.
Xanthan gum can be used to thicken up those products and give them your desired texture.
It's a natural emulsifier that can be used to thicken hair products and give them a creamy texture.
Products that contain xanthan gum typically have a silky texture that's easy to work with and feels great against hair.
It Can Give Hair Moisture
One of the biggest benefits of xanthan gum is that it can be moisturizing to hair.
While it won't add new moisture to your locks, it will lock in existing moisture, keeping your hair soft and shiny.
When hair loses its natural oils, it can become frizzle and brittle, but xanthan gum can keep those oils locked in.
In addition to helping hair from becoming overly dry, xanthan gum can also help to prevent the scalp from becoming overly dry.
This can help to avoid scalp irritation, dandruff, and other scalp problems.
It Can Be Used In DIY Hair Products
Xanthan gum is used in countless hair products and can also be added to products to change their properties. If you're up to the challenge, you can also use it to make your own hair products at home.
One of the most popular hair products to make with xanthan gum is hair gel.
Xanthan Gum Will Dissolve Completely In Any Product That It's Added To
Whether you add xanthan gum to your favorite shampoo or combine it with some other ingredients to make your own hair gel, xanthan gum will always dissolve fully in the products that it's added to.
This means that it won't change the color of the products in any way.
This allows you to add it to existing products without any worry, and it also gives you plenty of options when you use xanthan gum to create your own hair gel.
If you mix it with water, you can actually create a gel that's completely clear and virtually invisible in your hair.
How To Use Xanthan Gum For Hair
It's likely that xanthan gum is already an ingredient in some of your existing products.
However, if you're interested in using this ingredient in more ways, you can also use it to enhance your current hair products.
Xanthan gum is a very powerful thickening agent, which means you don't have to add much to a product for results.
Just a sprinkle of xanthan gum is enough to give products a thick and creamy texture.
Here's how to use it:
Transfer your hair product to a large mixing bowl.
Sprinkle in a small amount of xanthan gum and carefully mix it throughout the product, making sure you avoid clumping.
Once the product is fully mixed and has thickened up, you can transfer the product from the bowl to its storage container.
Does Xanthan Gum Flake In Your Hair?
Xanthan gum does have a flaking effect, which can be an issue, especially if you're using the ingredient to customize hair products or make products of your own.
It can also be difficult to wash xanthan gum off of hair, which is why you won't want to add any more than necessary.
You can help to prevent flakes by scrunching your hair in your hands after the gel has had the chance to dry down.
When you do this, you can help to remove the cast that the product has left behind on your hair. You can get flakes out of your hair right away so that you won't have to worry about flakes later in the day.
How To Make Hair Gel With Xanthan Gum
What you'll need:
Xanthan gum
Water
A preservative
Salt
You can also use essential oils and plant oils to customize your product and give it your desired texture.
For best results, xanthan gum hair gel should be made with cold water.
Instructions:
Add your water to a mixing bowl and sprinkle in xanthan gum along with a small amount of your chosen preservative and salt.
Mix the xanthan into the water and give it time to thicken.
Once the product begins to thicken, you can transfer it to storage containers.
Over time, the product will thicken further, creating a gel with the perfect consistency.
If the gel that you create is too thick, you can repeat the process with less xanthan gum or you can omit the salt.
You can also experiment with gel formulations by adding a few drops of oil to the mix.
Oils that can work well in homemade hair gels include coconut and argan oil.
The right oil can enhance the properties of the hair gel and can also add an appealing scent.
A hair gel made from xanthan gum will typically provide a light hold. If you like the idea of making your own hair gel, but you're not happy with the results you get from xanthan, there are other thickening agents you can try as well, like guar gum.
Frequently Asked Questions
Where Can I Buy Xantham Gum?
You can find xanthan gum at many grocery stores and big box retailers. The xanthan gum that's made to be used as a food preservative can safely be used in hair products. 
Is Xantham Gum Good For Curly Hair?
DIY products made with xanthan gum are often recommended for people that have curly or frizzy hair. Not only do homemade hair products contain fewer harmful ingredients, but xanthan gum can also help curly hair to retain moisture. 
What Foods Contain Xantham Gum?
You can find xanthan gum in a wide assortment of foods, including juices, salad dressings, syrups, and soups. Because xanthan gum is typically used as a thickening agent, it's most likely to be found in products with a liquid texture. 
Disclaimer: This site is not intended to provide professional or medical advice. All of the content on LovedByCurls.com is for informational purposes only. All advice should be followed at your own discretion. Ingredients may change at any time so always check the product label before using. Check our full disclaimer policy here.
Dee has been following the Curly Girl Method for over four years and is our in-house Curly Girl expert. She has a keen interest in natural haircare and has tried and tested her share of CGM products. She has a photographic memory of most sulfate and silicone-free hair products available on the high street and she's always happy to recommend you her favorites.