If you are wondering why you have short frizzy hair on top of your head, you've come to the right place. Flyaways and baby hairs can be a sign of heat damage and overuse of products. luckily, though, there are ways to fix this so read on for more!
Why Do I Have Short Frizzy Hairs on Top of My Head?
Short frizzy hairs near the crown of your head can become a pesky annoyance, especially in the heat of the summer when humidity is high.
They can be difficult to smooth down, blend in with the rest of your hairstyle, and even hard to grow out because they're often the result of hair damage in the first place.
Here are the main reasons why you may be dealing frizzy hair on the top of your head:
You have used Chemical Hair Dyes
Hair coloring, highlighting, and other dye jobs are often the source of hair damage and long-term changes in the integrity of your hair.
It's difficult to avoid damaging your hair with chemicals if you're using any kind of box or salon dye, although some natural dyes, like henna, do exist.
The cuticles of individual hairs get damaged due to penetration and swelling in the chemical dying process.
The main chemicals in hair dyes that damage the hair shaft and lead to breakage (hence the super-short hairs near your crown) include the following:
Hydrogen peroxide – strips hair of natural melanin and results in brittle texture and breakage
Ammonia – penetrates the hair cuticle to let in a new color, it's a poisonous gas and damages/breaks hair due to pH alteration
Parabens – artificial chemical preservatives that dry our hair, which can lead to breakage
Use of Hair Bleach
Like hair dyes, hair bleach causes damage, breakage, and short hairs around the top of the head due to its intense chemical makeup. Hair bleach usually contains hydrogen peroxide, ammonia, and potassium persulfate (an artificial oxidizing agent).
These chemicals penetrate the hair cuticles to remove natural color (melanin) in the bleaching process, leaving hair damaged long-term.
Chemical Hair Treatments
There are certain chemical treatments used to style hair, such as perms and relaxers, that also damage hair.
In fact, the purpose of a perm is to damage your hair so that you can alter its structure and make it curly.
Many side effects of perms include split ends and breakage, which results in the short little hairs near the top of the head.
And hair relaxers, meant to chemically straighten hair or loosen curl structure, also cause damage and breakage, since they work similarly to hair dyes. Relaxers penetrate hair cuticles and cortexes.
You Have Heat Damage
Heat treatments, such as the use of heated hair styling tools, can also damage hair.
On the scientific level, any temperature above 300 degrees Fahrenheit changes the keratin protein in your hair. As a result, your hair becomes weaker, less elastic, and more likely to break or endure damage.
On top of that, spending time outdoors in hot weather can make those damaged, broken short hairs frizzy by further drying them out.
How to Smooth Frizzy Baby Hairs
You can remedy the issue of short frizzy hair on top of your head by using moisturizing and reparative, anti-frizz products. Try leave-in conditioners, conditioning masks, and hair spray with a comb if you're short on time.
Fortunately, there are plenty of over-the-counter remedies for frizzy hair and short, broken hairs near the crown of your head.
Whether you turn to a natural plant-based oil treatment or a deep conditioning mask, consider these methods of smoothing and repairing the short frizzy hairs on the top of your head:
Deep Condition Your Hair
One effective treatment for short frizzy hairs is the use of a deep conditioner.
Deep conditioners tackle the two main issues that lead to short frizzy hairs since they're designed to repair and strengthen damaged hairs and reduce frizz by smoothing and softening.
Deep conditioners are a bit thicker and heavier than, say, leave-in conditioners.
They often contain natural oils that replenish damaged hair, such as shea butter, and argan oil, as well as fatty alcohols like cetearyl alcohol that moisturize and soften hairs.
Deep conditioners are only meant to be used once every couple of weeks or once a month since they are powerful.
You can do a deep conditioning treatment, which lasts between 15-20 minutes, at home or in a salon with the help of a professional hairstylist.
Use a Conditioning Mask
You can achieve similar results to smooth and tame your frizzy short hairs by applying a conditioning mask from time to time.
Conditioning masks are pretty similar to deep conditioners; they just may come in a different liquid form.
These get rinsed out of your hair but must sit and take effect for a period of time beforehand.
Conditioning masks often include ingredients like plant-based oils to repair and moisturize super dry hair that's a result of chemical and heat exposure.
Tame with Gel and a Comb
If you're in a time crunch and don't want to wait for a deep conditioner to take effect, you can smooth down your short frizzy hairs manually.
If you have a clean toothbrush or a fine-toothed comb and some hair gel, you can smooth back these hairs temporarily.
Of course, this treatment doesn't get to the root of the problem or repair these short, damaged hairs.
Affordable hair gels often don't have the moisturizing qualities that other hair care products do. They are mainly formulated to hold the hair in place.
However, gel does give you a quick fix if you're wanting to style your hair for an event and don't want to deal with the frizzy hairs sticking up and getting away from you.
Tame with Hairspray and a Comb
You can achieve a similar quick fix to the hair gel treatment if you slick your short frizzy hairs back with hairspray and a comb or toothbrush.
Keep in mind that many hairspray products contain chemicals like synthetics like vinyl acetate and alcohols that may further dry out the hairs.
As a result, this method won't fix your issue long-term, but it will smooth down the frizzy hairs long enough to keep a hairstyle in place.
Use Leave-In Conditioner
Leave-in conditioners are another, less heavy way to moisturize your hair but on a more regular basis.
You can use a leave-in conditioner daily if you have extra-dry hair that needs support. Or, you can use it a few times a week.
Leave-in conditioners contain natural oils, like avocado oil or coconut oil, as well as glycerin to form a protective barrier on your hair against damage.
Note that leave-in conditioners are more effective at preventing further damage than they are at reversing the damage.
Therefore, you may need to use a leave-in conditioner in combination with a deep conditioner to get to the bottom of your issue with short frizzy hairs atop your head.
Try a Hot Oil Treatment
Last but not least, you might consider an oil treatment to moisturize and repair especially brittle or damaged hair that's prone to frizziness.
Those short, broken hairs at the top of your head can often occur due to:
Dryness
Damage
Lack of blood flow in your scalp
Hair experiencing these issues can benefit from hot oil treatments, as they strengthen your hair, moisturize, and de-frizz.
Tips for Avoiding Short Frizzy Hair on Top of Head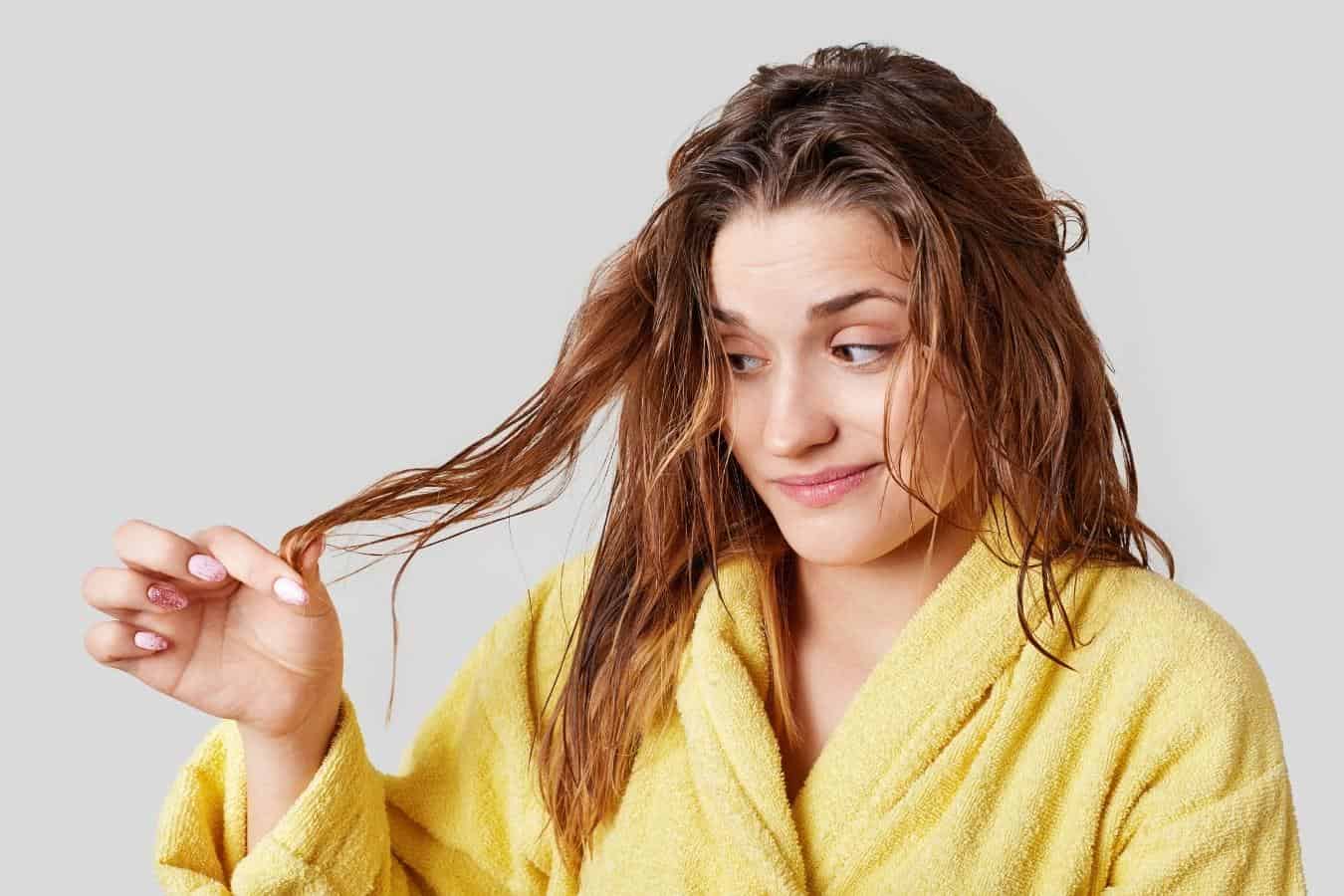 Although you can't entirely avoid hair damage, breakage, dryness, and frizziness, you can take some precautions to minimize short frizzy hairs atop your head:
Stay Away from Chemicals
First, stay away from harsh chemicals found in hair dyes, bleach creams, perm treatments, relaxers, and even certain shampoos and conditioners.
Sulfates and parabens are commonly found in hair care products, and they tend to dry out hair, especially at the roots.
Stay Away from Heat Treatment
Flat irons, curling irons, curlers, and especially hot blow dryers are common sources of hair damage, especially if you are already prone to dry or frizzy hair.
If you can, you should also avoid spending long periods of time with your hair exposed to harsh sunlight and outdoor heat.
Avoid Brushing Wet Hair
Instead of taking your regular hairbrush to your hair right out of the shower, use a wide-toothed comb instead. One designed for wet hair is preferable to, say, a wooden comb.
Get Your Dead Ends Trimmed Regularly
Having split ends isn't uncommon, but it can lead to the deterioration of your hair health.
Over time, hairs with split or dead ends will break, leaving you with short hairs at the top of your head that can easily get frizzy.
Getting regular trims at the hair salon will minimize dead ends.
Best Hair Cuts and Styles if You Have Short Frizzy Hairs
In addition to preventative measures, you may also want to manage short frizzy hairs if you already have them. There are certain hairstyles that will minimize the appearance of these hairs and make them less obvious.
Pixie Cut
A short, stylish pixie cut is an ideal haircut if you're prone to dry hair and those short, frizzy hairs atop your head. Pixie cuts require regular trimming, which gets rid of dead ends to maintain hair health.
Further, a pixie cut is a good way to make these short frizzy hairs less obvious if you're struggling to get them to grow out. The naturally short hairstyle hides the length imbalance quite nicely.
Textured Bangs
Getting bangs isn't everyone's cup of tea, but if you have short frizzy hairs and want to blend in the texture of them, bangs are a great cover-up.
Side-swept bangs are another good choice, but stay away from blunt-cut straight bangs if you're prone to frizziness.
Bob Cut
Bobs are above-the-shoulder haircuts that usually leave a lot of wiggle room for texture via angles and layering.
The differing lengths of hair layers make it easier to disguise those short, frizzy hairs at the top of your head.
Shag Cut
Shags are coming back into style again, and the messy, textured look of this hairstyle is another great cover-up for short frizzy hairs. Part of this hairstyle relies on having volume and texture in the first place.
And it won't be detrimental to your look to trim the dead ends off of even the short hairs.
Conclusion
Struggling with short frizzy hairs on top of your head? Hopefully, our guide has explained how chemical and heat damage can lead to hair breakage that causes this phenomenon.
Remember to avoid excess hair coloring, bleaching, heat-styling, and chemical-rich products to prevent dryness and damage.
And if you need to, choose a hairstyle that helps you to blend in the short frizzy hairs so they're less obvious.
Frequently Asked Questions
What is peach fuzz hair?
Peach fuzz is not the same as short frizzy hairs on the top of your head. Peach fuzz is the soft, thin, and incredibly short hair that grows on most of the body. It's usually not very noticeable but can be darker near one's hairline.
Should I remove vellus hair?
Vellus hair (another term for "peach fuzz") doesn't technically need to be removed. However, some hair professionals recommend shaving it regularly to exfoliate facial skin and promote better skin health.
Why is my top layer of hair so dry?
The top layer of your hair is usually the driest, and thus the most damaged because it's the least protected from outside elements. It comes into contact with the drying effects of the sun before your other layers of hair do, and it's more likely to lose moisture as it comes in contact with chemicals and other substances.
Does coconut oil help hair frizz?
Coconut oil can be an effective treatment for frizzy hair if you're frequently exposed to humidity. It smooths the hair and becomes a barrier against water absorption, which is what leads to frizziness in the first place.
Disclaimer: This site is not intended to provide professional or medical advice. All of the content on LovedByCurls.com is for informational purposes only. All advice should be followed at your own discretion. Ingredients may change at any time so always check the product label before using. Check our full disclaimer policy here.
Dee has been following the Curly Girl Method for over four years and is our in-house Curly Girl expert. She has a keen interest in natural haircare and has tried and tested her share of CGM products. She has a photographic memory of most sulfate and silicone-free hair products available on the high street and she's always happy to recommend you her favorites.