Dyeing your hair at home can be tricky but you can get great results with the right supplies. You may be tempted to use ingredients you already have and perhaps you're wondering if you can use conditioner instead of developer. We've got the answers so keep reading.
The short answer is no, you cannot use conditioner instead of developer. The main ingredient in developer, hydrogen peroxide, is key to hair dyeing, so replacing a developer with a conditioner won't get you the right results.
You will, of course, still use conditioner to keep your hair healthy after the dyeing process. This is because developer can cause damage to your hair so you need to add moisture and shine.
What Is Developer?
Developer is a product combined with either hair bleach or hair dye.
Typically, the active ingredient is hydrogen peroxide. The developer lifts the cuticle of the hair shaft.
Then, the dye or bleach can penetrate deeper into the hair shaft.
Without opening the cuticle, the hair color won't hold, or your bleach won't be able to lighten your hair effectively. So when dyeing your hair, you absolutely need developer.
Why Can't I Use a Conditioner to dye my hair?
The formula for most color treatments requires the chemical constructs of developer.
Because of this, you should use whatever supplies your specific hair treatment recommends.
It's essential to follow their instructions for the best results. While you can't use conditioner as a replacement for a developer to dye your hair, you can use it in other ways during the hair dyeing process.
You can use it to keep your hair healthy and in fact, there are some conditioners that deposit hair color.
How Do I Know What Developer to Use?
With so many choices, how do you know which one to use?
Let's first talk about the differences between each kind.
The different levels of developer are called volumes: 10, 20, 30, 40, and 50 volumes.
Which volume you choose depends on what goal you're trying to achieve.
10 Volume Developer
The lowest volume developer, 10 volume, opens the hair cuticle the least.
The benefit to this developer is that it causes the least amount of damage to the hair. It doesn't lift the cuticle much, so it causes minor damage to the hair follicle.
It's perfect for routine maintenance or adding a tint to your original hair color.
But, if you want to change your hair color significantly, you'll need to use one of the higher-level developers.
20 Volume Developer
20 volume developer is the second-lowest level. According to Straight Ahead Beauty, 20 volume developer is great if you want to lighten your natural blonde hair.
You can use it to lift your hair about one to two levels of color. It's a great place to start if you want to lighten your hair without causing too much damage.
30 Volume Developer
This volume is excellent for lightening your hair several levels, around two to three, or giving a strong bond for your permanent hair color.
It can also help you achieve a deeper hue than 20 volume developer. If your hair cuticle is resistant to a developer, then a 30-volume developer will work similarly to a 20-volume developer.
40 Volume Developer
Volume 40 developer is one of the strongest developers available. It's great if you want to go to a very light blonde or lighten your dark hair by about four levels.
It will also help the hair color penetrate deep into the cuticle. According to TotalBeauty, you should be careful when using it since it is so strong. But it can give you some great results.
50 Volume Developer
Technically, there is a 50 volume developer. However, it should be left to the professionals to use this product.
It is better to try to achieve the same effect through several sessions with a lower-level developer than to use a 50 volume developer in one session.
This developer is so strong that it can cause severe damage to the hair cuticle.
How to Use Developer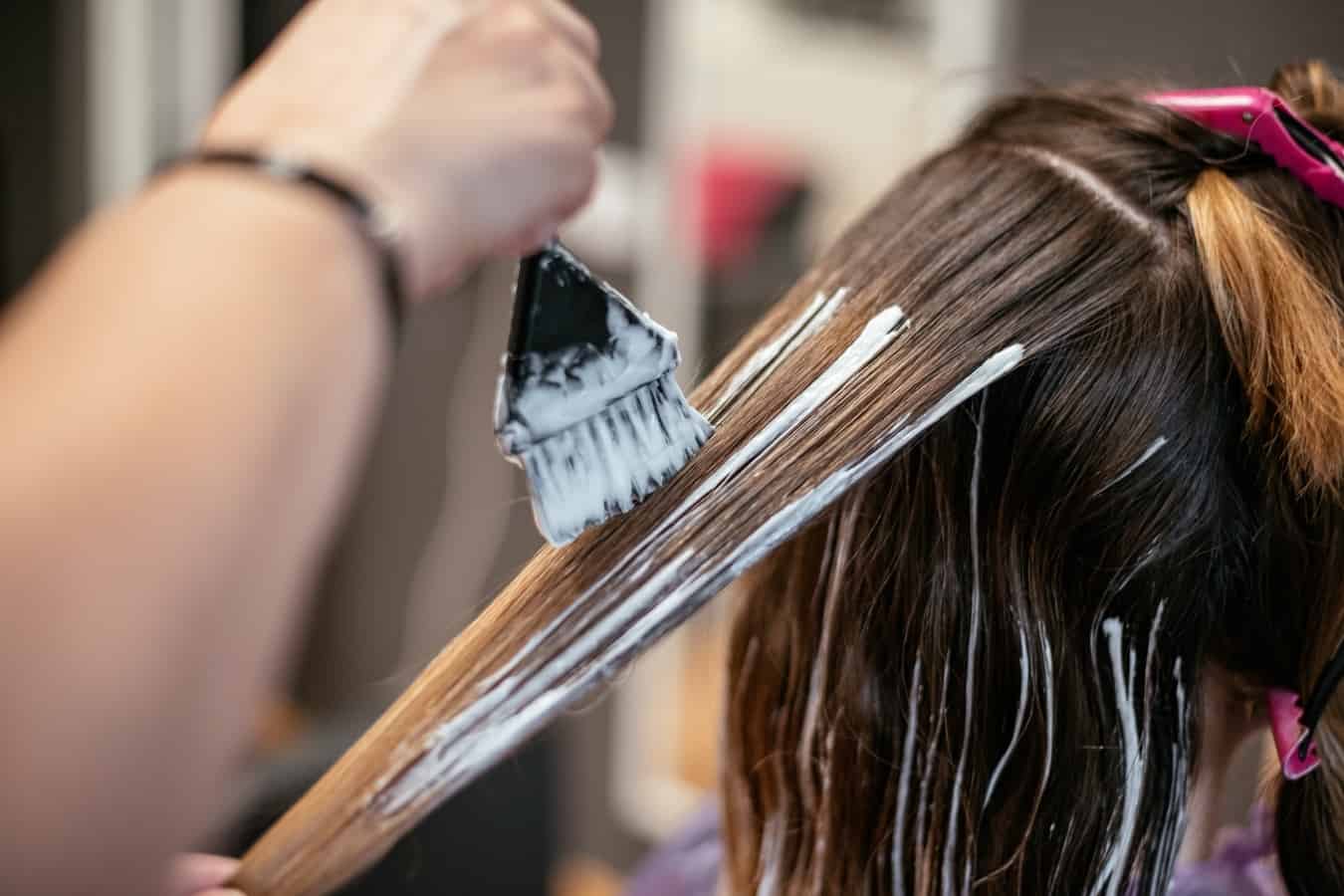 Now you know how to choose the right developer for your hair goals. But how do you even use it?
Usually, the hair color you are using will tell you the ratio of hair color to the developer. Each brand may be slightly different, so you should always read the instructions.
That will ensure you get the best results!
Mixing the Hair Color and Developer
So, let's say you're using Wella Color Charm hair color with Wella Color Charm 20 volume developer.
According to the instructions from Sally Beauty, you should mix the hair color and the developer in a 1:2 ratio.
In other words, you should use twice as much of the developer as the color. But remember, this is just the ratio for this brand. You'll need to follow your hair color's instructions.
Finally, be sure to combine the hair color and the developer thoroughly.
Applying the Hair Color
You've got your color and developer mixed, so now it's time to apply it.
Use enough mixture to saturate all of your hair. Any spots you miss will make your hair look splotchy, so be sure to apply it evenly.
Then, you should let it sit in your hair for 30-45 minutes.
After that, use shampoo to wash the mixture from your hair thoroughly.
Remember, this amount of time could change depending on the type of color you use so always follow the instructions!
Using Conditioner to Preserve Your Hair Color
Now, you can use a conditioner to protect that gorgeous color.
Using a developer can cause a lot of damage to your hair, so it's essential to keep it moisturized.
Unhealthy hair will not only lose color faster, but it can even break off! Using conditioner will help keep your hair hydrated and healthy.
Choose the Right Conditioner for Your Hair
There are lots of different conditioners out there. Whether you have curly, oily hair or dry, straight hair, you'll be able to find one for you.
Some are even specially formulated to help your treated hair hold color. Or, if you're feeling fearless, there are even colored conditioners on the market that will deposit color while hydrating your hair.
Using Color Depositing Conditioner
Color depositing conditioners are unique because they don't use hydrogen peroxide to open the hair cuticle.
Instead, the dye is absorbed with the conditioner as a carrier.
According to oVertone, one of the leading semi-permanent hair color companies, their product is for initial color application and color maintenance.
So, you can either use it for an awesome, temporary look or help maintain permanent hair color.
Drawbacks to Color Depositing Conditioner
Unfortunately, there are some issues with using color depositing conditioners.
Because there is no developer, the color can't get into the cuticle as deeply as fully permanent hair dye.
Its lack of depth will cause it to wash out faster. Overtone says that the user should reapply the color approximately every 1-2 weeks.
That can be a lot of dye if you're keeping a color long-term.
Benefits of Color Depositing Conditioner
While color depositing conditioners have drawbacks, they also have some great benefits. Because the color is semi-permanent, it's a great way to test out some cool colors.
But that isn't their only use! Use a color depositing conditioner to keep your hair color looking vibrant and luscious too.
That way, you don't need to visit the salon as soon for a touch-up.
Summary
So, now you know why you shouldn't use conditioner instead of a developer when dyeing your hair and what products you should use instead.
Check out the embedded links to color depositing conditioners if you still want to use conditioner for the dyeing process.
They could benefit your hair health and have tons of color options. Whatever products you decide to use, you should choose one that best fits your hair goals! Good luck.
Disclaimer: This site is not intended to provide professional or medical advice. All of the content on LovedByCurls.com is for informational purposes only. All advice should be followed at your own discretion. Ingredients may change at any time so always check the product label before using. Check our full disclaimer policy here.
Dee has been following the Curly Girl Method for over four years and is our in-house Curly Girl expert. She has a keen interest in natural haircare and has tried and tested her share of CGM products. She has a photographic memory of most sulfate and silicone-free hair products available on the high street and she's always happy to recommend you her favorites.