It is notoriously difficult to dye dark hair but if you're wanting to go purple, there's light at the end of the tunnel. In this post, I'll show you just how to use purple hair dye for dark hair without bleach so you can get that vibrant color you're looking for.
I'll also be sharing the best permanent and semi-permanent products to buy.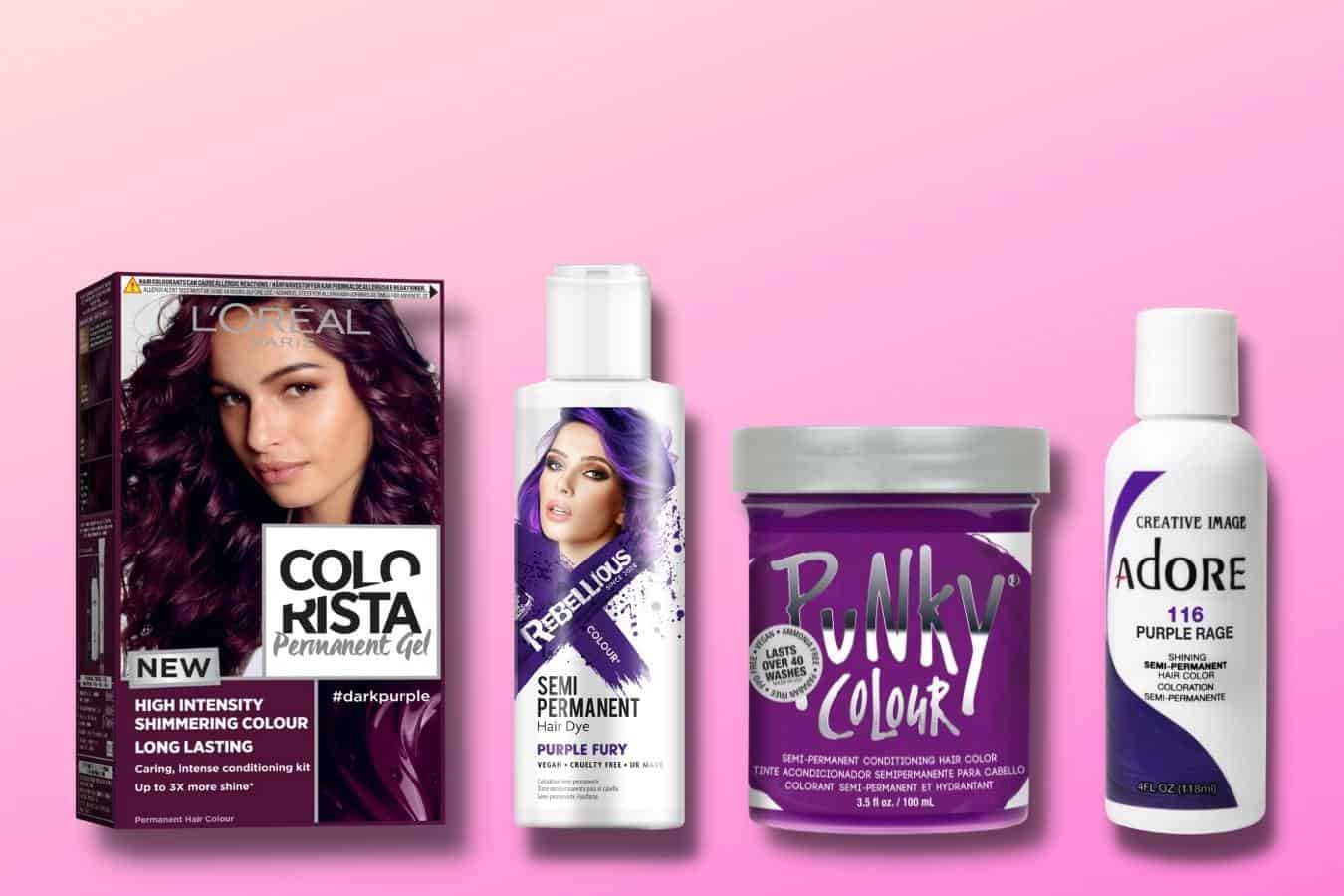 This post contains affiliate links and we may earn if you click on them (at no extra cost to you). Please read our full disclosure policy here.
Can You Dye Dark Hair Purple Without Bleach?
Yes, it is entirely possible to dye your hair purple without using bleach as long as you use the right product and the correct shade of purple suitable for your hair.
A few things to keep in mind though:
Be Realistic About The Result
Unfortunately, you can't expect to get a light purple shade on the base of black hair without bleaching it first. It's just not possible.
Instead, opt for deeper shades like indigo or burgundy purple. It is, however, possible to get some surprisingly bright purple shades from wash-out dyes. These include sprays, waxes, and hair chalk.
Which Purple Shade To Choose
You need to decide what purple shade you'd like on your hair.
If you're starting with a dark base like black or very dark brown, you should go for deeper shades like amethyst, burgundy, and indigo. These will work much better than a bright purple dye that's meant for blonde hair.
If you have light brown hair or you're planning to lighten your locks before dyeing it, try one of these purple hair dyes instead.
Type of Hair Dye
You can choose between permanent, semi-permanent, and temporary hair dye.
Permanent color
Permanent color is just that: permanent. It lasts forever in theory but will still fade over time.
Permanent dye is the longest-lasting option of the three choices but you will still have to do some maintenance to keep your hair color looking its best.
With permanent color, you can opt for a purple shade that is close to your own natural hair color for the best results.
Most shades of permanent hair color do contain some level of ammonia which will lighten your hair color a little but not nearly as much as bleaching.
Semi Permanent
If you want to try a new purple hair dye for your dark hair without using bleach, there's always the option of semi-permanent hair dye.
Semi-permanent hair dyes do not permanently change your hair color but will wash out after a while. Usually, they last between 8 to 6 washes but this depends on the brand and your hair type and condition.
Temporary Hair Color
If you just want to temporarily change your hair color for a certain event – say for Halloween, a party, or for a concert, there are temporary options including color sprays, coloring shampoos, hair chalk, or hair waxes.
These can create surprisingly vivid, eye-catching tones, even on dark hair.
The Best Dyes To Color Dark Hair Purple
The products below were chosen based on the following criteria:
Personal experience by our in-house team
Color vibrancy
Ability to work on dark hair
Value for money
Customer reviews
All of the hair dyes below are suitable for anyone with dark hair and have the ability to give you a deep, rich, and vibrant purple color.
---
---
---
What I Didn't Like: Can stain but that is to be expected
---
---
---
---
---
---
---
The Benefits of Avoiding Bleach
Bleach enables you to lift your hair color by several shades and is ideal for going from a dark base color to a lighter blonde or a much lighter pastel shade.
However, it can't be denied that bleaching does take its toll on the hair.
Even if you are bleaching healthy, virgin hair that has not been bleached or colored before.
This is because bleach opens up your hair's cuticles and breaks apart the proteins in your hair to remove the color.
This will leave hair significantly lighter in shade but also much dryer and weaker.
Bleached hair may also feel frizzy, straw-like, and break easily. It is more open to environmental stresses like the sun, heat styling, and chlorine.
Bleached hair, therefore, needs a lot of special care. Use a deep conditioner to mitigate this damage or try a keratin treatment after bleaching or dyeing your hair.
How To Dye Your Hair Purple if you have dark hair
Preparation
Do a patch test at least 24 hours prior to dyeing your hair
Don't wash hair 1-2 days beforehand
Deep condition hair 12-2 days prior to dyeing hair
Instructions
Step 1. Prepare all your tools such as the dye, a towel, a mixing bowl if needed, and the gloves
Step 2. Put on the gloves and mix together the dye
Step 3. Section your hair and put on an old towel or plastic wrap
Step 4. Begin dyeing your hair from the roots downwards, making sure you cover every inch of your crown.
Step 5. Once you've finished dyeing your hair, make sure it won't fall down onto your back. The dye will stain very badly if your hair is not held in place.
Step 6. Leave the dye in for as long as intended.
Step 7. Wash out the dye and style as per usual.
How To Take Care Of purple Dyed Hair
Once you've taken the plunge and dyed your dark hair purple with a permanent or semi-permanent hair dye, you'll want to take care of the color to keep your locks looking their best.
So here are some tips on how best to maintain your color:
Don't Wash Your Hair Too Frequently
Try not to wash your hair too frequently to help preserve the color better. Instead, make dry shampoo your new best friend!
When you do shampoo, you'll probably see some of the purple color going down the drain the first couple of times.
This is normal, but you'll find that using sulfate-free shampoos or co-wash with gentle ingredients will help maintain your color.
If you've dyed your hair with a semi-permanent shade and still have some dye left over, you can always add a small amount to your conditioner each wash day to help top up your shade.
Be aware that this only works with semi-permanent dye, however, as leftover permanent dye must be thrown away due to the oxidizing effects of the developer.
Wash Your Hair With Cool Water
Washing your hair with cool or lukewarm water will help to maintain your color, as hot water opens up your hair's cuticles, causing the color to fade faster.
Finishing off with a cool rinse (as cold as you dare) will seal your hair's cuticles again, creating less frizz, more shine, and better preservation of your purple shade.
Use Color Protecting Hair Products
Color-protecting shampoos, conditioners, and styling products help to preserve your luscious purple locks for as long as possible.
Look for color-safe formulas that are specially designed for dyed hair.
Deep Condition Your Hair Regularly
Dyeing is tough on the hair.
Regular deep conditioning helps your hair to retain moisture and smooths down the hair's cuticles to stop color from escaping.
Aim to deep condition your hair with a mask or coconut oil at least once a week to help keep your hair in its best condition.
Protect Your Hair From The Sun
The UV rays of the sun will fade your lovely bright purple color, and may even change its hue entirely with prolonged exposure.
For this reason, it's best to cover your head before going out in the sun or invest in a UV protection spray for your hair.
Avoid Heat Styling
Heat styling is another culprit for color fading.
Try to avoid heat styling altogether and let your hair dry naturally after washing.
Or, if you're addicted to blow-drying and hair straighteners, use a heat-styling spray to protect your hair from heat damage.
Disclaimer: This site is not intended to provide professional or medical advice. All of the content on LovedByCurls.com is for informational purposes only. All advice should be followed at your own discretion. Ingredients may change at any time so always check the product label before using. Check our full disclaimer policy here.