Bleach can transform your hair color, lightening it by several shades. But how do you wash bleach out of hair? Is it enough to rinse it out with water, or should shampoo be used, and what kind of shampoo?
Quick Answer To How To Wash Bleach Out Of Hair
To wash bleach out of hair, you must first rinse it thoroughly with lukewarm water. Then use a mild shampoo to remove the last traces of bleach from your hair and scalp. Follow with a toner (if required) and a deep conditioner.
Why Is It Important To Wash Bleach Out Of Hair?
Bleach is used to lighten the color of your hair by several shades. It is a strong chemical that is very harsh on the hair.
When you apply bleach to your hair, a powerful chemical reaction begins, and the bleach sets to work, stripping the natural color from your hair.
If you don't wash the bleach out after an allocated time period, this chemical reaction will continue.
The bleach would ultimately remove all the moisture in your hair, leaving it extremely dry, brittle, and vulnerable to breakage and damage.
How To Wash Bleach Out Of Hair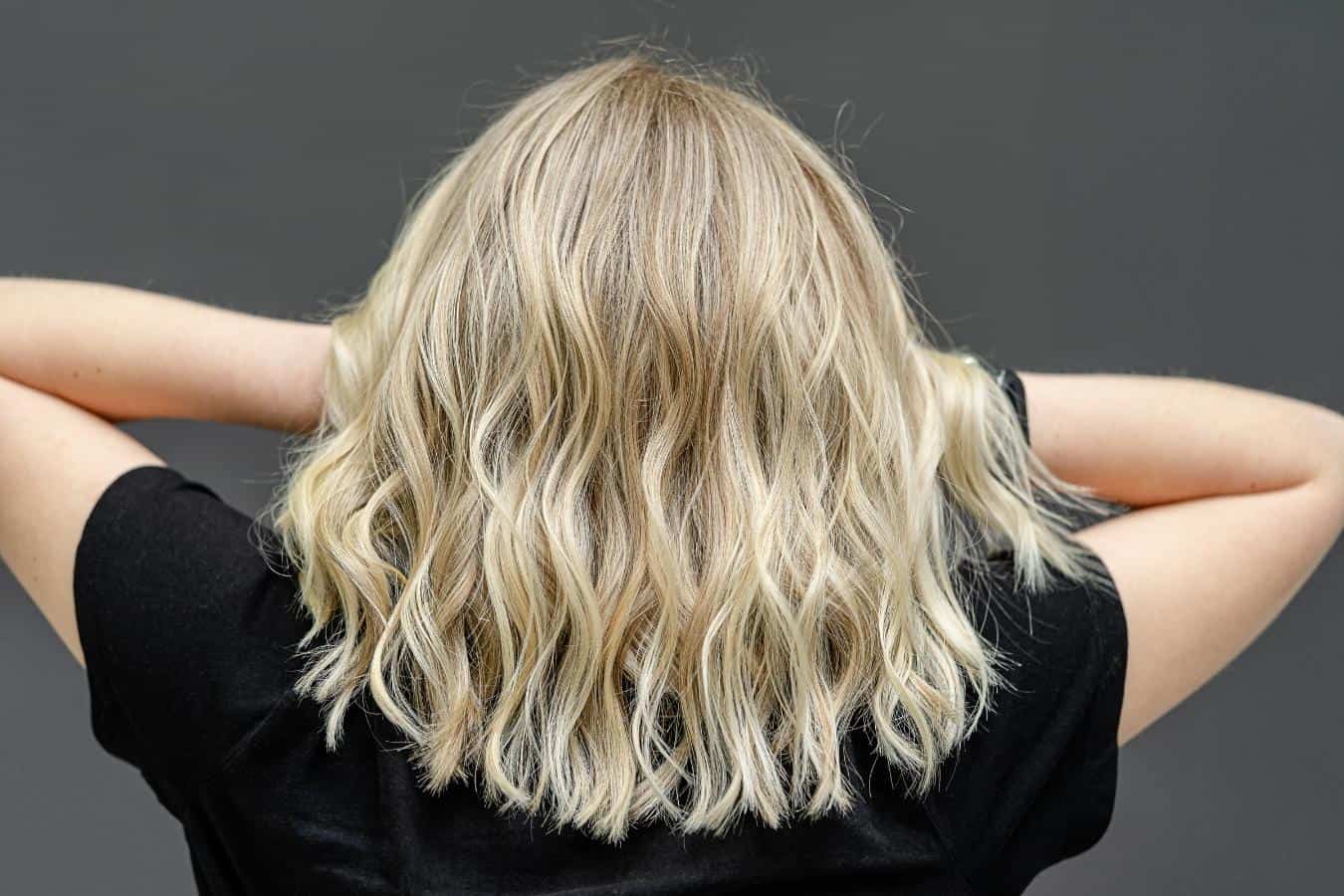 Before washing the bleach out of your hair, you need to make sure you've left it in for long enough.
Always read the instructions on the packaging carefully to find out how long you should leave the bleach on for.
As a general guide, bleach should be left on for 15-45 minutes, depending on your natural hair color. You should check your hair every 5 minutes while it is processing to check the shade.
Dark hair may need to be bleached more than once. You should leave at least 2 weeks between each bleaching session to avoid damage to your hair (always check the condition of your hair before bleaching).
Here's what you do:
Step 1: Rinse With Lukewarm Water
Once the bleach has been on your hair for the required amount of time, rinse the bleach thoroughly from your hair with cool or lukewarm water.
Avoid using hot water as this will interact with the bleach and leave your hair feeling dry and brittle. It may also exacerbate any irritation of the scalp caused by the bleach.
If you live in an area with hard water, consider purchasing a showerhead filter to protect your hair from harsh minerals.
Step 2: Shampoo Your Hair
It's always a good idea to shampoo your hair after bleaching. This is because even though rinsing will remove most of the bleach, some of the lightening ingredients will stay stuck to your scalp and hair.
After you've rinsed as much bleach out as you can, use a gentle shampoo without sulfates to avoid any further damage to the hair.
This will ensure you get all the last bits of bleach out of your hair.
Avoid scrubbing your hair and scalp with your fingers as this will cause further damage to the hair and irritation to the scalp. Instead, gently massage the shampoo into your hair and scalp.
Should I Use Neutralizing Shampoo After Bleaching?
You don't have to, but you can if you want. A neutralizing shampoo is more acidic than regular shampoo, so it will cancel out the alkalinity of bleach.
This ensures that the chemical reaction started by the bleach doesn't continue, and brings the pH of the hair back to normal.
If the bleach you're using is very strong or the bleach packaging suggests using a neutralizing shampoo, then go ahead.
However, a word of warning: If you're planning to use a toner straight after bleaching, don't use neutralizing shampoo. Doing so will lower the cuticle of the hair, which will make the toner less effective.
Step 3: Apply Toner or Purple Shampoo (Optional)
Toner or purple shampoo should only be used if you aren't happy with the color of your hair after bleaching.
It will help to neutralize unwanted yellow, orange or brassy tones in bleached hair, and give your hair a tint of color.
Purple shampoo or toner can be used after rinsing the bleach out of your hair with regular shampoo. It should be used before deep conditioner, as this will close the cuticle of the hair and make the toner less effective.
If you feel your hair is a little fragile, however, you can wait a few days before using the toner. Otherwise, you will be adding more damage on top of the damage bleach has done to your hair.
Be sure that your hair is thoroughly rinsed of bleach before using, or the toner won't work effectively.
Step 4: Apply A Deep Conditioner
It's important to use a deep conditioner after bleaching the hair, to begin to reverse the damage caused by bleach.
Deep conditioner will moisturize and replenish the hair, leaving it softer and stronger after the harsh bleaching process.
After shampooing and using a toner or purple shampoo, apply the deep conditioner to your hair and leave to sit.
Adding a shower cap over the top will help the conditioner to penetrate deeper into the hair due to the heat from your scalp.
Leave the deep conditioner on for at least 10 minutes, though the longer you can leave it on the better (always check pack instructions).
After the time is up, wash the deep conditioner out of your hair with lukewarm water. Always be gentle with your hair as it is in a vulnerable state after bleaching.
Do I Wash Bleach Out With Shampoo And Conditioner?
It is okay to wash bleach out of hair with shampoo and conditioner as long as you're not planning to use a toner right away.
Using conditioner will lower the cuticle of the hair, making it harder for the toner to penetrate the hair and do its job.
Also avoid using a neutralizing shampoo before toner, as again, this will lower the cuticle of the hair.
It's recommended you use a deep conditioner on your hair after shampooing the bleach out and using a toner.
Doing so will start to reverse some of the damage that bleaching has done to your hair.
Can You Use Normal Shampoo On Bleached Hair?
You should use a gentle shampoo after bleaching your hair as your hair is in a vulnerable state.
Avoid shampoos that contain sodium lauryl sulfate (SLS), as this is a harsh detergent chemical that will further damage your hair.
You may wish to opt for a shampoo that is entirely sulfate-free. This will cleanse your hair without stripping it of oils, and help prevent brassiness.
There are many products available that are specially designed for lightened and damaged hair, full of gentle and moisturizing ingredients.
Although these products can be more expensive than regular shampoo, you should be washing your hair less often after bleaching, to minimize drying out the hair further. Therefore these products should last you longer.
Frequently asked questions
How Can I Restore My Hair After Bleach?
Try to shampoo your hair as little as possible after bleaching, about 1-2 times a week if possible. Washing with shampoo can leave your hair drier and more brittle. Use deep conditioning treatments regularly. Olive or coconut oil makes an excellent hair mask or pre-wash treatment for bleached hair.
How Can I Darken Bleached Hair?
You can darken bleached hair by using toner or hair dye. Toner will create a more subtle difference by adjusting the tone of your hair slightly. Dye will create more dramatic results, though it is recommended you wait at least 2 weeks between bleaching and dyeing hair. You should also darken bleached hair gradually, to help prevent the color fading.
How Do I Make My Bleach Blonde Hair Look Natural?
It's important to consider your skin tone and natural hair color when choosing a blonde color if you want it to look natural. Match cool tones with a cool skin and hair tone and warm tones with a warm skin and hair tone. If you have neutral tones, you can pick a blonde color that has either warm, cool or neutral tones!
Disclaimer: This site is not intended to provide professional or medical advice. All of the content on LovedByCurls.com is for informational purposes only. All advice should be followed at your own discretion. Ingredients may change at any time so always check the product label before using. Check our full disclaimer policy here.
Nicola is a freelance writer and researcher whose specialisms lie in health and wellness, beauty, and psychology. She has fine, wavy hair and is a big fan of co-washing every alternate day between shampoos (as dry shampoo makes her sneeze!)