Bleaching is necessary to achieve many hair looks, whether you're looking for a platinum blonde or a soft blonde balayage. While bleach can be very damaging to your hair, there are steps you can take to protect your ends when bleaching hair.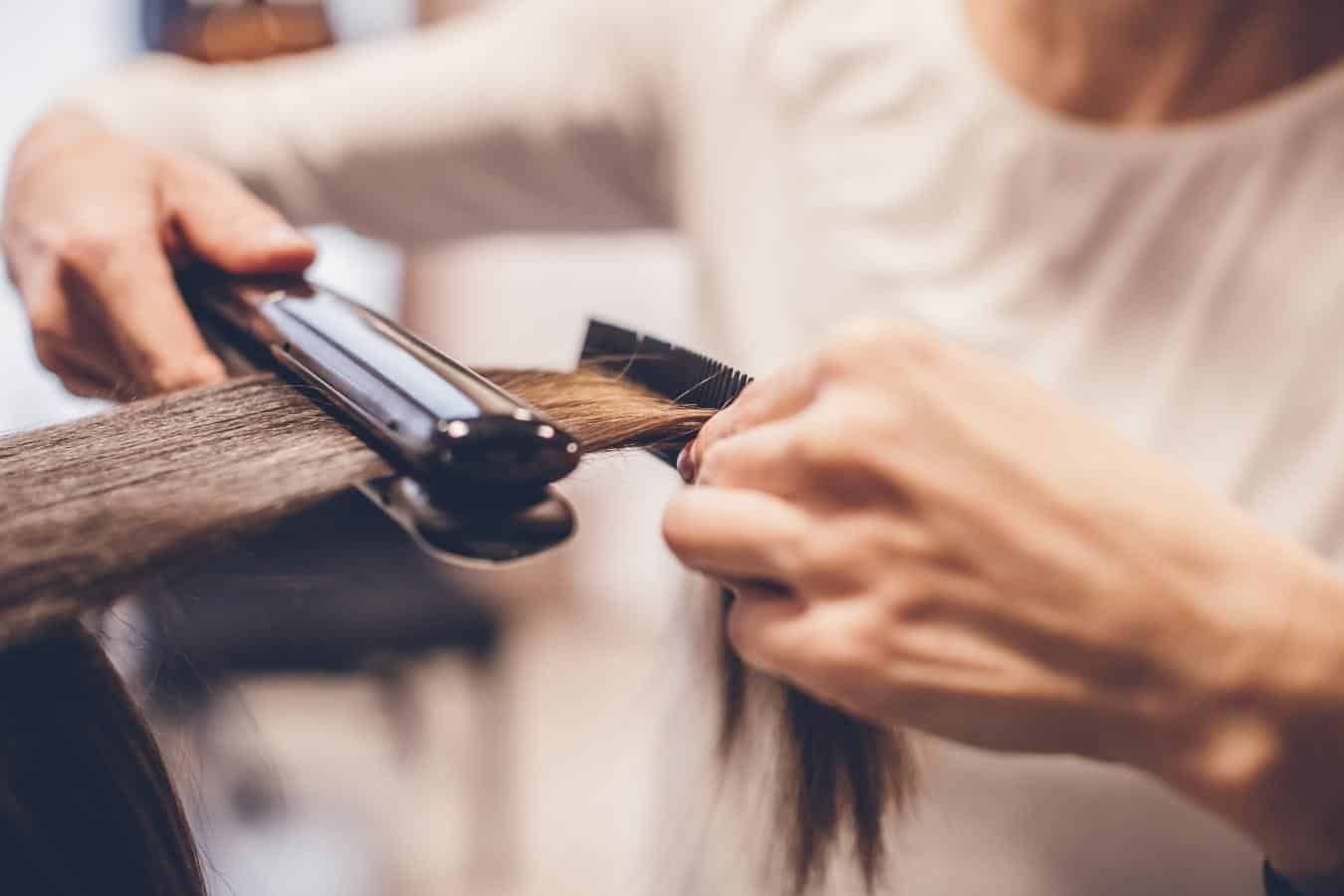 In this article, we are going to teach you seven easy ways to protect your hair from the potentially harmful effects of bleach so you can enjoy the hair look you want without worrying about damage.
How To Protect Your Ends When Bleaching Hair
When you bleach your hair, one of the biggest damage concerns is the health of your ends.
The hair at the ends is the oldest hair on your head, so it has experienced the most damage and stress over time.
For this reason, it tends to be the most fragile, brittle, and prone to damage.
Bleaching your hair strips out a lot of the natural oils in your hair and can make already-damaged hair even worse.
Before you grab the bottle of bleach, it's important to take measures to protect your ends.
Here are the seven best ways to protect your ends (and the rest of your hair) from sustaining damage from your much-loved highlights.
1. Use a leave-in treatment
Salon hair treatments have long been a tool that can be used to prevent and minimize bleach damage.
While you can still get treatments done at a salon, the quality of at-home leave-in treatments has drastically improved in recent years.
You can purchase a hair treatment from your salon or through a reputable hair care brand of your choice.
Brands like Olaplex are made for overprocessed, bleached hair, and are very affordable ways to get salon-quality results at home.
2. Get regular haircuts
Many people skip haircuts at the salon if they aren't in need of a style change like getting bangs or adding layers.
Even if you are in search of long, luscious locks, don't be afraid of getting regular haircuts. In fact, haircuts are essential for maintaining long, strong, healthy hair.
The ends of your hair have seen the most color processing, heat damage, and environmental damage, so it's important to get them snipped regularly.
This will help prevent split ends from forming or getting worse and keep your hair looking fresh longer.
3. Alternate shampoos
What you use on your hair really matters when it comes to preventing damage to your ends when bleaching.
Most people buy a big bottle of shampoo and don't think about it again until it's time to replace it, but there might be a good reason to come up with a more sophisticated shampoo strategy.
There is evidence to prove that switching up your shampoo every other wash is beneficial in preventing damage to heavily processed hair.
Switching up the products that you use on your hair can help to address multiple hair concerns and improve the overall quality of your hair.
It is recommended to use a moisture-rich shampoo and a protein-rich shampoo on an alternating basis for best results.
Also, look for products that are sulfate-free to prevent build-up in your hair.
4. Hair oil is your friend
For an instant boost of smoothness, shine, and hydration for your hair, keep a hair oil handy.
Even if you have oily or greasy hair, you can apply oil with a focus on your ends to help them remain smooth and protect against damage.
You can use olive oil, avocado oil, coconut oil, or almost any other oil. There are countless types of oils that can be used on your hair, and most can even be found in your kitchen.
You don't need to purchase a fancy hair-specific oil as long as it is pure.
Some oils like olive oil are more fatty and moisturizing, so they are better suited for dry hair.
Whereas lighter oils like jojoba oil are better for greasy to normal hair.
Try a few different oils or even an oil blend to help your hair stay soft, shiny, and damage-free.
5. Minimize heat styling
Heat is not your friend when it comes to any bleached hair.
Even hot tools turned down to the lowest settings can be damaging to delicate, porous bleached hair. Air drying is always the best option to protect the health of your hair.
If you must use hot tools, wait until your hair is almost dry on its own before using a blow dryer on the coolest setting.
Use heat irons and styling tools sparingly and save for special occasions if possible.
Apply a good heat protectant before blow drying or using any hot tools like curling irons or straighteners.
Heat protectants can minimize damage if you do need to use hot tools to style your hair.
This will help to create a protective barrier between your delicate hair and the concentrated heat of the tool.
6. Wash only as needed
If you have bleached hair and you wash your hair daily, you may want to think about taking a few days between washes.
Although this may feel daunting at first, it is very good for your hair. Washing frequently can actually weaken hair that is already prone to damage and can wreak havoc on your color.
It may take some time for your hair to adjust to being washed less frequently, but over time your hair's oil production will balance out.
You can use dry shampoo to try to extend the life of your hair and give it a boost of freshness between washes.
7. Consider a shower filter
Even if you don't have hard water at your home, chances are there is some degree of mineral content in your water that might be damaging your hair.
If you notice that your hair feels brittle and porous or your ends are breaking off, filtering your shower water might help.
A shower filter attaches easily and filters out minerals and some heavy metals in your water that porous bleached hair tends to absorb.
When done in conjunction with other methods of protecting your delicate bleached hair, you will notice a big difference in your hair from washing with filtered water.
Final Thoughts
Bleach is a necessary part of maintaining beautiful blonde locks or fantasy hair colors for most people.
If you are going to bleach your hair, it's important to be prepared for the potential damage that could happen.
Although the process of bleaching has come a long way, there is still always a chance that damage, breakage, and split ends can occur from this intensive process.
The good news is that there are things you can do to reduce damage or even reverse prior damage from bleach.
To maintain the integrity of your bleached hair, it's important to take good care of your hair.
Use high-quality products, minimize washing, protect it from heat damage, and make sure you get regular trims.
These simple steps will help to protect your hair and make it look beautiful and healthy.
If you have concerns about bleaching your hair, talk with your hairstylist to develop a plan of action.
This will help you achieve the hair color goals you want while minimizing damage and prioritizing healthy hair.
Frequently Asked Questions
How often can I use bleach on my hair?
As a general rule, it's best to wait as long as possible between bleach appointments and always try to avoid bleaching the same section repeatedly. This will minimize the damage to your delicate hair and help to maintain its strength and integrity even with regular bleaching.
What do I do when my bleached hair starts breaking?
When you notice breakage on your bleached hair, put down the bleach. Try to give your hair as long of a break from bleach and other chemical processes as you can. See your stylist to trim off the broken ends and focus on boosting your hair's hydration with high-quality products.
Does regular hair dye damage ends too?
Most single-process hair color treatments are not as damaging to your hair as the bleach in highlights, balayage, and other blonding treatments. This is because the purpose of these colors is not to strip the color from your hair, but rather to enhance or subtly change color and infuse moisture into your hair instead.
References
https://www.byrdie.com/bleached-blonde-haircare-4845674
Disclaimer: This site is not intended to provide professional or medical advice. All of the content on LovedByCurls.com is for informational purposes only. All advice should be followed at your own discretion. Ingredients may change at any time so always check the product label before using. Check our full disclaimer policy here.