Bleaching your hair is a dramatic way to change up your appearance, but it can make your hair more vulnerable. In this article, we'll discuss how soon after you can bleach your hair again.
Ideally, you should wait a minimum of 3 – 4 weeks before the next bleaching process. This is to prevent your hair from further damage caused by bleach.
Why Does Bleach Damage Hair
Essentially, bleaching your hair involves stripping the color from your hair.
Bleach contains hydrogen peroxide and ammonia, both of which work in combination to penetrate the hair fibers and dissolve the melanin.
Generally, the longer you leave the bleach on the hair, the lighter it becomes.
Using bleach damages your hair because it involves a harsh chemical process that leaves the hair more porous and susceptible to breakage.
How Often Can I Bleach My Hair
To maintain your desired shade of blonde, you may have to bleach your hair quite regularly.
As with all coloring treatments, it's recommended that you try to wait at least 6 weeks between each treatment to give your hair some rest.
In this time, you will start to see new hair growth at the roots. Don't be tempted to bleach your hair as soon as your roots begin to show, try to grow it out a little bit longer to protect the hair.
How Soon Can I Safely Bleach My Hair Again?
From the first bleaching session, your hair is very vulnerable.
If your hair color isn't what you were hoping for, it can be tempting to bleach it again the following day or a few days later, but this is not recommended at all.
In the first few days, the hair will be feeling dry and brittle, and what it needs the most is deep conditioning treatments and a break from any harsh chemicals.
If you want to prevent breakage and hair fall, wait a minimum of 3 – 4 weeks before the next bleaching process.
If you don't think you can wait that long, speak to a hairdresser who can advise you on what to do next.
Also Read: How To Bleach And Dye Hair In The Same Day (Must-Know Facts)
What Can I Do If I Want a Much Lighter Hair Color?
A common issue with bleaching is that people don't reach the desired shade or tone that they want.
This is normal, especially if you have dark hair because bleaching will only lighten the hair by a few shades.
Going from dark hair to light blonde hair could realistically take a few months, so patience plays a big part.
If you want to achieve a lighter color, you will have to have a number of bleaching sessions. It's best to space these sessions out to avoid long-lasting damage to the hair.
Alternatively, you can use a toner to correct orange hues and provide a more natural hair color. This is a gentler approach that could give you great results.
Things To Consider when Bleaching Hair
If you're planning on bleaching your hair or you've just begun the process, there are some things to keep in mind.
You Can't Expect Instant Results
If you have naturally dark hair but you want to go platinum blonde, this will have to take place over a few sessions in order to protect the hair from damage.
After one bleaching session, your hair might not be the exact shade you would like it to be. It could have orange hues or it could be patchy, but this is quite common.
A toner or purple shampoo can often help to correct this. But when it comes to achieving your desired shade, you will have to be patient.
Bleach Can Make Your Scalp Sensitive
If you have a sensitive, itchy, or irritated scalp, putting bleach on it is not the best idea. It can make the scalp burn!
If you want to protect your scalp as much as possible, then don't wash your hair before bleaching.
This will mean that the hair's natural oils protect the scalp from the harsh effects of bleach. You can also consider a balayage or ombre hairstyle as this doesn't require that you touch the scalp.
It Can Affect Your Natural Curl Pattern
Bleach can alter the hair's structure and affect the porosity, both of which can change the natural curl pattern.
Some people find that their hair appears straighter or less curly following the bleaching process, which could be a huge drawback.
If you have curls or wavy hair, this is something to consider before bleaching. If you are unsure, talk to a hairdresser or hairstylist.
You Need Bleach To Go Lighter
If you want a lighter hair color, then there is really only one way to achieve this: Bleach.
It's not an option that suits everyone, but it does work, unlike boxed dye that may only lift your hair color by 1 or 2 shades.
For this reason, going for a lighter shade can be high maintenance, as it will need to be touched up more frequently.
Your Hair Could Be Fragile For A While
Everyone's hair will react differently to bleach, but many people report dryness, brittle ends, itching, burning, and even hair fall.
These symptoms will vary and they can last for several months until your hair had enough time to heal. This is something to consider before committing to bleaching your hair.
Also Read: How To Get Hair Dye Out Of Carpet (4 Easy Ways)
You Will Probably Get Better Results At A Salon
Bleaching hair at home is becoming a more convenient and cost-effective option for many people, but will it provide you with the best results?
Maybe not. Bleaching your hair correctly and evenly is difficult, especially if it's completely new to you.
Not to mention that bleaching involves harsh chemicals that can burn your scalp if you're not careful. If this is your first time bleaching your hair, you should at least consider getting some advice from a hairdresser.
How To Care For Bleached Hair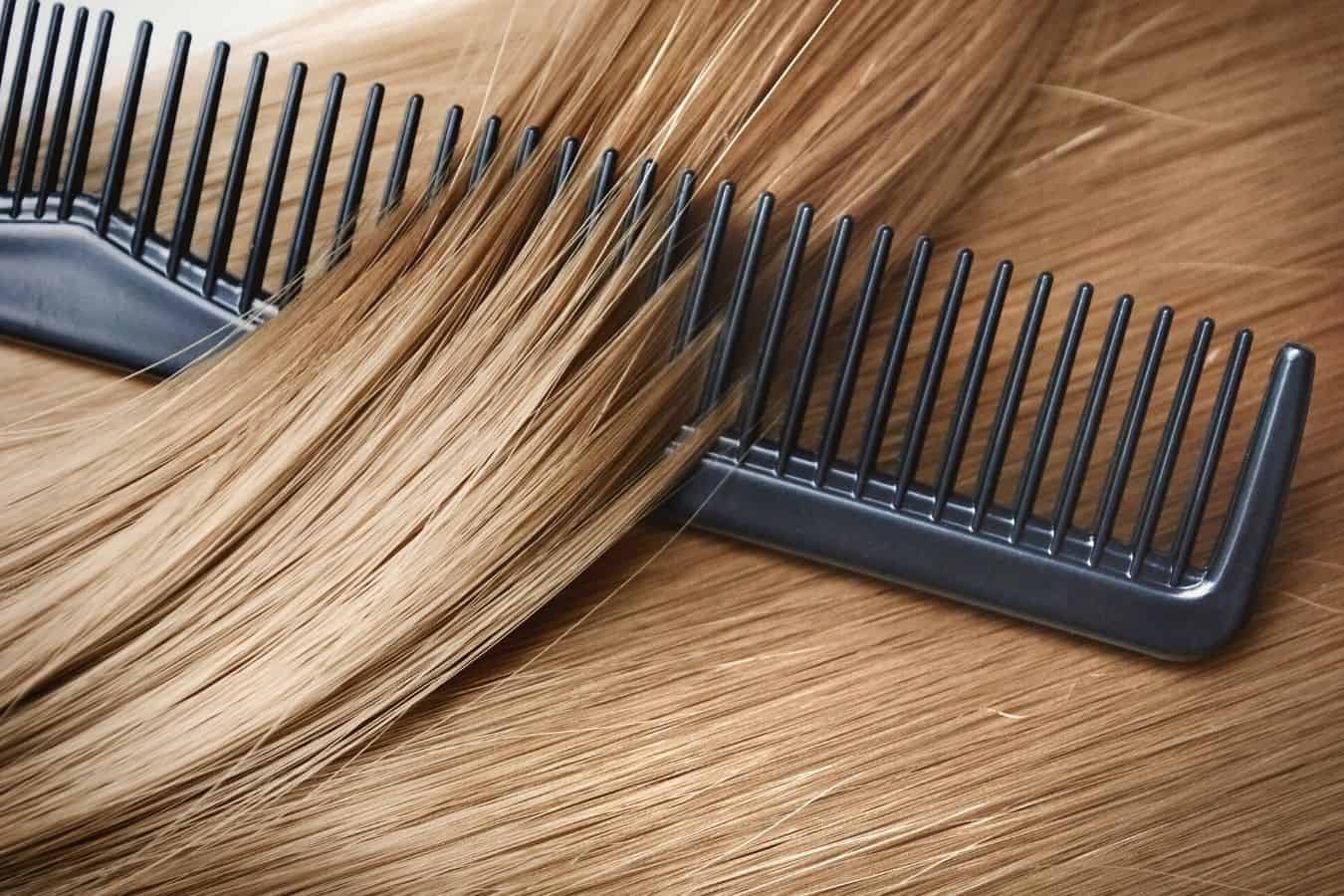 No matter what you do, bleaching your hair is still likely to make your hair feel dry and brittle. But here are some ways to manage and protect your hair.
Do Regular Deep Conditioning Treatments
Bleaching strips moisture from the hair and makes it fragile.
During this time, your hair needs to replenish lost moisture, and the most effective way to do this is with weekly deep conditioning treatments.
If your hair is feeling very dry or you're experiencing breakage, you will need to increase these treatments to 2 to 3 times a week until your hair gets stronger and healthier again.
Make sure you use heat during these treatments to increase the rate of absorption.
Stop Using Heat
Using heat styling tools on your hair after bleaching it will increase damage and could result in the hair falling out.
For the first couple of weeks, your hair is extremely vulnerable and needs time to heal, so give it a rest by styling your hair with no heat.
Avoid Over-Manipulating Your Hair
During this stage, your scalp will be feeling sensitive and your hair will be prone to damage.
You should avoid putting your hair in tight ponytails as this can create a lot of pressure on your scalp, causing further stress and irritation.
Wearing your hair loose or putting it in a loose bun is a gentler alternative that won't put unnecessary strain on your hair and scalp. This will protect it from damage while the hair and scalp begin to recover.
Use Natural Hair Products
The last thing you want to do after bleaching your hair is to put more chemicals on your hair.
Shampoos that contain coloring, sulfates, and drying alcohols will further damage your hair and prevent it from healing.
Instead, use natural hair products that are free of harsh chemicals.
Choose products that contain a blend of nourishing ingredients like coconut oil, argan oil, and shea butter to help hydrate the hair and protect it during the hair washing process.
Wash Your Hair With Lukewarm Water
Did you know that washing hair with hot water can make it more porous?
Well, this is a problem, especially if you've just bleached your hair.
Bleached hair is already more porous and fragile, so washing it in hot water will further dehydrate the strands and cause breakage.
You can avoid this by washing your hair in cool or lukewarm water.
Wash Your Hair Less Often
Over-washing your hair can make it feel dry and brittle, especially after you've just bleached it.
Your hair needs time to rest and repair itself, so try to reduce how often you wash it.
The great thing about bleaching the hair is that it often reduces excessive oiliness on the hair and scalp, so washing your hair 2 or 3 times a week should be absolutely fine.
Also Read: 10 Best Blue Toners For Orange Hair in 2021
Differences Between Bleaching, Toning and Color-stripping
Bleaching
Bleaching involves lightening the hair and stripping it of its color.
Bleach is often the first step to achieving a lighter hair color and the results are often dramatic.
Now, one bleaching session is unlikely to give you an even, blonde tone all over because that's now really how it works.
Many people have different tones in their hair already.
If your roots are darker or your ends are darker, it's likely that bleach will make them orange. This is often the lightest shade it can go for the first session.
Toning
Toning is often the step someone takes after they've already bleached their hair.
Toners will not lighten your hair several shades, but they do help to erase orange hues and create an even, more natural hair color.
For instance, If you have some parts of your hair that are darker than others, a toner can help to blend everything in and help you to achieve the shade you want.
Toners don't contain bleach, so they aren't as harsh to use on the hair.
Color-stripping
Color removers contain harsh chemicals that enter the hair shaft and erase any hair dye that's on your hair, which reveals your natural hair color underneath.
This is typically used by people who aren't happy with their current hair color and want to go back to the beginning.
As this process can be very harsh, it's recommended that you wait a few weeks before you use this on colored-treated hair.
Just like bleach, color strippers can leave the hair feeling dry, rough, and brittle, so you will need regular deep conditioning treatments and care for your hair.
Disclaimer: This site is not intended to provide professional or medical advice. All of the content on LovedByCurls.com is for informational purposes only. All advice should be followed at your own discretion. Ingredients may change at any time so always check the product label before using. Check our full disclaimer policy here.