A keratin treatment is often used to tame frizzy unmanageable hair, leaving it shiny and smooth. In this article we will answer the question: does keratin change hair color? Read on for all you need to know.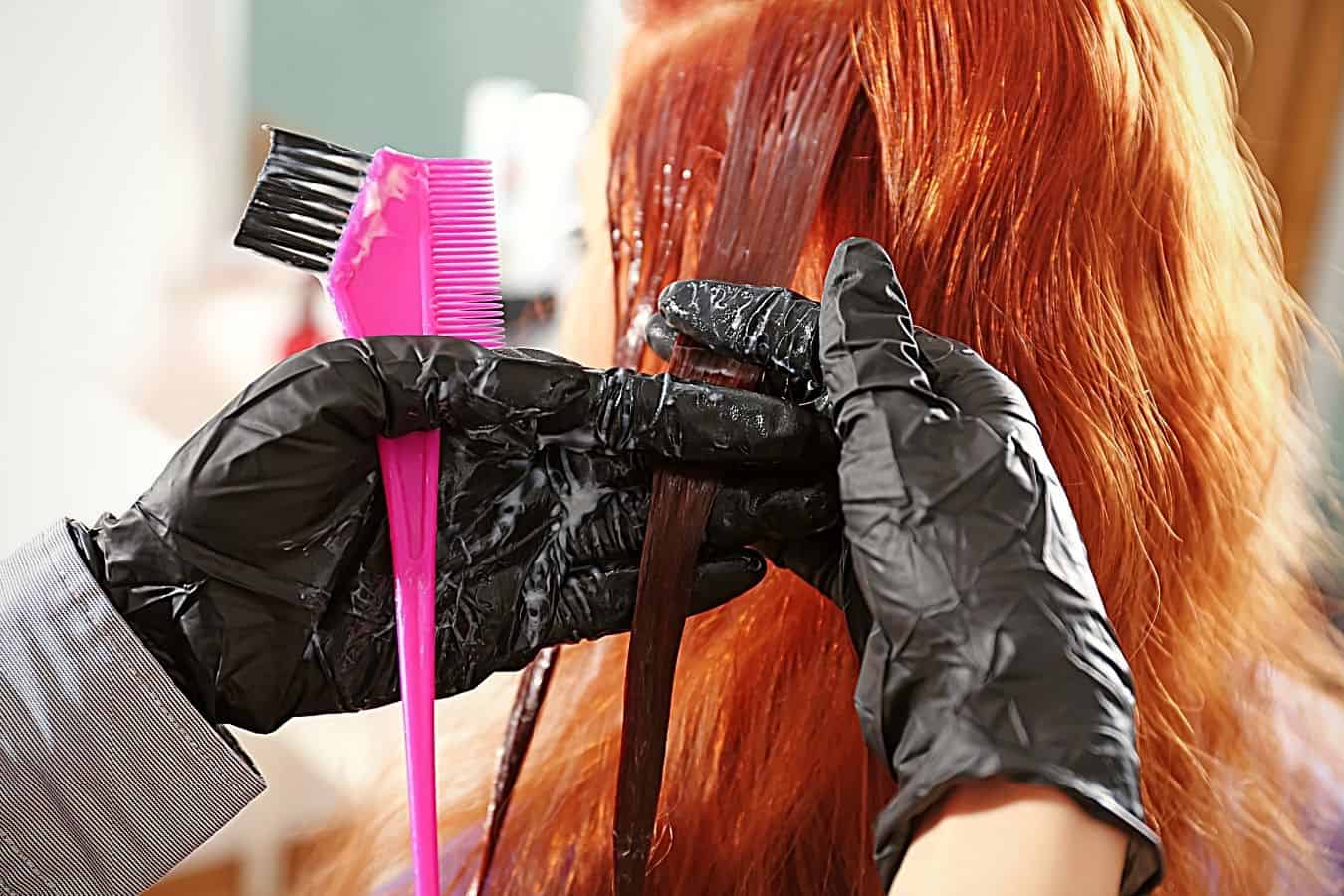 If your hair is a light brown or blonde shade, then there is a high chance that keratin will change the color two shades lighter. Hair dyed black or red won't be lightened. This is also the case for hair that has never been dyed.
What Is Keratin?
Keratin is a protein that makes up hair, skin, and nails. Keratin is a protective protein and is less likely to scratch or tear in comparison to other types of cells your body produces.
It is also used as an ingredient in hair cosmetics. Since keratin is the structural building block of your hair, some experts believe that keratin treatments can help strengthen your hair and make it look healthier.
A treatment with keratin aims to straighten hair using a solution that releases formaldehyde.
It involves 'coating the hair cuticles like armor,' according to LA stylist Meri Kate O'Connor, after which it gets blow-dried and flat-ironed.
Benefits Of Keratin Treatment
Some shampoos and conditioners contain keratin. However, you will experience the best results when the treatment is carried out in a salon by a professional.
Smooth And Shiny Hair
Keratin has a smoothing effect on cells that overlap to make up hair strands. The result is more manageable hair and reduced frizz.
This means hair dries with little frizz and has a glossy, healthy sheen.
Keratin can also minimize the look of split ends by creating a temporary bond, keeping the hair strands together.
Hair Is More Manageable
If your hair is very thick or coarse and partial to being very frizzy then a keratin treatment could make it more manageable.
If you are someone who often uses heat to style or dry hair, then you will notice that your hair dries more quickly after a keratin treatment.
It has been estimated that a keratin treatment can cut drying time by more than half.
As you can reduce the time your hair is subjected to heat damage after a keratin treatment, you may find that your hair becomes stronger and healthier.
Results Are Long Lasting
As long as you suitably care for your hair after a keratin treatment, by avoiding washing it too frequently (2 to 3 times a week is enough), then your keratin treatment can last up to 6 months.
Hair Growth
Keratin can add strength to hair which means it doesn't become damaged and break easily. This can give the appearance of hair that grows faster because the ends aren't breaking off.
Also Read: Why Won't My Hair Take Color? (12 Surprising Reasons)
Does Keratin Change Hair Color?
A keratin treatment can change the color of your hair if your hair has been colored any shade between light brown and blonde.
It is likely that your hair will go two shades lighter. If your hair is darker than this or it is red, then any change will be minimal and unnoticeable.
Hair that is natural in color will also remain unaffected.
What You Should and Shouldn't Do During a Keratin Treatment
There are a few things to be aware of before and after your keratin treatment. A point to note here is that keratin treatments are not recommended for pregnant or nursing women.
Before
If you plan to color your hair in any way, have it done before your keratin treatment. The treatment locks in the color, making it last longer and look noticeably more vibrant.
Clear your diary of any event requiring an up-do, hat, or any bands or clips as hair needs to hang loose for three days after your keratin treatment.
Clear your diary of anything that will involve your hair getting wet within the three days after your treatment.
If rain is forecast on the day of your treatment, make sure you bring an umbrella and/or coat with a hood to your appointment.
For 3 Days After
Care during the 72 hours after your treatment is important for long-lasting results.
This basically involves avoiding the contact of water with your treated hair.
Do not wash your hair in the first 3 days
Use a quality shower cap
If you sweat at all, try to blow dry hair on a low heat as soon as you can
No swimming (not even with a shower cap)
Avoid saunas, baths, hot tubs, steam showers, skiing, skating
Carry an umbrella or some sort of protective hair covering at all times if rain or fog is forecast
Cover your hair when washing your face or brushing your teeth
Another thing to avoid is any kinks in the hair.
Avoid clips, ponytail holders, hats, or sunglasses which make indentations in the hair
Don't tuck your hair behind your ears
No up-dos with bands or clips
Avoid braids
Sleep with hair loose
More Than 3 Days After
Use shampoo which is free from sodium chloride
Wait 2 weeks before coloring your hair
Should You Color Your Hair Before or After a Keratin Treatment?
You can do either of these, but timing is of the essence.
Color Before Keratin
This should be done 10 days prior to the keratin straightening treatment. In this way, the keratin will:
Act as a protective barrier for your color
Amplify your hair color
Heal damage caused by coloring
Lock in moisture
Balance pH of your hair
Remove any chemical deposits that were left behind after coloring
Keratin works by wrapping around the strands of hair, replenishing the hair's natural keratin. It acts as a barrier to protect hair.
This is great when it comes to shielding hair against damaging elements like humidity, smog, and pollution. However, you don't want it to keep out hair color!
Color After Keratin
To avoid keratin interfering with your dye, you should apply the color at least fifteen days after using a keratin treatment to straighten your hair.
This is because the keratin forms a light layer over the hair and the chemical products in the dye can't get through this layer properly.
You should, however, talk to your stylist about whether it's safe to color your hair or use any other treatments after your keratin treatment. They can use their expertise to advise you.
If guidelines about wanting to dye your hair after a keratin treatment are not adhered to, the outcome can be:
Dye does not work at all
You can be left with a patchy result
Color is left sitting on the hair, making it easy to wash out
Also Read: How To Get Hair Dye Off Acrylic Nails (9 Easy Ways)
How To Treat Hair Lightened By Keratin
If your hair is dyed blonde and you use a keratin straightening treatment, it is likely that some parts will go yellowish in color.
You may have to endure this for a few days while you wait for the '3 days no washing rule' to pass. After the first wash, this yellow should fade and continue to do so after each wash.
Alternatively, you can apply a toner, widely available at beauty supply stores.
Instructions
Mix half a tube of toner with 10 volume peroxide.
2. Apply it all over your hair and leave for 15 minutes.
3. You should see a noticeable change quickly—after 15 minutes, any yellow on your hair or scalp will be gone.
So, while keratin can change hair color, it is both avoidable and fixable if you follow the advice above.
On the other hand, keratin can have a positive impact on your hair color if applied 10 days after a color treatment. It can lock in that color, leaving you with vibrant, nourished, and healthy locks.
Disclaimer: This site is not intended to provide professional or medical advice. All of the content on LovedByCurls.com is for informational purposes only. All advice should be followed at your own discretion. Ingredients may change at any time so always check the product label before using. Check our full disclaimer policy here.