If your curls are lacking moisture and you're struggling with frizz, the bowl method may just be the way forward. In this article, we explain exactly what the bowl method is and show you just how easy it is to follow!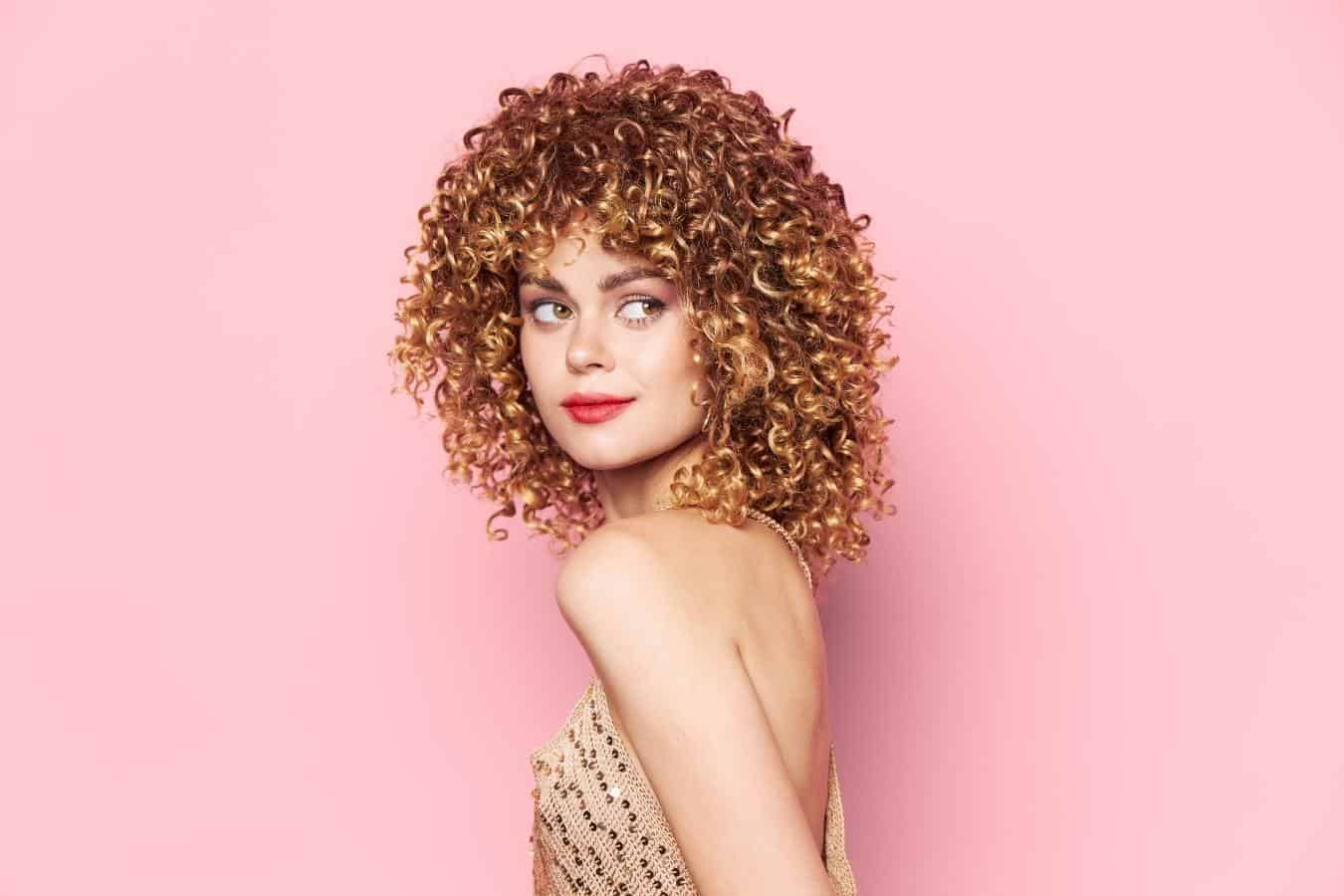 So what is the bowl method for curly hair?
The bowl method is a simple way of washing curly hair by reusing the water and conditioner you normally wash out in the shower. By dipping your curls into the mixture several times, your hair becomes more hydrated which results in tighter, more defined curls.
The Curly Girl Method
The Curly Girl Method is a natural curly haircare routine invented by Lorraine Massey. The method focuses on conditioner washing only and encourages you to ditch heat and styling tools.
If you follow the method rigorously, the following rules apply:
No products containing sulfates, drying alcohols, silicone or parabens. This excludes a lot of shampoos that contain sulfates but you can buy co-washing products and botanical cleansers instead.
No brushing except wet brushing with a wide tooth comb
No regular hair towels – use microfiber towels or an old t-shirt instead
No heat styling and keep blowdrying to medium heat as well
A normal Curly Girl Routine would look like this:
Co-wash or cleanse hair with conditioner
Squish to condish. This means to squish your curls into clumps towards your scalp. This helps to not only moisturize your hair but also to get your curls to form better.
Apply gel or mousse on wet hair
Air dry or diffuse until a cast forms around each of your curls
Break the cast and reveal soft, frizz-free curls
For detailed instructions, check out my easy Curly Girl Method step-by-step guide.
The Bowl Method
The bowl method expands on step two of the CG method – 'squish to condish'.
Normally when you 'squish to condish' you stand under the shower for several minutes which can be quite wasteful. The idea of the bowl method is that as you squish your hair using water and conditioner over a bowl and the bowl then captures the mixture so that it can be reused.
Not only does this save a tremendous amount of water but reapplying the mixture of water and conditioner helps to moisturize your curls for maximum hydration.
Besides conditioner, you will also add gel to your soaking wet hair. You will then continue to dip your curls in the bowl mixture of water, conditioner, and gel until they form into big juicy hydrated clumps.
The result? Bouncy, soft, frizz-free curls!
How To Do The Bowl Method
What You Will Need
Conditioner
Gel
Big plastic bowl
Jug or cup
Instructions
Some Curlies like to do a wet plop before they condition their hair with the bowl method. If you don't want to do that, just skip the step below, soak your hair through with water and apply conditioner as usual.
Wet Plop
Cleanse your curls with a CG friendly shampoo, co-wash or conditioner
Apply your moisturizing conditioner and focus on your ends
Use a t-shirt, microfiber towel or a shower cap and wet plop your curls for 10 mins
The Bowl Method
You can do this in the shower or with your head tilted over a sink or bathtub.
Fill your jug or cup with water, bend your hair forwards over the bowl and slowly pour water on the back of your hair. Ensure the water goes into the bowl.
Begin squishing your curls. Do this for a minute or two and really make sure the mixture gets into your hair.
Scoop the water up into your hands and keep squishing. This helps to dilute the conditioner in your hair but still keeps your curls moisturized.
Keep adding water if needed. Ensure your scalp is free from conditioner.
Squish until your curls have formed into nice big clumps. If they appear to be stringy, add more conditioner and keep squishing.
Once you're happy with your clumps, remove the water from the bowl
Add gel as usual, a lot of it, and apply to soaking wet hair. Squeeze the gel into the clumps.
As you squeeze our the water in your hair, let the excess water and gel drip into the bowl.
Dip your curls into the mixture and squeeze out the remaining excess water until you're happy with your curls
And that's the bowl method! At this stage you can wet plop or simply leave your hair to airdry. You can also diffuse if you like.
This method should definitely help you achieve more defined hydrated curls and although it may take a few extra minutes, it's definitely worth it.
For a video tutorial, check out this video by Jannelle O'Shaughnessy:
Benefits Of The Bowl Method
The main benefits of the bowl method are:
Tightens Curls
The continuous squishing used in the bowl method helps to tighten your curls. This is due to the constant reapplying of water, conditioner, and gel to your hair strands.
This helps to evenly coat the curls in product as they soak in the goodness of the water mixture. Your curls then become hydrated and the squishing ensures that the curls not only form but stay tight and bouncy.
Less Waste
One of the best things about the bowl method is that it prevents water waste.
The average American uses 15.8 gallons (59.8 liters) of water when showering and so you can imagine how much water you can save by reusing water from the bowl.
This is especially true if you wash your hair more than 2 times a week or take very long showers.
Maximum Hydration
Besides combatting water waste, the bowl method really helps to hydrate your curls. If you're suffering from frizzy, damaged hair, the bowl method can help restore your curls back to their former self.
This is because the combination of water + conditioner and squishing really helps moisture to penetrate your hair.
Every hair strand will be coated in water and product, and the squishing creates the effect of an intense hydration treatment.
Bigger Clumps
It's very easy for curls to become stringy, especially if you're new to the Curly Girl Method.
The benefit of the bowl method, however, is that you can get really juicy big clumps by reusing the water from the bowl.
Normally when you squish to condish in the shower, you're not constantly reapplying a mixture of water and conditioner.
You may just be scrunching in the same amount of product and water OR you'll be rinsing your hair under the shower, which means that product is removed from your curls.
By squishing to condish using the bowl method, your curls will form much more evenly and the strands become coated in the moisturizing mixture from the bowl.
The added gel will help shape the curls and the conditioner will moisturize them. After you repeat the process of squishing a few times, you should see bigger, more defined clumps.
Less Frizz
As your clumps begin to form, you should see much less frizz. In the beginning, the curls may look stringy but give it time.
The bigger clumps you can form, the less frizz you'll see when your hair is dry.
The key is to work the mixture of water, conditioner, and gel into every hair strand and to squish each curl so that flyaways begin to disappear.
More Defined Curls
Finally, if you've done every step correctly, you should end up with much more defined curls. As your hair becomes more moisturized, curls will form easily and be much softer.
This results in defined curls without the frizz and they should be tighter and last longer throughout the day.
Disclaimer: This site is not intended to provide professional or medical advice. All of the content on LovedByCurls.com is for informational purposes only. All advice should be followed at your own discretion. Ingredients may change at any time so always check the product label before using. Check our full disclaimer policy here.
Dee has been following the Curly Girl Method for over four years and is our in-house Curly Girl expert. She has a keen interest in natural haircare and has tried and tested her share of CGM products. She has a photographic memory of most sulfate and silicone-free hair products available on the high street and she's always happy to recommend you her favorites.