If you have curly hair, then finding the right pillow is important. Perhaps you've wondered if bamboo pillowcases are good for curly hair? Don't worry, we have the answer.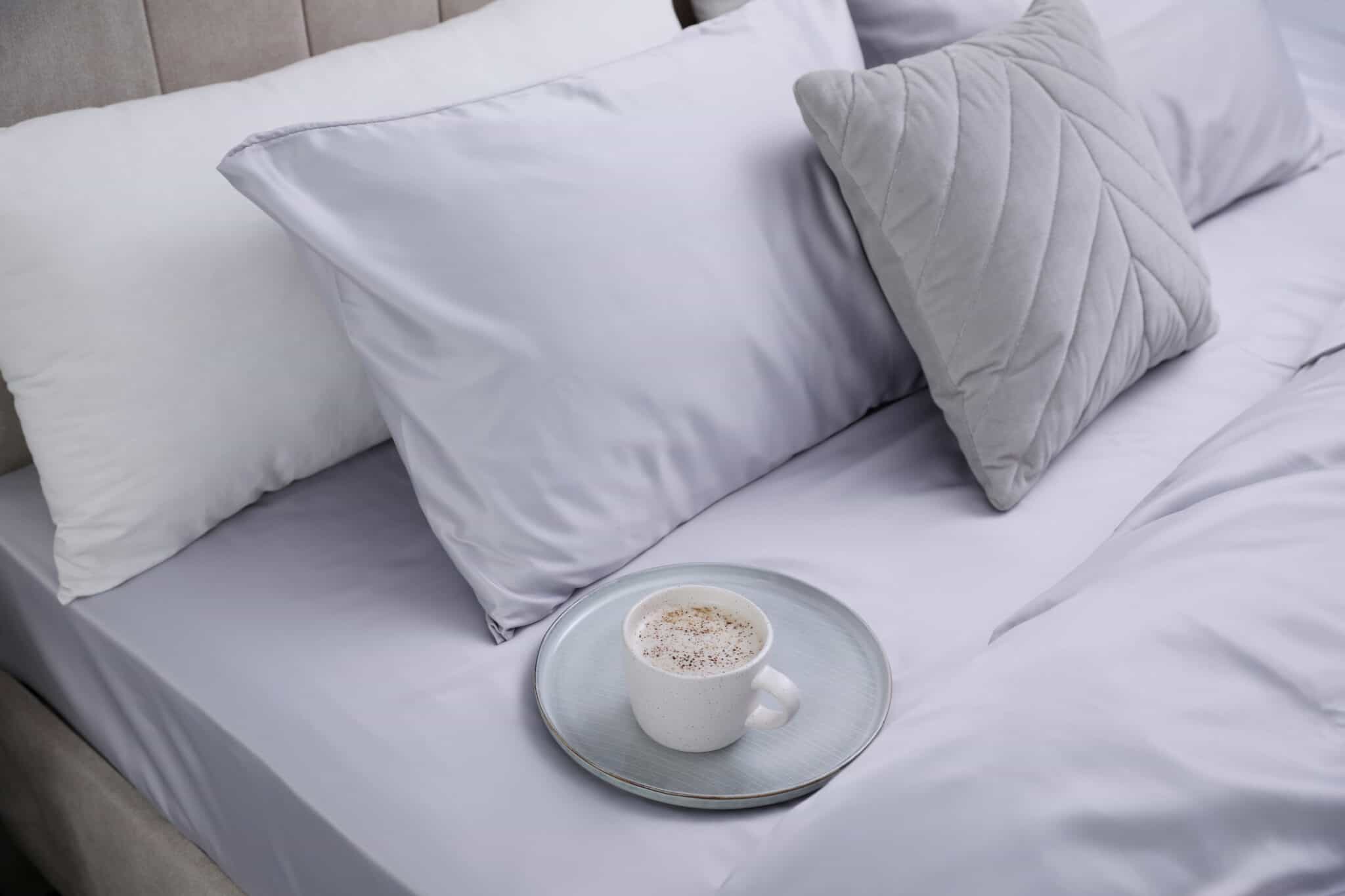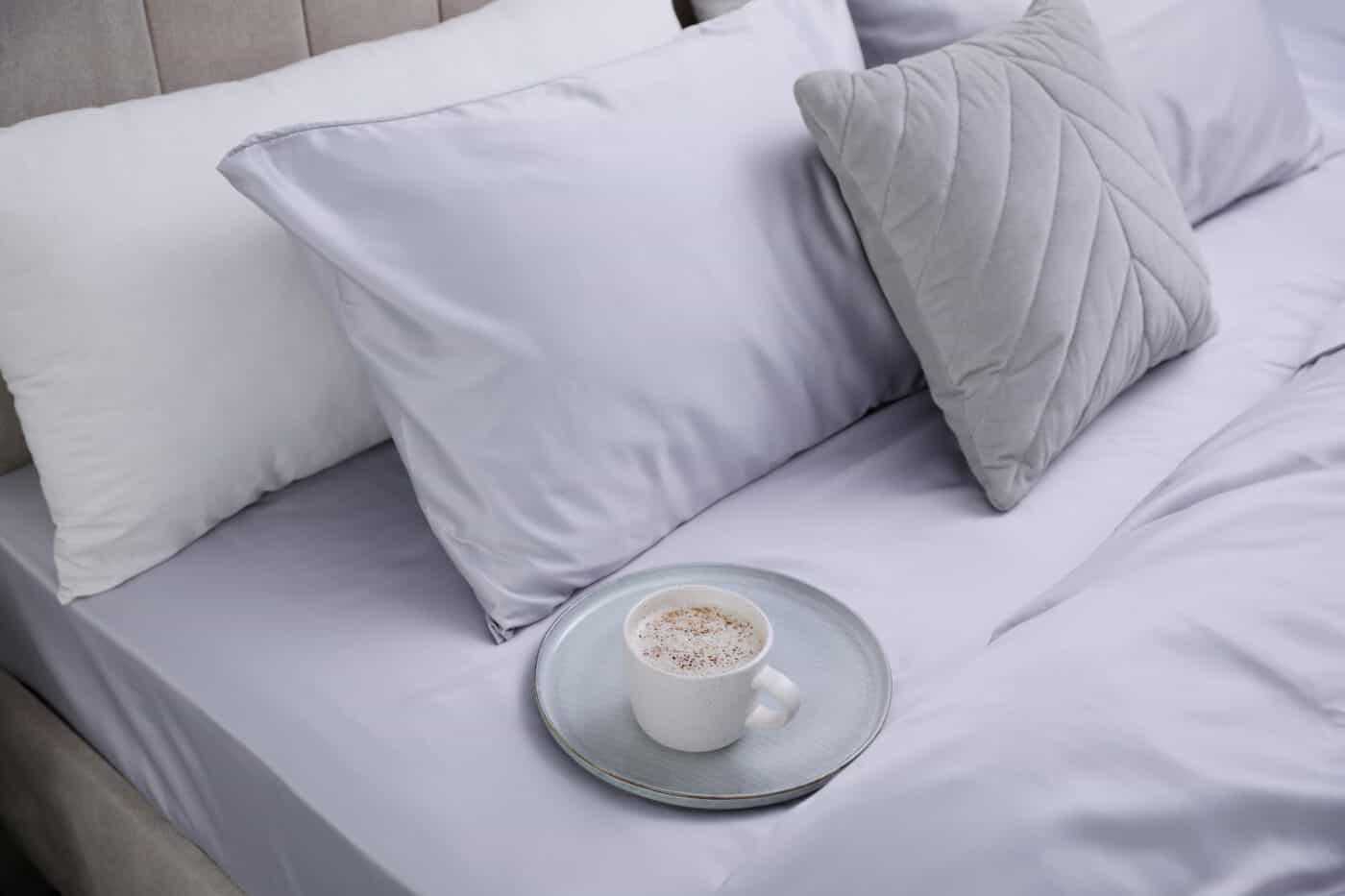 This post contains affiliate links and we may earn if you click on them (at no extra cost to you). Please read our full disclosure policy here.
The truth is that bamboo is one of the best fabrics for all hair types, especially curly hair. There are plenty of benefits when it comes to having curly hair and using bamboo pillowcases such as reduced frizz and providing a gentle touch to your hair.
With so many pillowcases and fabrics available today, it makes sense to question whether or not bamboo pillowcases are really good for hair and what benefits they give over other pillowcases.
We'll explore all of this and more in the following article.
The Benefits of Bamboo Pillowcases
There are several benefits to using bamboo pillowcases.
For hair, these benefits include reduced frizz, a gentle touch that reduces the chance of split ends, and the ability to help regulate your body temperature.
Bamboo often possesses thermo-regulating or moisture-wick properties. These help in keeping you warm in the colder months and cool in the warmer months.
They also help to trap moisture and keep it from damaging your hair.
This thermo-regulating also helps fight against humidity which is one of the biggest enemies of curly hair.
Using bamboo pillowcases will also help in protecting the style of your hair that you just received at the salon.
Plus, since curly hair tends to become dry easily, these pillowcases are a great way to combat the dryness and, unlike cotton pillowcases, won't make the situation worse.
Other Benefits of Bamboo Pillowcases:
Soft and static-free fabric
Antibacterial
Hypoallergenic
Easy to maintain
Eco-friendly
Vegan-friendly
Comfortable
Provides better sleep
The Disadvantages of Bamboo Pillowcases
There are no disadvantages to using bamboo pillowcases when it comes to your hair.
However, these pillowcases tend to be more expensive, but the cost more than makes up for it with all the benefits you receive.
Also, sometimes harsh chemicals are used during the manufacturing of bamboo pillowcases, especially with bamboo viscose.
These chemicals can often be problematic for the environment and community but these harsh chemicals do not harm the pillowcases and they are still safe to use.
Different Types of Bamboo Fabrics
There are a few different types of bamboo fibers that you should be aware of before purchasing your pillowcase.
Bamboo Viscose
Also commonly referred to as rayon, most pillowcases are made from viscose bamboo.
These pillowcases are usually made of 100% viscose and are hypoallergenic with thermo-regulation properties.

While viscose is a popular choice, the downside is that this material is often manufactured with harsh chemicals.
Bamboo Modal
Although bamboo modal is also manufactured with chemicals, the fabric is then put through an additional process to strengthen and lighten the fabric.
However, this bamboo fabric is rarely used to make bedding, including pillowcases.
Bamboo Lyocell
Unlike the previous bamboo fabrics, this fabric is manufactured without the use of harsh chemicals.
This bamboo is produced only by the company ettitude and is said to be softer and more durable than bamboo viscose.
Bamboo Linen
Bamboo linen is manufactured without the use of chemicals and is instead made mechanically. This type of fabric is very labor-intensive and, because of that, is rarely made available on the market.
Bamboo Blend
Bamboo is often blended together with cotton to make a bamboo cotton blend.
This process allows the fabric to be more durable than that made of 100% bamboo but, at the same time, the comfort is reduced.
Cotton vs Bamboo vs Silk
Cotton can be quite damaging to your hair.
It creates friction and often leaves you with messy hair in the morning, often referred to as "bedhead".
It also locks in odors and does nothing for humidity or moisture that can damage your hair.
Bamboo and silk pillowcases, on the other hand, are resistant to friction and can leave your hair feeling and looking healthy.
When it comes to bamboo vs silk, while both pillowcase types are better than their cotton counterpart, bamboo is still more beneficial than silk is.
They are more eco-friendly than silk, provide better value, and are easier to care for.
The Best Bamboo Pillowcases for Curly Hair
There are many bamboo pillowcases available on the market today and it can be overwhelming to decide which one to purchase.
The following list is curated of some of the best bamboo pillowcases for curly hair.
This Bedsure Cooling Pillowcase pack comes in a set of 2.
They're breathable, are temperature regulated, provide protection for curly and textured hair, and are comfortable with a soft hand-feel and silky-smooth surface.
They're also available in multiple colors, providing you with the ability to match them to your color scheme.
Plus, their envelope close ensures that your pillow stays tucked into the case all night long.
What We Like:
Set of 2
Breathable fabric
Envelope closure
Multiple color choice
Regulates temperature
Smooth and comfortable
Protects your hair with a reduction in tension, friction, and moisture
---
The pillowcases from Cosy House Collection are luxurious. They're ultra-soft and will provide you with the most comfort possible. They also come in a set of 2.
They're easy to care for, lightweight, and have moisture-wicking properties that help to regulate your temperature throughout the night.
Like Bedsure's pillowcases, these ones have an envelope closure that helps protect your pillow from slipping out in the middle of the night.
What We Like:
Set of 2
Breathable fabric
Envelope closure
Durable and strong
Lightweight
Moisture-wicking properties
Hair and skin benefits
---
Maple&Stone's Cooling Bamboo Pillowcases are sure to help you sleep better at night with their breathable fabric while at the same time providing protection to your hair and skin.
These pillowcases, which come in a set of 2, are made from 100% pure bamboo and are organic. With thermo-regulating properties, these pillowcases will work to keep you cool through the night while also helping to keep your hair moisture-free.
What We Like:
Set of 2
100% Bamboo Viscose
Breathable fabric
Durable material
Envelope closure
Thermo-regulation
Lifetime services
---
Like the other pillowcases on this list, the WishSmile Bamboo Cooling Pillowcases come in a set of 2 and are breathable with moisture-wicking capabilities.
Due to their moisture-wicking properties, these pillowcases are great are providing protection to your hair from humidity and friction and are also great for the skin.
What We Like:
Set of 2
Breathable fabric
Perfect for hot sleepers
Moisture-wicking properties
Hypoallergenic
3-year warranty
---
The EHEYCIGA Bamboo Pillowcase, again, comes in a set of 2. Made from 100% bamboo rayon viscose, these pillowcases are eco-friendly and possess cooling capabilities from the bamboo fiber that promises to help you with night sweats and provide you with comfort while sleeping.
Silky smooth and breathable, there's no doubt that you will get a good night's sleep with these pillowcases and they are sure to leave your hair looking as fabulous as it did before going to sleep.
What We Like:
Set of 2
Breathable fabric
Envelope closure
100% high-quality bamboo
Silky texture provides comfort
Free 30-day return and exchange service
---
Any of the above pillowcases would be a great choice for those who have curly hair and are worried about what their current pillowcases are doing to their hair.
These bamboo pillowcases have moisture-wicking and thermo-regulation to help protect your hair from both moisture and humidity all night long, keeping your hair looking as perfect as it did the night before.
Conclusion
So, are bamboo pillowcases good for curly hair? The answer is yes! Bamboo is a great fabric choice for all hair types but especially curly and textured hair.
These pillowcases often come with properties that help trap moisture and reduce humidity, allowing your hair to remain frizz-free throughout the night.
If you have curly hair, we definitely recommend investing in a bamboo pillowcase.
Frequently Asked Questions (FAQ)
When Should I Replace My Bamboo Pillowcase?
Typically, bamboo pillowcases can last up to three years as long as they are taken care of. Still, some suggest that it may be beneficial to replace pillows and pillowcases on a yearly basis or two years max. 
Are Bamboo Pillowcases Machine Washable?
Absolutely! Most all pillowcases are machine washable. However, it is recommended that you refer to the instructions of your individual pillowcase to be 100% sure. Also, keep in mind that not all pillowcases can be machine dried. Instead, you may have to air dry them.
Can Bamboo Pillowcases Be Ironed?
Again, it is always best to refer to the pillowcases' individual instructions, but most of the time these pillowcases can be ironed. 
Are Bamboo Pillowcases Prone to Mold, Mildew, and Odors?
While their cotton counterpart oftentimes has a risk of strong odors from mold and mildew, that is not the case with bamboo pillowcases. Instead, these pillowcases are made to be resistant to mold and mildew, and most odors. 
References
Disclaimer: This site is not intended to provide professional or medical advice. All of the content on LovedByCurls.com is for informational purposes only. All advice should be followed at your own discretion. Ingredients may change at any time so always check the product label before using. Check our full disclaimer policy here.
Dee has been following the Curly Girl Method for over four years and is our in-house Curly Girl expert. She has a keen interest in natural haircare and has tried and tested her share of CGM products. She has a photographic memory of most sulfate and silicone-free hair products available on the high street and she's always happy to recommend you her favorites.